At Young Hip & Married, we're on a mission to eradicate boring wedding ceremonies from the face of the planet. And one way we do that is with a meaningful and fun wedding officiant script at every ceremony!
If you're tired of sitting through the same old, cookie-cutter ceremonies and want to have a wedding experience that is going to be memorable for you and your guests, read on for how we create the most fun wedding officiant scripts ever!
What is an officiant script and do you need one?
First things first: What is a wedding officiant script? An officiant script – also known as a ceremony script or a wedding script – is the written version of your ceremony. It includes not only the words that your officiant is going to say, but also all of the elements that will happen during your ceremony, from your processional to your vows.
The second thing couples want to know: Do we really need a ceremony script? And the answer is: Absolutely! The script is your outline for the ceremony so you know what is happening when and who is saying what. It's super important that you put one together with your officiant and that you see your ceremony script before the wedding!
Read next: 15 Things to Include in Your Wedding Ceremony Script
6 ways to create a fun wedding officiant script
The best way to create a fun wedding officiant script is to personalize your wedding ceremony. By planning a ceremony that is true to you, you'll create a memorable and meaningful experience not just for yourselves but for all of your guests.
A fun wedding officiant script doesn't mean your ceremony needs to be full of goofy lines or silly jokes. You can include some humour and lightness, but you can also include lots of sentimental and serious moments. "Fun" simply means that you and your guests are engaged in a special ceremony – not that you're attending a comedy show!
Here are 6 ways to create a ceremony that is memorable, meaningful and FUN:
Start with a custom ceremony script
The best way to create an engaging wedding ceremony is with a custom ceremony script. In our Custom & Creative Ceremony package, your officiant will write a personalized script that perfectly captures your love story. They will meet with you to learn what you want out of your ceremony, collect information about your relationship, and even reach out to your friends and family to get their input.
Once they have all of that info, your officiant will custom-write a script that shares your story with your guests and includes every ceremony element you're looking for. Once the script has been drafted, your officiant will share it with you for as many edits and revisions as you need.
Plus, they'll be on-hand to lead your wedding rehearsal to make sure everyone knows what is going to happen and what they're meant to be doing on the big day.
Learn more about our Custom & Creative Ceremony package here!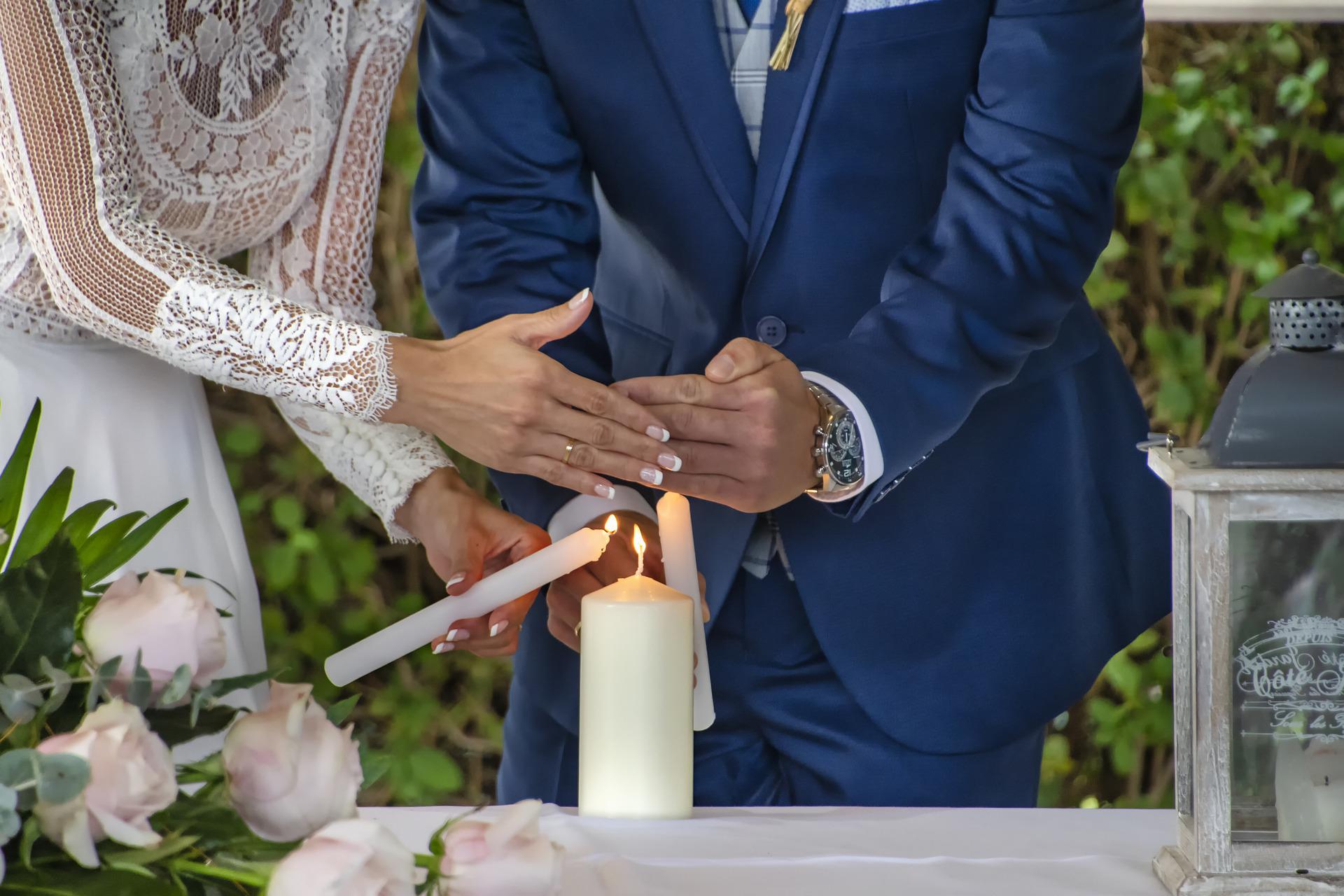 Add in creative ceremony elements
An easy way to add fun into your wedding ceremony is to get creative! Wow your guests with something they haven't seen before or personalize a wedding tradition so it best suits you.
A great creative element to add might be a unity tradition, like a unity candle ceremony or a handfasting ceremony. Both of these can be personalized to you and create a memorable moment of symbolic commitment during your ceremony. Plus, you can bring the candle or handfasting ropes home with you to be a reminder of your love and marriage vows.
Other creative additions to your wedding include a ring warming, variations on the processional, or a special memorial to loved ones who can't attend. You can also get creative with your decor, your seating and even your outfits.
The best creative additions to a ceremony are ones that are meaningful and personal to you. Your guests will be so much more impacted by a choice that represents who you are or shares something you believe in.
For inspiration, look to your passions! If you're craft beer lovers, add in a beer blending. If you're obsessed with your fur baby, have them walk down the aisle. And if you've watched the Lord of the Rings trilogy more times than you can count, plan the perfect nerd wedding.
Involve your guests in your ceremony
If you want to ensure your guests are having fun during your wedding ceremony, get them involved! Check out some of our best ideas for involving your guests in your wedding ceremony, from doing a community vow to inviting guests to take special roles during the wedding day.
When your guests get to be an active part of your ceremony, you almost guarantee that they'll have more fun. Guests will be engaged and attentive knowing they are part of what's happening. Plus, it makes the experience so much more meaningful for you when you can include your favourite loved ones in your ceremony.
Don't forget that your wedding party can take on a special role in your ceremony too. You can think outside the box and create a wedding party experience that best suits you – it doesn't have to be gendered attendants in matching outfits. Have some fun with your wedding party – or skip the wedding party altogether!
Read next: 7 Tips for a Stress-Free Wedding Party Experience
Incorporate your culture, traditions and beliefs into your wedding
One of the best ways to add meaning to your wedding ceremony is by incorporating elements of your cultures, traditions and beliefs. For some couples, this is an essential element of designing a wedding officiant script and committing to one another.
There are so many ways, large and small, that you can incorporate your beliefs into your wedding day. Some examples include: Asking your grandparents to lead a prayer or blessing, wearing a traditional outfit, including a cultural ritual, speaking another language in your ceremony, and using cultural decor in your ceremony space.
Speak with your family or religious/cultural leaders for insight into how you can best incorporate your beliefs and traditions into your wedding day. If you'll be blending a few different cultures, religions or practices, you can always ask your officiant for advice. Our Young Hip & Married officiants have lots of experience working with couples from different backgrounds and perfectly blending what matters most to them and their families.
Consider adding a reading, prayer or quotes to your wedding ceremony
We believe that every word spoken at your wedding ceremony should feel good to you. The words should represent what you believe in and what is most important to you two as a couple.
A great way to include words you love in your officiant script is by adding a wedding reading, prayer, blessing or quote. These can be short or long, read by your officiant or by an honoured guest, and taken from anywhere – literature, movies, poetry, etc!
Check out our full list of wedding readings, scripture, sayings, wedding prayers, blessings and more!
Write your own wedding vows!
Last, but certainly not least: Our favourite way to ensure you have a memorable, meaningful and fun wedding officiant script is by writing your own vows.
Ask any wedding guest and they will probably tell you that their favourite part of a ceremony is hearing personalized vows. Your loved ones want to hear why you're getting married and witness your love story. More importantly, your spouse-to-be wants to hear why you chose them and what promises you want to make for your life together.
Scared you're a terrible writer? Not sure where to start with writing your own vows? Embarrassed to get emotional in front of your guests? Worry no more because we've got your back! Download our FREE guide to writing the best wedding vows and learn more about our vow writing course.
---
A fun wedding officiant script starts with a fun wedding officiant. Meet our team of officiants and book your Young Hip & Married wedding ceremony package today!