We've all been to that wedding. You know the one: An awesome couple gets married but their ceremony is a total snooze fest. Everything feels impersonal and out of touch, and all of their guests are bored. So how do you avoid having that wedding and actually involve your guests in your wedding ceremony?
We're glad you asked! Below we're sharing 19 awesome ways to include your guests in your ceremony. Not only will these ideas keep your guests happy and engaged (and awake!) but they'll also make your wedding day feel more meaningful and unique to you.
Have your guests in your wedding party
Of course, one of the best ways to include your most special people in your wedding day is to ask them to join your wedding party. Whether as a bridesmaid, groomsman, person of honour or attendant, you can have your loved ones play a special role on your wedding day.
Invite a guest to do a reading
Another great way to honour a special guest, and include them in your ceremony, is by inviting them to do a reading. You can pick a wedding reading from literature, songs or even your favourite TV show and have a guest come up during the ceremony to recite it.
Add your guests to your processional
If you're planning on a processional (when the wedding party and couple walk down the aisle at the beginning of the ceremony), why not add a few more special guests? This is a great place to include close family and friends who aren't technically part of the wedding party, but who you still want to honour. Or, if you're having a small wedding, why not invite every guest to join in on the procession?
Ask two guests to be your witnesses
Another great way to honour and include special guests in your wedding ceremony is by inviting them to be your witnesses. Depending on where you get married, you may need one or two people to witness your wedding and sign your marriage licence. Want to have even more fun with this? Put all of your guests' names in a hat and during the ceremony, pull out two names. Those two are your witnesses!
Conduct a ring warming
A ring warming is based on a Celtic tradition where the wedding rings are passed around to all of the guests to bless before they're exchanged by the couple. This is a beautiful and intimate way to involve your guests in your wedding ceremony. If you're concerned about how long it will take to pass the rings around, you could instead display them at the entrance of your ceremony and have guests bless them as they walk in. And to keep things as hygienic as possible, you'll want to provide hand sanitizer!
Last tip: Don't leave the rings loose! Make sure they're tied together and, preferably, in a box. The last thing you want is to lose a ring during the ring warming ceremony.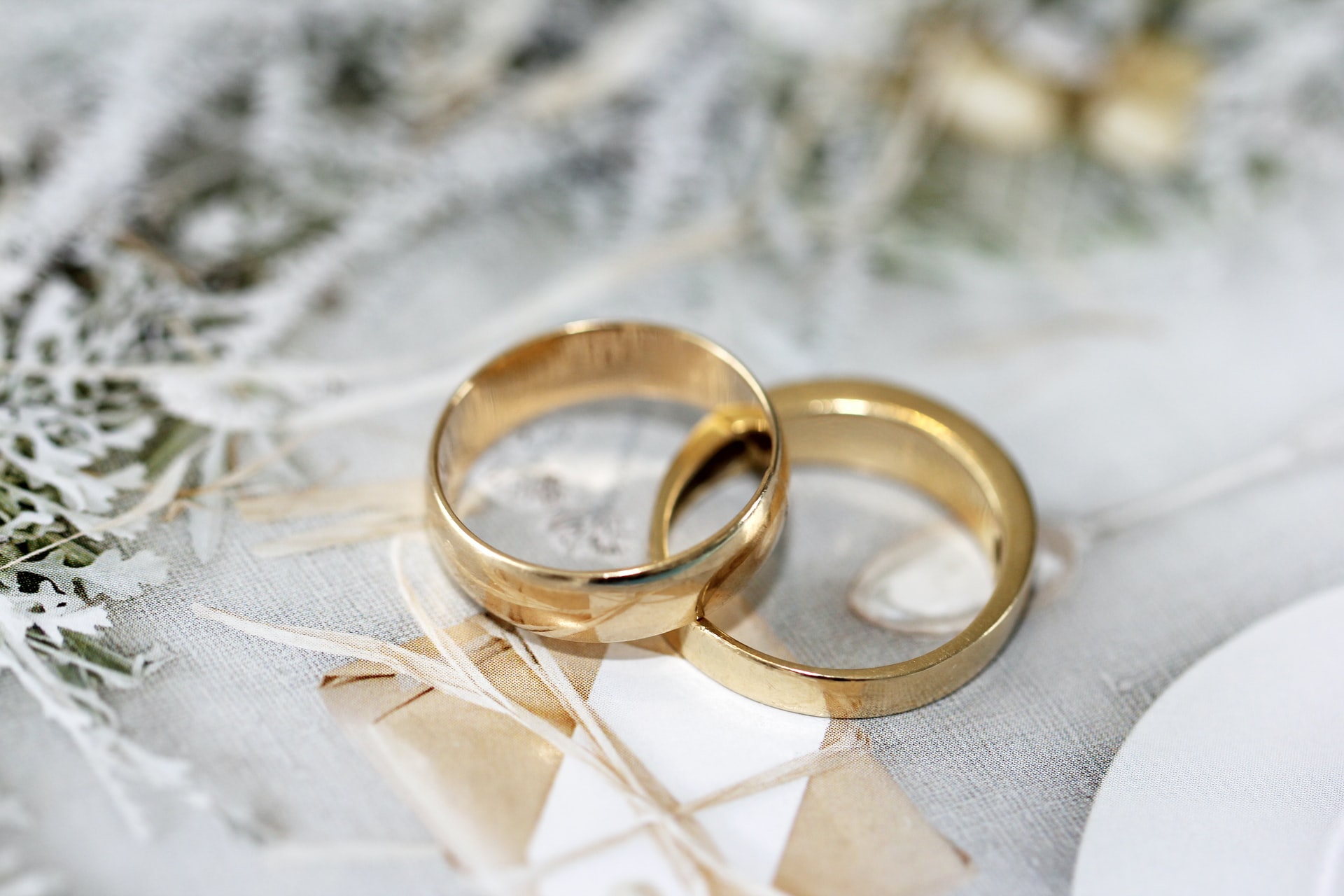 Recite a community vow
A community vow is a promise that your community of loved ones make to you – and it's one of our favourite ways to include your guests in your wedding ceremony. To do this, your officiant could say something like, "And do you, friends and family, promise to support this couple, encourage their marriage and witness their lives together? If so, please respond with a resounding, 'We do!'" To which all of your guests will shout, "We do!"
For more vow ideas, click here!
Include your guests in your story
With a Custom & Creative Ceremony, your officiant will write your ceremony script just for you, incorporating your personal love story. And there's nothing more personal than including your loved ones in your ceremony. Whether it's your roommate who introduced you two or your grandma who knew they were the one after the first date, any guest would be honoured to be included in your ceremony script.
Ask your guests to sing along
Who says you have to wait until the reception to start playing some music? If music is a big part of your relationship, or there's a meaningful song you want to incorporate into your ceremony, you can absolutely ask your guests to sing along with you. Just be sure to provide the lyrics! You could alternatively ask guests to read a poem out loud or hand out kazoos and make it a real party.
Write your own vows
Your guests will be more engaged and interested in your ceremony if it feels like you. After all, they're attending your wedding because they love and support you. To be able to witness vows and hear personal words from the heart is one of the best ways to make your wedding more meaningful for you and your guests.
PS: Need help writing your vows? Check out our vow writing course! 
Ask for marriage advice
A more sentimental way to involve your guests in your wedding ceremony is to ask for their best marriage advice. You can have a book or wishing stones placed at the entrance of your ceremony for guests to share their advice as they walk in, or place cards on guests' seats for them to fill out.
Have an interactive recessional
A recessional (when the couple and the wedding party make their way back up the aisle after the ceremony is over) is the perfect time to let loose and celebrate. You did it – you're married! A recessional is also the perfect time to involve your guests. Play awesome music and encourage everyone to dance, or hand out bubbles for guests to blow your way as you exit your ceremony.
Form a prayer circle
If you're a spiritual or religious couple, a great way to combine your beliefs and your loved ones is with a prayer circle. You can do this before, during or after your ceremony by inviting your guests to join hands and recite or listen to a prayer of your choosing. For a full list of wedding prayers, click here.
Incorporate candles
You may have heard of a unity candle, when the couple each takes a candle and lights a third candle, representing how they are coming together as one. But you can also use candles to include your guests in your ceremony. For instance, you can have your guests each light their own candle from your unity candle, creating a beautiful glowing effect.
Greet your guests
At most weddings, the couple doesn't actually get to greet their guests until the reception, when they hastily go around doing a toast at every table. But wouldn't it be great if you greeted your guests at the beginning of your wedding day? Think about how much more intimate your wedding ceremony would feel if you got to hug each of your loved ones before standing up and making your commitment to your new spouse. PS: This works best with a smaller guest count!
Create your own unity tradition
Many unity traditions only involve the couple but there's no reason you can't get creative and include all of your guests. For example, we once officiated a wedding where the couple and all of their guests took a shot in the middle of the ceremony! Have fun with it and don't be afraid to change the rules. If you need some ideas, check out 23 creative additions you can add to your ceremony.
Let your guests in on a surprise
Just like in the wedding scene from Love Actually… minus the best man being in love with the bride, of course! A great way to have your guests feel involved and excited during your ceremony is to let them in on a surprise. Planning to play your spouse's favourite song without them knowing or do a flash mob dance down the aisle? Let your guests in on the surprise!
Take your program to the next level
Do you need wedding ceremony programs? Probably not. But if you do decide to have programs, why not take them up a notch and make them more fun for your guests? You could include guest trivia, like which couples have been married the longest, a family tree or even funny photos of your guests.
Be encircled by love 
Really want to feel your guests' love? Instead of the traditional ceremony set up, arrange the chairs so that your guests are all in a circle with you and your spouse in the centre. This is a great way for your guests to feel more engaged in your ceremony, and for you to more deeply feel their presence and love.
Shout your guests out virtually
If not all of your guests are able to join you in person, you can still involve your guests in your wedding ceremony virtually. By 2022, none of us are strangers to live streamed ceremonies. But instead of making your virtual guests feel like they're on another boring Zoom call, keep it interactive by waving to them during the ceremony, asking them to leave you comments in the chat or sending them gift boxes to open up during the ceremony.
And there you have it, 19 ways to involve your guests in your wedding ceremony! Before we leave you, here are a few more tips to ensure your wedding ceremony is as awesome for you as it is for your loved ones.
Quick tips to keep your guests involved and engaged in your wedding ceremony
Start on time. Try to start your ceremony as close to on time as you can. It's not nice to make your guests wait! Plus, if you're late for your ceremony, your whole timeline will be delayed. This may cause you to have to skip or shorten something later in the day.
Make sure your guests are comfortable. No one wants to stand in heels for a 45 minute ceremony or sit outside in the pouring rain. Take a walk through your ceremony space and consider what your guests will need to feel comfortable.
Don't let things go on too long. Even your closest loved ones don't want to sit through a ceremony that lasts forever. People will get bored, tired, restless or hungry if you make them sit there for too long.
Have fun! Your ceremony can be sentimental and serious, but it doesn't have to be stiff. Don't be afraid to incorporate some inside jokes or lighter moments. Your guests will love laughing along with you.
Make it you. Your guests love you and will be most engaged in a ceremony that reflects who you two truly are. Talk to your officiant about how you can add more of your personality, culture, traditions and beliefs into your wedding ceremony.
---
written by Riana Ang-Canning
feature image by Erica Miller Photography