Personalized, Passionate & Inspiring Wedding Ceremonies by the Best Wedding Officiants!

If every couple is unique, then why have we all been to the same
boring wedding ceremony so many times?
—
"We want to feel confident and comfortable knowing
exactly what our officiant is going to say."
"The ceremony is often the most boring and forgettable
part of the day, but we want our ceremony to be amazing!"
"We want an easy, simple process that ensures we
have a wedding that reflects us!"
—
No more boring wedding ceremonies!
Our officiants will make the wedding ceremony you envision come to life.
A romantic ceremony in the park?
An elegant ballroom wedding?
Quirky backyard BBQ?
Just you and your fiancé on a mountain top?
You name it, our wedding officiants can create a ceremony that reflects YOU!
Not sure what you want? Don't worry, we can help with that too.
Young Hip & Married exists
for two reasons!

As officiants we want to
help couples get married and have a fantastic relationship.


Our wedding officiants are on a mission to eradicate dull and boring wedding ceremonies from the face of the planet and to help couples create a sweet lifelong union that only gets better with age. 
As much as we want your wedding day to be awesome,
we care more about how awesome your marriage is!

Therefore, we have partnered with Thrive Couples Coaching so you can rock your relationship from the start by investing in the tools you need for a lasting marriage. Click here to learn more about Thrive Couples Coaching!

What Couples Are Saying About Our Wedding Officiants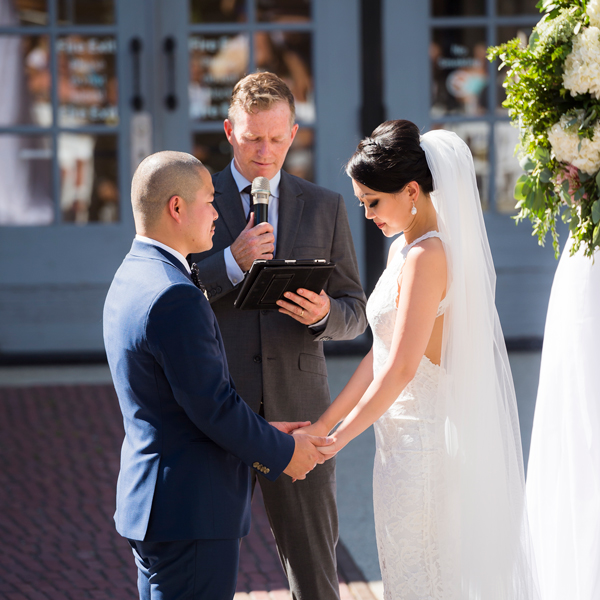 Randy Hamm was the officiant for our wedding and he was OUTSTANDING!! All of our guests raved about how good he was. He got everyone involved, and kept them entertained. If you are looking for an officiant that is unlike any other, Randy is your guy! The team at Young Hip & Married were very easy to correspond with (which isn't always the case with wedding vendors, unfortunately).
Randy gave us the ceremony that we were dreaming of. He kept it light hearted and very personalized. We didn't want anything scripted. He was able to tell a story about US. Thank you Randy! *round of applause*
Anh & Giang
Young Hip & Married brought so much ease to my big day! From start to finish their team and officiants were professional, helpful and responsive. Shawn was an absolute pleasure to have officiate our wedding! He managed to swiftly juggle our ceremony with two toddlers pulling at each other, fighting for the attention. Worth every penny! Thanks again Young Hip and Married !! You guys rock!!
Tarik & Kendra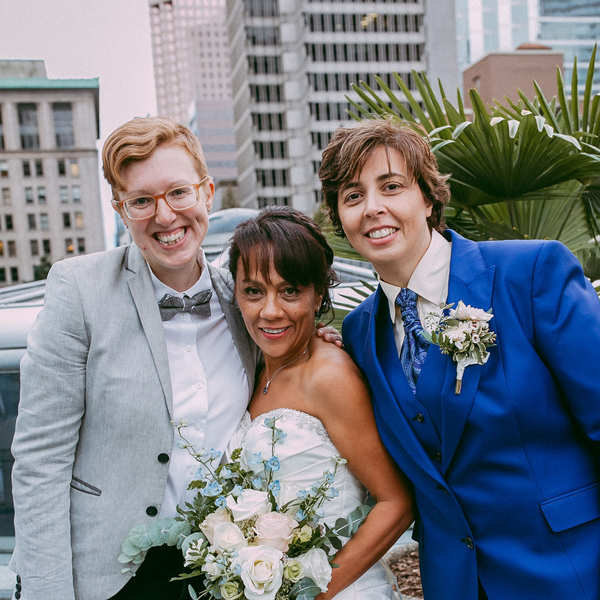 Our officiant was Beth and she was a fantastic. She captured exactly what we wanted for our wedding. Everybody attending the event thought Beth was a friend of ours acting as an officiant. She captured our sense of humour and individual preferences very well. It was funny, heartfelt, and professional. Beth took the time to be sure all names were pronounced correctly and she was on time and ready to go as planned. We have nothing else than kind words and gratitude for Beth for making our wedding an amazing event.
Jorgelina & Liza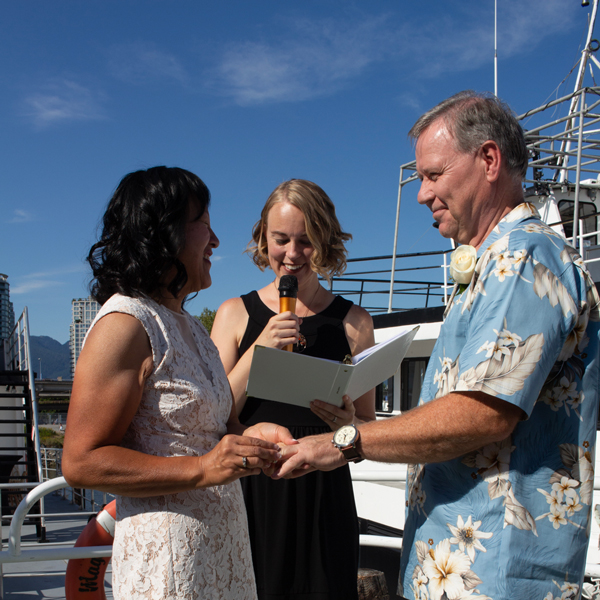 We just wanted to express our appreciation once again for your help in making our wedding a very stress-free and happy occasion. Your calm command of the requirements along with your understanding of our wishes to keep things memorable but light set the tone for a beautiful wedding. The resources you provided to help us personalize the ceremony, along with your willingness to include our wishes, let us feel like we got exactly what we wanted. Thanks again for performing a lovely ceremony. We couldn't be happier!
Linda & Peter
Your Perfect Wedding Officiant Package
Marriage Enrichment
For couples interested in building a strong foundation, developing skills and investing in their relationship, check out our partner company, Thrive Couples Coaching.