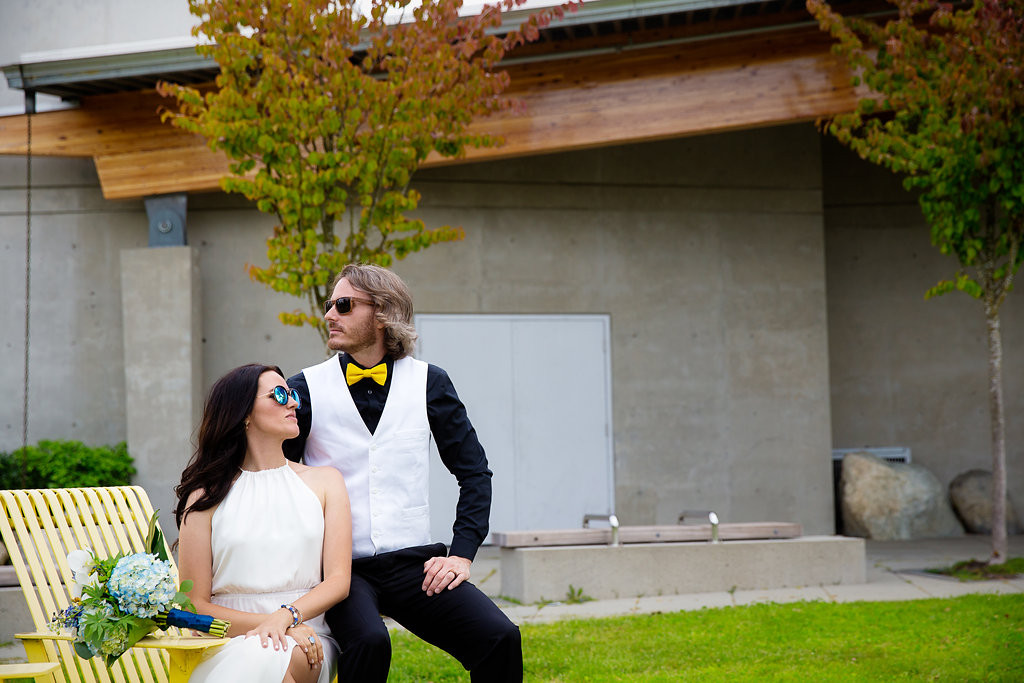 Mason and Hana came to Vancouver from Minnesota for a Trout Lake Park elopement. Well, they hadn't actually heard of Trout Lake Park since they're not from around here. But once they decided to elope in Vancouver, we suggested Trout Lake Park as the perfect destination. They wanted to have a bit of nature and some urban surroundings for their wedding photos. Trout Lake Park is the perfect mix of both!
Vancouver Wedding Officiant Jane and Emily (of Emily Nicole Photos) were thrilled to meet them (and all their great ideas) at Trout Lake in East Vancouver. Complete with a lake, mountain views, a beach, willow trees, maple trees and an awesome modern building (the Trout Lake Community Center), Mason and Hana had all the options for their Vancouver elopement.  This funky and fun couple had a blast tying the knot with us!  We even found local park-goers to stand in as their witnesses.
Why we love Trout Lake Park for a Vancouver elopement:
If you've thought about eloping in a park in Vancouver, you might be thinking of Stanley Park. And while we love Stanley Park elopements, Vancouver is home to many other beautiful parks perfect for an elopement.
We especially love Trout Lake because of the diverse backdrops available to you. Whether you want to tie the knot on the beach, under the trees, against a cool concrete building or with the mountains behind you, you have all the options available at Trout Lake Park. We also love Trout Lake because it's not as crowded as Stanley Park. You'll have an easier time finding parking and it's better suited to small children and furry friends, if you're bringing kids or dogs along to your Vancouver elopement.
Don't have witnesses for your elopement? Young Hip & Married has got you covered! 
To be legally married in British Columbia, you need two people to witness your wedding and sign your marriage licence. But some of our couples choose to elope without any guests. So what do they do about witnesses?
If you want to do like Hana and Mason, you can ask strangers at your elopement location to sign your licence and witness your wedding. This can be a lot of fun as strangers are usually happy to help out and honoured to witness your special moment. However, this doesn't work for all elopements. If you're getting married in a private location or during an off-peak time, it can be hard to find witnesses. The last thing you want to be worried about minutes before your elopement is trying to find a kind stranger to be your witness!
If you'd rather not risk it, you can also add on a witness to your Young Hip & Married package and we will provide two witnesses for your elopement for a small fee.