If you're tying the knot in Vancouver or the Lower Mainland, one thing you have to consider is the weather. We're definitely not known for our sunny blue skies! But don't worry. You can still have a beautiful elopement, rain or shine. And that's because we know some of the best rainy day elopement locations in Vancouver.
Before we jump into things, we want to stress that there's a difference between planning ahead for a rainy elopement and having a last minute rainy elopement back-up plan. Some of the locations below need to be booked in advance. So if you're worried about rain, getting married in the rainy season (aka not summer) or just want to plan ahead, consider making plan A one of these rainy day elopement locations in Vancouver. And if the weather does turn out to be nice, many of these spots are right next to beautiful outdoor areas!
We always cross our fingers for sun but when Mother Nature is not on our side, we head to one of these rainy day elopement locations in Vancouver. Read on to check out our favourites!
PS: These aren't just rainy day elopement locations in Vancouver. We've got options for the entire Lower Mainland! Check out some of our favourite spots in Burnaby, Richmond, Surrey, Langley, Abbotsford and beyond!
Check out the rest of our favourite spots to elope in the city of Vancouver and elopement spots off the beaten path. Once you've found your spot, get in touch to book your elopement today!
Vancouver Public Library
The Vancouver Public Library is an awesome spot for a rainy day elopement in downtown Vancouver. Even better if you and your boo are big readers!
Under Capilano Bridge
Getting married in North Vancouver? Check out this epic spot under the Capilano Bridge – a great way to stay dry and still elope outdoors.
Outside of the Vancouver Convention Centre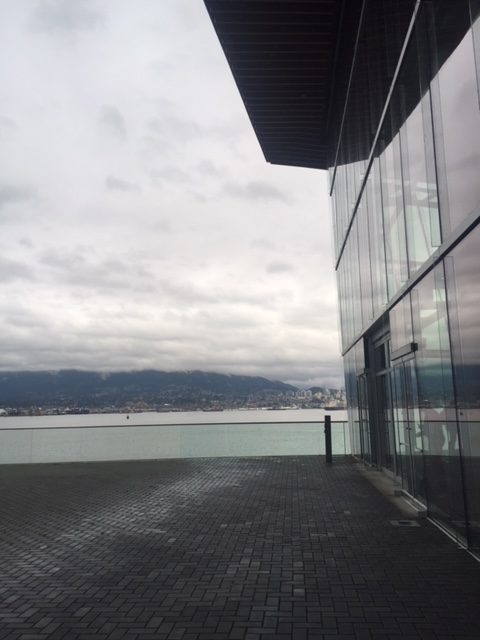 Of course, you could rent out the entire Vancouver Convention Centre for your elopement. But that might be a bit much. So we're suggesting you check out the upper west outside of the building. Officiant Lani shares, "The covered part is much wider than it looks, there are rarely many people around (especially when it's raining), there's a covered walkway from parking and you still get gorgeous views." She snapped the pics above to prove it!
Portal Park
Portal Park is one of our favourite rainy day elopement locations in Vancouver. It's right downtown and a perfect mix of urban vibes and greenery.
Book Your Elopement Now!
West Vancouver Community Centre
The West Vancouver Community Centre is a beautiful spot in West Vancouver and perfect for a rainy day back up plan. The building has huge glass walls, interesting architecture and overhangs that provide great rain coverage.
The Aquabus
If you're getting married on Granville Island or along the Seawall and it starts to pour, jump onto the Aquabus for a totally dry and totally awesome place to tie the knot!
Waterfall Building
The Waterfall Building is pretty much as cool as it sounds. It's a gorgeous glass building right next to Granville Island that features an outdoor waterfall and covered areas perfect for a rainy day elopement.
Granville Island
Granville Island is an amazing place to elope, rain or shine! If the clouds get dark, you'll still have great spots to choose from like under the Granville Street Bridge, under awnings and overhangs, and even inside the Public Market!
King George Blvd Overpass
One of our awesome elopement photographers, Clint Bargen, recommends this secret spot for a rainy day elopement in Surrey. Head to the King George Blvd Overpass at the end of Colebrook Road to hide out from a downpour.
Lonsdale Quay
In North Vancouver, you'll find lots of beautiful covered spots on Lonsdale Quay. We love this little gazebo as well as right inside or around the Public Market!
Get A Quote!
Stewart Farm
If you're looking for some old school charm and a stunning house, check out historic Stewart Farm in Surrey. If you're wanting to have your elopement inside the house or on private grounds, be sure to call ahead!
Vancouver Art Gallery
One of the most beautiful indoor elopement and wedding locations in Vancouver is the Vancouver Art Gallery. Use of this space usually requires a fee and advanced booking, so be sure to call ahead.
Richmond City Hall
Eloping in Richmond? Check out the Richmond City Hall for a beautiful space perfect for rained out intimate weddings.
A hotel room
Another one of our favourite rainy day elopement locations is a hotel room. It's a great way to stay dry, enjoy beautiful views of the city, and still get married in style. The photos above are from an elopement at the Opus Hotel.
The Richmond Library
Another awesome spot for a Richmond elopement is the Richmond Library. Ensure you call ahead if you'd like to take photos inside of the building.
Bloedel Conservatory
So you want to get married amongst the trees but it's too rainy to elope outside? You can get the best of both worlds at the Bloedel Conservatory. This indoor space is completely covered and filled to the brim with greenery. Heads up that this location does require a fee and advanced booking.
SFU Campus
If you're getting married in Burnaby, check out the Simon Fraser University campus for some beautiful spaces to elope. There are lots of little spots that offer coverage from the rain.
Stanley Park
You might be thinking that Stanley Park would be an awful place for a rainy day elopement, but hear us out! There are two spots we love in Stanley Park that provide a ton of beauty and lots of natural rain coverage: the Cathedral of Trees and the Hollow Tree. Perfect for the couple who wants to get married in a forest setting!
Glass Roof Gazebo
Another secret spot is the glass roof gazebo along the Seawall in Yaletown. Check it out here.
Hycroft Manor
Hycroft Manor is a gorgeous wedding venue with both indoor and outdoor options. We particularly like their patio for a covered intimate elopement. As this is a private venue, you will need to book ahead and pay a fee.
Vancouver Aquarium
Who wouldn't want to get married among the fish? The Vancouver Aquarium has a number of indoor and outdoor wedding venue options. Visit their website to learn more about their fees and booking the space for your elopement.
By the fountain at QE Park
Officiant Jane has found an awesome secret spot at Queen Elizabeth Park. She shares, "There is an undercover area at QE Park by the fountain that I often use because if it isn't raining you have the whole park!" We love rainy day elopement locations in Vancouver that still allow you to enjoy the rest of the space if the weather happens to brighten up.
Seasons in the Park
Another great spot in Queen Elizabeth Park is Seasons in the Park, a restaurant with great views and dishes. Elopement photographer Emily Nicole recommends the downstairs room with an old cupboard for a unique backdrop. Ensure you book ahead!
Get A Quote
Dr. Sun Yat Sen Chinese Gardens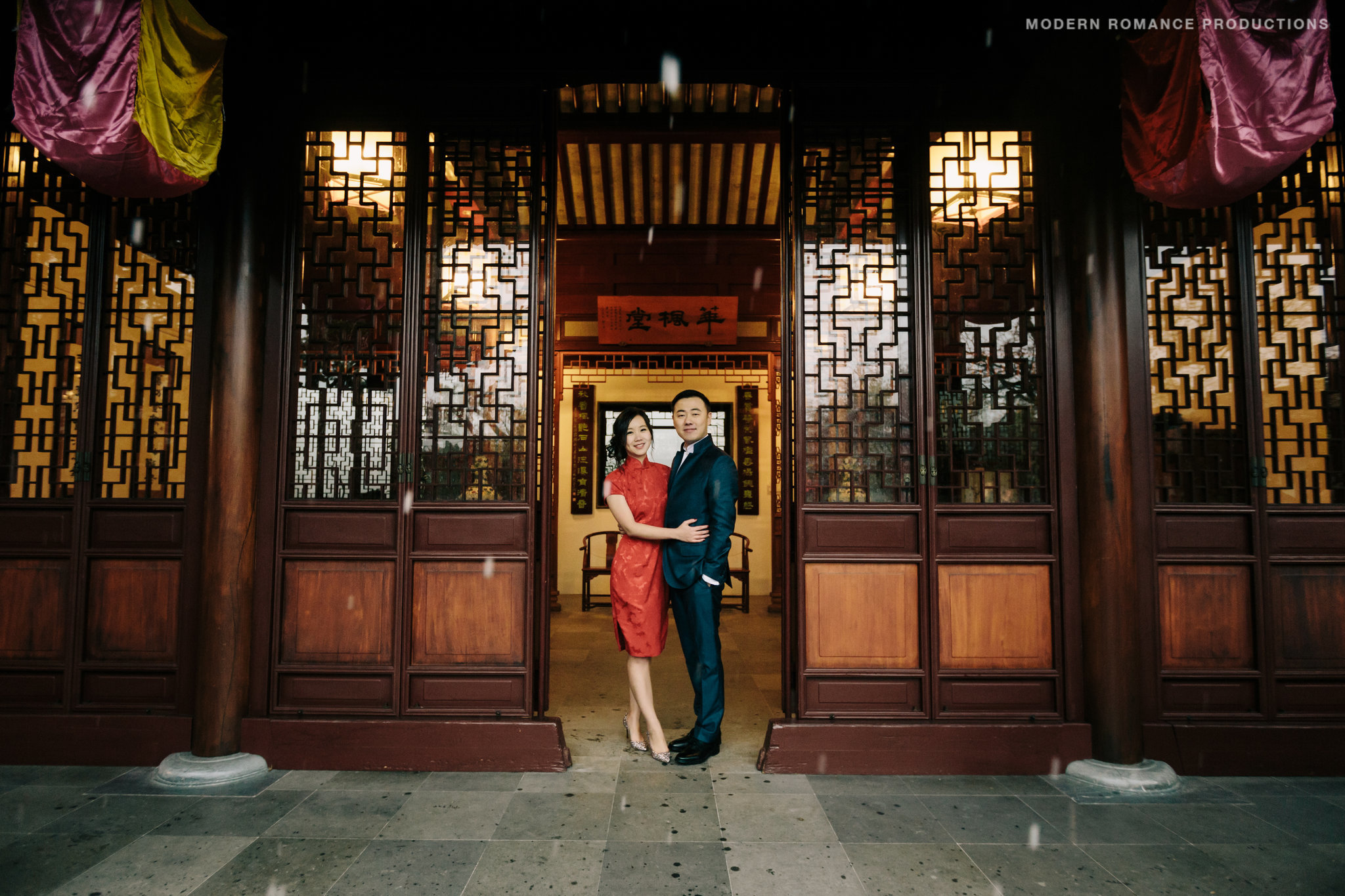 By Modern Romance Weddings
The Dr. Sun Yat Sen Chinese Gardens offer many gorgeous locations for couples to elope. There are both paid and free parts of the park, and both offer some coverings. If you have a specific spot in mind, call ahead to see about paying for a booking.
Dundarave Park
Dundarave Park in West Vancouver is a beautiful spot for an outdoor elopement. And luckily, when the rain comes, you can head to the covered gazebo!
Golden Ears Provincial Park
Golden Ears Provincial Park in Langley is another one of our favourite spots for a stunning outdoor elopement. If it begins to rain, you can head under the bridge for some covered shots. And if the rain holds out, you have the entire park to explore!
Deer Lake Park
Another great elopement spot in Burnaby is Deer Lake Park. There are lots of covered areas, perfect for when the rain starts to pour!
Fort Langley
Fort Langley is one of the coolest areas to tie the knot. And luckily, many of the buildings and structures provide lots of rain coverage. Be sure to call ahead if you're planning to elope at Fort Langley.
Spark
If you're eloping in Mission, BC, Officiant Denise has an awesome rain-proof suggestion for you. She shares, "There is a new and hip art collective called "Spark" in Mission. The place has three gallery areas with cool lighting that would be sweet to do an elopement in." Be sure to call ahead to book this cool new space.
UBC Campus
Like SFU campus in Burnaby, UBC campus in Vancouver is full of places where you can hide out from the rain. You can roam around campus looking for the best spot or book venues like the UBC Farm or Cecil Green Park House.
Fieldhouse Brewing
Another sweet rainy day elopement spot for you, courtesy of Officiant Denise. She suggests you check out Fieldhouse Brewing in Abbotsford. Denise shares, "There is an outdoor wooden stage with a cover and an indoor ambience that is rustic and trendy. There is an enormous stone fireplace inside that would be great for a focal point." Sounds perfect!
---
But the best of all of the rainy day elopement locations in Vancouver?
Anywhere with umbrellas!
Out of all of the rainy day elopement locations in Vancouver, our favourite rainy day plan is to head out wherever you want with umbrellas in hand! Don't let bad weather discourage you from getting married where and when you want. An elopement under an umbrella always happens to be more romantic and intimate – exactly what our elopement couples are looking for!
---
Which of our rainy day elopement locations in Vancouver is your favourite? 
Get in touch to book your Vancouver elopement now!