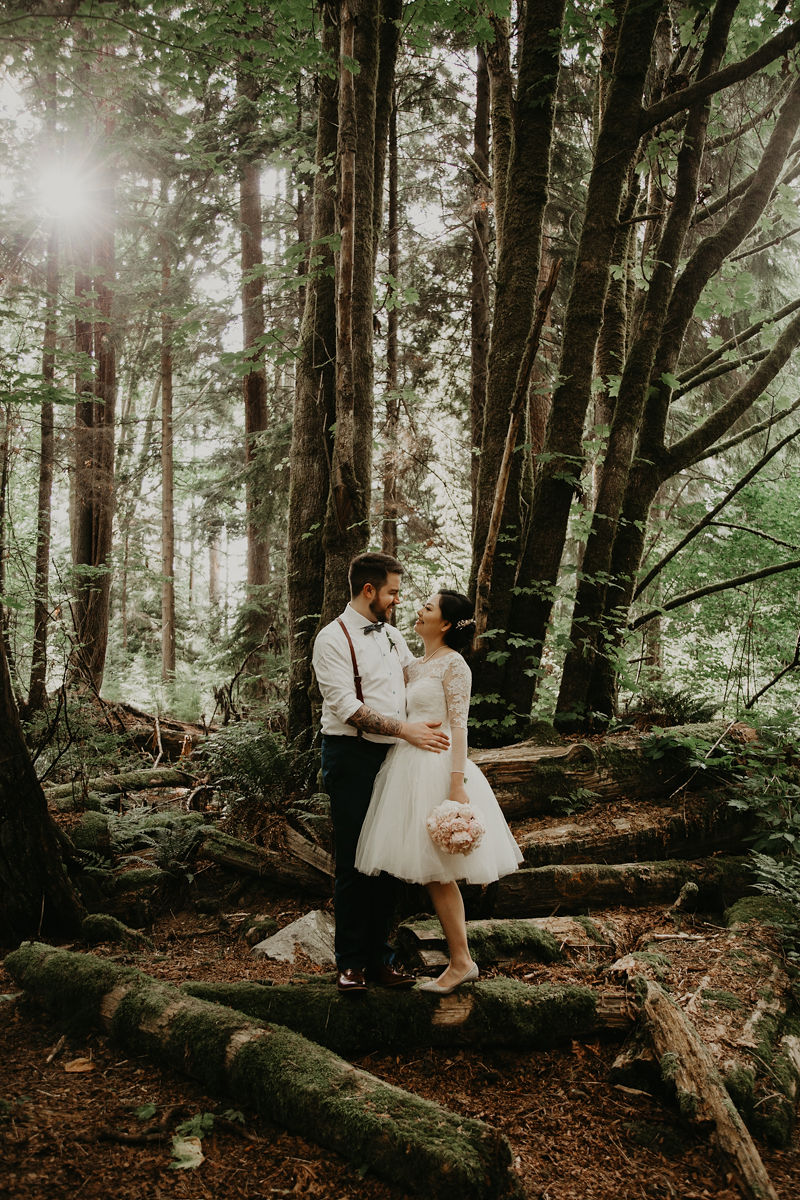 It's no secret: we love elopements! And one silver lining of the pandemic has been more couples turning to an elopement ceremony, micro wedding or minimony. If you're opting for a smaller wedding and more intimate celebration, here are some of our favourite places to elope in Vancouver!
Check out over 20 of our favourite Vancouver elopement spots below – including ones that are perfect for a rainy day wedding. Once you've got your fill of inspiration, get in touch to book your elopement package with an officiant and photographer!
And don't miss our favourite off the beaten path Vancouver elopement locations!
---
Photos below courtesy of our amazing elopement photographers: Erica Miller Photography, Emily Nicole Photos, Clint Bargen Photography, Sara Rogers Photography, Amber Leigh Photography and Tyshawnna Reann Photography. 
PS: While many of the elopement locations below are free of charge, some do require you to pay and book ahead and/or get a permit. Please see our FAQ section or the municipality website for more information.
Aquabus
One of the best ways to get married on the water, but without having to deal with any of the elements, is on the Aquabus! Take a ride from Granville Island or along the Seawall, hop out anytime for photos and stay dry because this Vancouver elopement location is rainy day approved!
Bloedel Conservatory
Bloedel Conservatory is one of the best places to get married on a rainy day because you can enjoy the beauty of getting married in the middle of the jungle, with a roof over your head. Enjoy all this lush greenery, and a few bird friends on your special day. Note that this is a paid venue that will need to be booked in advance.
Carisbrooke Park
In Upper Lonsdale, Carisbrooke Park is one of our favourite hidden gems for a small wedding celebration. Built in 1912, this park boasts lots of stunning green spaces and some beautiful archways for your ceremony.
Deer Lake Park
Over in Burnaby, Deer Lake Park is a great spot for an elopement ceremony or micro wedding. There are beautiful archways for your ceremony and if it starts to rain, there are lots of covered areas throughout the park where you can head for cover.
Get A Quote
Dr. Sun Yat Sen Chinese Gardens
Dr. Sun Yat Sen Chinese Gardens is a great options for couples looking to elope in the middle of downtown Vancouver. This beautiful park venue has both paid and free locations, with open-air and covered options, making it perfect for a rainy day!
Dundarave Park
This park in West Vancouver (where permits are required) is a great option if you're looking for greenery or the beach. Walk along the Centennial Seawalk, stop for photos on the sandy shore overlooking the ocean, and say your vows nestled in the thick tree line.
Ferguson Point
Ferguson Point is one of our most beloved elopement locations in Vancouver. It's a beautiful grassy knoll overlooking the ocean. Since it's located within Stanley Park, you will have lots of options for photos along the Seawall, on the beach or in the forest!
Granville Island
Granville Island is an amazing place to elope in Vancouver because there are so many options! From funky murals to grassy knolls on the waterfront, you can say your I do's almost anywhere. And if it rains on your wedding day, you can have your elopement under the Granville Street Bridge, under awnings and overhangs, or even inside the Public Market!
Hycroft Manor
Hycroft Manor is a beautiful private venue with both indoor and outdoor options for weddings of all sizes (perfect for rainy days!). We love the garden area and the covered patio for intimate elopements. Note that this is a paid venue that will need to be booked in advance.
Get A Quote
Lonsdale Quay
Lonsdale Quay in North Vancouver is a great spot for a city elopement and is a wonderful rainy day option too. There are lots of beautiful views over the water, interesting architecture and covered areas (like a gazebo and the market) for when the skies open up.
Olympic Village
Get married on the boardwalk in Olympic Village for the perfect elopement in the heart of the city with some of Vancouver's biggest icons right behind you.
Portal Park
Portal Park is one of the best picks for a Vancouver elopement spot – especially on a rainy day! This downtown Vancouver park is the perfect mix of urban and natural, with Japanese maples, manicured gardens and a glass-covered pavilion.
Prospect Point
Known as Vancouver's original viewpoint, there really is no better place to tie the knot with the city, mountains and ocean behind you. Since this viewpoint is so popular, we suggest showing up at an off-peak time or embracing the other people there as your impromptu wedding guests!
Queen Elizabeth Park
Queen Elizabeth Park is another awesome location option for your Vancouver elopement. Besides lots of beautiful greenery, this park also happens to be the highest point in the city, meaning you will have a stunning view. And Officiant Jane has found the perfect spot for a rainy day wedding – an undercover option by the fountain lovingly deemed the "bus stop."
Get A Quote
SFU
The SFU campus in Burnaby is a great spot to tie the knot when you're eloping. There are lots of beautiful areas around the campus, and many are covered, which makes it perfect for rainy days.
Spanish Banks
Spanish Banks is one of the most popular beaches on the westside of Vancouver and a beautiful spot to elope. Since it can get busy, we suggest you head there in off-peak hours.
Stanley Park
We couldn't put together a list of our favourite Vancouver elopement destinations and not include Stanley Park, now could we? Stanley Park is one of the best! Whether you're looking for a beach, the woods, a rose garden, a lake or a viewpoint, Stanley Park has it. Plus if you need a place with a ton of beauty and lots of natural rain coverage there's our favourites: the Cathedral of Trees and the Hollow Tree.
For more Stanley Park elopement inspiration, check out this post!
Sunset Beach
A beautiful beach that promises sunset views? Sounds like the perfect place for your Vancouver elopement. Besides being another beautiful Vancouver beach, we also love Sunset Beach because it's home to Engagement, a sculpture by Dennis Oppenheim of two giant engagement rings. It doesn't get any better for a wedding day!
Third Beach
Who says you have to fly to Mexico for a beach wedding? You can have your beach wedding right here in Vancouver! Third Beach in Vancouver's West End is a great option, and is particularly peaceful on a quiet weekday morning. It's also steps away from Stanley Park, giving you lots of options for photos.
Trout Lake Park
Trout Lake Park is another hidden gem for eloping couples in Vancouver. This park offers greenery, water and a beach. It's also a very family-friendly and dog-friendly location, so your closest loved ones and furry friends can attend your intimate wedding too!
UBC
Like SFU, the UBC campus is another wonderful option for elopements. You'll have your pick from interesting architecture, beaches, gardens, farms, forests and paid venues like Cecil Green Park House. And with lots of covered areas, this is a great rainy day option! 
Vanier Park
Just off of English Bay, Vanier Park offers stunning views of downtown Vancouver and Stanley Park. You'll have lots of spots to choose from when it comes to deciding where to say your vows from ponds and fields to bridges and waterways.
Yaletown Seawall
It doesn't get more Vancouver than the Seawall. We particularly love the Yaletown side with the water views, marina and funky settings throughout Yaletown for photos afterwards. But the Stanley Park side is a great option too.
---
There you have it – our favourite spots to elope in Vancouver.
Where would you choose to get married?
Book your Vancouver elopement now! 
Get A Quote