If you've always dreamt of a fairytale wedding in a magic castle with glass slippers, Hollywood glamour and fireworks, then weddings at Disneyland might be your wish upon a star! Imagine a Disneyland wedding where you can arrive in a glass carriage, party with your favourite Disney characters and, of course, share true love's kiss.
Let's find out if a magical Disneyland wedding is right for you!
What you need to know about weddings at Disneyland
Disney Weddings will be your hub for everything you need to plan a wedding at Disneyland. In additions to weddings at Disneyland in California, you can also host your wedding at Disney World in Florida, at the Disney Resort in Hawaii or on a Disney cruise!
Most Disneyland weddings are booked 18 months out, though some venues are available 24 months in advance. You'll work with a Disney Wedding Specialist and dedicated event planner throughout your planning process to ensure everything is perfect for your magical day. As most Disney weddings are destination events, these specialists are experienced in working with couples from all over the world.
Each Disney location has a number of venues to choose from where you can host your ceremony and reception. These include in-park venues and venues in hotels, on beaches, on ships, and more!
How much do weddings at Disneyland cost?
Weddings at Disneyland Resort in California start at $15,000 USD. Considering that the average California wedding costs about $40,000 USD, a Disneyland wedding may not be as out of reach as you thought! Note that $15,000 is the minimum spend and can include your ceremony venue cost, food and beverage, decor and more. Check out the pricing page for more information on additional costs.
If you're open to having your wedding at another Disney location, the most affordable option seems to be a Disney cruise, where weddings for 16 guests start at $4,000 USD. Keep in mind that this is in addition to the cost of the cruise, of course! On the high end, the most expensive Disney wedding would be a Magic Kingdom After Hours wedding at Disney World in Florida with a ceremony venue fee of $40,000 and a minimum spend of up to $100,000.
While Disneyland wedding minimums can include your venue, food, beverages, florals, decor and entertainment costs, most couples end up spending well over the minimum for their wedding. There are also additional wedding services you'll have to pay for outside of Disneyland, such as your wedding outfits, invitations, beauty services, etc. You will also want to factor in travel and hotel costs if you don't live near Disneyland.
Many couples who host weddings at Disneyland turn their celebration into a wedding weekend, hosting multiple events throughout the park over a few days. Some may even include park passes for their guests in their wedding budget. And while a ceremony at Sleeping Beauty's castle, reception at the Disney Animation Building and rehearsal dinner at Small World Mall, followed by a day of going on roller coasters with friends, sounds awesome…it can add up!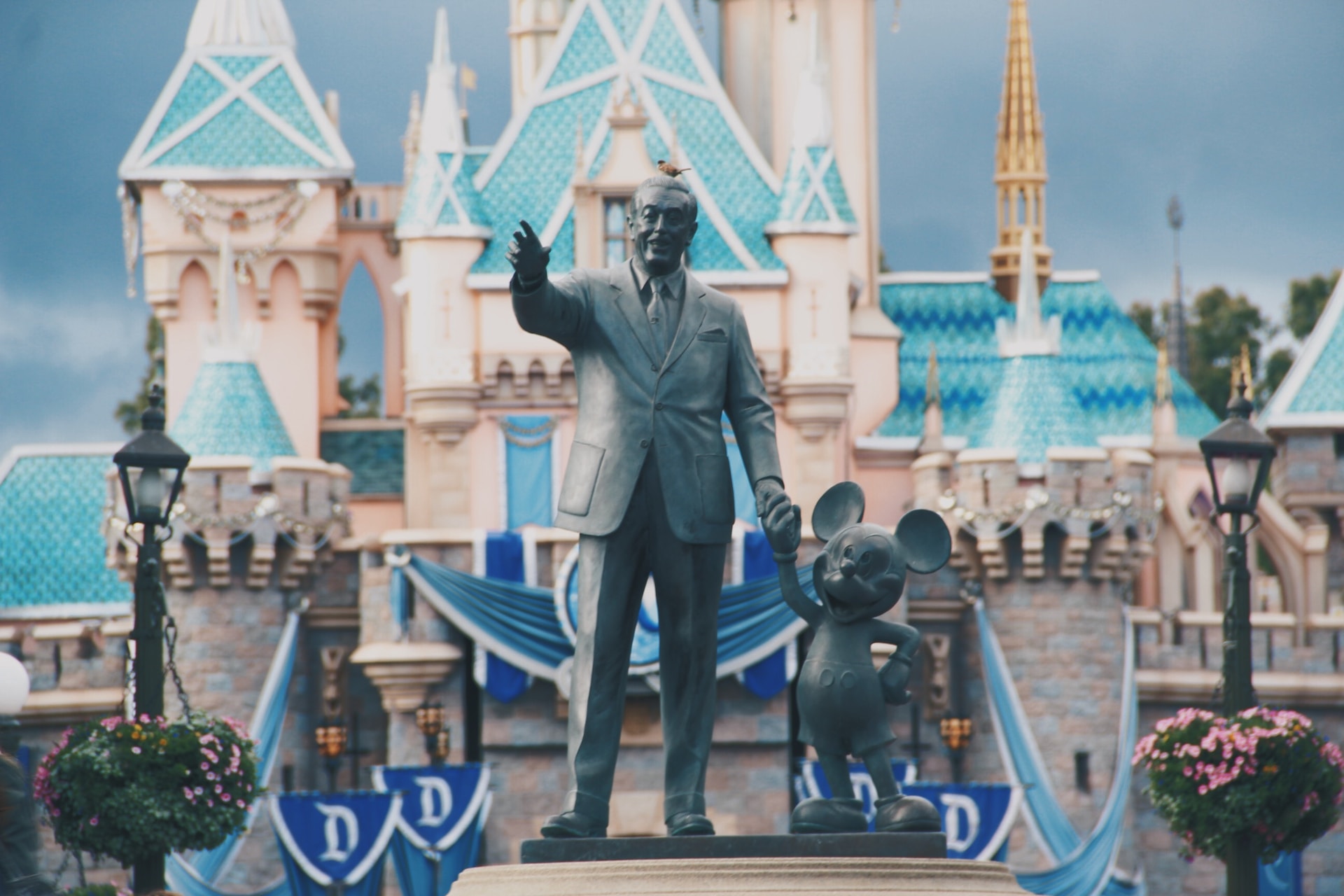 A Disneyland wedding can be elegant, sophisticated and timeless
Even if you're planning a wedding in Disneyland, you don't have to go full Disney. Contrary to all of the Disney adults you see on social media, it's possible to visit the parks without wearing Mickey Mouse ears and matching outfits. It's also possible to have a Disneyland wedding that feels like a timeless, chic affair for adults and not like a little kid's birthday party!
Across their properties, Disney has over 100 wedding venues for couples to choose from. At California Disneyland, venues like the Adventure Lawn Gazebo, Parkview Terrace and Rose Court Garden feel like sophisticated, beautiful wedding venues that you wouldn't find at a theme park. At Disney World in Florida, you can truly have your wedding anywhere in the world when you host it at one of the many venues in EPCOT.
You can work with your Disney Wedding Planner to incorporate elegant decor and details that match your wedding style, with nary a mouse ear in sight!
A wedding in Disneyland can also lean into your inner Disney nerd!
On the other hand, you're getting married at Disneyland for a reason, right? If you want to lean into your inner Disney nerd and let all of your Disney love out, go for it! You can get married in an iconic Disneyland location, like the Sleeping Beauty Castle, and have your reception in the mall of the It's a Small World ride. You can arrive by glass carriage, à la Cinderella. And you can even hire Disney characters to show up on your special day.
Of course, you can keep the Disney theme going with your decor, menu and entertainment. Choose Disney songs to play throughout your ceremony and reception, serve Mickey waffles at your post-wedding brunch, and incorporate a bunch of Hidden Mickeys for your eagle-eyed guests to find. Your Disney Wedding Planner will be able to make lots of suggestions to ensure your wedding is on-theme, but not too childish.
Young Hip & Married at your Disneyland wedding
Wish Young Hip & Married could be a part of your Disneyland wedding? Bibbidi-Bobbidi-Boo, we'll make that wish come true! Here are three ways we can be a part of your fairytale day:
Check out our online vow writing course to get kick-ass vows for your Disneyland ceremony!
Learn about the Friend Zone, our ceremony writing package that allows you to have a custom YHM ceremony wherever you're getting married.
Really want Young Hip & Married to officiate your Disneyland wedding? We'd love to! We have officiants on the west coast who would be happy to hop a flight down to Anaheim for your big day. Get in touch for custom pricing.
So, is a Disneyland wedding right for you?
Lots of couples host their weddings at Disneyland every year…but should you be one of them? If you've made it this far in the article, we'll assume you're at least thinking about a Disneyland wedding. You likely have a special connection to Disneyland or a big love of Disney movies. Maybe you even got engaged at the parks! If a love for Disney is something you and your partner both share, a Disneyland wedding could be a great way to celebrate that.
Of course, you'll want to consider the logistics of having a Disney wedding. Assuming you don't live in Anaheim, do you want to have a destination wedding? Are you comfortable with the cost of a Disneyland wedding and any extra expenses to visit the parks or host an extended wedding weekend? And while you love Disney, do you want to have a themed wedding?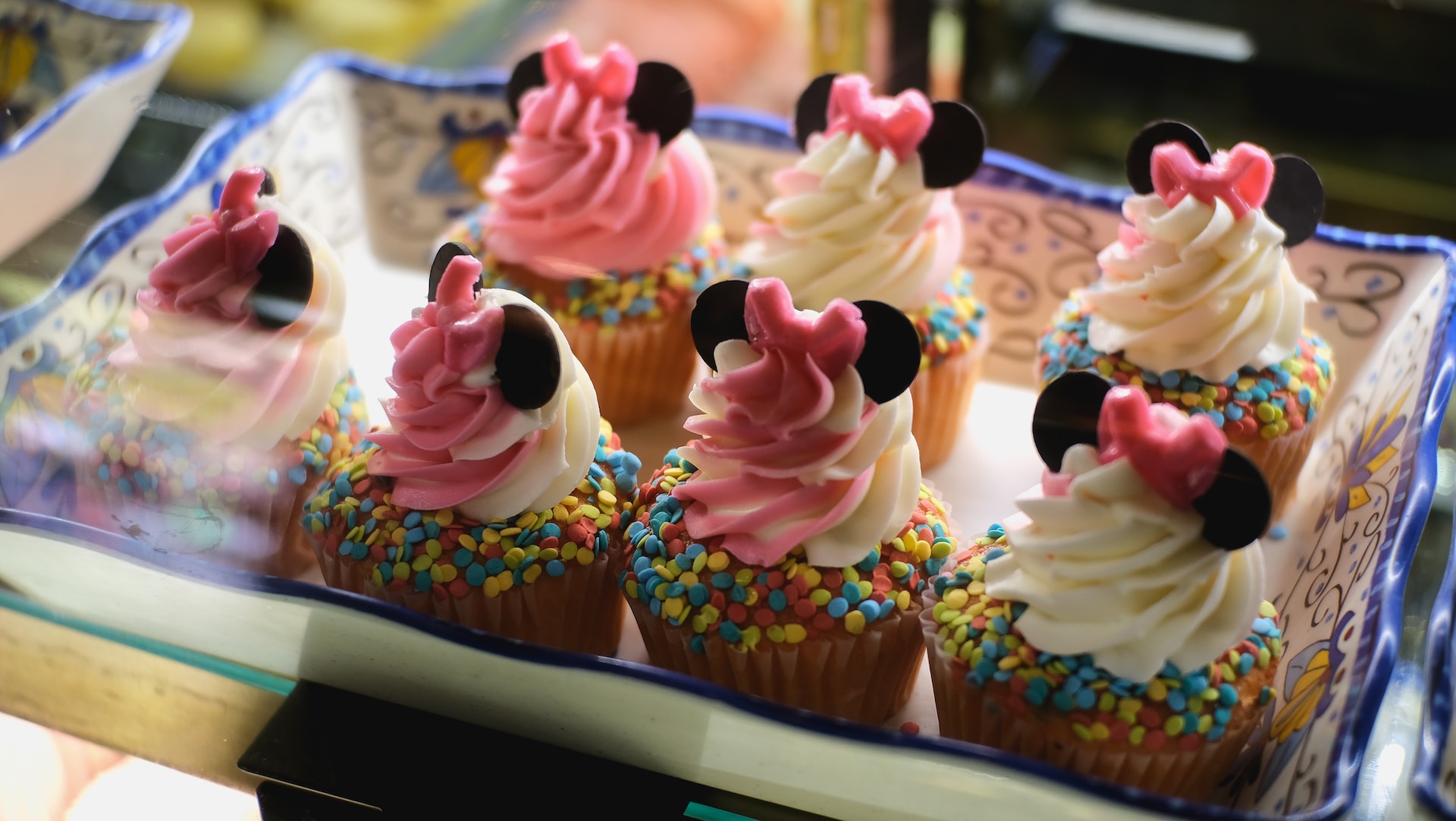 If you decide a Disneyland wedding isn't right for you, there are still lots of ways to incorporate Disney into your wedding day. You can still have a Disney theme, though aim to keep themed items elegant and minimal so you don't veer into kid's birthday territory. You can play Disney music, serve Minnie Mouse cupcakes for dessert, and use Disney quotes in your vows and invitations. You can even visit the Disney Boutique and buy wedding rings, outfits and more from their collections.
You can also visit Disneyland as part of your wedding celebrations, even if you don't host your wedding there. You could head to Disneyland on your honeymoon, with Disney even offering a registry for Disney honeymoons. Your honeymoon could be a great excuse to visit an international Disney park instead, such as the one in Tokyo or Paris. You could also visit a Disney park for your bachelor or bachelorette party. Trade tequila shots and clubs for churros and roller coasters!
---
Happy Disney wedding planning!