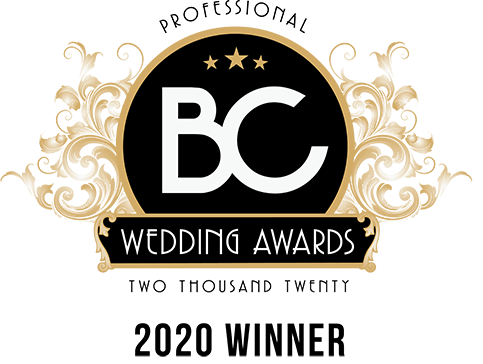 We are so thrilled to announce that for the 7th year in a row, Young Hip & Married has won Best Wedding Officiant at the BC Wedding Awards!
Officiant Beth took home the title of Best Wedding Officiant for 2020 and Officiant Shawn was one of the top three finalists. We are so proud of our winners, our entire officiant team and the whole community of  BC vendors who were recognized and showcased some incredible weddings from the last year.
Here are the wedding stories that earned us Best Wedding Officiant gold!
Marie & Tash with Officiant Beth
Tash and Marie were married in an intimate and beautiful wedding at Pacific Spirit Park last July. During their ceremony, Beth shared inspirational words that described what this couple meant to their friends and family, and what they meant to one another. She encouraged them to continue working together as a team and using their love to inspire everyone around them.
After the wedding, the newlyweds wrote this review for Beth:
"Beth was incredible. We hit it off right from our first meeting, and felt comfortable and safe with her ideas for handling our intimate ceremony. The draft of the ceremony she first sent us showed how thoughtful and creative she is with designing the perfect ceremony for each of her couples. We are both teachers, and the end of term is a very hectic time for us, but Beth was beyond patient with delayed responses and last minute questions and changes. She made everything so easy and stress free; it was an absolute blessing. 
At the wedding itself, her calm, generous presence really set the tone for our relaxed ceremony—exactly what we wanted. She exceeded our wildest expectations for a personally tailored ceremony illustrating our story and what is important to us. It felt like she was part of the family, she was so at ease and made everyone else feel that way too. We are so grateful for the time, care and attention that Beth brought to every part of the process, and we cannot recommend her highly enough. It's been months since our wedding and people from our wedding are still bringing up how amazing Beth was and how special she made that crucial part of our big day."
Kim & Parker with Officiant Shawn
Kim and Parker were married by Officiant Shawn at Brix this winter in a wedding that was all about family. Shawn explains his plan for how he made this ceremony one the entire family could feel involved in.
"For this wedding, the couple was bringing together their five children to form a new blended family. It was very important to this couple that their kids knew this wedding wasn't just about mom and dad, but about all of them coming together. During my first meeting with the couple, I discovered their shared love for gardening and the outdoors. I came up with the idea to create a unity ceremony that incorporated their love of flowers and involved every member of the family.
I asked each member of the family to select their favourite flower. I then interviewed each person and asked them to share what they loved most about the other members of their family. I put together a big list for each family member about what the others most loved and appreciated about them.
On the day of the wedding, when it came time for the unity ceremony, I asked each member of the family to step forward and handed them their chosen flower. As they stood, I shared the acknowledgement I had written for them, telling them everything their family loved about them and why they were such an integral part of this new union. At the end, I asked everyone to place their flowers into a vase. I shared that while each flower was different, it was together that they became so much more beautiful than they were alone. Just like the flowers, each member of this family was unique and together, they would be creating something truly special."
Here's a sample of what Shawn said about a flower chosen by their daughter, Soph.
"Soph, you have chosen the Pink Mondavi Rose. This colour rose represents femininity, fun and happiness, which pairs perfectly with your witty and humorous personality. Your family loves and appreciates all the joy and happiness you bring to their lives. This is one of your greatest assets to your family. Always be who you are. You are loved and appreciated."
---
Congratulations to all of the winners, finalists and participants of the BC Wedding Awards! We are so honoured to be recognized once again alongside our incredible vendor colleagues. Looking forward to even more wonderful weddings leading up to the 2021 BC Wedding Awards!