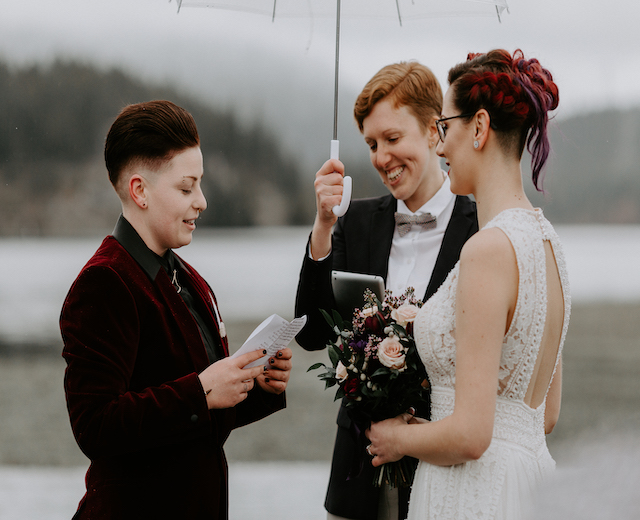 I grew up watching my father officiate weddings from my spot at the church piano. And even though I enjoyed playing the piano, I remember thinking how amazing it would be to have my dad's job one day. Like him, I wanted to be able to frame the ceremony in a way that drew attention to the beauty of what was happening in that couple's unique love story.
My wife and I were married in 2014. On our wedding day, we were filled with gratitude for the people who went before us and made Canada a place where we could legally be married, and gratitude for the friends and family who surrounded us and had supported us through the ups and downs of our long journey to marriage.
When I'm not officiating weddings, I work connecting with hundreds of LGBTQ+ people across Canada and helping them find spaces where they can express and explore both their faith and their sexuality/gender identity.
My favourite part of any wedding ceremony is the vows. I believe something sacred happens when we make promises to the one we love, surrounded by all the people who support us, and often it feels to me like time slows down to hold the weight of those beautiful words.
I would absolutely love to grab a coffee with you and hear the story of how you fell in love and made this decision to commit to one another.  My hope is that after all the hard work of planning, your wedding day will be a day when you can breathe easy, take it all in, savor it and really enjoy the one you love and the community who loves you both.
Beth married us this Sept 8, 2018 and we couldn't have been happier. The entire experience with Young Hip & Married was smooth and professional with the warm and personal touches we were looking for. Our officiant, Beth, was absolutely amazing! She stayed in contact with us through the whole process and wrote us the most touching ceremony. It was fun and sweet and everything we had hoped for! And although we didn't meet until the ceremony, it was just like having an old friend there with us – inviting and comfortable! Our backyard, East Van, lesbian wedding was nothing short of extraordinary thanks to Beth and Young Hip & Married! We would recommend using them a thousand times over!!

Beth, we wanted to thank you so very much for giving us an absolutely beautiful ceremony and truly making our story come alive surrounded by friends and family. We were so pleased to work with you, every single step of the way was smooth and your warm and approachable nature made the ceremony all the more special!

We had Beth as our officiant for our wedding this summer. She was fabulous! We met her at a coffee shop to see if it was a right fit for us and she was. Beth was very communicative via email and she was very flexible with our rehearsal. She prepared a fantastic ceremony based on our survey responses and responses from our friends. We received many compliments on our ceremony. We highly recommend Beth and the team!

Beth listened, she took the time to get to know us and made the ceremony beautiful. She brought in just enough personal touches, including recommending ways for family stuck across the country to participate. She seamlessly incorporated scripture with funny moments from our relationship and truly made it feel like a longtime friend was conducting our ceremony. We were beyond thrilled with the ceremony and the services of Young Hip and Married. Amazing people, would recommend to anyone.

Did a helicopter elopement with Young Hip & Married and it was amazing! We loved our officiant Beth and how she worked with us to completely personalize our ceremony! Also loved our photographer Erica who helped us feel less awkward in front of the camera and made us laugh shaking off the nerves! The pilots at Sky Helicopters were aweeeesome and made our ride so fun (and safe!)! It's beautiful up there guys! Highly recommend Young Hip & Married and their helicopter elopement package! Thanks for the unforgettable day!

Beth was incredible. We hit it off right from our first meeting, and felt comfortable and safe with her ideas for handling our intimate ceremony. The draft of the ceremony she first sent us showed how thoughtful and creative she is with designing the perfect ceremony for each of her couples. We are both teachers, and the end of term is a very hectic time for us, but Beth was beyond patient with delayed responses and last minute questions and changes. She made everything so easy and stress free; it was an absolute blessing.

At the wedding itself, her calm, generous presence really set the tone for our relaxed ceremony—exactly what we wanted. She exceeded our wildest expectations for a personally tailored ceremony illustrating our story and what is important to us. It felt like she was part of the family, she was so at ease and made everyone else feel that way too.

We are so grateful for the time, care and attention that Beth brought to every part of the process, and we cannot recommend her highly enough.

It's been months since our wedding and people from our wedding are still bringing up how amazing Beth was and how special she made that crucial part of our big day.

We had a wonderful experience with Young Hip & Married. Beth was our officiant and she was fantastic! We did a helicopter elopement and that alone was the coolest experience! Also we had to change our dates a few times and they were so great working with us and finalizing all the plans. We had just the best day every!! Thanks so much Young Hip & Married!!

YH&M was on my wish list for almost a decade. I had witnessed an elopement in 2009 with Shawn Miller as the officiant and was blown away. Fast forward to 2018 and it's finally my turn. Even after a decade of growth YH&M stood with the same morals and beliefs on marriage and weddings. We had the pleasure of having Beth be our officiant and she couldn't have been more perfect. She understood who we were and where we came from after just one conversation. Beth was incredible to be around and was like one of the guests. The ceremony was perfect. Thank you YH&M for connecting us with Beth.

We had Beth as our officiant. She worked with us to include our son in the ceremony. It felt very personal and she met all our requests. I wanted to add little details into the ceremony and Beth fit all of them in perfectly.

Beth was an incredibly kind, approachable, professional and easy-going officiant. Beth really got to know us as a couple and personalized our wedding ceremony and experience. She got in touch with all our friends and family many months before the wedding to compile unique anecdotes and stories shared with our loved ones. When first meeting Beth, I just knew she was the best fit for us and I sensed right away she was going to make the experience preparing our ceremony smooth and enjoyable. Beth was so flexible and opened our eyes to the many possibilities we could have for our ceremony. My guests said that it was the most memorable and touching ceremony they had been to and certainly a highlight of the night! We will remember our ceremony forever and reflect on this experience throughout our new lives together. Thank you so much!!

We eloped with YH&M early May 2018. We chose the package with Sky Helicopters and got married on top of a mountain in Pitt Meadows (unreal). Beth, our officiant, was amazing. She worked with us to create a ceremony perfect for us and made us feel so comfortable from the minute we met. Erica, our talented photographer, captured everything …before we took off, the flight, on the mountain… from the preview we have seen the shots are gorgeous. Tara in the office was so helpful answering ALL of my questions (many of them multiple times) in a timely and informative manner. Highly, highly recommend using Young Hip & Married!

Beth was our wedding officiant and she did such an amazing job telling our story. Her energy was amazing and brought such good humour to our relaxed casual wedding. I highly recommend Beth!

We could not imagine a better person to marry us than Beth. She is welcoming, warm and professional; but more importantly than that, we felt utterly comfortable with her.

It is a funny thing to have a stranger play a central part in what is a very personal, often private, happy and vulnerable moment of your life. Beth felt like a friend from the start. She is a person that we would consider a true privilege to know.

Thank you Beth, for your thoughtful, kind and engaging self.

Our officiant, Beth, was amazing!! She told our love story so beautifully and with humor and warmth! Everyone after our wedding said how incredible our officiant was that it was the most romantic and best ceremony they had ever attended! Thanks YH&M!

I was so happy with the customer service and our officiant all the way through the process with YH&M. Jackie-Deane was my first contact. She was very personable, had great tips and extra information, and helped me find the perfect officiant. I made rather last minute plans for an unusual evening ceremony and wasn't sure how I'd find an officiant. I found YHM online and after my first contact I was confident that I would be taken care of. Everything was handled very professionally, efficiently and personably. I haven't done much online sourcing for services and was very pleasantly surprised to find that it could feel personal. Our officiant was Beth Carlson-Malena. She was fabulous in every way: answering all of our questions, provided helpful tips (including excellent YH&M tips for writing vows) and reminders, and enthusiastically hopping on board and guiding our quirky wedding ceremony. Couldn't be happier with our choice. I would highly recommend YH&M for wedding assistance. A personalized, supportive and easy solution to challenging event planning.

They were very open and flexible with our unique marriage arrangements and easy to work with. The ceremony went off without a hitch and all of the administration work was handled swiftly and professionally. Highly recommended.

Young Hip and Married is an excellent marriage service. They took care of us from the beginning and they were super nice and very attentive. We are a gay couple who wanted a simple wedding but in a very special way and Young Hip and Married went the extra mile.

Our big day will never be one to forget thanks to YH&M! Right from the beginning we had the pleasure of dealing with Jackie-Deane. She got excited when we showed excitement, she made us feel at ease with the process our helicopter elopement, and was super helpful with the abundance of questions we had. Beth was our officiant, and let us tell you we couldn't have asked for a better officiant! She too was full of personality, and created such a beautiful script (right from a questionnaire!!) for our intimate ceremony at Widgeon Creek. Our photographer, Erica, was amazing. Despite feeling awkward when taking photos (we're not ones to pose for mushy gushy photos) she had us laughing throughout, and even though awkward we felt comfortable. We couldn't have asked for a better crew from YH&M to make our helicopter elopement the best day we could imagine during a pandemic! Now we fully understand why people say your wedding day is the best day of your life. 150% recommend YH&M for your wedding day. We will be talking about this for the rest of our lives. Thank you from the bottom of our hearts! We are SO damn happy!

Beth was incredibly amazing for our ceremony! She listened to everything we said and truly took it to heart when writing our script. Everyone at our wedding thought she had known us for years and said it was the best ceremony they had ever been to! We cannot recommend YH&M enough, especially Beth!

I went back and forth about hiring YH&M for quite a while. It is a lot of money to spend on an officiant. Beth ended up being so much more than I wanted. She was super attentive and paid attention to every detail. It really showed in our script. It was perfect. Everyone absolutely adored how personal our ceremony was. It made our vows that much more special as well. Thank you so much Beth for everything. I will recommend you and YH&M to everyone <3

Absolutely Incredible! Rebecca (our organizer) was always so personable and very quick to respond! Emily Nicole our photographer, was indispensably helpful and so kind. And our Officiant Beth Carlson-Malena was so helpful before the wedding, worked with us on everything, made everything very easy going and intimate. We had the most wonderful wedding and we are so grateful to Young Hip & Married! Cannot recommend enough!

Young Hip & Married (especially Jackie-Deane) did an amazing job of making our elopement both easy and amazing. The service was professional and quick, and our photographer, Sarah, and officiant, Beth, were both wonderful. We were so happy to share such a great day with both of them. I would highly recommend them to anyone!!

We had Beth Carlson-Malena as an officiant and had an unbelievable mountaintop wedding via helicopter. Couldn't have asked for a better experience. We highly recommend that anyone who isn't interested in a traditional wedding do this.

We had a great experience with Beth! She was very kind and professional. Additionally, her write up of us during our ceremony was fantastic! Thanks again Young, Hip & Married!

I am thrilled I found Young Hip & Married! There are not enough words to express the gratitude we have for Beth and the ceremony she put together for us. She was able to take all my crazy, jumbled thoughts and put them into a beautiful ceremony that was not only above our expectations, but was nothing short of perfection. I had so many compliments on the ceremony: the language she choose for us, the manner in which she interacted with our guests, and the unique and special way she incorporated our children into the ceremony. Furthermore, she was so flexible. Working with her really was a dream, and she helped make my dreams come true! Thank you so much.

My wife and I had a fantastic helicopter wedding. We highly recommended!

Young Hip & Married was just perfect for us. I wanted something beautiful classy fun and so so stress free and blam found it here. We booked our elopement through them. Our officiant was Beth and she's so cute and fun. She made our vows hilarious (we are a humour filled family) and Emily took fantastic photos. I'm super happy with our special day and I don't think you'll regret being stressless on your wedding day.

Beth was so awesome to work with! We weren't sure of exactly what we wanted, but Beth offered us several helpful starting points that made our preparations very easy. She really listened to us and prepared a beautiful ceremony that really captured who we are and she made us feel at ease throughout the whole process. We could not have hoped for a better officiant. Thank you, Beth, for making this such a great experience!

Thank you for making our day extremely easy and special! We have been reflecting on the experience, and we keep commenting that you were the perfect person for the job, making us feel at ease and letting us be ourselves throughout the ceremony.

We loved how our wedding came together, it was incredibly easy and straight-forward (maybe a total of 10 emails to arrange the entire thing!). Beth Carlson-Malena was our officiant, we loved how she approached creating our ceremony and that we were able to personalize all of the language to make sure it was right for us. As queer women we really appreciated how inclusive the process was from start to end.

Great service, we had Beth as our wedding officiant and she is awesome! Highly recommend.

Tina

 and I wanted to thank all of you for making our wedding happen. It was everything we imagined and the three of you are to thank for that. The process of setting it up was smooth and easy, thank you Tara for dealing with us and getting everything sorted. The ceremony was beautiful, not too long or short, it was perfect and Beth, your words and the way you said them made it so heartfelt. The photos after were a lot of fun to do and Emily you made us relaxed and less awkward than we usually are for photos. (That and the ones we've seen are incredible, freaking stunning.)

We can't thank you guys enough for everything; it was the perfect weekend.

Young Hip and Married was the best choice we made when planning our elopement. They were easy to work with and the whole team there is full of caring, lively individuals who want to see their clients happily married. I would recommend them to anyone getting married as they offer many different packages and tailor to what you want. We dealt with Tara, Beth (Officiator) and Emily (Photographer) and they went above and beyond.

YH&M were effortless to deal with. Thank you for being part of our "pop-up" wedding!

We booked a helicopter elopement package with Young Hip & Married and were very happy with their services. We especially loved our officiant, Beth. Beth was very responsive and helpful before the wedding when the ceremony wording was being prepared. On the wedding day, she was early and well prepared. We didn't do our own vows and I thought that what she wrote captured us perfectly. She made us feel very at ease during the ceremony. The office staff was also great and always responded to my questions very quickly.

My wife and I were lucky enough to have Beth as our officiant for our ceremony. She did such an amazing job matching our style, and telling our story for all of our guests to hear. Beth helped to make our special day even more memorable. Throughout the night I had countless people tell me that it was the best, most personal and memorable ceremony they had ever seen. We can't thank Beth enough for such a wonderful experience, and I would absolutely recommend her to anyone who needs an officiant.

---

Thank you so much for such an amazing job. Both Kristina and myself couldn't be happier with how our ceremony went. You played such an important part, and by adding personal touches regarding our story, you helped all of our guests get to know us in a way that helped to truly showcase what Kristina and I are about. I had so many people (including both my parents) tell me that this was the best ceremony they've ever seen. In their own words, each person ended up saying that usually most ceremonies they've seen tend to be a boring portion of a wedding that tends to drags on, but that ours was the complete opposite. Everyone loved how you managed to encapsulate our story, while at the same time reflecting a tone and style that matches how Kristina and I are. You helped make everyone laugh, cry, and have an unforgettable experience. Thank you for everything, and most of all, thank you for helping make the day perfect for Kristina.

Our elopement was perfect! Tara took care of all the details and my requests promptly and efficiently. We chose Beth Carlson-Malena to be our officiant who was a perfect fit for us. She took time to meet and get to know our story and performed a perfect loving, joyous ceremony and reading of the vows on the day. Erica Miller photographed us and though I cannot comment on the photos as of yet; we get them in a week or 2, I can say she was also a perfect compliment of joy and celebrating spirit for our small elopement party. The helicopter company and the pilots who Young Hip and Married use are most excellent. We flew up the mountain. And came down married. It was a beautiful day, the clouds parted, sun came out and blue skies peeked. Thank you Beth, Erica and Tara for making the planning and our Elopement Day flow with ease, joy, and love.

We had a fantastic lovely experience working with Beth from Young Hip & Married. We are a queer couple getting married, and we wanted a wedding officiant who would make this wedding special and ensure that our story is told well. Beth was nothing short of amazing, and it was such a smooth and wonderful process. We are thankful she told our love story to our best friends. I recommend her, and Young Hip & Married, wholeheartedly.

My partner and I scheduled an elopement through Young Hip & Married and have nothing but wonderful things to say about our experience. We specifically asked for an LGBTQ friendly officiant and they connected us with Beth! Beth was the perfect fit for us, asked us lots of questions and delivered a beautifully personalized ceremony. We would highly recommend for any couples looking for a very low stress and pleasant experience.

Beth was the most amazing officiant we could have asked for. She created a beautiful and personal ceremony for us that suited my husband and me perfectly. Before our wedding day, she met with us to get to know my husband and me and what we were hoping to have included in the ceremony. She even contacted our friends to get personalized information for the ceremony. It was the most effort I've ever seen an officiant put into a wedding, and we are so grateful for her guidance through the whole wedding planning process. My husband and I have had so many friends and family who attended the wedding tell us that it was the most heartfelt ceremony they had been to. This was largely due to Beth's warm and friendly presence, and the fact that she created a ceremony that was unique to us. Any couple who have Beth as an officiant are so fortunate as she truly is a special person to have marry you.

We were married in September 2019, and the experience we had with Beth from start to finish was one of the best parts of our wedding. We had selected a full package, allowing Beth to write and direct the ceremony that best fit our style, but which also allowed her to be comfortable in her style as well. It was fabulous to be in such good hands, to be understood so well, and to have someone convey our story so eloquently. The ceremony was a major highlight, and we'll cherish the vows and story she wrote forever. Thanks Beth!

Perfect wedding! We worked with Beth and the entire process was flawless. She was very easy to work with and made the entire process as easy and seamless as possible. She was very accommodating to our needs. We definitely recommend her!

Our officiant was Beth and she was a fantastic. She captured exactly what we wanted for our wedding. Everybody attending the event thought Beth was a friend of ours acting as an officiant. She captured our sense of humour and individual preferences very well. It was funny, heartfelt, and professional. Beth took the time to be sure all names were pronounced correctly and she was on time and ready to go as planned. We have nothing else than kind words and gratitude for Beth for making our wedding an amazing event.

LOVED having Beth officiate our elopement – she made it so personal for us, even added some on-the-fly touches during the ceremony that we will always remember. Should also mention that she hiked through the woods in the rain to be a part of our day – what a trooper! Thank you so much to Beth and Young Hip & Married!

We are completely thrilled with our experience with Young Hip & Married. From the first email from Jackie-Deane with a cute personalized video and all the details we needed, to a fun photo shoot in a park near our venue with Amber, to an amazing ceremony written and performed by Beth. We couldn't have asked for a more perfect, stress free day. We were very impressed with Beth. She really took time to get to know us. We started by filling out an online form with our ceremony preferences. Beth also took time to have a coffee with us in person to learn more about how we met and our relationship. She provided us with a script for the ceremony in advance. It really captured our journey together, and we both shed tears reading it. On the big day, Beth's delivery of our ceremony was perfect!! She told the story of us in such a way that there wasn't a dry eye in the room. I would absolutely recommend Beth to anyone looking for a simple stress free ceremony. Amber was great! She asked us in advance if we had any specific preferences for our photos and even suggested meeting at a park near our venue before the ceremony for 30 minutes; since we were married in late November, she wanted to make sure we could take advantage of the last of the daylight. At the ceremony, Amber seemed to blend into the decor. We forgot she was there and she got all the shots that we wanted of our ceremony and guests.

Beth created an amazing ceremony for us that felt so personal and unique! She was very responsive and made us feel very much at ease – not to mention she trekked to our beach location in the rain – would highly recommend her!! Thank you for an amazing ceremony, Beth!!!

From the prompt, personal response after our first inquiry about an elopement package to the ceremony itself, Young Hip & Married knocked it out of the park with the Elopement Plus package. We had the absolute pleasure of having Beth officiate our ceremony. She listened to our story and turned it into beautiful, touching verses. It was everything we could have asked for and fit us perfectly.

We had such a great experience with Young Hip & Married and will recommend to anyone looking for an officiant! We were originally going to go with a marriage commissioner because I didn't really know what the difference was but I'm glad we went this route in the end as it allowed for more flexibility and personalization for the ceremony. We booked with not much notice (due to COVID a lot of our plans changed and we ended up opting for a helicopter elopement instead.) Rebecca was very responsive and had great communication so it made organizing this part of our ceremony very easy! Our officiant, Beth, was lovely – it was great that we got to meet her beforehand so she got to know us a little bit as a couple. From our initial conversation she was able to pick up on all the little details and incorporate them into the ceremony script. Our elopement was perfect for us and I'm so happy we ended up going with Young Hip & Married.

Our officiant, Beth, from Young Hip and Married was kind, patient, and flexible. Her communication with us was great and she made our ceremony script personal and heartfelt. We didn't decide our elopement ceremony location until the evening before our elopement and she was so cool with it and never made us feel rushed or pressured. She was amazing and so was Young Hip and Married!

My husband and I are from Miami, FL so when we decided to elope in Whistler, Canada we knew we needed some guidance. Choosing Beth from Young Hip and Married as our officiant was one of the best decisions we made. She was patient with us and great at communicating throughout the entire process. She made our ceremony script loving and personal and she made our ceremony feel relaxed and special. The whole process was seamless from start to finish!

Young Hip & Married were amazing! They were extremely communicative and made the whole process very simple (even when COVID-19 made things uncertain). We chose the Elopement + Photography package and had so many amazing officiants and photographers to choose from. We chose Beth Carlson-Malena for our officiant and she was fantastic! She wrote a beautiful and individualized ceremony script and kept us calm, cool, and collected in the moment. She also looked after the pre and post paperwork efficiently. We chose Emily Nicole for our photographer and she captured the ceremony beautifully. We had an hour photography session with her after the ceremony and had so much fun – which is a big deal for 2 awkward and camera shy people! The photos are amazing and we will cherish them for years to come. We're so thankful to have had Emily and Beth a part of our special day and we can't say enough good things about Young Hip & Married! Thank you!!

Beth was an amazing officiant and helped us safely pull off our weird dream wedding amidst the pandemic. She helped guide our decisions but really gave us full say on everything. Great experience start to finish. Thanks, Beth!

Beth at YH&M was absolutely outstanding. She read our personalities perfectly and picked up on exactly what we were looking for in a wedding experience. The ceremony was the perfect balance of fun, humour, and warmth. She went above and beyond, researching our interests, and incorporating them into the ceremony. Our guests couldn't stop talking about how great she was, and how perfectly her ceremony was suited to our personalities. In short, we could not have asked for a better experience.

Beth was the perfect officiant! We had specific things we really wanted in the ceremony and having it personalized was really important. Beth crushed it! It's been almost a month and people are still commenting on how great she was!

We hired Beth Carlson-Malena as our officiant and could not be more happy. From the moment we met her, we knew we had to hire her for our wedding. She was super accommodating, thoughtful and guided us through the process in the most smooth way possible. Our guests have been raving about the ceremony and how amazing the officiant was, many asking if she knew us prior since it felt that personal. She was funny, articulate & warm. We would highly recommend her.

I contacted YH&M via an email on Thursday. By end of night on Friday, Jackie-Dean arranged a last minute officiant for our elopement for the next morning in Vancouver. I was so impressed at how quick and responsive she was. Beth, our officiant, was awesome; we both loved the ceremony she put together for us! Our ceremony was very quick as it was only the 2 of us and 2 witness, but I have all confidence with YH&M! Thank you 🙂

Beth Carlson-Malena was a joy to work with as the officiant for our wedding ceremony. We wanted a small, simple wedding and she helped guide us through the process, giving us great suggestions, which resulted in a ceremony that was perfectly suited to us. She is personable and very easy to talk and relate to. Our wedding celebration was lovely and she helped make our day extra special with her warmth and professionalism. We would highly recommend her.

Beth officiated for me and my newly married wife this September 6 along with the best photographer,  Erica. Can't thank them enough for this wonderful experience and everything! It's one of our best decisions to choose Young Hip &Married!

Simple but perfect! It was really so random that we chose Young Hip & Married, but when we saw Beth and her introduction, immediately we contacted her. In the beginning, we only used emails to keep in touch, but she responded so quickly and understood everything me and my wife wanted. Even when our photographer accidentally couldn't make it, she found us Erica, the nicest and prettiest photographer in the world! We're really grateful for everything Young Hip & Married has done for us, and we will definitely recommend them to our friends if they want to get married in Canada!

Beth was unbelievably amazing! She made the process of seamless, exciting, and personable. HIGHLY recommended her!

We had a last minute surprise wedding on Christmas Eve and Young Hip and Married was able to connect us with Beth Carlson-Malena. They were able to accommodate us and were very responsive and helpful. I had a call with Beth and we had a discussion about what we were looking for in our small wedding and she sent us the script of what she would read – she did a great job in summarizing our relationship and our vows. Given that the wedding was a surprise, she was flexible on timing which we did not expect especially since it was Christmas Eve. We were so happy that she was part of our day and she made the surprise to our families great! It was an amazing day.

The crew at Young Hip & Married were all so wonderful, responsive and attentive especially during this crazy pandemic year. We were quickly matched with the perfect officiant (shoutout to Beth, you were PHENOMENAL) and the whole experience from start to finish was simple, clear, and fun. We loved every moment of planning our ceremony, from zoom chats with our officiant to helping edit the final script – and the day of was FLAWLESS as well! Beth did such a wonderful job with the ceremony, everyone adored her and laughed in all the right places. 100/10 service and experience!

We worked with Beth from Young Hip & Married throughout our COVID wedding plans that involved multiple changes due to the pandemic. She was amazing and so kind throughout the process. We were both particularly enamoured with how personalized the experience was. Numerous guests at our wedding commented on how beautiful the ceremony was and what an excellent job Beth did! One aunt actually thought Beth was an old friend of ours because of how many stories and personal touches she included in our ceremony. Can not say enough nice things about her and this company!!!!!

Perfect Experience with Beth, Erica and YH&M!

Once we had decided that we wanted to elope in Vancouver, we started looking at options to do so. As two foreigners, we knew nothing about the legal procedures and who to get in order to elope in Canada. We read tons of blogs and reviews and even contacted a few officiants. What drew us to YH&M, however, was its cool name (I mean, can we at least take a minute to appreciate the name!?) and the overwhelmingly great reviews it had gotten on WeddingWire. We shot them an email and that was it; we were hooked.

We simply love our officiant, Beth. She was nothing but kind and patient with us. She explained to us what we should do step by step and set up a Skype meeting for us to tell her more about our story. I love that when we were trying to set up a time and date for the Skype meeting, she changed the time zone on the calendar to ours so that we'd get a clearer sense of the time. It's the little things that let us know how much she cared.

Around 2 months before our elopement, a friend of ours who said she could take pictures for us on that day found out she couldn't make it. Again, we turned to YH&M for help and we were so glad that we did. The staff promptly found Erica for us and we couldn't be happier. She was kind and professional. Her work on social media looked amazing and we simply couldn't wait to meet her in person.

Finally, the day of our elopement came and it was everything we hoped for and better. We were a bit nervous at first for we had chosen a rather crowded place to get married (Queen Elizabeth Park), when what we really wanted was to get married in an intimate and quiet corner. Lucky for us, Erica was there early and she immediately recommended this beautiful spot next to a small waterfall. The ceremony itself was lovely and we loved every second of it. Beth was so attentive to details which we could tell by the script she wrote for us.

I highly recommend Beth, Erica and YH&M and we definitely owe them many thanks. As a lesbian couple coming from Asia to get married, they really have helped us make our dreams come true.

Beth was our officiant and she did an amazing job! She incorporated our story into the ceremony so everything felt tailored just for us – better than we could have hoped for! She made us laugh and have tears of joy on our happy day with her beautifully written ceremony and delivery.

Easy to reach, easy to coordinate with, transparent with every transaction. Everything about our wedding was personalized and done how we wanted it. No drama. No nonsense. Vow making seminar is so easy to follow and such an awesome feature. Beth is an amazing officiant, took the time to know us and we felt she is never too busy to accommodate our questions or requests. Britt is an amazing photographer, took the time to scout our venue to find best shots possible.

My wife and I got married about 3 weeks ago by Young Hip and Married! We were very happy with the experience we had with this company! Their response was always very fast and super friendly! On the day, Beth was our officaint and Erica was our photographer. They were so fun to work with; we can't recommend them enough.

We eloped on a mountaintop this summer, and hit the jackpot, having Beth as our officiant. We'd gone for a beer with her the week prior, and somehow it was as if we'd known her for years. She just GOT us. She encapsulated our love story, and all of the things that were important to us, so beautifully. The only downside is that every single one of our photos show us either crying or laughing! It's been a month since that magical day. We already miss hanging out with her.

We got the Elopement Plus package. YH&M really came through with introducing us to our amazing officiant, Beth. Our ceremony was tiny and informal and Beth tailored everything specifically to us. It felt very 'us' in every way and I couldn't have asked for more.

We had the joy of having Beth as our officiant this past weekend. By far her ceremony was the most talked about part of our day. She had us all laughing, crying and feeling all the love. Perfection ❤