Write your own

personalized, passionate & inspiring

wedding vows that will be the heartbeat of your wedding celebration and the anchor to your marriage.
A signature approach that will help you draw out the emotions that you already have within you, so you can find your voice and express your love for one another with unique, heartfelt wedding vows.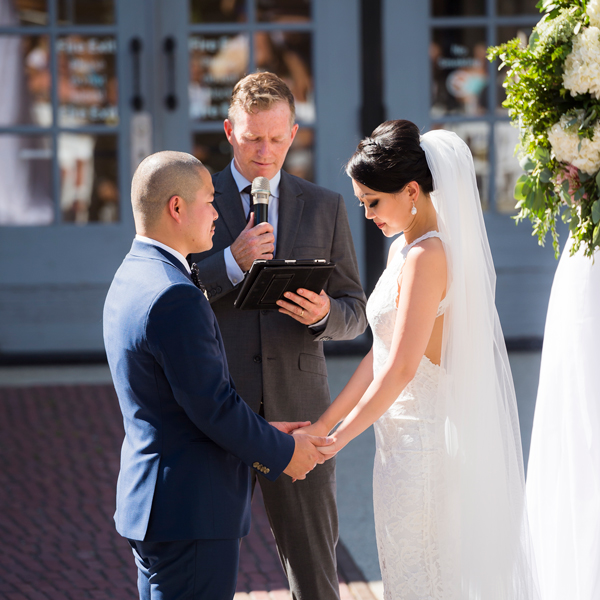 "As we developed our vows, Shawn provided valued guidance by asking thought-provoking questions to help put into perfect words the love we both felt and continue to feel for one another."
Gail & Shawn
"Shawn's enthusiasm was contagious and inspired us to think about taking a modern approach to our ceremony, infusing our personal story with a little bit of humour, and writing the most heartfelt vows!"
Elena
Picture this:
✅You – an extraordinary couple, radiant and in love.
✅Surrounded by family and friends who have come together to honor and celebrate you.
✅Every flower, every dress, every detail, every note, every feeling brought together to create the picture perfect ceremony that you've dreamt of since you were little.
✅Your wedding day: a beautiful, creative, and personal expression of your devotion and joy.
✅Your marriage: anchored in the profound commitment you made to one another with your personalized, passionate, and inspiring wedding vows.
✅Are you overwhelmed with planning your wedding?
✅Does the idea of writing your own vows touch your heart, and yet terrify you at the same time?
✅When you sit down to write your vows, do you immediately get a severe case of writer's block?
✅Is it difficult for you to put your feelings into words?
✅Are you utterly disappointed with the first draft of your vows? You can't pinpoint where you've gone wrong, but you know something is just missing.
I hate that you're feeling this way, and I wholeheartedly want to help you.
Help me write the wedding vows I've been dreaming of!
After marrying over 1,000 couples over the last decade, and witnessing first hand the incredibly powerful impact that personalized vows have on the ceremony, I want to make sure that if personalized vows are part of your wedding dream, you have the chance to make that dream a reality.
Despite what you might think, writing your own wedding vows does not have to be difficult.
You actually have everything that you need to write your own vows: an intense love for your partner and a desire to have a transformative wedding celebration that is a stunning reflection of your love for one another.
You just need someone to help you push past your nerves, tap into your emotions, and walk you step-by-step through a signature approach to creating personalized, passionate, and inspiring wedding vows.
That's where we come in.
Help me write the wedding vows I've been dreaming of!
Young Hip & Married exists for two reasons: to help couples get married and stay married. We're on a mission to eradicate dull and boring wedding ceremonies from the face of the planet and to help couples create a sweet lifelong union that gets better with age.
Marriage is an elegant blending of two hearts and two souls.
If you commit to it, your marriage will be the greatest relationship in your life; anchored in the commitment you make to one another on your wedding day and every day that follows.
That commitment is grounded in your wedding vows.
Your love is rare. You deserve a ceremony that is as unique as you are, with vows just as extraordinary.
Young Hip & Married has put together this 90-minute course which contains our signature approach to writing personalized, passionate, and inspiring wedding vows.
We know how to ask the right questions to help you pull out and articulate those beautiful emotions and feelings that you have inside of you right now. We can help you turn those feelings into the most memorable wedding vows you and your guests have ever heard.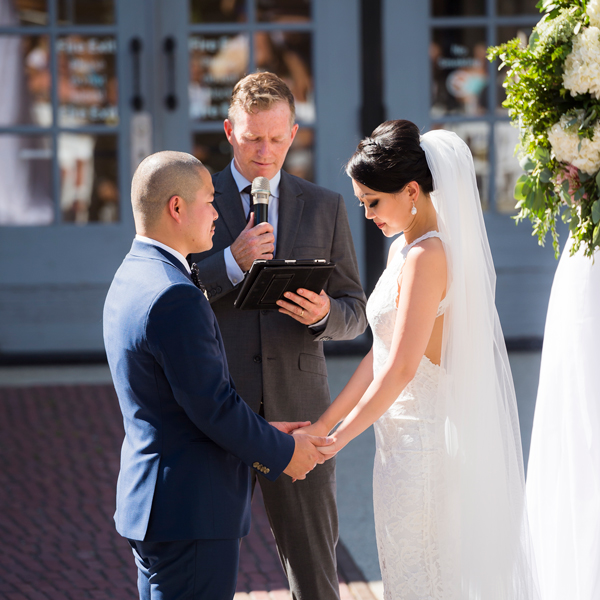 "Shawn made a personalized wedding just for us and gave great tips for writing our own vows. I strongly believe the ceremony can set the tone for the entire wedding day; we have had so many guests raving about what an awesome ceremony it was"
Gabrielle & Joel
"One of the things I really appreciated was writing my own vows. I thought I was too shy and she said I would regret it and she would help me. She sent me tips and coached me. I did it! As you will see from the video, I did it, cracking voice and all. I am forever grateful."
Alexis & James

We're not here to take your money.
We want your beautiful marriage to thrive.
We're so committed to our mission of eradicating dull and boring wedding ceremonies from the face of the planet that we guarantee you will walk away from this course with the wedding vows of your dreams, or your money back!
You read that right!
If you complete the course, and you are unsatisfied for any reason, contact us, and we will issue you a full refund.
What do you have to lose?!
Absolutely nothing!
Get comfortable, take 90-minutes to yourself (Yes! That's really all it will take!), grab yourself a glass of wine, and get ready to feel all the feels!
✅Imagine the relief you will feel when you can check personalized, passionate, and inspiring wedding vows off of your wedding planning to-do list!
✅Imagine professing your love and commitment to one another, in your own words, in a way that touches the hearts of your friends and family.
✅Imagine a thriving marriage, anchored by the promises you made on your wedding day.
✅Imagine having the most perfect, heartfelt wedding vows to complete your unforgettable ceremony, for only $100!