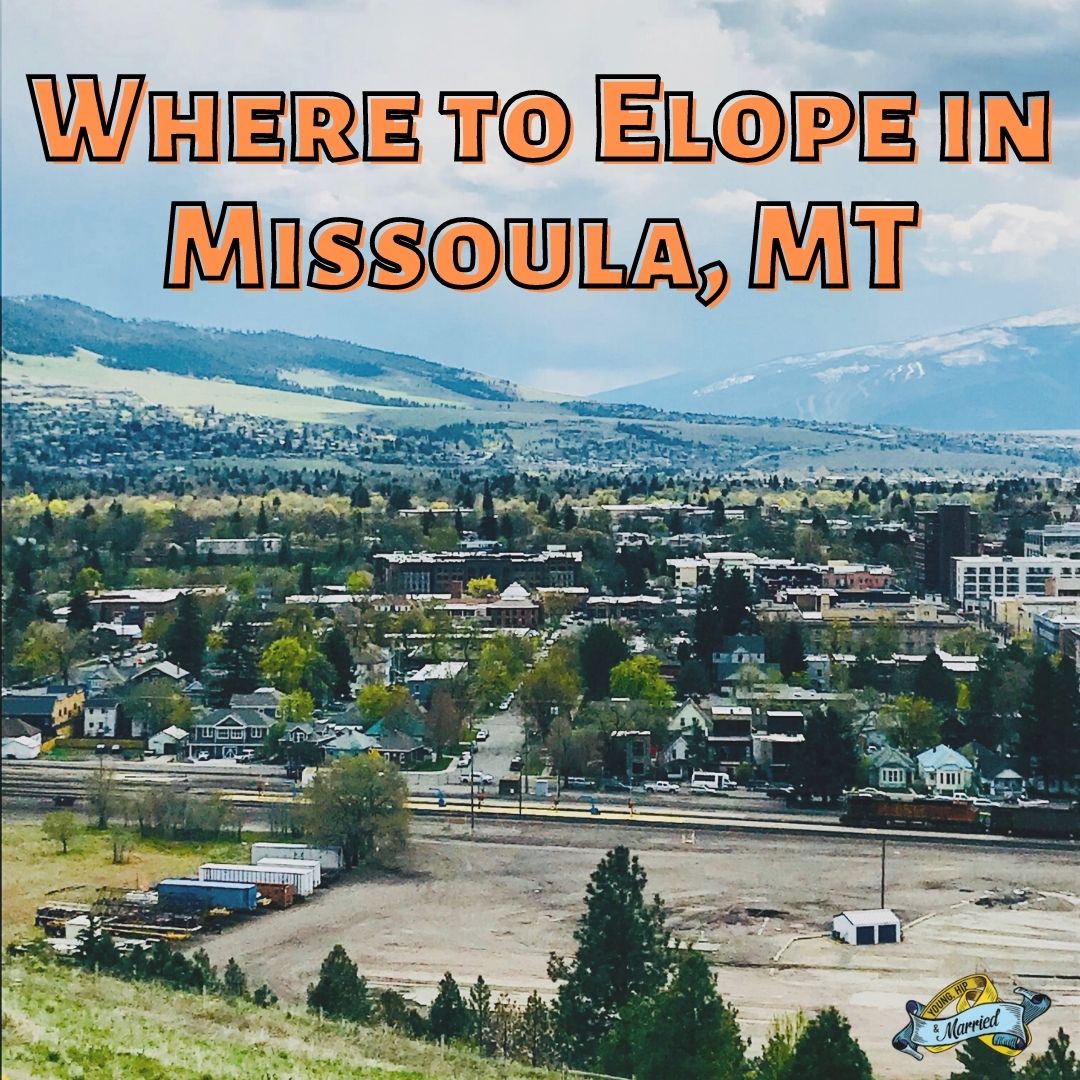 Are you planning to elope in Missoula? Looking for the perfect place to get married in Montana? Below we're sharing some of the most scenic places for intimate weddings and elopements in Missoula and the best places to elope in Montana.
Montana, and especially Missoula, is all about appreciating the beautiful nature all around you. So we chatted with Young Hip & Married Missoula Officiant Courtney all about her favorite places to elope in and around Missoula!
Once you've chosen your spot, get in touch to book an officiant for your Missoula, Montana elopement!
Waterworks Hill
Wedding Officiant Courtney says, "If you want to hike to your elopement, there are beautiful spots all over Missoula, with both short hikes and longer hikes to get there." Waterworks Hill is one of Courtney's favorite elopement spots in Missoula. An easy walk to the top provides beautiful views of the mountains, river and Missoula right underneath you.
Mount Sentinel 
Mount Sentinel is an iconic landmark in Missoula – you can't miss the giant "M" on the mountainside. While it's a popular hiking spot, most people only hike halfway up to the M. If you want to make the trek to the top, you'll find more solitude and a better view for your Montana elopement!
Pattee Canyon
Pattee Canyon Recreation Area is a beautiful place to elope in Missoula, as well as a previous military reserve. With lots of trails to choose from and picnic spots to celebrate afterwards, it's a great option for your elopement!
Clark Fork Riverside & Riverfront Trail
The Riverfront Trail along Clark Fork River is one of the most popular spots in Missoula – and for good reason! This beautiful trail is perfect for exploring downtown Missoula, enjoying time by the water and maybe even your elopement.
Greenough Park
Wedding Officiant Courtney suggests Greenough Park, a beautiful forested area along the Clark Fork, for your elopement. Fun fact: Greenough Park is actually Missoula's first park, donated by the Greenough family in 1902.
Milltown State Park Confluence
Officiant Courtney shares, "Just outside of town there is the confluence of two rivers, the Clark Fork River and the Blackfoot River, at Milltown Park." Milltown State Park Confluence is a great spot for nature lovers, and fans of "A River Runs Through It" – set on Blackfoot River!
Caras Park
Caras Park, set on Clark Foot River, is a popular spot for festivals, farmer's markets and live music in Missoula. It might also be the perfect spot for your elopement! Don't miss the view of Brennan's Wave, a surf spot in the middle of the city.
University of Montana
The University of Montana is the hub of Missoula and the campus is a beautiful spot for an elopement, especially in the fall. Check out the interesting sculptures around the Oval and try not to get in the way of any freshmen running off to class!
Blue Mountain
Wedding Officiant Courtney says, "South of town is the Blue Mountain Recreation area. It is 5000 acres of land that has views on all sides. So even when there are a lot of people, you can find a spot to get away for a private elopement."
Where to elope in Montana, near Missoula
While there are tons of beautiful spots to elope in Missoula, you'll find even more options within a few hours' drive of the city. Check out a few more awesome Montana elopement locations:
Blodgett Canyon
They say Blodgett Canyon is like the Yosemite of Montana. Check out epic granite walls and a lookout just a mile from the parking area.
Mission Reservoir
This stunning lake offers view of waterfalls and snow-capped mountains, as well as beautifully peaceful areas to tie the knot.
Bison Range
Beautiful views and the chance to spot elk, bison and antelope? Sounds like an epic elopement to us!
Lolo National Forest
Lolo National Forest is 2 million acres of natural beauty. You will be spoiled for choice when it comes to choosing an elopement spot!
Flathead Lake
Flathead Lake is one of the largest freshwater lakes in the US, offering crystal clear views and a great place for a swim before or after your elopement.
Ninepipe Reservoir
Nothing beats a sunset over Ninepipes and awesome animal spotting at Ninepipe Wildlife Refuge!
4 tips for eloping in Missoula & how to elope in Montana
It's important to note that some of the Missoula and Montana elopement locations above require a permit to visit or use for a wedding. Make sure you do your research so you don't get turned away or in trouble on your big day.
Montana is a place for nature lovers. Respect the wildlife and nature your encounter. Remember to pack out everything and leave no trace from your elopement.
Because Montana is full of nature lovers, you may be sharing these elopement spots with others. We suggest visiting in off-peak times (such as weekday mornings) if you want fewer crowds and more privacy for your Missoula elopement.
Besides nature, Missoula is known for its legendary local food and beer scene. Don't miss out on celebrating your elopement with a delicious meal and toast with a local brew!
Book your Missoula elopement today!