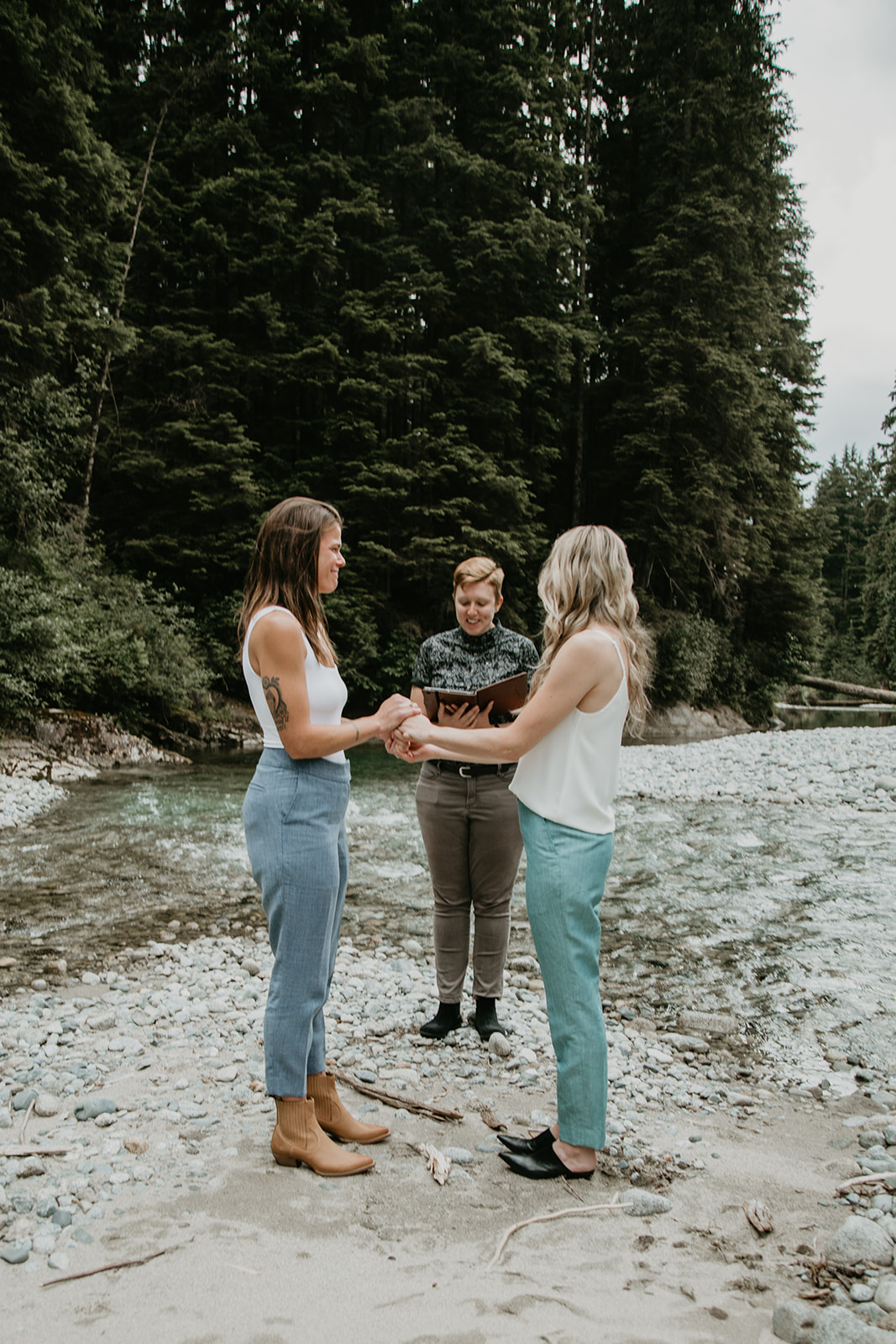 Almost every couple who has planned a wedding has asked themselves at some point, "Should we just elope?" Some couples ask this in exasperation when planning a big wedding has gotten to be too much while others seriously consider if an elopement is right for them.
Of course in covid times, even more couples are contemplating an elopement (or micro wedding), as it's the safest way to get married right now. But even before covid (and in a post-covid world too!) these smaller weddings have been and will be a great option for some couples. Micro weddings have come a long way in recent years and don't have to involve going down to the courthouse in secret or running off to Vegas.
But is an elopement right for you? There is no right answer but below we've put together some reasons why you might want to consider eloping.
You can still have a party
A lot of couples say no to eloping because they want to have a big party with all of their friends. Good news: You can do both! Throughout covid, we've seen a huge trend of "elope now and party later" weddings.
Couples get legally married now in a small and safe ceremony with plans to host a big reception party when it's safe to do so. This is a great way to have both a small and intimate ceremony and a big party on the dance floor.
You can get married now
One of the reasons why some couples choose to elope, especially during this pandemic, is because it's the safe way to get married right now. In many areas, large ceremonies and receptions are banned, meaning micro weddings are the only option if you want to tie the knot without waiting.
Many couples are pivoting and choosing to downsize instead of postponing a larger wedding. And the best news? They are so happy with their decision! An elopement was their dream wedding after all.
And even without a pandemic in the picture, small weddings can happen with much less notice than larger weddings. We've gotten couples married with 24 hours' notice!
What if your family isn't on board with an elopement?
Many couples feel they can't elope because their families won't be on board. We get it. This can be a huge adjustment for a family that has only known 200+ guest weddings. The most important thing is that you and your partner are on the same page.
If you two want to elope, there are ways to tell your big family you want to have a small wedding.
If you're getting married under pandemic restrictions, your family should be more understanding of your choice since you can't invite lots of guests. And hopefully those who don't understand will come around in time. Even if they don't get to witness your wedding in person, they can still celebrate your marriage with you for the rest of your life!
Get A Quote
You can include people in your elopement
Back in the day, eloping meant running away and getting married in secret with just the couple and an officiant. Sometimes it was hopping a plane to Vegas or heading to the courthouse on your lunch hour (fun fact: In BC you can't actually get married at the courthouse!). But these days, elopements can be so much more.
You can invite a small number of loved ones to your wedding day – sometimes called a micro wedding or a minimony. And you can have even more guests join you virtually thanks to live streaming. There are also lots of ways to include your loved ones in your elopement before, during and after the big day.
Elopements save you time & money
Weddings are not cheap and they take up a lot of time. The average couple spends 12-18 months planning a wedding that costs them more than $30,000. With an elopement, you're able to slash both of those numbers by quite a lot.
The biggest expense in a wedding is the guests, as more people means more food, a larger venue, more decor pieces, etc. But if you choose a smaller wedding day, they don't cost as much. They're also less time-consuming to plan, as there are usually not as many elements or vendors involved.
You can still have your special day
While elopements are cheaper and less work to plan than larger weddings, they can still be very special. The best part about an intimate wedding is that it can be more personal. If it's meaningful to you to get married in your living room with your fur babies by your feet in jeans and t-shirts, that's exactly what you can do.
Or if a special day for you involves a floral arch or even getting married on top of a mountain in a helicopter elopement, you can do that too! These weddings allow you to be more flexible and creative, choosing options that wouldn't be possible with a larger guest list.
Elopements put the focus back on you two
The reason why we love elopements so much is because the focus really is on the two of you. There isn't as much going on and there aren't as many people, so the ceremony becomes the focal point of the day. Small ceremonies are so meaningful and often the most emotional and intimate ceremonies we get to officiate. We love that elopements are all about you two and the focus is where it should be, on your marriage.
But they're not for everyone…
So even though we love small weddings, we know they're not for everyone. And we do love big weddings too! If you've read through all the points above and still don't want to elope, that's cool. You can still bring the best parts of an intimate affair into your big wedding – even if that wedding is postponed to safer times.
Focus on ways to make your ceremony, and your wedding day as a whole, more about the two of you and your marriage, and less about the extras. You'll look back on your wedding day with no regrets if your marriage is at the centre of your wedding planning.
---
Have you considered eloping? Get in touch to book your Vancouver elopement!