If you're on the hunt for a Seattle wedding officiant, your search is over! We're so excited to introduce Janie, Young Hip & Married's Seattle officiant, to share all about her experience with weddings, how she likes to work with couples, and where you'll find her when wedding season is over.
To learn more about Janie, you can read her bio here. And you can meet the rest of the Young Hip & Married team, serving locations across the US and Canada, here!
Please introduce yourself! Who are you and what do you do?
Hi! I'm Janie, Young Hip & Married's Seattle wedding officiant. I live in Seattle and am currently pursuing a PhD in Industrial and Organizational Psychology. So, mostly, I read. And write. And then read some more.
How long have you been in the wedding industry?
I'm a minister, ordained in the Presbyterian Church USA denomination since 2013, so I've been doing weddings since then.
When you're not busy officiating Seattle weddings, how do you love to spend your time?
I was raised in the PNW and have lived in Seattle for much of my adult life, so I try to take advantage of all the outdoor activities available in the area. I love exploring and am always on the lookout for the best breakfast sandwich.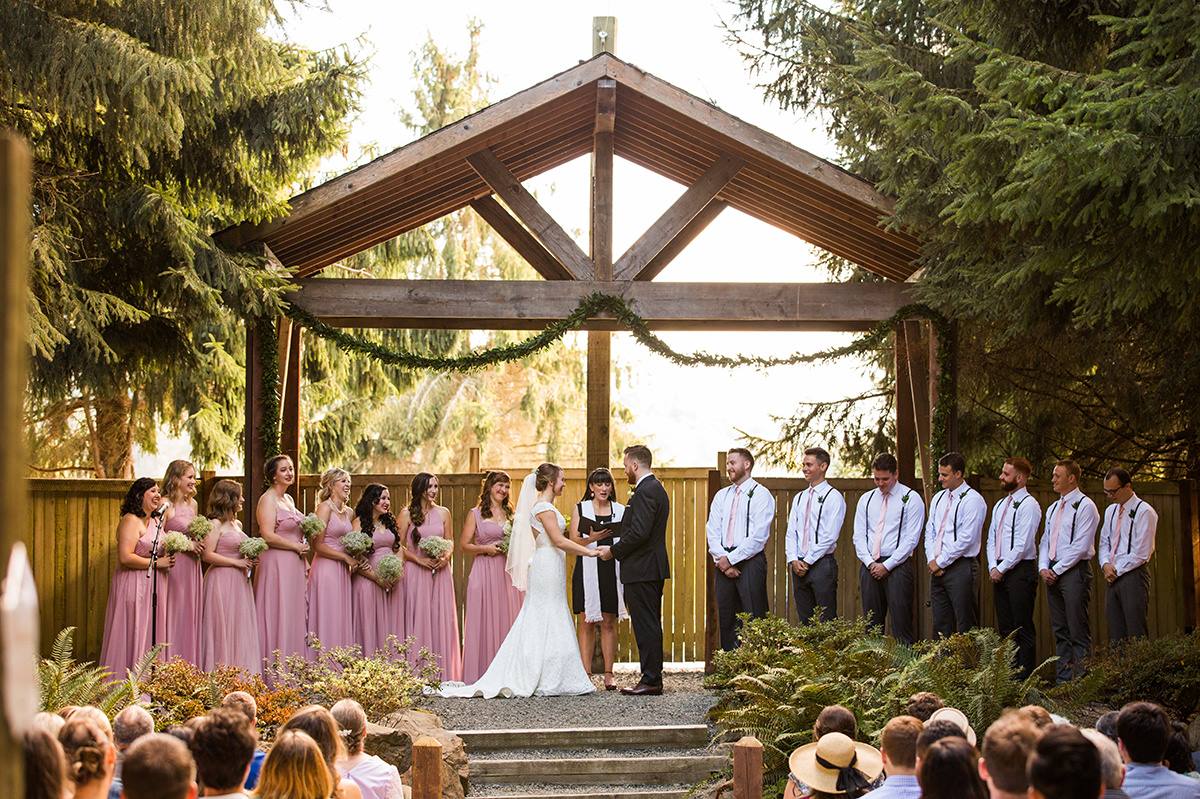 What is the best part about officiating weddings? 
Best part: the celebration! What an honor to be invited to participate in one of the most joy filled moments in people's lives.
The most challenging part?
Most challenging: trying to capture in words the connection the couple has with one another.
Share a wedding story! What's the most memorable Seattle wedding you've ever officiated?
During summer 2020, I officiated an outdoor wedding, not far from Point Shilshole Beach. Because of lockdown, there were only a few guests in attendance. But it was a gorgeous day, and several paddle boarders and kayakers enthusiastically cheered on the couple throughout the ceremony, giving it a big party vibe. It was fun for the couple to feel so celebrated in such a strange circumstance.
When meeting with a couple, what's the first question you like to ask them?
"Why did you decide to get married?" As I walk alongside a couple in planning a ceremony, it's helpful to know what has brought them to taking this step, and when answering, they always seem to share what they love about each other, which is always wonderful to hear.
What is the best compliment a couple or wedding guest has ever given you?
"Thanks for sharing our story." My primary hope in officiating a ceremony is to highlight the couple and their journey together (with a little humor thrown in). When the couple or guests affirm that was the experience they had from what I said during a ceremony, that always feels like a job well done.
If you had one piece of advice for couples looking for a Seattle wedding officiant, what would it be?
Find someone who feels like a partner in helping you shape your day.
Who is your dream ceremony setting?
I'm always stoked for a wedding in the morning with a breakfast/brunch reception, but it doesn't seem to happen too often!
What song always gets you on the dance floor at weddings?
Shout by The Isley Brothers is always a classic to get everyone on the dance floor. But when Call Me Maybe by Carly Rae Jepsen hits, it gets me out there every time.
---
Thank you so much to our incredible Seattle wedding officiant, Janie, for taking the time to share more about herself and her wedding experience. Ready to book Officiant Janie for your Pacific Northwest wedding ceremony? Get in touch now!