We're thrilled to introduce you to Edmonton wedding officiant, Erin Thomas! Erin has been with Young Hip & Married for a few years, marrying couples in and around Edmonton, Alberta. You can meet the rest of our wedding officiants here and discover our ceremony packages here. 
Keep reading to learn more about Erin, her picks for the best places to get married in Edmonton, and her incredible advice for couples tying the knot. Take it away, Erin!
Get to know Edmonton wedding officiant, Erin Thomas
Greetings, friends! My name is Erin Thomas, and I am a pastor and wedding officiant living and working in Edmonton, Alberta. I have been marrying folks since 2017, and specifically with Young Hip and Married since 2021. As a queer, progressive pastor, it is a main focus of mine to help support people of all genders and orientations to be supported well as they seek to share life together.
When I'm not busy officiating weddings either with my day job or with YH&M, I love spending time with my three rapidly growing nephews. All of them love designing and inventing cool new ideas, developing sustainable gardening projects, or writing their own stories. As their way cool auntie, I get the privilege of sharing in their discoveries and excitement.
I also share my life with a small, seven pound Japanese chin/chihuahua cross named Piper. She's a sweet, quiet fluff ball who comes to work with me each day, and keeps us all company. We are often found at local dog parks, enjoying the outdoors and fresh air.
Like a lot of people, I discovered a new hobby during the pandemic. For the first time, I picked up a needle and thread and fell in love with feminist and subversive cross stitching! I'm having a ton of fun trying new patterns that both help me create beautiful pieces of artwork, while also speaking truth to power.
All about officiating weddings (+ advice for couples!)
For me, the best part of officiating weddings is when couples share enlightening moments. By that I mean those special instances when each person realizes that, no matter what details do or don't fall into place, no matter how the day ultimately turns out, they are there to celebrate their new life together.
Creating a special day is important, but so is the realization that the day is symbolic of the journey forward. Once those moments happen, I find that people begin to enjoy the day more than they have been able to before.
In that same vein, one of the most challenging aspects of officiating weddings is when couples realize that perhaps the day has run away from them. With the best of intentions, they have filled the day with so many complicated details that everyone's stress levels are maxed out. It becomes almost impossible, then, to remember why they are there or to have any kind of joy in the celebration.
When planning a wedding, it is critically important to know ourselves, our capacity to manage stress, to pivot when things are delayed or don't turn out as planned, and to create an event that serves us rather than the other way around. Building in an intention to remove pressure from ourselves will go a long way to ensuring we can also enjoy the celebration we're crafting.
Edmonton wedding venues & getting married in Edmonton
Edmonton, Alberta has a claim to fame of having the largest stretch of urban parkland in Canada! There are over 160km of pathways and 20 major parks to enjoy, offering couples many opportunities to craft beautiful outdoor weddings near the river and within natural settings. While some park spaces are manicured, most of the river valley is cared for using natural methods so that local vegetation is preserved and nurtured.
If you're looking for a venue outside city limits, Obsidian Ridge, Pine and Pond, or The Whitewood Barn might suit your creative tastes. If you want a creative or beautiful setting within the city, I would suggest exploring the Muttart Conservatory! It's Edmonton's brilliant set of indoor botanical gardens that feature seasonal flowers and plants all year round.
Another fun venue would be Fort Edmonton Park: a local heritage park with featured architecture from 1885-1920. If you prefer classic sophistication, you can't go wrong with the Fairmont Hotel McDonald – Edmonton's castle hotel overlooking the famous river valley. Whatever your tastes and price point might be, there is something for everyone getting married in Edmonton.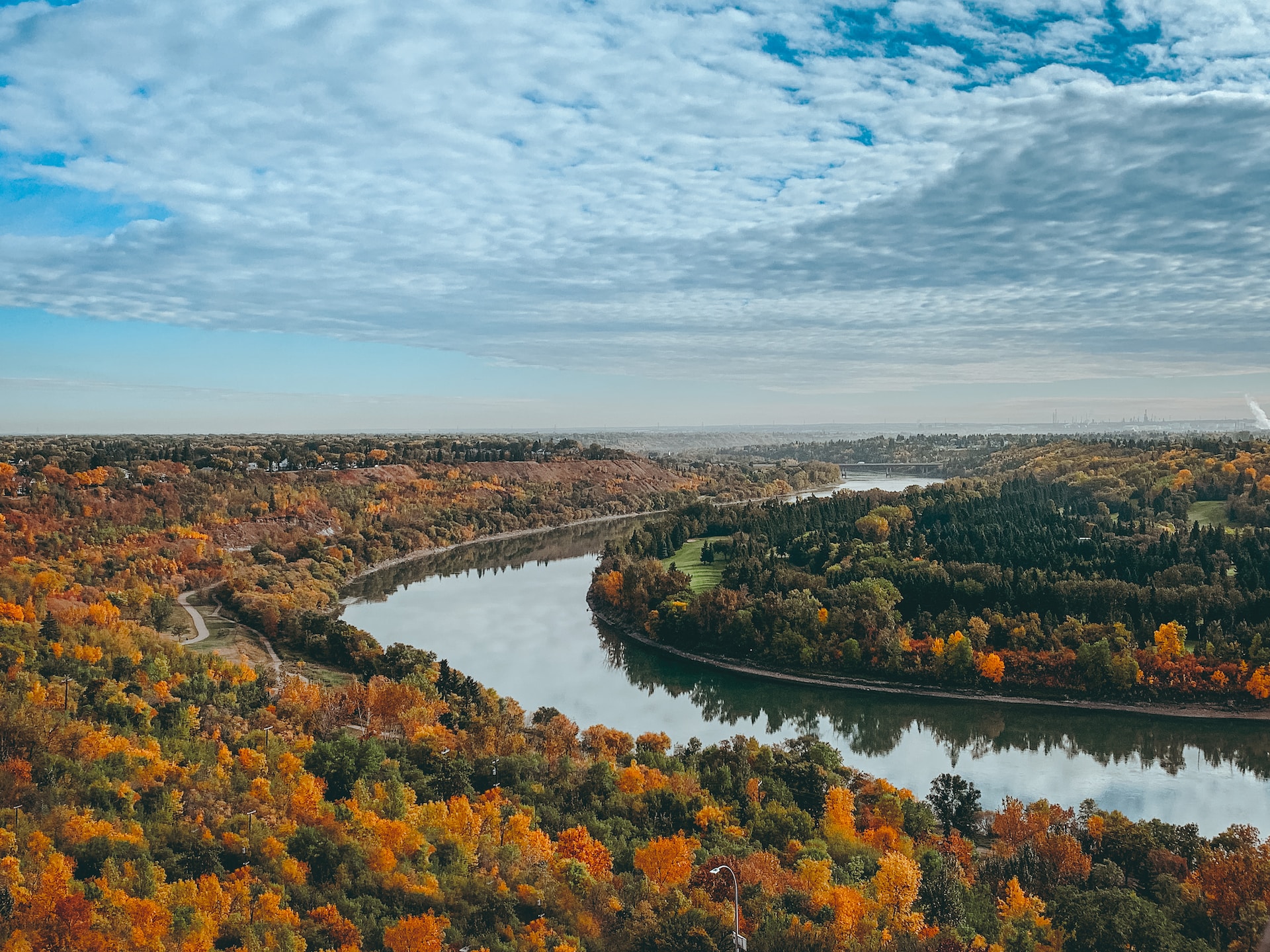 Sharing wedding memories & dreams
The most memorable wedding I've ever officiated thus far would be my younger sister's wedding. They city of San Francisco has been a meaningful location for both her and her spouse, so they decided to have a ceremony deep in the redwood forests. We took a vintage, open-air train to arrive at the destination, followed by a lovely dinner at one of San Fran's many foodie restaurants near the waterfront. It was definitely an experience I'll never forget!
If I were to create a dream wedding to officiate at, it would be at a local Edmonton independent movie theater like the Metro or the Roxy, or at Fort Edmonton Park's old vintage movie theater. They are such fun settings, and how can you go wrong with popcorn and red licorice for your guests?
Outside of the city, I would love to officiate a wedding in the mountains around Jasper (it tends to be a wee bit less busy than Banff). Finding a remote outcropping or plateau outdoors on a nice day for a simple ceremony would be incredible! Having the wedding party relax afterwards in the Miette Hot Springs would top a busy day off just right.
Final words for wedding planning couples
Plan your day around who you are. Plan a day that will support you rather than demand more of you than what you have to give, financially, emotionally, and relationally.
When you start from a place of ensuring the day's events are there to support YOU, you give yourself the gift of being able to actually enjoy the whole thing, beginning to end. It's you – as the couple – who are the stars of the show and deserve being celebrated, not the details of the events who should be draining you of attention and energy.
Yes, weddings are big affairs that require extra time and work, but creating realistic starting points based on your self-awareness and knowledge will ground you in a really healthy space.
---
Thank you so much to Edmonton wedding officiant Erin for sharing more about herself, her advice for couples and her top picks of where to get married in Edmonton. Learn more about Erin and get in touch to book her as the officiant for your Edmonton wedding!