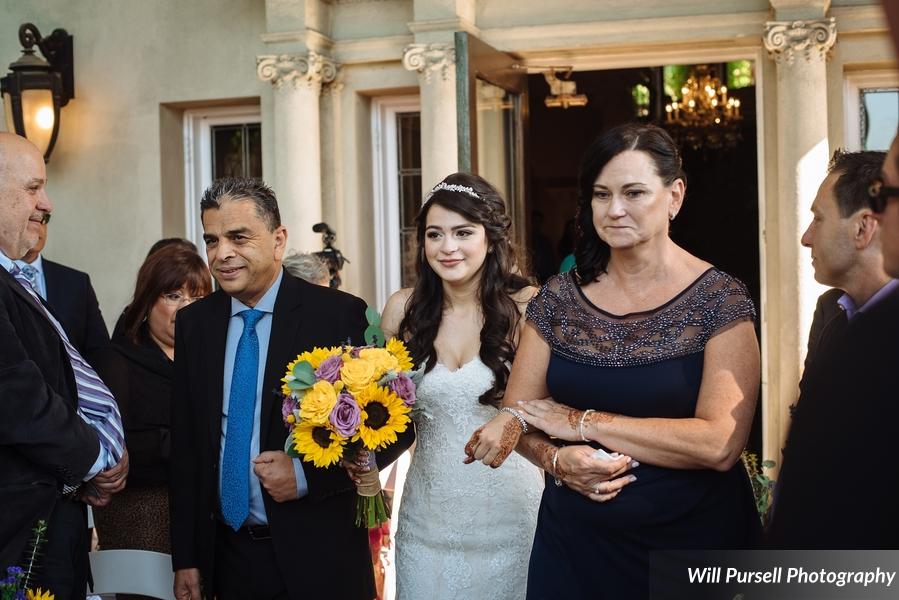 The wedding ceremony processional is the order in which you, your partner, your wedding party and some special family members enter your wedding ceremony. In the movies, this is the part where the music swells, flower girls sprinkle petals down the aisle and everyone rises to watch the bride walk in on her dad's arm.
Traditionally, the officiant, groomsmen and the groom will enter first down the aisle or from a side door and wait at the front. Then, the bridesmaids followed by the maid of honour will make their way down. Flower girls and ring bearers are up next. And finally, the bride will come down with her father.
But does it have to be that way?
Of course not! We always say, "Your wedding, your way," and that extends to your ceremony processional as well. There's no law saying you have to follow the traditional order – you can totally mix it up! If you're looking for something a little different for your processional, here are eight unique ideas you can incorporate:
---
1 – Give the groom his own moment:
In many ceremonies, the groom and his groomsmen will enter quietly from a side door without anyone noticing. They often don't get their own music or any attention. So why not shine a spotlight on the groom? After all, he is an equal part of the wedding. Borrowing from Jewish tradition, the groom gets escorted down the aisle with his parents, usually after the bridal party is in place. Brides shouldn't be the only ones with a special entrance!
2 – Mix up the escorts:
We're used to seeing a bride enter her wedding ceremony on her father's arm. But there's no reason why she can't be escorted by someone else. The bride can walk in with both her parents, just her mom, her stepparents, grandparents, favourite aunt, brother, best friend, old boss – you get the point!
If the aisle isn't wide enough to accommodate all of the awesome people the bride wants to walk down with, she can still include her loved ones in the processional by sending them down the aisle ahead of her or stopping to hug them at the end of the aisle or along the way.
3 – Solo party:
You know who else can escort the bride down the aisle? Herself! She can definitely walk in loud and proud by herself. After all, she is entering freely and independently into marriage, so why not walk independently too? This is an awesome solution for couples who feel a bit icky at the thought of the bride being "given away" by her father like prized cattle.
4 – Walk in as a couple, walk out as a couple:
One of our favourite processional ideas is seeing both partners walk in together. Who better to share the spotlight with than the person you're about to join in marriage? Both soon-to-be spouses enter the ceremony as equal partners heading into marriage together.
As a slight variation, you could also have both partners enter at the same time from opposite sides and meet at the altar.
5 – Here, Fido!
If the you have a beloved furry friend in your life, incorporating him or her into the wedding processional is an awesome idea. We've seen dogs as ring bearers with little pillows on their backs and cats being held by their humans as they say, "I do."
If you do decide to include your fur baby, ensure you have a plan for Fido before and after the ceremony. The last thing you want is a leg lifted over an expensive white dress!
6 – Skip the wedding party:
If the idea of having a wedding party and sending people down the aisle isn't for you, skip it! You do need people to legally witness your wedding but no one says they have to walk down an aisle or even stand next to you. And if you don't have young people in your life that you are especially close to, don't stress to fill the roles of flower girl, ring bearer, junior bridesmaid, etc.
As a slight variation, you can include your wedding party in the processional but ask them to sit once they've reached the end of the aisle. That way, they get to watch the ceremony and the moment becomes just about the two of you.
7 – Rock your own music:
No, Wagner's "Wedding March" (aka "Here Comes the Bride") is not a mandatory processional song. You aren't required to choose a church hymn or a love song for your walk down the aisle. Change it up! Play whatever music makes you happy. Traditionally, the music changes for the bride's entrance but you could totally have a unique song for each partner when they walk in.
If you need some ideas for ceremony music, check out our blog post on top ceremony songs.
8 – Skip the processional all together!
If the idea of walking down a long aisle with all eyes on you fills you with dread, skip the processional all together! Just show up at the front – you could discreetly enter from a side door or back door. You could even be there before guests arrive. Or you could mingle with your guests and slowly make your way to the front when you want the ceremony to start.
---
There are lots of options if you don't want all of the pomp and circumstance or outdated elements of a traditional ceremony processional. Remember – this is your wedding! So do it – from wedding ceremony processional to last call at the bar – your way!
Book Your Officiant Today!
written by Riana Ang-Canning
Feature image courtesy of Will Pursell Photography