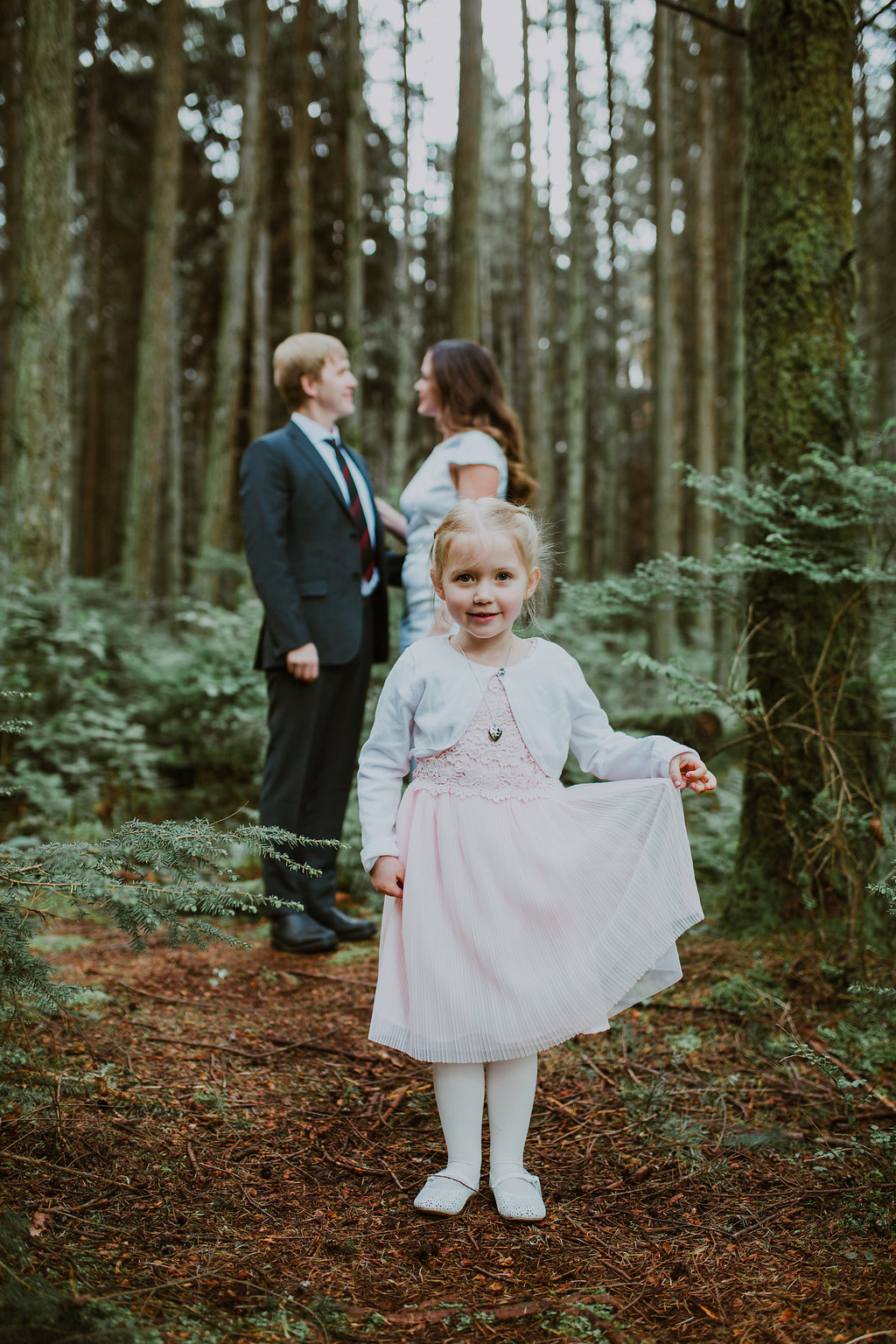 As couples are choosing to get married later in life or entering into second marriages, many are coming to the altar with kiddos in tow. And we think that's amazing! It only makes everything more joyous and more meaningful when you get to involve your kids in your weddings.
Yes, your wedding is about you and your spouse joining your lives together. But it's also about bringing your families together, and sometimes that includes your little ones. You're not just becoming a married couple; you're becoming a new official family!
So what's the best way to include your kids in your wedding and honour their role in this new family? There are lots of great ways – 12 in fact. Check out some of the best options below for involving your children in your wedding day!
---
Involve your kids in your wedding from the beginning
Before you even get to the wedding day, you can bring your kids on board. After all, the decision to get married is one that affects them too, so it makes sense that they might want to be involved. If you're creating a new family where you and/or your spouse-to-be will be bringing kids into the picture, it's important to recognize their lives will be changing. Let your children know about your intention to get married and explain what that means for them. Give them a chance to have a reaction, ask questions and think things over.
Once your children have had some time to adjust and ask any questions, hopefully they are excited about their new step-parent and new family. If they're really excited, you could even involve them in the proposal.
Bring your children into the wedding planning
There are lots of ways to involve your kids in your wedding before the big day. They probably don't want to be there when you meet with bartenders or pick up your marriage licence, but there are lots of fun parts of wedding planning that your kids may want to get involved in. Here are a few ideas:
Invite them to the cake tasting. Who doesn't love eating cake?
Ask them to make a playlist of songs for the DJ.
Include them in a dress fitting or shopping trip.
Involve them in any DIY craft projects you are doing for the wedding.
Bring in their favourites! Get your kid's opinion on a favourite colour, favourite food or favourite flower that you can then incorporate into the wedding.
Invite your kids to join your wedding party
A great way to make your children feel important on the wedding day is to give them an official role in the wedding party. And you don't just have to limit it to flower girls and ring bearers, though these roles do work well for younger kids.
You can ask your children to be bridesmaids or groomsmen, junior bridesmaids or groomsmen, maids of honour or best men, attendants, ushers, etc. You can even invent new titles like Best Lady, Best Dude or Best Kid.
Do a family vow
One of our favourite ways to incorporate kids in your wedding is to use a family vow. Traditionally, vows are just said between the couple. But with family vows, you have the parents make vows to their children, the children make vows to their parents and you can even have the children make vows to each other. It's a very sweet way to include your entire family in the commitment you're making on your wedding day.
For an example of some family vows, check out our vows blog post.
Assign ceremony jobs to your children
The ceremony is, obviously, our favourite part of the wedding. It's the part when you actually become a married couple. And if you're involving children, the ceremony can take on a whole new meaning. There are many jobs you can give your little ones so that they feel more included in the ceremony and can recognize the importance of it.
Children can do a reading, recite a poem or sing a song/play an instrument. They can hold the wedding rings. They can escort you or your partner down the aisle. And they can even be the witnesses and sign your marriage licence (as long as they are old enough to recall the event).
Other jobs your kid could do include showing people to their seats (ushering), handing out programs, directing guests to the venue and anything else that makes them feel important and part of the big day.
Add a unity tradition to your wedding ceremony
Another popular addition to the wedding ceremony is a unity tradition. This could be the newlyweds lighting a candle together or pouring different coloured sand into a vase to signify their new union. You could easily add your children to this by inviting them to join in on the unity ceremony.
Check out this post for some great unity traditions and other creative elements you can add to your ceremony.
Put your kids in writing
A great way to ensure that your children are a focal part of your wedding is to include them in all of the writing. That way, all of your guests know that this union is about more than just the two of you. It's about an entire family joining together.
Here are some places where your children can be added in print:
Invitations: You can include your kids in the description of who is joining together or who is hosting the wedding.
Wedding website: Give your kids some screen time by including their names, photos and more on your website.
Programs: If you're going to have a program for your ceremony, include your children's names or maybe a special dedication to/from them inside.
Slide show: Any slide show with photos could also include snapshots of your kids.
Ask your kids to give a wedding toast
Making a toast or giving a speech at the reception is a great way for older children to get involved on the wedding day. It's something they can work on ahead of time and a very sweet moment for all. If your kiddos are too young to give their own speech, perhaps they can recite a poem or say a quick word into the microphone. Or, you can give a speech/toast and dedicate it to them!
Gift your children a wedding day present
We all know the wedding day isn't about receiving gifts, but it is nice to mark the occasion with something special. This can be especially helpful if you have a child who might not understand why mommy and/or daddy is getting all of the attention. You can present your child with a gift on the morning of the wedding. It might be even more special if the gift comes from the new step-parent, if that's your situation. You could also make the gift more meaningful by tying it to the wedding. For example, you could gift your child with special jewelry that they can put on when you and your spouse are putting on your wedding rings.
Do a first look with your kids
The first look is when you do a reveal of your wedding day glow up before the ceremony starts. Usually, the first look is between the couple. But who is to say you can't do a first look with your kids? We think that would be super sweet to have a moment just with you and your kiddos before you head down the aisle. For more info on the first look, check out our first look blog post.
Do a first dance with your kids
We all know the first dance as the moment during the reception when the couple of the hour shares a special dance together. But what about doing a first dance with your kids? This is a great way to include your kids in your wedding and dedicate a special moment to them. You can even let them pick the song! Depending on your situation, it might be nice to do a one-on-one dance or a big family dance with you, your spouse and all of your kids.
Add some kid-friendly touches to your wedding day
A great way to include your kids in the wedding is to make the wedding kid-friendly. This doesn't necessarily mean you need to invite lots of kids to your wedding. You can incorporate child-like touches elsewhere, such as:
Activity kits: Child-friendly activities, like colouring books and stickers, are handed out to keep the kids entertained during the ceremony and reception.
Games: You can set up fun games, like Giant Jenga or a scavenger hunt, for the kids (and kids at heart) to play during cocktail hour and/or the reception.
Kid-friendly signature drink: Let your kid design a special signature drink that's fun and alcohol-free.
Family dance floor: Encourage all of your guests, young and old, to join you on the dance floor. Be sure to play music from different eras so everyone hears something they recognize.
---
These days, weddings aren't only about a young couple starting their life together as a two-some. Sometimes an entire family is coming together with kids, step-parents, half-siblings and more. We say: the more the merrier! By following some of the suggestions above, you can include your kids in your wedding and let them know that they're important in this marriage and new family.
How do you plan to involve your kids in your wedding? 
Want to involve your kids in your wedding ceremony? Talk to your wedding officiant about how to plan a ceremony that works for your family. Book your officiant today!
Written by Riana Ang-Canning
Feature image by Erica Miller Photography