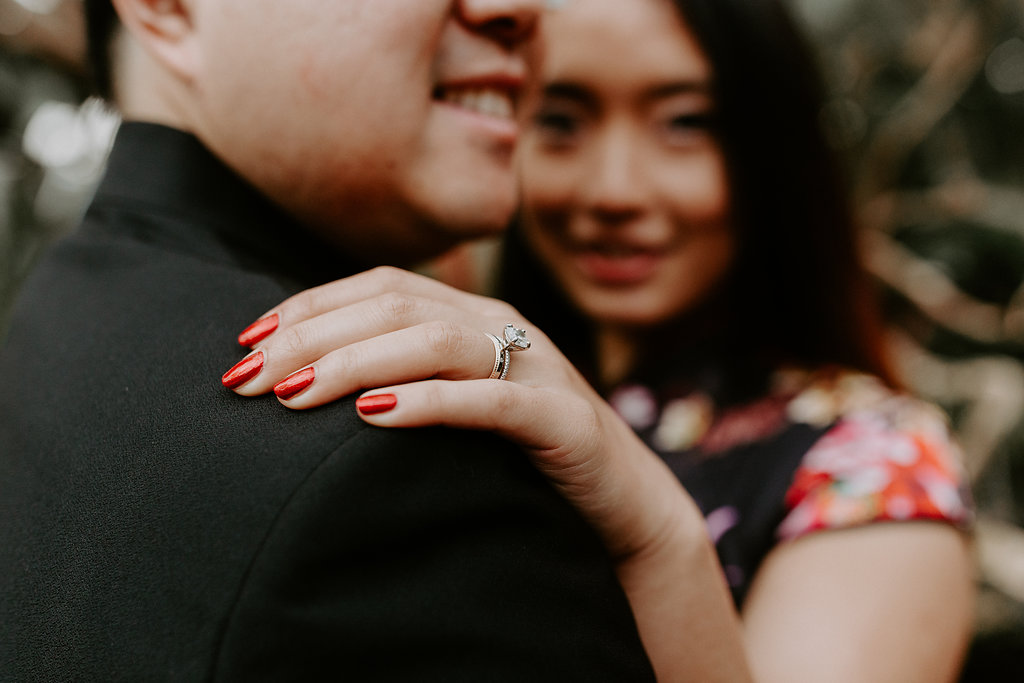 Congratulations, you're engaged! But now what? We'll walk you through exactly what to do after you get engaged.
As the holidays are the most popular time of year to get engaged, it's likely that many couples are wondering what to do after you get engaged. Sure, you pop some champagne…but then what? Who do you tell? What do you book?
Don't worry, we've got you. Here's a checklist of exactly what to do after you get engaged.
---
Step 1: Celebrate!
You're engaged! Wahoo! You and your partner have decided you want to get married and spend your lives together. That is HUGE! Pop some champagne, order two desserts and celebrate. This is an exciting moment and you two should bask in it together.
Step 2: Phone home and share the news
After you and your spouse-to-be have celebrated, it's time to break the news to your nearest and dearest. And you'll have to go old school for this one – it's time to pick up the phone. Call your parents, your siblings, your best friends and everyone else who will want to celebrate the news with you. Even better – visit them in person if you can!
Pro tip: Make these calls all at the same time because word of your engagement will start to spread fast. Even if you let your loved ones know that you two want to be the ones to break the news, there's a good chance your Aunt Trudy will let it slip and your Aunt Margie might be upset if she doesn't hear from you until two days later.
Step 3: Shut down any wedding planning questions
Right away, you'll be hit with a million questions. "What are your colours?" "When's the big day?" "Will I be a bridesmaid?" "Do you need the number for a caterer?" It's easy to get overwhelmed with all of these wedding planning questions. What you don't want to do is over-promise or try and make a decision on the spot.
Memorize this line and repeat it back to anyone who asks about your wedding details right after you get engaged: "We're just so excited about the engagement and want to celebrate that right now. When we start wedding planning, we'll let you know."
Step 4: Share your engagement on social media
They say it's not official until it's on social media. Of course, you don't have to post your engagement on social media. But most people like to share these big life moments with their far away friends and followers.
Only share on social media after you're 110% confident that you've told all of the important people in your life about your engagement in person, over the phone or at least directly. The last thing you want to do is have your grandma find out you're engaged when she's scrolling through her Facebook homepage.
Step 5: Get your ring sized and insured
If you have an engagement ring, you'll want to make sure it stays safe. You don't want it falling off or getting lost or stolen. If the ring doesn't fit properly, make a trip to the jeweller to have it sized. To insure your ring, take the appraisal (usually given by the jeweller at purchase) to an insurance agent. Make sure you ask questions about what happens if the ring is lost, stolen or damaged. You may also be able to add your ring to your home owner or rental insurance policy for a lesser cost.
Step 6: (Optional) Throw an engagement party!
If you want, now is a great time to throw an engagement party and celebrate with more of your loved ones. Don't forget your line from step #3. You're going to need it during the party!
Step 7: Talk to your partner about your wedding
When you're ready, sit down with your partner and discuss what you both want out of a wedding. You don't have to nail down any specifics at this point. This is when you can talk about what kind of wedding you want to have – big or small, local or destination, this year or next year. You should also discuss an approximate budget and guest list.
One piece of advice is for each partner to write down the three most important things for them to have at their wedding. For example, one partner might write, "Great food, great photography and a meaningful ceremony." The other might write, "Personal vows, good music and great guest experience." These important wants for your wedding will help you see where you want to prioritize your time and money. If you don't care about flowers or your outfits, you don't need to spend more time or money on those items.
Step 8: Research
Now that you have a better idea of the type of wedding you are planning, you can begin to do your research. Gather quotes, visit venues and read reviews to get a better idea of what your options are and how much they cost.
Another part of your research may be learning more about your budget. If you have relatives who will be contributing to your wedding budget, now is the time to sit down with them and learn what that contribution will look like.
Step 9: Take a break! 
Planning a wedding can be very overwhelming. It often feels like a full time job. It can be easy to lose yourself in your wedding planning and forget about other things. So take a break. Take a step back from wedding planning and re-focus on your relationship. After all, you shouldn't just be planning for this one day event – you should be planning for your lifetime marriage together.
Go out for dinner with your fiance and promise not to talk about anything wedding related. PS: This tip goes for your other relationships as well. If all of your recent phone calls with your bestie have been about wedding cakes and DJs, take a break and ask about his life for a change.
Step 10: Start booking
Once you've got your research done, your budget and guest list set, and your relationship on track, it's time to start booking things. Depending on your wedding ideas, you may need to book 12-18 months in advance. Most couples begin by booking the venue first, which will confirm the date, and then other large ticket items like photography, catering and planning/coordinating. If you're planning a destination wedding or elopement, your bookings and timeline may look different.
---
And those are your 10 steps for what to do after you get engaged!
If you're newly engaged, we hope these steps are helpful. Remember that this is an exciting time in your life. Soak it in and don't spend your entire engagement stressed about wedding planning. This is your wedding and you should be able to do it your way – focusing on what you value.
At the end of the day, your marriage is what's most important. We're so excited for you and this lifetime journey you're about to embark on together!
written by Riana Ang-Canning
feature image by Emily Nicole Photos