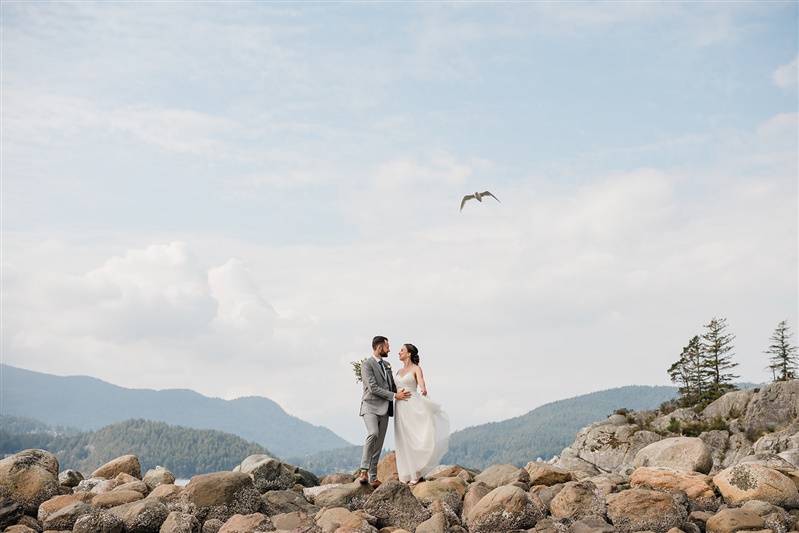 Choosing your wedding photographer is no easy task! With so many photographers to choose from, it's easy for couples who just want the best wedding pictures to get overwhelmed. Not only do they need to find someone who fits within their budget and is available for their date, but they also need to love the photographer's work and personality!
So how do you find the best professional wedding photography for your big day? We asked some of Young Hip & Married's elopement photographers for their best advice. Read on to learn how to find local photographers for your wedding day!
Want to book a wedding package with photography? Check out our Intimate Elopement + Photography Ceremony Package here! 
Connection is key for great wedding photos
Vancouver wedding photographer Keely Rae stresses the importance of finding a photographer for your wedding that you really connect with.
"Choose someone you really vibe with and that understands the kind of experience you are looking for! We are super fortunate to live in a time where there are many great photographers out there, so when it comes to choosing the right one for you, definitely make sure that your style aligns in terms of photography but also make sure that you connect with them!
Trust me, it makes all the difference in authentic imagery when you feel comfortable with the person you are working with."
Ask your photographer to see a full gallery
Calgary wedding photographer Deanna Rachel tells us how important it is to look at a wedding photographer and videographer's full gallery or full video, instead of just a highlight reel on social media.
"Ask potential photographers to see an entire wedding gallery. Being able to see a full gallery (instead of just the "best of" images from a blog post or Instagram) will give you a great idea of what your own photos could look like and whether or not you like that photographer's style!"
Deanna also agrees that it's all about personality:
"Apart from your (new!) spouse, your photographer will most likely spend the most time with you on your wedding day! So while it's important to find a photographer whose style you love, it's just as important to find a photographer whose personality you love!"
Book an engagement session with your wedding photographer
Vancouver wedding photographer Amber Leigh suggests choosing a professional photographer who offers an engagement photoshoot.
"If you can book an engagement session with your photographer, I highly recommend it. Some photographers, myself included, offer these sessions complimentary with their larger wedding collections. It's such a great opportunity to get to know one another better, to experience what it's like working with your photographer and to get comfortable being in front of their camera. You can think of it as a dress rehearsal for the big day! Plus, you'll receive additional photos that you can use for things like invites, slideshows, etc."
And at the end of the day, Amber agrees that it's all about finding a photographer you get along with and trust:
"From getting ready in the morning to your toasts during your reception, your wedding photographer will be there documenting the entire day as it unfolds. You'll likely be spending more time with them than anyone else on your wedding day, including each other. They're going to be your wedding day 3rd wheel. After your initial consultation, ask yourself, is this photographer relaxed, organized, professional and easy to talk to? Choosing a photographer whose personality you love, who you connect with and enjoy being around will help bring out who you are as a couple and will make the day more enjoyable.
For me, it's extremely important that I get to know my couples really well, and it's one of my favourite parts of being a wedding photographer. I love hearing all about their wedding plans as they unfold, getting to know as much about them individually and as a couple, and then continuing to see their lives unfold even after the wedding day is over. The majority of my clients have become some of my greatest friends and who I get to work with time and time again. I love that about being a wedding photographer. When we click (pun intended) and a couple completely trusts me, we create magic."
Meet your potential wedding photographer over video
Vancouver wedding photographer John Bello proves once again that personality is paramount. Here's his tip for making sure you'll connect with your photographer on your wedding day:
"Once you fall in love with a photographer's work, it's all about the vibe! If you are still on the fence, my best tip for couples is to schedule a quick video call to meet their photographer for a quick chat. This is the best way to get a sense of them – you'll find out pretty quick if you connect with them or not!"
---
Thanks to Keely, Deanna, Amber and John for sharing their awesome tips on how to choose the perfect wedding photographer for your special day. It seems the key to beautiful wedding photos is a wedding photographer you feel comfortable with.
Get in touch to book your wedding ceremony and photography package today!