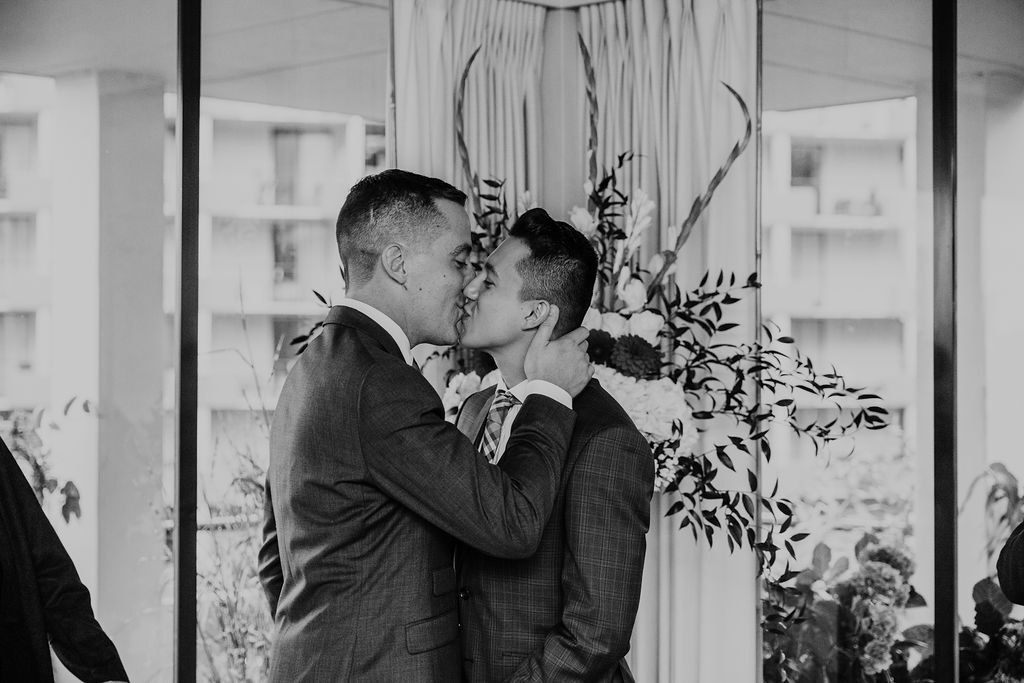 Throughout the pandemic, we've noticed a big trend of couples having at home weddings. We're all for backyard ceremonies and living room vows! But how do you make the same place where you binge Netflix or feed your dog feel like a wedding venue? How do you make your at home wedding feel special?
First things first, why have a wedding at home?
Of course, during the pandemic, an at home wedding is sometimes the safest option. With a wedding in your own home, you are likely hosting a smaller wedding with a limited guest list. You get to have an intimate moment with your closest loved ones, and don't have to worry about postponing or venues closing.
An at home wedding is also a great way to create a really meaningful ceremony in a place that is important to you. Imagine getting to walk past the place where you said your vows or had your first dance and relive those memories every single day.
8 ways to make your at home wedding more special
If you're thinking of an at home wedding or elopement, here are a few ways to make your home wedding feel extra special and meaningful:
Rearrange your space
Change the layout of your home so it's more wedding-friendly. Whether it's moving around couches, dragging a table across the house or setting up furniture in the backyard, rearranging your space will make your home feel like a brand new venue.
Splurge on something extra
With an at home wedding, you may be saving costs by not spending on transportation, limiting your guest list, etc. With those extra funds, splurge on something extra that will take your home wedding to the next level. Hire a bartender to run the home bar, rent decor pieces or install a floral arch!
Set a dress code
If you're usually a sweats and sweatshirts kind of couple, you can make your home wedding more special by dressing up and asking your guests to join you. There's something fun about lounging around your house in formal wear. Of course, we also love marrying people in jeans and t-shirts, so formal is optional!
Serve a special meal
With an at home wedding, you have lots of options for the meal you serve at your reception – options you may not have at a traditional venue. Hire caterers and servers for a formal affair, order take-out from your favourite restaurant or ask your mom to make a personal family favourite in your kitchen.
Use your whole space
You don't have to limit your at home wedding to just your living room or just your backyard. Get creative! Get ready in different rooms, set up decor in the hallway, and take photos in your reading nook or at the park across the street.
Incorporate elements you could only have at an at home wedding
Getting married in your home allows you to do things you may not have been able to do if you got married somewhere else. You can include your pets in different parts of your celebration, get married in front of an important family heirloom, or incorporate pieces of your furniture and decor into your wedding.
Get creative with your entertainment
Unless you live in a really large place, you probably don't have a ballroom and full-sized dance floor in your house. But that doesn't mean you have to skip the entertainment at your home wedding! Move furniture aside to create a small dance floor, play lawn games in the backyard, set up board games in the living room, or fire up the TV for a movie night or karaoke party.
Skip the housework
The last thing you want to do on your wedding day is clean up. But when you get married at home, you can't exactly leave the mess behind! If you have the budget, consider hiring cleaners to help out. Or at the very least, save the cleaning until the next day so you can enjoy your entire wedding.
---
Would you get married at home? Or if you did, how did you make your at home wedding special?
Written by Riana Ang-Canning
Feature image by Amber Leigh Photography