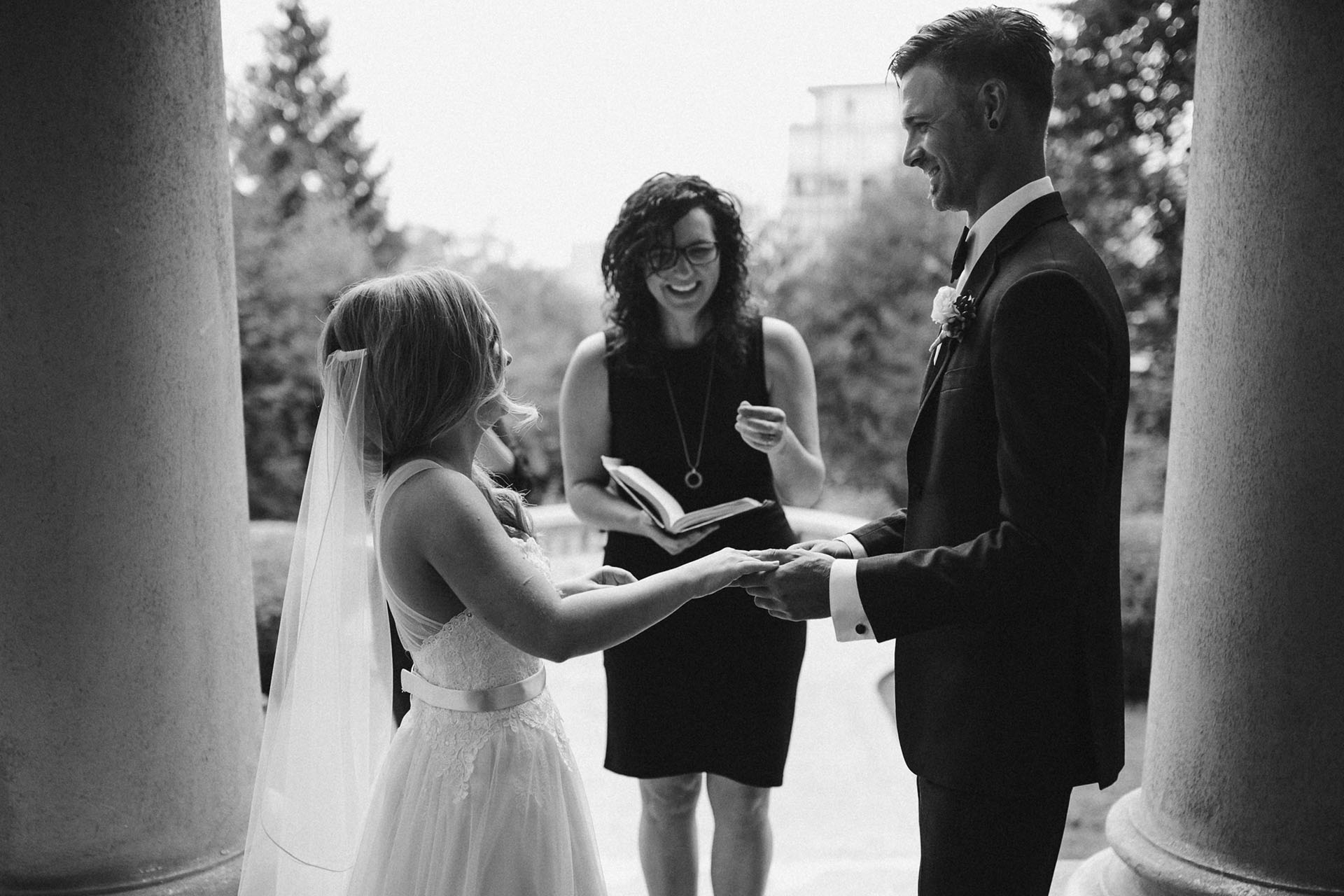 I believe we are our best selves when love is at the centre. This is why officiating weddings is so special to me.
Whether your wedding happens in a forest, on a beach, in a church, a hotel or in your own backyard—it's one of the most important moments of your life, and love truly is at the centre of it. I can't wait to hear your story: how you met, what challenges you've faced, your proudest moments and of course how you got engaged. Together, we'll create a ceremony that is just right and truly reflects your flavour, your story and your commitment to each other.
I'm a prairie girl that moved to Vancouver over 6 years ago. I am passionate about adventure, engaging the community around me, recycling, riding my bicycle and taking pictures. Oh and eating good food—I just can't get enough of it. 🙂
I can't wait to meet you and help you create a wedding ceremony that truly reflects who you are.
Testimonials
Amazing experience from start to finish. Lani was our officiant and did an outstanding job! I cannot stress how amazing she is – incredibly professional and the ceremony was beyond what we could've hoped or imagined! Each and every one of our guests commented on what an amazing ceremony it was; how it was both serious and very personal and fun. A lot of them said it was the best ceremony they have ever attended.

We are so happy we had Young Hip & Married for our wedding! Lani was our officiant and she was beyond amazing! We had a lovely first meeting and she really took the time to get to know us. She helped us with writing our vows and gave us lots of great suggestions for the wedding. The ceremony was unique and really personal, and we wouldn't have changed a thing! We would definitely recommend YH&M to anyone looking for an officiant for their wedding!

We had Lani perform our ceremony at Estate 248 (with Pop Up Weddings) back on Sept 24th and she was AMAZING!! ! It was honestly one of the best parts of the day. We had so many people comment on how it was the best ceremonies they had ever been part of and it was as if she had known us for years! It was so thoughtful and mindful and fit us so perfectly! Everyone felt connected which was so important to us. Her funny, friendly and upbeat personality made everyone so relaxed and comfortable. My dad kept going on about how great she was haha. It was a perfect mix of fun and formal. She created such a relaxed environment that she made doing our vows (which we were both nervous about) easy! We couldn't possibly thank her enough!

Our amazing officiant was Lani from YH&M. She was so personable and we couldn't imagine such an important day, and milestone in our lives without having her there that day. She catered to all of our requests for our ceremony, offering her opinion when asked and it was nothing short of perfect! Thank you so much Lani and the crew at Young Hip & Married for the most perfect day ever.

We could not have asked for more for our elopement. Even with very short notice, Lani was able to accommodate us and adjust for a date change 1 week out! Even though it was an elopement, Lani was able to provide a personal touch that made us feel extra special. At the end of the day having Lani as our Officiant felt like it was meant to be.

We had the best experience with Young Hip and Married. Our officiant, Lani, was a perfect fit for us! She met with us early on to get to know us and to understand our vision for the ceremony. She was incredibly enthusiastic and accommodating to our adjustments and plan. She went through everything at the rehearsal (expect our surprise vows to each other, of course!) and trouble-shooted all potential problems so that on the day of our ceremony everything was absolutely perfect. She made us both feel at ease and was just a pleasure to work with! I highly recommend her!!!

Our officiant was Lani and she was absolutely amazing!! My husband and I were both nervous about the ceremony but she kept it light and not too serious. She added some humorous moments that seemed to break up the seriousness. I also appreciated when she came up with some ideas (like having people introduce themselves to other they didn't know prior to the ceremony) that were different. She spent a lot of time getting to know us and writing a totally personalized ceremony. I would definitely recommend!

We were very happy with the job Lani did at our ceremony and we highly recommend her. We wanted a mix of traditional and non-traditional, but we didn't really know what else we wanted and Lani had lots of suggestions and helped us make it happen. Because we live out of town, we didn't meet Lani in person until our rehearsal but right away it was obvious she knew what she was doing. She was the right mix of fun and professional. And after talking with our family and friends, all our guest seemed to agree.

After 14 years and 2 kids, my partner Jason and I decided to get married. We were delighted with Lani Brunn and how sweet and confident she was. We were able to get married with a very small group of friends on Third Beach in Stanley Park on Valentine's Day. Having no family attending, save the one I created with Jason, Lani felt like a big sister, and helped to keep me calm as we ran late waiting for the only woman I would wait for—my mother-in-law, Della. I would highly recommend Young Hip & Married if you've been looking to get married, not just throw a wedding.

Lani did a phenomenal job officiating our wedding ceremony! Would recommend her for anyone that would like to really personalize your ceremony and make it your own.

Getting married abroad seemed a daunting task but Lani pretty much guided us through the entire process ahead of the wedding, held our hands (metaphorically) in making the big decisions, and left us feeling entirely confident for the big day – and all this from the other side of the Atlantic. The day was everything we hoped it would be; a relaxed affair with 20 of our closest friends and family in Downtown. Lani captured the atmosphere perfectly and all of our guests commented on how "us" (not sure whether that was meant as a compliment for us or not!) the ceremony was, which at the end of the day is exactly what every couple wants; something that reflects who we are as a couple. We would definitely recommend YH&M and Lani in particular to anyone, and would certainly use their services again….o no….wait….

Throughout the process of arranging our elopement style wedding Lani was incredibly helpful, responsive and accommodating. We didn't meet her in person until the wedding day, but it was like we had known her for a long time. She was incredibly approachable, friendly and easygoing—exactly what we needed. We had our wedding in a public place where we had to navigate some crowds, aim for good weather, and walk some trails to get to the ceremony location. I was really worried about having an officiant that would be difficult to work with in this type of setting. Lani was the exact opposite. She was excited with how we were doing our ceremony and was helping organize the crowds and setting. In the ceremony itself, she nailed it! I have, and will continue to, recommend Lani to any of my friends.

We had a wonderful wedding experience with Young Hip & Married! Our wedding was exactly what we wanted; our officiant, Lani, was incredible, and made the day so easy and stress-free. The ceremony was beautiful, and so very much us! It was just like Disney…we loved it!

Our officiant was Lani Brunn and she was amazing. She made us feel comfortable and at ease. She was very organized and meshed well with our parents and bridal party. She kept everyone in check as well. We really appreciated the uniqueness of YHM's style of officiating. They were also very professional and made sure we were happy with whomever we were hiring. I would definitely recommend Lani Brunn at YHM.

Young Hip & Married offers you a choice of officiants and you are able to watch videos recorded by each of the officiants to get a feel for them. I loved this because I was really looking for something unique and different and we were SO pleased with our officiant Lani Brunn. I had so many people tell me how wonderful and personal they thought the ceremony was and what an amazing officiant we had. Lani is amazing and such a lovely and genuine person, she is a goddess!!!

We would highly recommend Young Hip & Married. Our friends booked with them and we did too. Lani was our wedding officiant and she did an amazing job. When we met her, we really liked her warm personality and she had a lot of ideas for the ceremony which helped make it more special. She was very organized during the wedding rehearsal which made everything go smoothly & we all had a lot of fun. Also, on the wedding day everyone was commenting how great she was. Thank you again Lani!!! : )

We booked Lani for our wedding this June and she did an amazing job of putting together a ceremony for us that made everyone attending feel involved, while still making it personal for us. She was extremely accommodating with us, changing her schedule around so that she could attend our wedding rehearsal, and we both found her super fun to work with!

From the bottom of our hearts, we want to send you the biggest thank you in the world for making our ceremony so special, so loving and so thoughtful. Afterwards, people were asking if you were our friend, how long we've known you, where did we find you and on and on the compliments went. Thank you so much. You made it a blissful and perfect experience.

Lani made our wedding extra special. In fact we would not have been able to get married without her. All we knew was that we were in love and wanted to get married in a park. She helped us have a wedding more amazing than we could have ever imagined.

Lani was our officiant and she was lovely to work with. She totally understood who we are as a couple, offered some really lovely suggestions for us to include our family in our ceremony, and was an all around delight to be around!

Had an amazing experience with young, hip and married. Could not recommend them enough! Lani was our officiant and she made our ceremony so personalized to us as a couple. We absolutely loved her.

Over and above all my expectations. They were able to answer all of my questions and helped us to make a truly unique and personal wedding experience. We loved the entire experience with YH&M and I have recommended them to many of my friends.

Young Hip and Married was great to work with! Lani was our marriage officiate and even though we did not meet in person prior to the wedding day, she made our ceremony very personal and special. Lani was very authentic when she spoke about commitment and our union. I would totally recommend Young Hip and Married to anyone who wants a unique and awesome experience on their special day! Thank you!

Lani, we just wanted to send you a note to say thank you from the bottom of our hearts for being a part of our absolutely perfect day. Our ceremony would not have been what it was without your direction and influence, and we are so so SO happy with how it all came together. We knew when we met you that your attitude and all-around joyful personality would make you the perfect person to marry us, and we were so right.

Our wedding party has been gushing about you since the rehearsal, and SO many people have told us it was the most beautiful and funny ceremony they've ever witnessed. THANK YOU SO MUCH! You helped make our wedding everything we could have dreamed and more.

Endless thank-yous, especially for doing this on your birthday.

Every single person who attended our wedding took the time to personally tell us what a wonderful job our officiant did. Our guests (and us) were blown away with how eloquently and effortlessly Lani captured our personalities, our story and our love. From the first day we met Lani she was exceptionally professional, friendly and completely accommodating to any requests we had along the way. We are so grateful to Lani for helping give us a wedding ceremony that we will forever cherish!

We are from out of town and Lani made everything so easy for us and graciously answered all of our questions. When we met Lani, we instantly felt comfortable and knew we were in good hands. Everything went smoothly (and with some fun laughs!) and we were impressed with the connection she made with us, even though we did a smaller elopement ceremony. A big thank you to Lani and Young Hip & Married for making our day so beautiful.