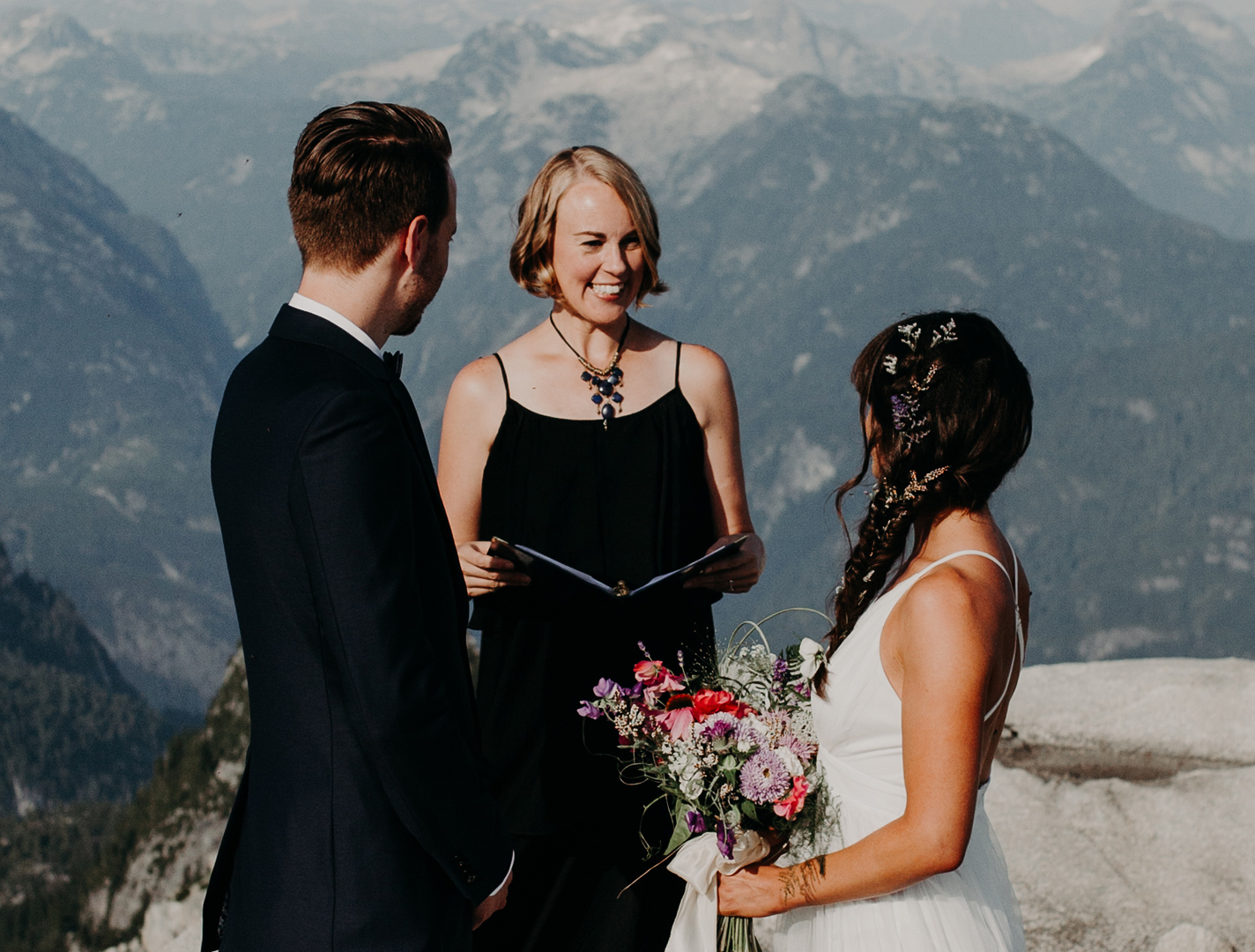 ** Kadee is not taking any new wedding bookings at this time. Sorry!**
As an officiant, I know that it's an honour to take part in the most special day of a couple's life together. I take that fact seriously, and work hard to carry out my role with excellence, care and good humour.
Before joining Young Hip and Married, I worked for more than a decade as a congregational pastor. I'm still an ordained minister but love working with couples of all backgrounds to craft services of love and celebration. Being an encouraging, steady presence for couples and their families (on what can sometimes be a very emotional day!) is something I strive for in my role.
My favourite part of the wedding ceremony is when a couple makes their vows to each other. There is so much variety in what is said and how, but at the end of the day a couple promises to keep their end of a loving, lifelong bargain. That's a beautiful thing to witness.
I've been married to my far hipper and slightly younger husband, Matt, for over 16 years. He is my very favourite person as well as my partner, co-parent to our four (yes, four!) children, travel companion and friend.
When I'm not working, you can find me reading, writing, or enjoying the great outdoors with my family. One of my favourite things to do is study other languages—I speak decent Spanish, as well as some Hebrew, Russian, and French. I enjoy cooking too, which is good since I have a lot of cute, hungry people to feed.
I wish all couples planning a wedding nothing but love, happiness, and joy in the magic of joining their two lives together.
My wife and I hired Kadee from Young Hip & Married after witnessing her in action as the officiant for two friends of ours during simpler pre-pandemic days. Throughout the past year and a half of scheduling, planning, rescheduling, planning more, Kadee was nothing short of amazing! When the wedding day finally came, she had prepared the most true-to-us script, better than we ever could have hoped for. Without a doubt, we'd recommend Young Hip & Married, and specifically our Rockstar officiant, Kadee to anybody looking for a perfect, personalized ceremony. After all the uncertainty this past year, our little wedding ceremony was an experience we'll cherish. Thanks so much!!

From the minute we reached out to Young Hip & Married, we were treated like gold. We felt like they really cared about our vision and providing us with everything we wanted for our special day. Kadee was our officiant and we cannot say enough kind words about her! The instant we met her, we felt happy that it was her that was going to be a part of our special day. Kadee worked with us in ensuring we knew exactly what to expect and she delivered perfectly! We cannot recommend Kadee and the Young Hip & Married team enough! Thank you!

Kadee was everything a couple wants in an officiant. She was organized, warm, receptive, flexible, punctual and professional at every turn. Our wedding ceremony went smoothly and exactly as we wished. We would highly recommend Kadee to other couples looking for a wedding officiant.

My wedding day was still as amazing even though my now husband and I decided to elope. At first I wasn't excited about the idea of eloping and none of our friends or family would be there to witness our special day. But when my husband found Young Hip & Married and I looked into the helicopter elopement package, I fell in love instantly. The whole experience from picking our special day to getting married on a private mountain top was a fairy tale. The ladies I was communicating with were very well mannered and respectful of our wishes. The officiant Kadee and the photographer Vickie made the ride and the special moment really come alive for us both. The many pictures that were taken to capture every moment of our wedding day made me really happy. The officiant Kadee made our quick but still special moment on the mountain top so special for my husband and I. Sky Helicopter was the company who flew us to the private mountain top. The pilot was very polite and was happy to be at his job. Everyone, you made mine and Jeremy's special wedding day a day to remember forever. Thank you to all of you and I hope you make many more couples' special wedding moments as special and intimate as ours was. Thanks again. Cheers 🙂

My husband and I were married by Kadee and she was great! She worked with us beforehand to make our ceremony script more personal. She was warm and welcoming and kept us from feeling awkward or nervous at the actual ceremony too (even when we forgot our rings for a minute and a squirrel tried to attack our cake).

Kadee was super professional and made it easy with the planning of the vows and reading for the ceremony. During the ceremony she knew exactly what to do and when and wrangled our guests like a pro. It was the perfect day and perfect ceremony- like clockwork. She's obviously done this a few times before!

Young Hip & Married provided us with a wonderful, simple option for organizing the simple ceremony we wanted. We had originally opted to go with their Helicopter Elopement package, however on the day of our wedding, we were rained out and were unable to fly! YH&M was quick to offer a number of alternative ground locations that we could use that same day, or offered the option to reschedule as well. Since we had planned a reception that evening with our family and friends (for after the ceremony), we opted to continue our ceremony plans the same day in Stanley Park – it was BEAUTIFUL. The team at YH&M worked quickly to make sure that everyone involved (officiant, photographer, extra witness) were all notified of the last minute change and everything went off without a hitch! Both our officiant, Kadee, and our photographer, Erica, were awesome to work with – you can tell they both love what they do and are super pros. If you're looking for a no fuss way of creating beautiful, intimate memories of your ceremony/wedding day with your partner – look no further, this is it.

Kadee, thank you so much for being the perfect officiant for our magical, garden wedding this past weekend. We absolutely loved your enthusiasm for our wedding plans right from our first meeting at Delany's in Edgemont and this continued right through to everything you did during our special day – to make it so very memorable. We absolutely would be thrilled to recommend you and Young Hip and Married to anyone that we know that's getting married anytime soon. Warmest regards and a big hug from Jenny and I!

Our elopement was fantastic – I would not have changed a thing!

Probably the best officiants around. Revolutionizing the officiant experience and making it personal, emotional, fun, dynamic and an experience everyone can enjoy.

We were planning an elopement wedding in Vancouver from another province; the Office Goddess at Young Hip and Married was so responsive and picked the best possible officiant for us! From the moment we met Kadee it felt like we were meeting an old friend. She was so personable and ensured the ceremony was everything we could have imagined and more! She was also so responsive and answered every question we asked. Thank you everyone at Young Hip & Married that made our big day the best day ever!

The team, starting from the enquiry till the marriage, addressed all of our queries and concerns so personally, which really makes you feel very comfortable in a situation when you are making one of the biggest life decisions. These people are great people and they know what they do and the importance of such events. We opted for their elopement plan and that was exactly what we expected and, in fact, more than that. We were very nervous and unsure how things would go but they took care of everything so well. Our initial contact was Rebecca and she answered all of our queries so well and made us feel very comfortable that we were with the right people. When it came to the final day, we met Kadee as our officiant and in a simple word I can say she is excellent.

Kadee was our officiant. She helped us in finalizing the venue and we chose Third Beach and Stanley Park. She also asked two ladies at the beach to be witnesses for our ceremony. The company communicated very well and made us feel very comfortable throughout the process. They got back to us for our queries very fast. Thank you Young Hip and Married for being a part of our new journey, especially Rebecca and Kadee 🙂

We just wanted to express our appreciation once again for your help in making our wedding a very stress-free and happy occasion. Your calm command of the requirements along with your understanding of our wishes to keep things memorable but light set the tone for a beautiful wedding. The resources you provided to help us personalize the ceremony, along with your willingness to include our wishes, let us feel like we got exactly what we wanted. Thanks again for performing a lovely ceremony. We couldn't be happier!

Kadee was soooooo amazing!!!! Not only did she do an amazing job telling our story she was great from the beginning getting information from us. We loved that she was able to incorporate some Spanish to make all of our guests feel included in our day. We received so many compliments from our guests. We couldn't have asked for a better ceremony.

I don't even know where to start. Kadee was incredible. She worked with us closely leading up to the day and so we felt like she was a friend which was super important because we wanted a pretty personalized wedding. She also wrote the most beautiful ceremony that really shared our story and on the day of the wedding was professional, funny, and gracious. She made our guests laugh and cry all at the same time which we really wanted. She also didn't mind that our wedding ceremony stared an hour late. She was amazing!!! I would recommend her 100%.

We are very glad that we chose Young Hip & Married for our wedding. Erica & Kadee were both equally professional and relaxed. They were very flexible and responsive to our requests. The ceremony went smoothly and the views were spectacular. The ride in the helicopter was very smooth, and the pilot friendly and professional. We were pleased with our photos. On the whole, we HIGHLY recommend Young Hip & Married!

Kadee was exactly what we needed for our unique ceremony. She seamlessly incorporated all of the elements that we wanted, and was open and caring. I would absolutely recommend her in particular but also the Young Hip & Married team in general!

Kadee was an amazing officiant. From day 1, she was organized, efficient and always quick to reply to our inquiries. During our wedding journey, Kadee made sure to check in to ensure that everything was on track, reached out to our family and friends for additional insight as well as providing details well in advance of what to expect on the big day. As a result, the ceremony went off without a hitch and exceeded all of our expectations. Thank you Kadee!

We were very happy with Kadee from Young, Hip & Married. She contacted us early for a skype call, and gave us a clear picture of how she approached the ceremony, and made it clear early on that she was flexible and accommodating of what we wanted. The forms from Young, Hip & Married were helpful in getting us to review what we wanted for our ceremony speech, and vows. Kadee put together a very nice ceremony for us to review a few weeks before our wedding, and was responsive to our feedback and suggestions. She was friendly and was happy to deal with a last minute change we made 2 days before for our ceremony. It was a pleasure working with Kadee and we would definitely recommend Kadee and the Young, Hip & Married team.

So glad we came across this company to marry my husband and I. We loved our officiant, Kadee! She made us feel so comfortable and had a great sense of humor which made the crowd laugh. My husband and I are very happy with how our ceremony turned out. I definitely recommend Young Hip & Married!

Fantastic ceremony with Kadee Smedley! Right from the start, Young Hip and Married was easy to work with, along with our Marriage Officiant Kadee who was outstanding. Kadee was warm, personable, and her personalized write up for the ceremony was outstanding with humour, which we wanted. She is quick on her feet too, which helped when the cruise ship horn interrupted our ceremony but Kadee quickly worked it into our ceremony and made it memorable!!! All the guests loved it!! Thank you Kadee!

The process from start to finish with Young Hip & Married was easy and professional. We really enjoyed Kadee as our officiant; she is friendly, helpful and easy going, as well as provides guidance intuitively. Kadee brought a balance of humour, lightheartedness and romance to our ceremony. Our guests raved about it.

We love Kadee and her energy! Thanks for helping us get hitched on our big day! We appreciate your smiles, words, communication beforehand, and for letting us provide our input on the readings. The special parts that you wrote about us meant so much to us! We highly recommend Kadee as an officiant! We just got our marriage certificate in the mail a few days ago! Woot woot!

We booked the Helicopter Elopement Package through Young Hip & Married 8 months prior to our wedding day. Kadee was our wedding officiant and reached out to us instantly. Kadee was everything we wanted. Kadee really took the time to get to know myself and my husband and by doing that she wrote us the perfect vows. I remember the first time I read the vows I was blown away; they were perfect and we couldn't have asked for more. Thank you Kadee for getting to know us; it made our special day that much more special. Thank you Young Hip & Married for making our Helicopter Elopement one of the best days of our lives! It was absolutely perfect. Your staff are amazing and we couldn't have asked for better people to be a part of our special day.

My mother found Young Hip & Married for us… and it turned out amazing. Kadee was our officiant up in Squamish. We had multiple comments made by guests on how they enjoyed the non traditional speech about our lives and where we came from. It was truly personalized. Would definitely recommend the service to anyone looking to have their wedding personalized and tailored to the actual couple!

Ben and I worked with Kadee as our officiant and Emily as our photographer. Both women were fabulous to work with! They were extremely professional and communicated regularly leading up to our big day. We had chosen Golden Ears park as our location, and unfortunately the gates were closed for an unknown reason when we arrived. Both Kadee and Emily were quick to come up with solutions and were so very flexible to make sure we had an outstanding day even though it wasn't in the location we had picked. Loved loved loved this experience and would recommend to anyone!

When planning our wedding, we really wanted the day to have a relaxed feel to it. We wanted it to be about love. Our Officiant, Kadee, made that happen for us and really set the tone for the rest our wedding. Leading up to the ceremony, she made the whole process very stress-free. She was organized, knowledgeable and always got back to us quickly when we had questions along the way. She was easy to talk to and genuine. We were both so happy with Kadee, but we were further validated when our guests went out of their way to tell us what a fantastic job she did!

Getting married is stressful, however you plan to do it. Finding Young Hip and Married made it so much easier for us. They guided us through all the steps like the pros they are, were very responsive and accommodating throughout, and on the day, our officiant (Kadee) and photographer (Erica) were both super wonderful and supportive. I really have no idea how we would have gotten through it without them. I can't recommend this whole service more; you'd be crazy not to use them! Also, if you are eloping, the helicopter package was well worth it, for many reasons not in the least the great story and photos to pass along to friends and family. Good luck!

We booked Young Hip & Married for our tiny forest ceremony in Stanley Park through Pop Up Weddings BC. Our officiant was Kadee and she was absolutely wonderful to work with as we designed our ceremony script together. She was very responsive and friendly in all of her emails (and she was thrilled to include a territorial acknowledgement when we requested it!). Kadee was perfect during the ceremony; she was so calm and sweet and we could really tell that she loves helping folks like us tie the knot. Highly, highly recommended!

Amazing experience from beginning to end. We wanted an elopment package that would fit our budget and also be super special. My partner came across Young, Hip & Married and what they offered was perfect. We live in London and travelled to Vancouver to elope. Tara and Kadee were very helpful with answering our questions as 'out of towners' and made everything very easy, which was very much appreciated. We opted for the helicopter elopement and it was simply perfect. The weather was a bit rainy and windy that day but we managed to get to the riverbed location at the bottom of the mountain. I would not have changed a thing. Erica was so helpful on the day, coordinating between us and the pilot, and making the photos a fun and awesome experience Kadee was the perfect officiant, couldn't have asked for better. It was the perfect ceremony, beautiful words and Kadee worked in a small change to the traditional vows for us to make it super personal.

Thank you so much Kadee, Erica and Tara for all your help and expertise, it really did result in the best day ever. Kadee and Erica were absolutely the best and made the day so special. Tara, the Office Goddess who helped us orchestrate the whole thing, was also fantastic. Amazing company, amazing ideas and super friendly and supportive. Cannot rate them high enough and would thoroughly recommend. Thank you for an amazing and unforgettable day!

I would highly recommend this company, the friendliest and most amazing people to work with.

Thank you Kadee for doing such a great job! We wanted a civil + religious ceremony and we got just that. We especially loved the blessing you wrote just for us, to bless our wedding. Thank you again!

We had a very lovely experience with Young Hip & Married. They are very organized and provides great customer service. We chose Kadee as our officiant and we love her energy and great smile! Having a wedding during COVID was surely not easy but Kadee made sure that we feel comfortable and stay informed. The speech she made for us was very sweet and made the whole experience so much better than expected!

Kadee was perfect in every way – respectful and cognizant of time and venue. Her follow up was also amazing. I highly recommend Young Hip & Married, and specifically, Kadee, to everyone.

Thank you thank you thank you! You guys are real pros. Our day was awesome and completely stress free. You all kept us informed, on track and laughing. We have already been talking non-stop about how awesome your company is.

We worked with both Kadee and Erica and would recommend both of them to family and friends or anyone else looking for a relaxed (but organized) and fun day! Everything was exactly as we imagined, if not better.

Thanks so much for helping us start the rest of our lives in the most awesome way.

We bought the elopement and photography package. Kadee was an amazing officiant. She made us feel comfortable and relaxed. Erica, the photographer was great as well. They made our wedding very special! They showed up on time, were very accommodating and responsive leading up to the ceremony and after. Would highly recommend them!

Wonderful experience! Our officiant was lovely. She took the time to determine exactly what we were looking for and did a great job of information gathering. The speech was heartfelt and genuine and everyone really enjoyed themselves. Excellent pacing and perfect delivery.

Kadee Smedley from Young Hip & Married did an AMAZING JOB as our officiant. She was responsive to our emails during the planning phases, she wrote us a wonderful introduction to our vows that really captured our love and who we were. While we did not meet in person until the actual day, we could not have been more pleased with her services. She even found our parents to get their information for the license while we were getting our photos taken! She printed up our vows so we did not have to worry about getting them to the ceremony. We had a zero stress experience working with her and would highly recommend her and Young Hip & Married to anyone in search of an officiant!

The PERFECT day… thanks to Kadee! Kadee was absolutely amazing in every way and is so talented in what she does! After getting to know us over a Skype call and talking with a few of our friends, she created the perfect ceremony that required basically no changes. She helped us so much with our vows; she was so encouraging and made the whole experience a very positive one. Everyone at the wedding said the ceremony was one of the very best parts and was very 'us' which is what was so important to us. The day of the wedding, she was so good at her delivery of the ceremony and tailored her delivery to the crowd very nicely. She was professional through the whole experience, while all the while being authentic and incredibly flexible. I HIGHLY recommend Kadee to anyone looking for an exceptional and very memorable experience. THANK YOU Kadee!

My wife and I, along with our two witnesses, arrived at the gates of Golden Ears park on a gorgeous Tuesday afternoon in March. We had arranged to meet Kadee and Emily there at 2pm with the intent to drive further in to the park to a few preselected and picturesque spots to conduct our ceremony and take our wedding photos. We arrived to find the gates locked! Kadee and Emily seemed a bit more concerned than we were, but remained consummate professionals. We simply backtracked down the road a bit and said our vows on a rock outcropping in the middle of a river along the side of Golden Ears Way and took some lovely photos (after politely shooing away a few groups of playing children and teenagers). Kadee and Emily were wonderful to have with us on our wedding day; I would highly recommend them to anyone.

We wanted to ensure a very intimate ceremony for our elopement, the plans for which came together very last minute. We were extremely impressed with the responsiveness, flexibility, and guidance we received every step of the process. We would highly recommend to anyone! Thank you for everything you did to make our special day so special.

We had the pleasure to have Kadee marry us in beautiful Stanley Park. She was an absolute delight, such a lovely personality. She is very professional and provided us with many samples of the ceremony script and made sure we were comfortable with everything. She always got back to us almost instantly. She performed the ceremony so elegantly and just something about her personality is so lovely that made the ceremony so very beautiful and so very special to us. I highly recommend YH&M, especially Kadee; they made us so very happy.

Energetic, fun and organized! We were more than impressed with our officiant from YHM.

Very pleased with Kadee and Young Hip & Married! The whole process with Young Hip & Married was stress-free and easy. We were matched with Kadee as our officiant and she couldn't have been better! Kadee met with us and heard our story and then crafted a beautiful ceremony that reflected our love and relationship. During the ceremony, Kadee's energy and presence was calm and grounding and full of light! We were very happy with the service provided by Young Hip & Married in general and Kadee specifically. We definitely recommend them!

As a company, Young Hip and Married have a quick response time and excellent communication. We opted for the Rockin' Wedding package which was reasonably priced and really comprehensive. Kadee, our officiant, was wonderful. She got to know us, and wrote and delivered a wonderful service that felt true to our relationship. She was professional, organized, communicative, and fun and we feel lucky to have had her marry us!

We went with the elopement package because we were having a small, immediate, family-only wedding. YH&M matched us with Kadee Smedley since we requested someone familiar with Queen Elizabeth Park, and Kadee had done many weddings there. To my horror, as we were about to start the ceremony, Kadee reminds me about the marriage license and I realize we didn't get one. I'm grateful to Kadee and my husband for talking me through a near-meltdown. She remained so calm and patient with us and reassured us this happens more often than you'd think, and suggested we go through with the ceremony, pick up a marriage license (she even Googled a place for us!), and meet up again to do the paperwork. Kadee had such a positive attitude, and she was so kind and flexible with our big goof-up. I'm so glad she was a part of our big day; she really went above and beyond for these two lovebirds!

My wife and I eloped at Stanley Park with Young Hip and Married. Our officiant and photographer, Kadee and Sarah, were amazing and very patient; we had some guests arrive late and they waited for everyone! The ceremony was very beautiful and to that point, Kadee wrote a very nice ceremony. Our photographer Sarah was excellent at giving us ideas and telling us what to do and how to pose! Would recommend YH&M to anyone looking to have an elopement!

We planned our elopement in less than 2 weeks, and your team was so accommodating! You matched us with the best person ever! KADEE was absolutely amazing. She did things above and beyond for us! It was all so magical up on Grouse Mountain! THANK YOU Kadee and Young Hip & Married!! You made our journey to I Do's enjoyable and not stressful! Thanks!

A ceremony well-delivered! Kadee was exactly what we were looking for in a wedding officiant.
She managed to strike the perfect balance of humor and sincerity. Our ceremony felt personal and intimate, even though we had only met Kadee that day. A ceremony well-delivered. Thank you!

Working with Kadee was so pleasant and professional. We went with the rocking wedding package and were beyond happy with the level of personalization and detail. Kadee worked with us and our loved ones to tell our story and was very accommodating in incorporating some traditional elements into our ceremony. Our ceremony captured our personalities perfectly and went smoothly, beautifully, and was so meaningful to us both! We recommend Kadee and Young Hip and Married to anyone looking for an exceptional experience.

I'm so glad to have had you guys on my big day! Our wedding was just simple and with our officiant, Kadee, she made the wedding so sweet and warm. I will recommend Young Hip & Married to all my friends!

Kadee from YH&M was our officiant and she did a wonderful job. She made the ceremony perfect for us and even put up with my family's antics for the rehearsal. We are so happy we chose this service for our day.

Kadee was an amazing officiant! We got the custom package and we loved everything about the script that Kadee (our officiant) made for us. You work with so many vendors for your wedding and Young Hip & Married is probably one of the most professional ones that we've worked with.

Kadee was our officiant and she was awesome. At our first meet, she asked a lot of questions and helped us figure out what we wanted for our ceremony. We wanted a short and simple service that was also special and very meaningful. She was very informative and patient as I had lots of questions. Super happy that we had her as a part of our special day. I highly recommend Young Hip and Married and Kadee!

I can't think of a single way that YH&M could have improved the service we received. They were reliable, professional, kind, flexible, and genuinely interested in helping us have exactly the wedding we were looking for. Thank you so much!

Our event was a success, would not change a thing.

Kadee was our wedding officiant, and in hindsight, I can't see us making any changes at all. Before the ceremony, she always kept in touch and asked various questions to get to know us better. During the ceremony, she was prompt and professional. Additionally, her speech was heart felt, personal, and funny. This is exactly what we wished for. After the ceremony, Kadee from Young Hip & Married followed up with us. I am so happy we went this route rather than paying less for the standard city officiant. She made our day memorable and we are so pleased.

Kadee was incredibly kind, easy to work with, and always responsive. She made this experience very pleasant.

Amazing Ceremony! One of the comments I heard the most during our reception was how amazing our ceremony was. Everyone was at one time laughing and crying at our story and how personalized the ceremony was to our personalities and relationship. Kadee is absolutely amazing! I would highly recommend her and the team at Young Hip and Married and their Rockin' Wedding Package to anyone looking for get married and have a memorable and tailored ceremony. Thank you!

Kadee was very professional and her personalized speech was very touching and a great addition to the ceremony. She took the time to speak with close friends and family to make the ceremony more interesting, and very memorable and heartfelt for us and our family and friends.

Perfection! It was such an honor and privilege to have Kadee present our wedding ceremony to our family and guests. Choose the package where they tell your story! Trust me it was so worth it 🙂 Every guest enjoyed the heartfelt story and laughter.

In a pinch to find an officiant in Vancouver (we thought wrongly we could do city hall), YH&M came through at the last minute and in the midst of the Christmas holiday. Kadee was fantastic–responsive, friendly and adaptable to our quirks.

I cannot thank you guys enough for making this happen for us! Rebecca (customer relations), it was the best experience/day of our lives. We are still in awe about the helicopter elopement. The pilots, our photographer (Erica), officiant (Kadee) were absolutely amazing and we could not have asked for a better elopement. All of you guys made us feel so special and were all just perfect. Again, we cannot say one bad thing about this elopement and I would have paid thousands of dollars more! It was absolutely perfect and I have you all to thank you for that. You worked really hard and made this happen for us and again thank you. Thank you from the bottom of our hearts.

Thank you, Young Hip & Married, for making our helicopter elopement one of the best days of our lives! We will never forget it.

We had a great experience with YH&M. Their script was fantastic, our officiant was sweet and flexible when we had to change our date & venue for the elopement. It's not for everyone, but if you want a small ceremony hosted by an excellent and approachable stranger, they're the best. I'm the fourth person I know who's used them – small ceremonies are popular these days, I guess!