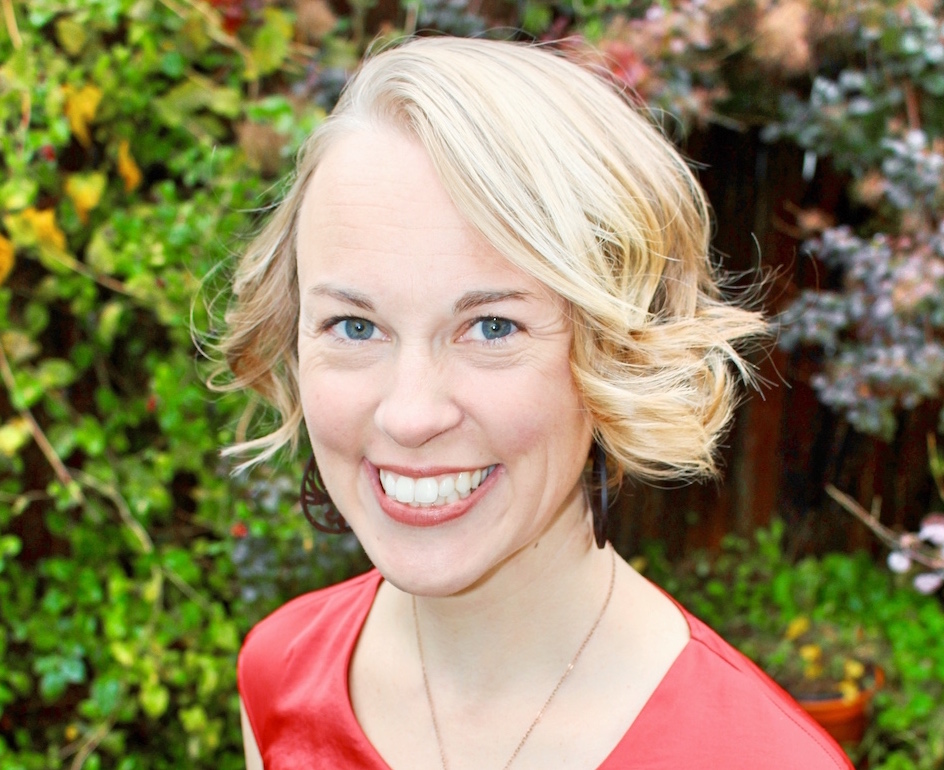 As an officiant, I know that it's an honour to take part in the most special day of a couple's life together. I take that fact seriously, and work hard to carry out my role with excellence, care and good humour.
Before joining Young Hip and Married, I worked for more than a decade as a congregational pastor. I'm still an ordained minister but love working with couples of all backgrounds to craft services of love and celebration. Being an encouraging, steady presence for couples and their families (on what can sometimes be a very emotional day!) is something I strive for in my role.
My favourite part of the wedding ceremony is when a couple makes their vows to each other. There is so much variety in what is said and how, but at the end of the day a couple promises to keep their end of a loving, lifelong bargain. That's a beautiful thing to witness.
I've been married to my far hipper and slightly younger husband, Matt, for over 16 years. He is my very favourite person as well as my partner, co-parent to our four (yes, four!) children, travel companion and friend.
When I'm not working, you can find me reading, writing, or enjoying the great outdoors with my family. One of my favourite things to do is study other languages—I speak decent Spanish, as well as some Hebrew, Russian, and French. I enjoy cooking too, which is good since I have a lot of cute, hungry people to feed.
I wish all couples planning a wedding nothing but love, happiness, and joy in the magic of joining their two lives together.
Young Hip & Married provided us with a wonderful, simple option for organizing the simple ceremony we wanted. We had originally opted to go with their Helicopter Elopement package, however on the day of our wedding, we were rained out and were unable to fly! YH&M was quick to offer a number of alternative ground locations that we could use that same day, or offered the option to reschedule as well. Since we had planned a reception that evening with our family and friends (for after the ceremony), we opted to continue our ceremony plans the same day in Stanley Park – it was BEAUTIFUL. The team at YH&M worked quickly to make sure that everyone involved (officiant, photographer, extra witness) were all notified of the last minute change and everything went off without a hitch! Both our officiant, Kadee, and our photographer, Erica, were awesome to work with – you can tell they both love what they do and are super pros. If you're looking for a no fuss way of creating beautiful, intimate memories of your ceremony/wedding day with your partner – look no further, this is it.

Amazing Ceremony! One of the comments I heard the most during our reception was how amazing our ceremony was. Everyone was at one time laughing and crying at our story and how personalized the ceremony was to our personalities and relationship. Kadee is absolutely amazing! I would highly recommend her and the team at Young Hip and Married and their Rockin' Wedding Package to anyone looking for get married and have a memorable and tailored ceremony. Thank you!

My mother found Young Hip & Married for us… and it turned out amazing. Kadee was our officiant up in Squamish. We had multiple comments made by guests on how they enjoyed the non traditional speech about our lives and where we came from. It was truly personalized. Would definitely recommend the service to anyone looking to have their wedding personalized and tailored to the actual couple!

I can't think of a single way that YH&M could have improved the service we received. They were reliable, professional, kind, flexible, and genuinely interested in helping us have exactly the wedding we were looking for. Thank you so much!

Our event was a success, would not change a thing.

Energetic, fun and organized! We were more than impressed with our officiant from YHM.

Kadee was an amazing officiant! We got the custom package and we loved everything about the script that Kadee (our officiant) made for us. You work with so many vendors for your wedding and Young Hip & Married is probably one of the most professional ones that we've worked with.

Kadee, thank you so much for being the perfect officiant for our magical, garden wedding this past weekend. We absolutely loved your enthusiasm for our wedding plans right from our first meeting at Delany's in Edgemont and this continued right through to everything you did during our special day – to make it so very memorable. We absolutely would be thrilled to recommend you and Young Hip and Married to anyone that we know that's getting married anytime soon. Warmest regards and a big hug from Jenny and I!

Amazing experience from beginning to end. We wanted an elopment package that would fit our budget and also be super special. My partner came across Young, Hip & Married and what they offered was perfect. We live in London and travelled to Vancouver to elope. Tara and Kadee were very helpful with answering our questions as 'out of towners' and made everything very easy, which was very much appreciated. We opted for the helicopter elopement and it was simply perfect. The weather was a bit rainy and windy that day but we managed to get to the riverbed location at the bottom of the mountain. I would not have changed a thing. Erica was so helpful on the day, coordinating between us and the pilot, and making the photos a fun and awesome experience Kadee was the perfect officiant, couldn't have asked for better. It was the perfect ceremony, beautiful words and Kadee worked in a small change to the traditional vows for us to make it super personal.

Thank you so much Kadee, Erica and Tara for all your help and expertise, it really did result in the best day ever. Kadee and Erica were absolutely the best and made the day so special. Tara, the Office Goddess who helped us orchestrate the whole thing, was also fantastic. Amazing company, amazing ideas and super friendly and supportive. Cannot rate them high enough and would thoroughly recommend. Thank you for an amazing and unforgettable day!

I would highly recommend this company, the friendliest and most amazing people to work with.

Our elopement was fantastic – I would not have changed a thing!

Thank you Kadee for doing such a great job! We wanted a civil + religious ceremony and we got just that. We especially loved the blessing you wrote just for us, to bless our wedding. Thank you again!

Kadee was perfect in every way – respectful and cognizant of time and venue. Her follow up was also amazing. I highly recommend Young Hip & Married, and specifically, Kadee, to everyone.

Thank you thank you thank you! You guys are real pros. Our day was awesome and completely stress free. You all kept us informed, on track and laughing. We have already been talking non-stop about how awesome your company is.

We worked with both Kadee and Erica and would recommend both of them to family and friends or anyone else looking for a relaxed (but organized) and fun day! Everything was exactly as we imagined, if not better.

Thanks so much for helping us start the rest of our lives in the most awesome way.

Kadee from YH&M was our officiant and she did a wonderful job. She made the ceremony perfect for us and even put up with my family's antics for the rehearsal. We are so happy we chose this service for our day.

Kadee was everything a couple wants in an officiant. She was organized, warm, receptive, flexible, punctual and professional at every turn. Our wedding ceremony went smoothly and exactly as we wished. We would highly recommend Kadee to other couples looking for a wedding officiant.

Fantastic ceremony with Kadee Smedley! Right from the start, Young Hip and Married was easy to work with, along with our Marriage Officiant Kadee who was outstanding. Kadee was warm, personable, and her personalized write up for the ceremony was outstanding with humour, which we wanted. She is quick on her feet too, which helped when the cruise ship horn interrupted our ceremony but Kadee quickly worked it into our ceremony and made it memorable!!! All the guests loved it!! Thank you Kadee!

Very pleased with Kadee and Young Hip & Married! The whole process with Young Hip & Married was stress-free and easy. We were matched with Kadee as our officiant and she couldn't have been better! Kadee met with us and heard our story and then crafted a beautiful ceremony that reflected our love and relationship. During the ceremony, Kadee's energy and presence was calm and grounding and full of light! We were very happy with the service provided by Young Hip & Married in general and Kadee specifically. We definitely recommend them!

We planned our elopement in less than 2 weeks, and your team was so accommodating! You matched us with the best person ever! KADEE was absolutely amazing. She did things above and beyond for us! It was all so magical up on Grouse Mountain! THANK YOU Kadee and Young Hip & Married!! You made our journey to I Do's enjoyable and not stressful! Thanks!

Perfection! It was such an honor and privilege to have Kadee present our wedding ceremony to our family and guests. Choose the package where they tell your story! Trust me it was so worth it 🙂 Every guest enjoyed the heartfelt story and laughter.

In a pinch to find an officiant in Vancouver (we thought wrongly we could do city hall), YH&M came through at the last minute and in the midst of the Christmas holiday. Kadee was fantastic–responsive, friendly and adaptable to our quirks.

Kadee was very professional and her personalized speech was very touching and a great addition to the ceremony. She took the time to speak with close friends and family to make the ceremony more interesting, and very memorable and heartfelt for us and our family and friends.

A ceremony well-delivered! Kadee was exactly what we were looking for in a wedding officiant.
She managed to strike the perfect balance of humor and sincerity. Our ceremony felt personal and intimate, even though we had only met Kadee that day. A ceremony well-delivered. Thank you!

We bought the elopement and photography package. Kadee was an amazing officiant. She made us feel comfortable and relaxed. Erica, the photographer was great as well. They made our wedding very special! They showed up on time, were very accommodating and responsive leading up to the ceremony and after. Would highly recommend them!

We were planning an elopement wedding in Vancouver from another province; the Office Goddess at Young Hip and Married was so responsive and picked the best possible officiant for us! From the moment we met Kadee it felt like we were meeting an old friend. She was so personable and ensured the ceremony was everything we could have imagined and more! She was also so responsive and answered every question we asked. Thank you everyone at Young Hip & Married that made our big day the best day ever!

We booked Young Hip & Married for our tiny forest ceremony in Stanley Park through Pop Up Weddings BC. Our officiant was Kadee and she was absolutely wonderful to work with as we designed our ceremony script together. She was very responsive and friendly in all of her emails (and she was thrilled to include a territorial acknowledgement when we requested it!). Kadee was perfect during the ceremony; she was so calm and sweet and we could really tell that she loves helping folks like us tie the knot. Highly, highly recommended!

We just wanted to express our appreciation once again for your help in making our wedding a very stress-free and happy occasion. Your calm command of the requirements along with your understanding of our wishes to keep things memorable but light set the tone for a beautiful wedding. The resources you provided to help us personalize the ceremony, along with your willingness to include our wishes, let us feel like we got exactly what we wanted. Thanks again for performing a lovely ceremony. We couldn't be happier!

We love Kadee and her energy! Thanks for helping us get hitched on our big day! We appreciate your smiles, words, communication beforehand, and for letting us provide our input on the readings. The special parts that you wrote about us meant so much to us! We highly recommend Kadee as an officiant! We just got our marriage certificate in the mail a few days ago! Woot woot!

Kadee was our officiant and she was awesome. At our first meet, she asked a lot of questions and helped us figure out what we wanted for our ceremony. We wanted a short and simple service that was also special and very meaningful. She was very informative and patient as I had lots of questions. Super happy that we had her as a part of our special day. I highly recommend Young Hip and Married and Kadee!

I'm so glad to have had you guys on my big day! Our wedding was just simple and with our officiant, Kadee, she made the wedding so sweet and warm. I will recommend Young Hip & Married to all my friends!

The PERFECT day… thanks to Kadee! Kadee was absolutely amazing in every way and is so talented in what she does! After getting to know us over a Skype call and talking with a few of our friends, she created the perfect ceremony that required basically no changes. She helped us so much with our vows; she was so encouraging and made the whole experience a very positive one. Everyone at the wedding said the ceremony was one of the very best parts and was very 'us' which is what was so important to us. The day of the wedding, she was so good at her delivery of the ceremony and tailored her delivery to the crowd very nicely. She was professional through the whole experience, while all the while being authentic and incredibly flexible. I HIGHLY recommend Kadee to anyone looking for an exceptional and very memorable experience. THANK YOU Kadee!

We are very glad that we chose Young Hip & Married for our wedding. Erica & Kadee were both equally professional and relaxed. They were very flexible and responsive to our requests. The ceremony went smoothly and the views were spectacular. The ride in the helicopter was very smooth, and the pilot friendly and professional. We were pleased with our photos. On the whole, we HIGHLY recommend Young Hip & Married!

Wonderful experience! Our officiant was lovely. She took the time to determine exactly what we were looking for and did a great job of information gathering. The speech was heartfelt and genuine and everyone really enjoyed themselves. Excellent pacing and perfect delivery.

My wedding day was still as amazing even though my now husband and I decided to elope. At first I wasn't excited about the idea of eloping and none of our friends or family would be there to witness our special day. But when my husband found Young Hip & Married and I looked into the helicopter elopement package, I fell in love instantly. The whole experience from picking our special day to getting married on a private mountain top was a fairy tale. The ladies I was communicating with were very well mannered and respectful of our wishes. The officiant Kadee and the photographer Vickie made the ride and the special moment really come alive for us both. The many pictures that were taken to capture every moment of our wedding day made me really happy. The officiant Kadee made our quick but still special moment on the mountain top so special for my husband and I. Sky Helicopter was the company who flew us to the private mountain top. The pilot was very polite and was happy to be at his job. Everyone, you made mine and Jeremy's special wedding day a day to remember forever. Thank you to all of you and I hope you make many more couples' special wedding moments as special and intimate as ours was. Thanks again. Cheers 🙂