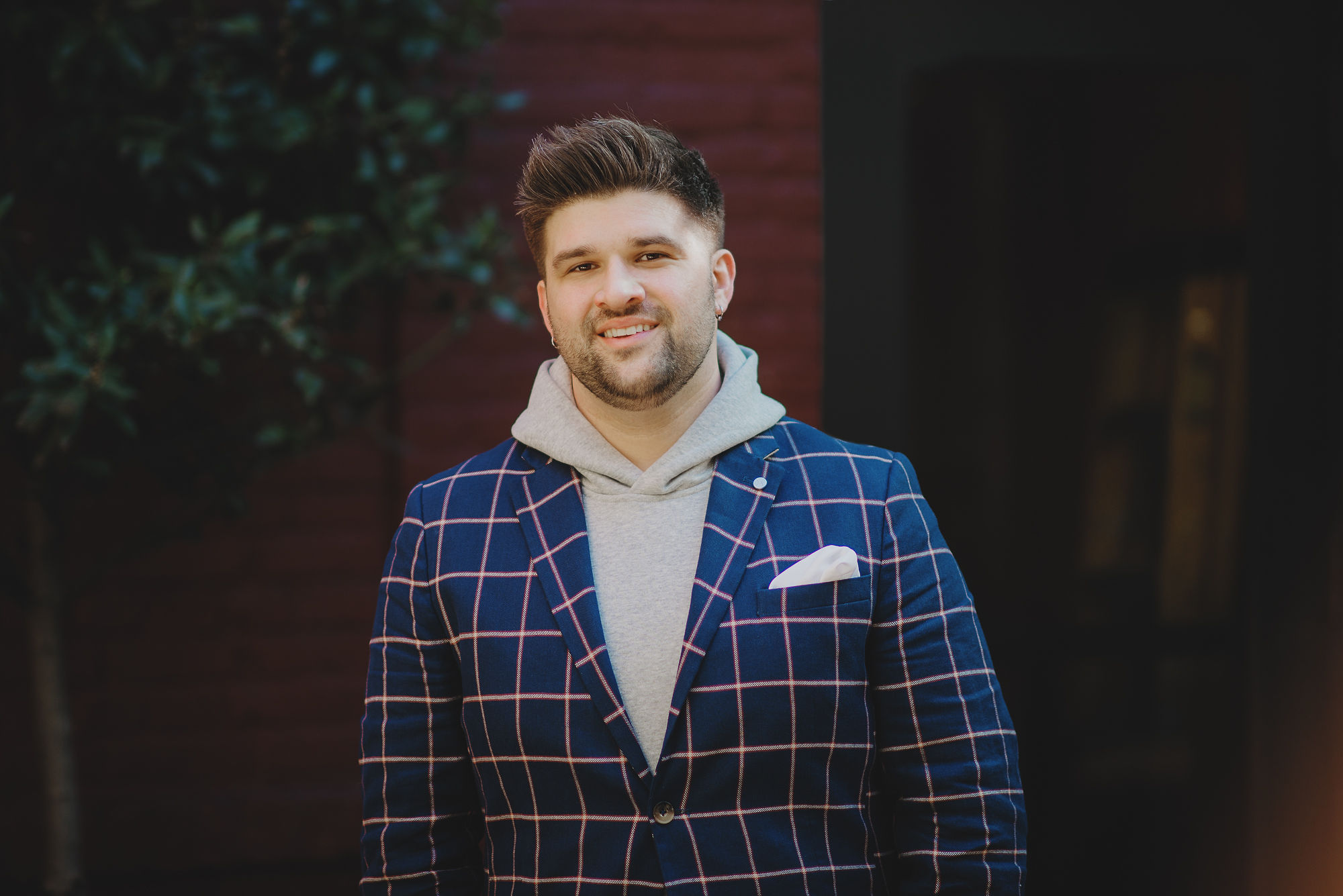 I am a huge fan of weddings!  Not only are they a great time to party, but they are an awesome time in a couple's life to have family and friends surround them as they embark on this thing called marriage.
My favourite part about being an officiant is watching the couple share with me the story of how they fell in love. I love being able to weave that story and what makes each couple unique into their ceremony.
My wife Gabrielle and I met, fell in love, and were married within a year and a half – and are still going strong nearly 14 years later. I'd love to tell you the story of how I surprised her with a proposal on the Charles Bridge in Prague!
We've got two great kids Ayden and Aria; and when I'm not doing weddings, you can find me creating brand content for social media channels or working as a pastor at a local church.
Had a beautiful and intimate ceremony with Jon Wiebe officiating on the weekend. He was pleasant to communicate with, greeted us with a hug (aw!), and didn't mind standing in the rain. Thanks YH&M!

We were so happy with Jon from Young Hip & Married, as soon as we sat down with him we knew he was going to be our officiant.

He made the ceremony so personable; he asked our closest friends and family to give words that best describe us – it was so nice hearing these words from the most important people to us. He was a huge highlight of our day and made our ceremony so magical; we'll always remember him and these special moments!

Thank YOU Jon, we adore you!!

Our experience with Young Hip & Married was absolutely amazing. We met with Jon over a coffee to get to know each other and we bonded quickly! It felt like we knew Jon for a long time and he showed great interest in our personal lives and love story. He was thorough in his preparation and we had full confidence in him for our big day. My husband and I highly suggest booking this company for your ceremony. They make your experience stress free and personalized. Our officiant Jon did not disappoint. He had a natural way to to hold the room/read the crowd. He made our ceremony fun, relaxed, yet very touching. We would highly recommend him or any other Young Hip & Married officiant for your wedding day 🙂

We are so happy with Young Hip and Married. Our officiant, Jon Wiebe, was awesome and made the magical day really easy and thoughtful. Could not be more happy with the experience and highly recommend both Young Hip and Married and Jon!

Jon at Young Hip & Married was so awesome. An officiant can really make or break a wedding. We wanted the ceremony to be easy going, light hearted, short and sweet. Not stuffy. He did exactly that. He gave the audience a couple of good laughs and practically held our hands when we didn't know what to say or do. The only thing we knew we wanted was to write our own vows. The reason we chose Young Hip & Married is because you can basically choose exactly what you want to do with them. The problem is, we didn't have a clue where to start. With Jon, we didn't have to. He sent us a script and we could edit it any way we wanted. Adding things in, taking things out, etc. We made a few changes back and forth and bam, just like that, it was done. All we had to do was show up! We did the rehearsal and he got all of us uncoordinated, country bumpkins, walking down the aisle like we owned the thing! Thank you Jon for getting our nerves out and making us feel at ease. You rock!

Young Hip & Married were the perfect addition to our special day. They were friendly and helpful and relieved some of the stress that can come from a hectic time. Jon was especially great. The ceremony he performed was just what we wanted. Thanks everyone!

Nothing but love for Young Hip and Married. We thoroughly enjoyed our ceremony and appreciate them for making our day so special!!