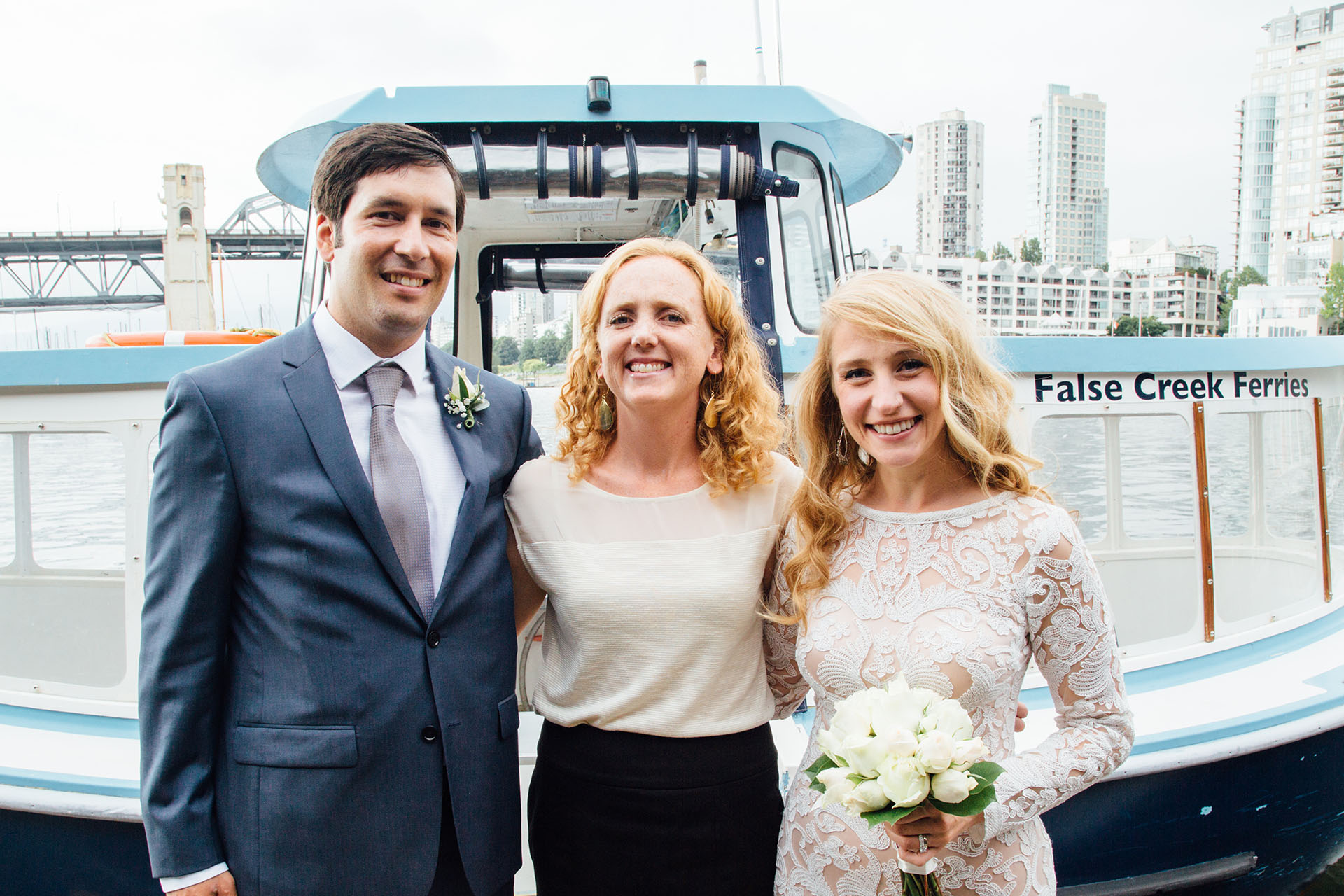 I did my first wedding for two friends in 2002, followed by a myriad of cousins' weddings and a few weddings for friends from my swim team.  When I first joined Young Hip and Married in 2013, I wasn't sure if I would like doing weddings for 'strangers.' But it didn't take long (one wedding!) for me to realize I love it.  Not to mention, by the time we are done planning a wedding ceremony together, we won't feel like strangers.
I've done large fancy weddings in hotels, casual backyard ceremonies, sandy beachfront elopements and I've even canoed into a ceremony! The best thing about each of them is that they represented what the couple wanted.  I'd love to work with you to help create a ceremony you love.  Have no idea what you want? No problem!  Know exactly what you'd like? Speak right up. I'm listening.
I will be professional and calm (because most people are a bit nervous in front of everyone).  Whether you want a light-hearted and fun ceremony or something more romantic and serious, I'm happy to create what you desire.  I'd say my natural style is professional with a side of humor. You'll be confident I know what I'm doing but I won't steal the show.
Choosing a wedding officiant is a big deal!  We've all been to the long boring ceremony where the officiant reads the same script and clearly doesn't know the couple. But I want to hear your story, what makes you tick and what your hopes are for your wedding ceremony.  
I'd love to get together for a chat and make sure you get all your questions answered.  Mainly, I want you to feel totally comfortable walking down the aisle toward me!  
I wear lots of hats here at Young Hip & Married. Not only am I an officiant, I hire and train all of the officiants and head up our pre-marriage/relationship coaching program. No two days are the same, just like no two couples are the same.
When I'm not marrying people, I love spending time with my husband and two boys. We enjoy going to the beach, making pizza and hanging out in our East Van neighbourhood.
Feel free to read some of my reviews below and ask as many questions as you'd like.
Jenny & Mike Wedding Highlights from Forever After Studios on Vimeo.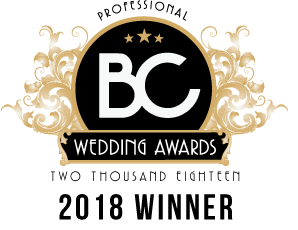 Testimonials
Jane was the officiant for our wedding and she did such an amazing job. She was very detailed, attentive, answered all our questions, was flexible and knowledgable in editing our scripts, and provided lots of resources for helping us write our vows. Her professionalism definitely showed at our ceremony rehearsal! She knew where certain people should stand, how/when the music should be played, etc. Her speech was perfect – touching, personal, and funny. She was completely respectful of our needs and wants for our ceremony and made everything 100% about us. We will happily recommend Young Hip & Married to all our friends!

So easy and accommodating. The perfect people to help us with our elopement and have little to no stress doing so. I highly recommend their services.

We cannot say enough about the team at Young Hip & Married! Our officiant Jane was fabulous and made our ceremony one to remember! They made us feel at ease and so comfortable. It was a slightly rainy day in Stanley Park when we said our I do's but we didn't care. Both Jane and our lovely photographer Erica were both so happy to be there sharing in our moment which made our day even more special. I would recommend them over and over to anyone wanting a simple elopement or something more. Thank you Jane and Erica and thank you Young Hip & Married for making our day so special!

Jane Halton was an excellent, efficient, very professional wedding officiant. Our wedding was everything we wanted. The service was what we wanted, and Jane arranged everything perfectly.

Jane was our officiant from Young Hip & Married, she was incredibly patient with us and very receptive to all of our input and always responded swiftly to any questions or concerns we had. She took a very hands on approach with the ceremony's proceedings and there was plenty of dialogue back and forth on what was to be included in the ceremony We were going for a very "feelsy" ceremony and Jane achieved that for us very well. She made the ceremony all that we hoped it would be. We would absolutely recommend Jane and Young Hip & Married to anyone looking for an officiant for their big day.

Our wedding day was such a special, memorable day for us. I don't think either of us has every been so happy! Thank you so much for making the ceremony what it was. It was perfectly us and exactly what we had hoped for. – Matt & Marina

Jane was amazing. Throughout the whole process she was a treat to work with and really added to our perfect day.

We used Young Hip and Married for an elopement package to officially seal the deal (we had a wedding in a location where it wasn't possible to get a celebrant in). Jane and the team at YH&M were professional, polite and friendly and were clear about their recommendations and their service. Very happy with ours!

Words can't expressed how pleased and amazed we were with our choice in using Young Hip and Married as our officiants for our September 2nd, 2017 wedding! We had the pleasure to work with JANE HALTON! She was extremely professional, organized, so easy to talk to and get to know, and so talented at creating the best ceremony script! Our guests were blown away at how personalized, fun, yet romantic the ceremony was. We literally had guests tell us it was "the best they have ever been to." I would highly recommend investing in Young Hip and Married/Jane Halton for your upcoming wedding!!! Thanks again Jane!!! You are the best!

We couldn't have asked for a better wedding officiant than Jane. She is laid back enough to make it fun and non-stressful to work with her, but not so laid back that she is casual or trivial—she takes seriously the significance and honour of the ceremony. She took the time to get to know us as a couple, and this allowed her to be very personal in her homily, and to speak words of encouragement and challenge that will remain with us for a lifetime.

We cannot thank Jane Halton enough for helping make our ceremony so beautiful! Never in a million years could we have imagined being so comfortable standing up there in front of 160 people but Jane made all of our fears disappear. She created a beautiful ceremony that fit our personalities perfectly and allowed us to enjoy the moment. We absolutely loved every aspect of the process working with Jane. I would highly recommend her!

Jane Halton from Young Hip and Married was absolutely fantastic. She worked with us every step of the way leading up to our wedding and gave us guidance that was incredibly helpful. My wife and I both knew that we wanted to do our own vows, but had no idea where to begin. Jane gave us just enough guidance to help us write our vows while still making sure they were our own; they ended up feeling like the perfect expression of what we wanted to say to each other. She also helped us craft what felt like the perfect ceremony, and we've received numerous compliments on the ceremony and our vows following the wedding. We couldn't have done it without her, and we're so grateful that we found Young Hip and Married for our wedding.

They have an amazing team. Made our intimate wedding very special and stress free. Great price too 🙂

We eloped as we wanted a small and intimate wedding with no stress. The best decision we made was to have Young Hip & Married involved in planning our day. Our officiant was Jane and she was fantastic. Professional, friendly and personable – making our day even more special. Although we did not meet Jane prior to the wedding, she was available via email, text and phone. She helped us with our ceremony sequence and wedding vows. The ceremony was exactly what we imagined. We also went with photography through YH&M and had Erica. We loved Erica. Great energy and very personable. We can't wait to see the photos! If you are considering a small wedding then don't look anywhere else – go with YH&M!

Jane Halton was our officiant for our wedding and she was fantastic! She was very much on-top of working with us to create the timeline. We were quite slow to respond to emails at times and she was very patient. Our ceremony went off perfectly as she had laid it out! The entire process was so smooth with Young Hip and Married and we can't thank Jane enough!!

Thank you, Jane!!! It was such a special day. Everything was perfect and we wouldn't have done anything differently! The ceremony was our favorite part of the day and that was the part I was most nervous about, thank you for everything! Everyone was raving about how great you were.

My husband and I had the pleasure of Jane Halton marrying us in a small elopement with only 6 guests. She showed up early and was extremely pleasant. Explained everything prior to the ceremony and made a short and sweet note about marriage and the importance of each guest in our lives, before going through our vows. She even mailed our wedding license for us! Jane was a wonderful addition to our day and put us both at ease. Thank you, Jane!

Matt and Lauren

Having a personalized ceremony was extremely important to us. Have you ever been to a wedding that left you with confusion, that was emotionless or maybe one that simply didn't reflect who the couple really was? We have been to plenty of those, and we can tell you that Young Hip & Married is the complete opposite! We had the pleasure of working with Jane, who drafted up the most personal ceremony we could have ever imagined. From quick email responses, unrelenting enthusiasm and authentic happiness for our upcoming wedding we could not have made a better decision having Jane as our officiant. It's no wonder than Jane won "Best Wedding Officiant" at the BC Wedding Awards this past year! We also took advantage of their Marriage Coaching add-on that allowed us to ultimately address some topics that could have the potential to cause a rift at some point down the road (for any couple who has never had a heated discussion about something to do with money, you're lying to yourself). Like most couples, we only plan on getting married once, so we owed it to ourselves to invest into our marriage before it even begun. Jane was there for us every step of the way, and we could not be more thankful that we had her to set the tone for our special day. If you are in need of an officiant for your upcoming wedding or perhaps you're doing research for someone else, stop your search here because you need Jane to be part of your day. Jane is the real deal and you will not be disappointed with how much time, energy and love she puts into her work.

Jane Halton was our wedding officiant from Young Hip and Married. She was extremely professional, warm, and she delivered the exact ceremony we wanted. I would highly recommend Jane to anyone searching for a top notch wedding officiant. Thank you Jane for making our wedding day highly memorable!

Despite being the middle of the winter season, YH&M coordinated a flawless 15 minute elopement for me and my wife. This is honestly the only wedding officiant organization to hire if you're in Vancouver.

So glad we made the very important decision to go with Young Hip and Married to officiant our ceremony. From the beginning I was impressed with how professional and kind Tara was. We had found out through our planning process that I was newly pregnant and Tara was nothing but patient and kind!  Tara recommended Jane for Nick and I and I'm SO glad she did. We met Jane at a cute coffee shop and immediately felt comfortable and excited! Following after our first meet Jane sent us the draft on how our ceremony would commence. I was blown away at the beautiful words that Jane had written crying (happy tears) the whole way through! She was able to capture the mood and overall essence of our relationship, amazing!!

The ceremony itself was more than we could have imagined, Nick and I both agreed Jane made it so easy for us. She spoke so eloquently and with true genuine love for our love. We wanted to tell our family at our wedding the sex of our baby and Jane came up with a sweet little entrance to announce our baby girl! All of our guests said she was incredible! Since it was such a small and intimate wedding I'm so thrilled we went with Young Hip and Married to find Jane it helped create the romantic, intimate and moody feel we were looking for. Worth every penny!! Thank you guys from the bottom of our hearts Jane will forever be someone special to us!!

My husband and I had friends who where married a few years ago and the thing I most remembered about their wedding was the ceremony. Since usually the ceremony tends to be the most unmemorable thing about a wedding, and not what I wanted mine to be, I asked them who they used. Young Hip and Married was the answer. I'm so glad they shared with us where they found their officiant. When I first contacted Young Hip and Married myself, I received a quick response (which was amazing since inquiries to 6 other officiants/marriage commissioners went unanswered). Young Hip and Married suggested that we meet with one of their officiants, Jane Halton. Jane was the perfect fit for my husband and I. She was able to craft the most beautiful ceremony for us; something that was elegant, with a touch of humour, and not too mushy. It was perfect. How she managed to take a bunch of our ramblings during our interview and subsequent survey she sent us, and turn it into an elegant ceremony that fitted us perfectly was amazing. I'm so glad that we had Jane officiate our day. We would highly recommend her and Young Hip and Married to anyone.

We worked with Jane of Young Hip & Married, and she was just tremendous! We set up an initial consultation with her in which she went over the services she offered. Our entire meeting went really smoothly, and Jane was so professional and easy to talk to. We knew she was exactly the type of person we wanted to take charge of our ceremony. After our initial meeting, we filled out some questionnaires about our relationship. This questionnaire was to help Jane draft up her script for the ceremony portion. We had unlimited access to altering the script, and Jane always had great suggestions with regards to vows, blessings, etc. We really appreciated this, as we had no idea what we were doing. Jane was always professional, very responsive, and easy to communicate with. She also came to our dress rehearsal and went over the entire ceremony portion in detail with everyone in attendance, which was greatly appreciated. On our wedding day, Jane's speech was so beautiful and felt so genuine. The ceremony flowed so effortlessly, and Jane spoke of us as if we were old friends. We are forever grateful for all the time and effort she put into writing everything up. We would highly recommend going with Young Hip & Married if you want a stress free experience! Jane even mailed off our marriage licence.

P.S. Please consider asking all your guests to put their phones away for their ceremony! This was one of Jane's suggestions, and we are SO glad we listened. Looking out at the sea of familiar faces (not phones!) at our ceremony was one of my favourite parts of our ceremony.

So happy I found Young Hip & Married. Jane (our officiant) was awesome! The ceremony was quick and sweet.

Me and my fiancé had a very small wedding together in Canada which was a massive change to our original plan of being married in Mexico due to the covid restrictions. YHM were amazing, they updated us with regular information and responded to our questions in a timely manner. They adjusted the package so the bride could have a bridal walk down the aisle as her family couldn't be there (bride from England and husband from Mexico) they helped to make the day extremely special. Jane our officiant was wonderful, she made the ceremony very welcoming, it didn't feel rushed and she helped us to feel calm. Every word Jane said she related to our situation and made us feel that the day was truly all about us. It was the most perfect day considering the circumstances & we were happy to have YHM a part of our special day !! We would highly recommend !!

Jane was super easy to work with from start to finish. She made the entire experience an easy one, and was super organized and stellar on the day of our wedding. Highly recommend!

Jane, thank you very much for being there for us. We were very satisfied with our little ceremony. Everything was just what we imagined. Thanks again for your efforts!

Our officiant was Jane and she was absolutely wonderful! My husband and I were doing the small elopement package and she was able to walk us through what was going to happen before we started which really calmed down my nerves. We also had great service from Tara; she helped us set up the time with Jane and was supper helpful throughout the entire process. We planned the wedding in a week so everything was at the last minute and this company was kind and willing to find us an officiant so we could make our special day possible. Thank you so much!! Great people and great company!!

We had met with other officiants before meeting Jane from YH &M. We found the previous ones to be quite sterile and serious, but Jane was a breath of fresh air.

We wanted to keep our afternoon restaurant wedding light hearted but very genuine. Jane never pushed anything on us that felt unnatural or corny. She was laid back but still professional which made her easy to talk to. She wrote an amazing ceremony that our guests really loved and was so personal to us.

We mentioned our favorite movies and she went and researched readings and quotes to include in the ceremony without us even asking for them, and our ceremony was so much better than we thought it could be! We allocated more of our budget to the officiant than to other details and it was definitely worth it! our ceremony was great and set the tone for the whole wedding.

Jane, Clint, and Rebecca were the most helpful and accommodating during the planning of our COVID wedding. One of our family members had some last minute health issues and the three of them were so kind and eager to make things work for us – even if it meant rescheduling twice! To top it off, we got married on the windiest day ever, but Jane and Clint were such troopers through it all. Our families both commented on how much they loved Jane's attitude and words during the ceremony. We were absolutely blown away (pun intended) by the photos we received from Clint! My hair was so wind blown and we were both cold, so we didn't have high hopes that the photos would turn out – but we were so wrong! Clint used the surroundings to provide us with a range of photos that felt fresh and intimate. He made us feel comfortable in front of the camera and was eager to take photos wherever we wanted. All in all – we definitely recommend Young Hip & Married!

We used Y H&M for our small ceremony. It was exactly what we wanted for our big day. Much thanks to Jane.

It was a pleasure working with Jane and having her officiate our wedding. She has a calming presence which put us at ease, making it much easier to say our vows. We loved her words and would definitely recommend her.

Choosing Young Hip & Married was the best decision we made for our big day. Jane, our officiant, was not only professional, communicative and flexible, she was also fun and made us feel so at ease and happy on our day. We flew in to Vancouver from Australia, and we eloped in beautiful Stanley Park. The day before we were married my husband and I explored the park and found the perfect spot. I emailed Jane a snapshot of the spot on google maps and that was that! If you're looking for a fun, sweet and relaxed day or maybe something a little different I highly recommend Young Hip & Married! Thanks for everything guys!

We are so thankful we went with Young, Hip and Married for our wedding day. Jane was an awesome officiant and made the day very special and Emily the photographer went above and beyond. Thanks again to everyone at Young, Hip and Married for making our day unforgettable.

Young Hip and Married was so easy to work with as we planned our elopement only a month and a half out from the event! The staff were all friendly and easy to communicate with. Our officiant Erika wrote a BEAUTIFUL ceremony for us that included our sons, and at the last minute when she was unable to make it due to a family emergency, Jane stepped in immediately and saved the day! She read Erika's ceremony and helped it all feel incredibly sweet and personal (yes we all cried). Thanks to all of you for making our day that much more special!

We just loved our wedding day!!!! I never thought that it would be so emotional and fun at the same time!!! Thank you very much again for everything that you have done and I will definitely not hesitate to recommend you to anybody I know who wishes to get married!!

Our experience with YH&M was great – from booking to the day of the ceremony, they were professional and made the whole experience totally stress-free. We especially had a wonderful experience with Jane (our officiant) and Emily (our photographer)! Jane, our officiant, was organized, thoughtful and supportive throughout the whole process from booking to the day. She made everything so easy by communicating with us before the ceremony, and guided a smooth ceremony on the day. Emily, our photographer, made us feel comfortable from the get go, even though we tend to be camera shy folks! She gave us direction and made us feel totally at ease on the day, and we couldn't have been more grateful! She provided us with a sneak peek of our photos promptly, and they turned out perfectly. Thank you YH&M, Jane and Emily for making our day so special!

We did not know at the time of planning our wedding how important the choice of the officiant was. Our ceremony was unique and customized for us and truly the highlight of the big day! We recently got married in Nov 2020 during the height of the second wave lockdown here in BC. It was an extremely stressful time to say the least as our venue closed its doors 7 days out from the wedding and we went from a 50 person wedding to having just our families there. It was challenging but our amazing Officiant JANE was supportive and worked with us to make changes on the fly. We ended up pushing the wedding out one week to a new venue and she was able to accommodate us. In terms of the ceremony, we wanted to have something that highlighted both of our different cultures and again Jane did a great job of working with us on those pieces. We also wanted the ceremony to feel spiritual and special and Jane hit the spot so right. She was easy to work with, responsive, fun, and professional! We were so happy and would certainly recommend Jane and Young Hip & Married to anyone looking for an officiant.

Jane was fantastic and flexible. She made our day seamless and wrote a beautiful ceremony perfect for us. Jane was lovey to deal with and answered all of our questions. Would highly recommend her and this company to anyone looking for an easy stress free ceremony!

Since day one Jane was extremely easy to get along with and talk to. Jane always replied right away via email or text message. After the first meeting we knew she would be part of the reason our day would be so special. Jane presents herself in a professional, yet fun manner. We would highly recommend Jane and Young Hip & Married to any of our friends and family.

Jane our officiant was wonderful! She was quick with replying and so patient with us as we were not the easiest in communicating back with her. Our guests were very impressed on how personal the ceremony was and it did not feel long like the traditional ceremonies we have been to. The whole experience with YH&M was beyond expectation and we would 100% recommend working with them.

Working with Young Hip and Married was such a wonderful and easy going experience. They provided tons of useful advice such as how to write the best vows and offered many options so that we could have a ceremony exactly how we envisioned! (Which in our case was a standing intimate ceremony with 8 of our family members) We had Jane as our officiant and she was absolutely lovely and made our wishes come to life.

The entire experience was fantastic. Jane was amazing and made our day incredible!

Could not say enough good things about YH&M! When we were planning our wedding we knew we wanted an intimate ceremony with an officiant who was heartfelt, genuine and who made the ceremony fun yet special. Jane was perfect. We would 100% recommend YH&M for big and small ceremonies. You completely get what you pay for and for us that was so important.

We eloped, which means planning/stress was already minimal compared to your 'typical'/average wedding but it was SO nice to have Young Hip & Married involved in planning our day. Our officiant, Jane, was amazing. Professional, friendly and personable. I liked the idea that YH&M has many officiants so if yours is suddenly ill or has an emergency and cant attend they've got a roster of others to swoop in and cover for you! We did photography through YH&M as well which was a breeze to have that organized through them as well! I've recommended YH&M to many friend who are interested in a small wedding, and I will continue to recommend them!

YH&M is exactly what we were looking for, filling the gap between a religious ceremony and a Marriage Commissioner. Jane Halton officiated for us, and her style and charm really won over our guests. Thanks!

We went through this company for our elopement and they were great! Everyone was really quick to respond to emails, and answer any questions we had. Jane the officiant was amazing; we changed our vows last minute and she was super nice about it and made the switch almost immediately. Clint, the photographer, was great! He suggested poses and saw details in things we never would have thought of. We can't wait to see the pictures! The only thing I would have changed would be longer on the mountain (we did the helicopter elopement), but in saying that we did know the time limitations before hand, it just went by super super quickly in reality! Thanks again for everything.

YH&M is an amazing company! We had Jane officiate our ceremony and she put many hours of detail into creating a blended Persian & Canadian ceremony unique to us. The price is on the higher end, but it is definitely worth the investment! Our ceremony was personalized, professional, and we had a lot of input into the final version. Well done YH&M!

We got married by Jane Halton this Saturday. She made our ceremony simple and beautiful. Highly recommend!

We had a great experience with Young Hip & Married and are so thankful we chose them for our small, intimate elopement ceremony. Communication was timely and efficient and everything felt effortless. Our officiant, Jane, was very professional and helpful along the way. Thank you for making this experience easy and enjoyable and for your wonderful energy!

Jane Halton was great! On time, energetic and very personable. I highly recommend her!!! Thank you Young Hip and Married!

Our officiant was Jane! To keep it short & sweet, I think it was a little daunting to have to explain our relationship to someone, anyone. We didn't have a theme, we don't realllyy have any extreme activities we do together. We're the Netflix and chill, get coffee, be with our family & friends couple and Jane didn't bat an eye. She got it, she wrote it, we made little to zero corrections and she killed it at the ceremony. Most importantly she kept the attention of our guests, and made sure they knew how much we loved them too. Also, she's great at keeping secrets (we had a surprise wedding). And I realized it must have been interesting to write something where we didn't want her to talk about marriage itself (lots of divorces there that night) and just us. So thank you Jane, it was everything we could have Asked for. Also, they made a welcome video when you inquire and it's the loveliest touch.

It was so easy to coordinate our elopement ceremony with YH&M. We reached out via email about a month beforehand, told them our date, and we were good to go. They also sourced a photographer for us. We were able to communicate easily with our office contact at YH&M, our officiant (Jane, who was awesome!), and our photographer (Emily, who was also awesome!). All were helpful and professional. It was very affordable as well. Also, since we were eloping, it gave us peace of mind to know we could rely on them to understand any legal components of getting married in a country outside our residence. Thanks, YH&M!

Jane was an amazing and flexible officiant. She was gracious in dealing with our last minute changes and prioritized our needs the whole way through. Thank you for such a smooth experience! We would definitely recommend 🙂

Excellent company to work with. Jane conducted our ceremony and she was perfect. I would not hesitate to recommend her.

We just want to thank you for making it so easy for us to get married!  Jane, thank you for the tips and and the short but meaningful ceremony!  Without you, we won't be married legally (literally)! Erica, thank you for being patient with us.  I know it's an elopement but thank you for putting up with our antics.  The location you suggested was so beautiful and serene!  Now we can always go back there and remember.

You both were very lovely and welcoming.  Everyone felt comfortable and happy.   My husband who is very shy was raving about how great you guys were and he doesn't  even do that with me! Thank you Young Hip and Married for making my elopement possible!  Despite the busy season, communicating was easy and all my questions were answered fast. Again, thank you!

Great Experience! Young Hip and Married was a great wedding experience for us. We were given a detailed break down at a very affordable price. Anytime we had any questions leading up to the wedding we were immediately got back to with the answers. Our officiant Jane was prompt, friendly and very professional. Overall this company helped make our day special.

My wife and I had our ceremony January 20th 2018; it was nice and small. Jane officiated for us and was just an absolute pleasure! She made us feel very relaxed and happy, absolutely no pressure, exactly how we wanted our ceremony to go! Great services and highly recommended for anyone looking to get married on a smaller scale!! Thank you so much Jane and thank you Young Hip and Married!

Jane, thanks so much for all the work you did for us. Our guests really enjoyed the ceremony and the customized touches you added. More importantly though, you made Kathleen and I feel at ease on what was arguably the biggest day of our lives. Thank you so much from the bottom of our hearts.

How do I even begin? From the start of contacting YH&M they were All Stars. Absolutely amazing customer service. We wanted a sweet & simple (not boring) elopement and that's when they hooked us up with our officiant Jane. We stayed in contact via email and every step along the way was easy. On our wedding day, Jane & her adorable personality showed up on time and exactly where we needed her to be. It was the perfect little ceremony we hoped for, a quick photo op & Jane was on her way doing all the dirty work for us. We even received follow up emails from both Jane and the owner of the company. Love love love Young Hip & Married. If you're considering hiring them, stop considering & book them already!! Thank you!!

An essential for any elopement! They helped us set a date, time, booked an officiant, and photographer, and even helped us find our perfect location. We would recommend them to anyone!

We were looking for an officiant for our elopement, and came across Young Hip & Married, where we were introduced to our officiant Jane Halton. Jane is a wonderful officiant; she also responds promptly to questions, and checks in if you book your wedding in advance. Jane also made our low key elopement a memorable experience with her uplifting, positive and joyful nature. Thank you YH&M for appointing her to us 🙂

My partner and I loved our elopement-style wedding! We had a destination wedding the following week, but wanted something short and sweet for the legal ceremony in Vancouver. Every aspect of working with Young Hip & Married was a breeze! Their website was clear, easy to navigate, and had helpful tips. After we filled out the questionnaire, we received a response within the day, were able to secure a time and location within the following day, and heard from our officiant immediately. Planning our wedding has involved many vendors that have been unreliable, so I can tell you that when our officiant arrived early on the day of the ceremony and things went exactly as we expected, we couldn't have been happier! All of our friends and family also remarked at how pleasant and seamless the ceremony was.

Jane made the process very easy, fun and really reduced the stress that weddings can be. She was very understanding and even helped us correct errors we made. I'd highly recommend her services and can see why others have recommended her as well. All the best, Winhol and My Linh

We loved Jane from Young Hip & Married! Our ceremony was exactly what we wanted and Jane did such a wonderful job. Highly recommend!

When Brian and I got engaged, one of the first things we did was hire an officiant from YH&M. We watched all the video bios and chose Jane as our officiant for the big day!

We wanted out ceremony to be light and fun, while also being sincere and heartfelt. Basically, we wanted it all! And boy, did Jane deliver! There were giggles & tears, with a side of nerdiness. It was perfect.

Everyone that attended our ceremony was able to tell how much work Jane had put into actually getting to KNOW us. We're proud and happy to say that our ceremony was not generic. It was unique, just like us! Star Wars references and all!

We would recommend Young Hip and Married in a heartbeat! Words are not enough to express the magic that these people create! 🙂

When we were looking for someone to officiate our wedding, we didn't exactly know what (and who) we were looking for. But when we met Jane for our initial consult, she was warm and reassuring. We were charmed!

In the hours and days after the wedding, our family and friends told us how wonderful the ceremony was. Jane gave us everything we needed to personalize the wedding. She carefully considered our input, working around the readings we chose. And when the time came, she set the mood for our guests on the special day with some beautiful words and a narrative that touched everyone.

We couldn't have made a better decision for our most important day.

Truly had an expectational experience. Our officiant, Jane, was very patient and kind. Me and my fiancée were pretty nervous but Jane helped us calm down and enjoy the whole experience. Our photographer, Emily, is not only an experienced and talented person but also very friendly. I would strongly recommend YH&M to everyone. They made our big day very special and enjoyable.

Thanks Erica and Jane! They were super friendly, professional and accommodating. Our wedding was simple and quick. Erica was our photographer and she took some amazing photos that an amateur photographer would not be able to replicate. I highly recommend their services.

Super helpful and I am ever so grateful for the work that went in this to make our day amazing thank you so much we appreciate you all

We commend them for the exceptional services we received in the midst of the Covid Pandemic 2020!!

The entire Young Hip and Married team were amazing throughout the entire process! We had an elopement wedding with last minute changes right up until the very last minute which they were very accommodating to. Our Officiant Jane was amazing. She was so kind and professional and her wedding speech was so inspirational for a couple embarking on the life long union of marriage. Although it was a very short elopement wedding, she took her time and we never felt rushed even though both of our vows ran a little longer than anticipated. She was very organized with our paper work and continued to communicate with us after the wedding regarding the timeline of when we would be receiving our marriage certificate. Erica, our photographer, was also amazing from start to finish. She is so talented on capturing every special moment throughout a wedding ceremony. Although we had a short amount of time with her, we also never felt rushed. She was so friendly and it felt like we were able to get all the photos in we wanted as well as her input on some more photos she thought would look beautiful also. She is so creative in her work and I am sure the photos will turn out beautifully! I hope to use her talent again in the future. We would highly recommend this amazing team to any couple getting married, from smaller elopement style weddings to larger party weddings as well! A Big Thank you to the entire team for making our day more special than we could have ever imagined! 🙂

We're glad we came across Young, Hip and Married and worked with Jane as our wedding officiant. We came to Jane with a very specific idea about a Jewish/secular wedding ceremony, and she jumped right on board. At the start of the planning process she had us fill out a short answer form with questions about us as a couple, how we envisioned the ceremony and what was important to us. This was a valuable aid for us to think about the event. When we wrote the draft of our ceremony, Jane was helpful at making sure the different parts of our ceremony fit together into a whole that was understandable for our guests, flowed well, and was a good mix of explanation and action. She provided an experienced editorial voice that helped us clear up details like who would read which blessing, or whether one part of the ceremony was taking up too much time. The final product turned out beautifully. We had guests comment that they'd never attended a more heartfelt ceremony.

Jane was also a neutral centre of authority, which was very much welcome, as both our parents are divorced. During both the rehearsal and the big day itself, she was organized, calm and projected the right mix of solemnity and cheerfulness. Thanks for sharing our wedding day with us!

Jane was absolutely amazing officiating my wedding. She's so easy going, and personalized our ceremony brilliantly to suit the exact mood and style we wanted. Worth every penny. Thanks again Jane!

We loooved how Young Hip and Married was so simple and straight forward with planning our special day. Jane was our officiant and she was amazing. Emily Nicole was our photographer; we totally recommend her if you want your pictures to blow your mind. They both made us feel at ease and kept the process easy, simple and fun. We loved every minute of it.

Thank you YH&M for sending us Jane.

She was a perfect match for the vibe of our wedding. We had no idea what we were doing and Jane made the process seamless and easy. Our guests are still talking about how special and personal the ceremony was and they thought Jane was a perfect match for the day. We will highly recommend Jane and YH&M to anyone and everyone.

Thanks so much to the team at YHM and especially to our wonderful officiant, Jane. Jane was outstanding. She was patient with use through the preparation, she was funny and insightful in her presentation, and she made us both feel so great during the event. Lots of great comments about Jane from those we shared the day with as well. Most of the comments were about how personal she made the event through her words and comments. Julie and I so appreciate all that Jane did to support us through this exciting process.

My husband and I cannot thank Jane Halton enough for choosing to be our officiant for our special day! Jane was so sweet, calm and relaxed which eased both of our nerves combined. We felt well taken care of and even though our ceremony was short and sweet, Jane made us feel as though we were the only two on the planet for those 10 minutes💞 Thank you Jane for making our special day so memorable!!

Jane was our officiant, and she was just perfect. She made us feel comfortable, was very communicative, provided ceremony script options and allowed us to write our own, and was smiling and laughing the whole way.

Erica was our photographer, and it was obvious that she is very experienced. She was so much fun to work with! We got way more than was expected, and felt we were in good hands.

All in all, Young Hip & Married was just ideal for our small wedding of 20 guests. I sincerely recommend them for their ease, experience, great attitudes, and very reasonable prices. Thank you!

YH&M were so great to work with. I live over 1000km away from Vancouver but knew we wanted to elope in Vancouver, YH&M were very easy to communicate with via phone and email! It was also fairly last minute planning on my part but YH&M managed to make it all work perfectly! Jane was an amazing officiant, professional, friendly and personable. I would highly recommend them!

Young Hip & Married were SO easy to work with. We're in Australia and submitted an enquiry about eloping before travelling to Canada. They got straight back to us with a personalised video and all the details we needed. It was made super simple – all we had to do was pick a time and location; they did the rest! We wanted a simple, very casual ceremony with just us. We met the celebrant (Jane ) and photographer (Emily) at the park we chose and the ceremony and photos were all done within an hour. It was perfect!

Jane carefully crafted a ceremony that reflected us and encouraged us to fine tune things so they were just what we wanted. She was able to keep us calm and got us through our vows even though we were a bit choked up! We received so many compliments from our guests on the what a outstanding job Jane did and how beautiful and touching they found the ceremony.

Jane was a gem. She was easy going and relate-able without being too present. The ceremony was quick but still managed to hold a lifetime of emotion. I couldn't have imagined things going more smoothly. The YH&M service itself was easy, convenient, attentive, and affordable.

Our experience with young hip and married was fantastic. We were paired with Jane who made sure our ceremony fit us as a couple. We were able to explain to her how we wanted our guests to feel at our wedding and she did exactly that. Everyone said it was heartfelt and romantic. She also went as far to use some readings we liked and reached out to our friends to get to know us better. She was with us through the whole process, beginning to after the ceremony. We can't recommend this company enough.

I could not recommend a company more if you need a wedding officiant. We were introduced to Young Hip and Married through Shawn Miller who introduced us to Jane. We didn't know what to expect but Jane blew us away. She was professional and sincere; she took time to get to know us and exactly what we wanted. She then set the tone for our wedding in an excellent way and exactly the way we wanted. Many people have told us how impressed they were with her and we absolutely agree. Jane is a fantastic officiant; you will not be disappointed.

We had this team booked for us through a ceremony package and the whole experience was great! We received a full overview of how the day was going to go and a step by step about writing vows etc Overall it was all super easy which I think everyone wants on their wedding day!

When we first met with Jane we were a bit overwhelmed at the idea of planning our ceremony. Through her interview process and subsequent conversations with us she was able to design us a custom ceremony built around our relationship, personalities and beliefs. She kept us on track throughout the whole process and her attention to detail and experience were extremely valuable as it allowed us to focus on other aspects of the wedding. People were blown away by her modern approach and the way she managed to keep people engaged throughout the ceremony. The personalized reading she wrote for us, based on input she gathered from our friends and family, is something we will always remember.

It was such a huge blessing to have you as our guide throughout our wedding and we couldn't have imagined it without you! Everything was perfect. We are forever grateful for that day and all your help through the process and so very thankful for all you've done.

Using Young Hip & Married was one of the best choices we made in our wedding planning process. Our officiant, Jane, was easy to work with and made us feel excited and comfortable. The ceremony was totally "us" and we received many comments and compliments about how engaging our ceremony was and how she made everyone feel at ease. If you are debating about using them for your wedding, don't! Their services are totally worth it! Thanks Jane!

Jane married us in a very intimate setting and I can't say enough good things about her. She created an atmosphere where we were able to focus just on one another, and really kept it all about us. Thank you all at YHM for making our day perfect!

Jane Halton officiated our wedding this past weekend and we could not have asked for a better experience! Our guests had nothing but compliments after the ceremony and loved the unique personality and casual nature of the event. Having the chance to meet with her in advance of the ceremony helped us feel comfortable that she would create a customized ceremony that fit our personalities and style. She also took care of our rehearsal, ensuring our entire wedding party was up to speed on the process and gave us a chance to review everything before the day. We'd highly recommend Jane and Young, Hip & Married to anyone looking for an excellent, highly personal wedding experience.

We didn't know where to start when planning our small, backyard wedding. I Googled different options and was happy to see the range of packages offered by Young Hip & Married. We booked the elopement package with 90 minutes of photography and it was just enough. Our officiant was Jane and she was really collaborative and responsive when developing our ceremony. She was lovely to work with! And Erica Miller was our photographer. We are just thrilled with our pictures!! She was even able to get my camera-shy husband to look natural. All in all, it was a really great package that made all of the wedding planning way easier!

Jane was super attentive, emailing back and forth to make sure the ceremony proceedings were what we wanted them to be. On the day of, she was calm (which made me calm!) and made sure we took time to enjoy the moment. Would highly recommend her and Young Hip & Married to anyone looking to have a small, but still great, wedding!

We knew we wanted a ceremony that was playful and true to our personalities. Jane with Young Hip and Married was not only friendly and professional, but delivered 110% on this requirement. All of our guests commented on how genuine, heartfelt and fun our entire ceremony was. We couldn't be happier!

Jane was kind, lovely, and gave us a great outline for our vows which we felt very comfortable with. She was also available on short notice which we really appreciated!

Jane Halton from YH&M officiated our day, and I can not recommend her more highly! She had a great presence – keeping us calm and in the moment – and everyone in attendance commented about how lovely her ceremony was. The whole process of hiring Jane was seamless, the team at YH&M really know what they're doing. If you're looking for an officiant for your wedding or elopement, look no further!

Jane was an absolute joy to work with. On the day of the wedding, she made us feel reassured throughout the day by being capable, clear and made us laugh at the right times to ease our nerves. The service was everything we defined at the beginning–short, fun and meaningful. We also did pre-marriage counseling with her, which I recommend doing. Our sessions brought a couple things to light that were helpful to talk through before our big day. Jane is a smart, funny, all around wonderful person whose intuitive nature makes her the perfect person to officiate your wedding.

Thank you so much to Jane at Young Hip & Married, the experience from start to finish was great. Jane shared ideas, resources and her script with us. I felt like we were able to co-create the tone, atmosphere and language that mattered to us as we made our promises. Most of our communication happened via email and Google docs which worked really well for us. Jane was really flexible and responsive to questions and changes. Most important to us was that Jane has a really lovely presence and led us and our family & friends through the ceremony in a warm, thoughtful, and beautiful way. The ceremony was exactly what we hoped it would be. Thank you so much Jane!

We love you Jane!!! What an amazing experience we had with Young Hip & Married, Jane was our officiant as well as our pre-wedding coach (highly recommended) and she absolutely rocked it. Our ceremony was more than we could have hoped for and we are so overwhelmed with gratitude. I will 100% be recommending YH&M to all of my friends.

Jane Halton recently officiated our wedding. She was perfect to work with. We had a vision in mind for our ceremony and learned throughout the process with her that what we actually wanted, wasn't what we thought we wanted when we had started the process. Our ceremony turned out perfectly, and that was in large part as a result of her guidance, patience and flexibility with us.