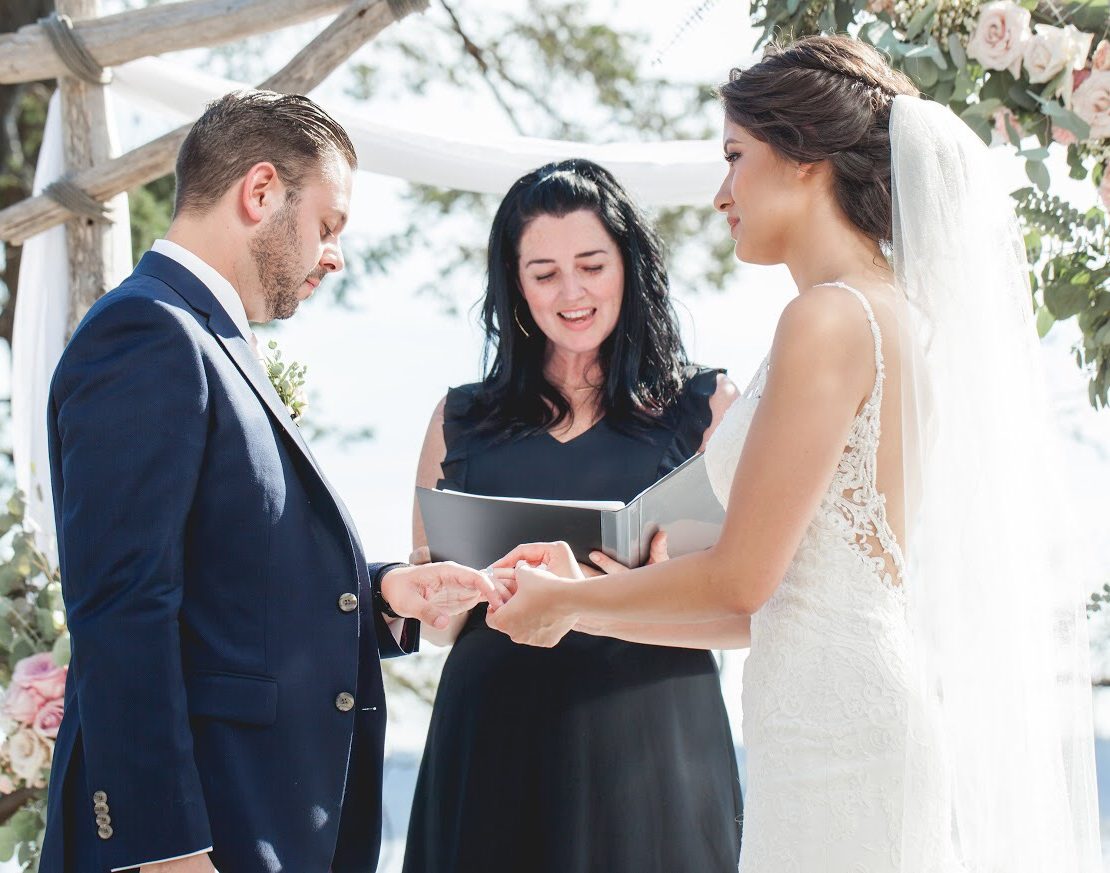 I didn't spend my childhood dreaming about my wedding, but as I have ventured through my own marriage, the importance of the wedding day keeps coming up.  A wedding is so much more than just a good party and a beautiful dress!  The vows a couple speaks to each other are so important.  Twenty years into my own marriage, I think I realize now more than ever the weight of those vows.
My husband, Matt, and I have been married for twenty years. In that time, life has gotten busy and our kids have gotten older so squeezing in dates and time together isn't always easy. But it's so important to make that time. Sometimes we have to remember to slow down and just enjoy the small moments together.  Making our marriage a priority is never something we regret.
When I'm not officiating, I can be found working at a small unconventional church in Abbotsford with my husband, dreaming of my next travel destination (Croatia and Greece are at the top of my list!) or just hanging out with my family. My favourite jobs ever are being a wife and a mother.
I absolutely love connecting with people, hearing their stories and finding the gold in them. I want to help couples create a ceremony that is creative, intimate and specific to who they are and what they stand for.  
Testimonials
We had a wonderful experience with YH&M! They were communicative from the start up until the big day. They had great suggestions for locations, pictures and vows. Overall, a great experience and would recommend to our friends!

YH&M made everything easy and stress free! The officiant and photographer were both amazing. No complaints whatsoever!

Young Hip and Married was the icing on the cake for our day – they made it simple yet special from the first time I emailed them to the day of the ceremony! Would highly recommended them to anyone!

It truly was the best day! We are very happy to have hired you and to have found Young Hip and Married, a delight to work with. Very professional and communicative. It's stressful going through all the steps to plan and you made it very simple and easy for us! I would recommend you in a heartbeat!

Thanks again!

We cannot recommend YH&M enough, and in particular our absolutely amazing officiant Erika Enns. From the administration, to the owners, to our officiant, everyone was quick to respond, invested in our vision, and most importantly kind. We were one of the couples affected by the Sea to Sky Gondola, and they went above and beyond to ensure our officiant could make our new location for both our rehearsal and wedding. Our ceremony was personal and special, with all our guests saying it was the best they had seen!

Erika was extremely patient and professional in planning the whole ceremony process. She always ensured that we're on the same page and was excellent at telling our story. The rest of her speech was great – perfect length and wording to signify the meaning of marriage and the rings. The ceremony became such a more memorable experience than expected all thanks to Erika!

Erika, you were absolutely amazing and exceeded all expectations. You gave us the exact ceremony that we wanted, and we don't think it could have been any better. From the start of the ceremony to the very end, it was perfect. You wrote the most beautiful ceremony that included our guests, gave thanks to our parents and was all about Jonathan and myself. So many people have come to us and said the ceremony was amazing, that you were amazing, and that it was such a heartfelt, and meaningful ceremony. I am pretty sure you had most, if not all, of our guests in tears.

I think all that is left to say is Thank You, Thank You and Thank You. Thank you to you for everything, I don't think we will ever be able to say how thankful we are and Thank you to Young, Hip & Married for connecting us with you. We couldn't have asked for a better officiant, or a better ceremony.

https://vimeo.com/231457150

Our officiant, Erika Enns, and Tara were extremely helpful, kind and dedicated. Can't recommend them enough!

We had an great experience dealing with Young Hip & Married for our wedding. We had Erika as our officiant and she was amazing.

We wanted to say a big thank you for officiating such a natural and organic ceremony! It went beautifully with the setting and our personalities. I could tell that our guests had a great time, and you absolutely helped facilitate that!

We got married in our home on Nov 7/21 and Erika Enns was our wedding officiant. She did a great job performing our wedding ceremony in front of our 4 adult children. She was professional and spontaneous and helped make our ceremony a very special and memorable one. I would highly recommend Young Hip & Married if you are looking to tie the knot!

We wanted to say a final thank you, for being such a wonderful leader for the most sacred part of our day! Thank you for saying all the important stuff… and making sure us and our brothers were following instructions!

Our officiant Erika was on time, professional and very pleasant to talk to. She understood what we wanted really quickly and completed one of the most important pieces of the whole wedding perfectly. Would definitely recommend her.

Wedding by Erika was precise, and she came on time to the wedding site, communication was very great and same with the organisation. Erika made our day and the site was very easy to use; whenever you wanted to communicate plus the quick response to messages, anytime you are lost on anything.

Thanks for marrying us! Your words were beautiful and everything was perfect on our wedding day.

We're very happy with everyone that we had on our special day. And we feel lucky to found all of you guys. Officiant, photographer, videographer, coordinator, harpist, groomsmen and bridesmaids. We could have the perfect wedding all because of everybody. Thanks again!

Hye Min Kim & Michael Choi

Our officiant, Erika, took the time to get to know us as a couple and to truly understand exactly what we wanted out of our wedding ceremony. We were able to have complete control over the script and Erika provided us with a lot of suggestions along the way. We wrote our own vows, combining some provided by Erika and our own words. We thought that the ceremony was the perfect length and tone. I liked that we could communicate by text, phone and email. We would highly recommend Erika and Young Hip & Married to prospective couples.

We loved our ceremony and I've had lots of comments on how great you were! Thank you so much for an amazing ceremony and for being so flexible!

We had a fantastic experience with Young Hip & Married. They matched us with our lovely officiant, Erika, who went through every detail with us, allowed us to provide feedback, and delivered a beautiful ceremony. Erika was such a wonderful presence on such a momentous day in our lives, and we are grateful to have her be a part of it.

We also really appreciated Young Hip & Married's vow course, which helped us create beautiful, personal vows.

A bonus service of using Young Hip & Married is that they will help you find a replacement if your officiant cannot attend at the last minute. This gave us peace of mind.

Cannot recommend YH&M more! We worked with Erika as an officiant for our small elopement, and since we sent our first email reaching out, to the moment we said our "I do"s, the service was so incredibly personal, warm and helpful. They were supportive of us using our own format, including adding in a few extra moments that were not originally in the script. On top of all of this, they also took care of all the paperwork for us, making everything post-elopement a breeze. Despite only ever meeting Erika on the day of our wedding, our guests all felt like we already had an existing relationship with her. Thank you so much for the amazing support and service!

We couldn't be any happier with Young Hip and Married. Me and my husband got married September 17,2022. We met with Erika Enns prior to our wedding for a free consult. She was so sweet and friendly and asked all the right questions. We instantly knew we needed her for our officiant. She even came to our wedding rehearsal.

Our ceremony was absolutely perfect. She made it so personal, we got so many compliments on how beautiful the ceremony was. We are both so happy with Erika and so grateful for the service she provided us – thank you again, Erika! We would recommend Young Hip and Married to any couple looking for an officiant.

I was referred to Young Hip & Married by my amazing photographer. YH&M were super friendly, quick & responsive to all of my questions. We got Erika Enns as our officiant & we couldn't be any happier. She worked with us to make some small tweaks for the script to make it fit 'us' better. She even made recommendations for places for our engagement photos & took the time to get to know us on a more personal note.

On the day of, she met us early in the parking lot & we got to walk down to our ceremony spot together. Erika took her time & let us enjoy the moment knowing that it's passing by so quickly. Erika was was very loving & personable it really made our ceremony smooth & effortless. Would recommend Erika for sure!

I discovered Young Hip and Married when I was searching for places and ways to elope! Ironically, the day we decided to get married in Vancouver (the day before we were leaving on an Alaskan cruise), Tara had emailed me to see if I had any questions! It was fate! Our fairytale started right then!! Erika was an amazing officiant, walking us through the whole process!! She did an awesome job, finding a great spot in Stanley Park to marry us!! Victoria was our photographer and she, too, made us feel so comfortable and special!!! Thanks for your professionalism and detail!! We could not have been happier with our "Young, Hip, and Crazy" elopement (7 hours after flying in from Chicago)!!

Thank you, Thank you, Thank you!!!!

Erika made us feel really comfortable from the get go. She is real, understanding, and friendly. We felt like we could truly make the ceremony our own unique experience, and we were blown away with how it all came together. Erika was professional, efficient, and flexible from start to finish!

We can't thank you enough for making our day so special. You are a Rock Star! Absolutely everyone commented about how beautiful the ceremony was (and we totally lucked out with the weather).

Thank you for coming to check on me also! I had everything planned to the minute but my dress ended up being more complicated than I gave it credit for. After you came back I went into high gear, had a few laughs and away we went. It was a perfect day and just what we wanted. Thank you for everything and a lovely ceremony!

Young Hip & Married and our officiant, Erika Enns, made our special day even more special! We had an amazing small ceremony at the Lighthouse Park in Vancouver and everything went fantastic! From our first contact to the moment we got our Marriage Certificate – everything was organized professionally, timely communication and important reminders. Definitely recommend these guys!

Strongly recommend! Great experience, very in depth asking lots of questing and really getting to know the couple. Fantastic job!

Erika, you were wonderful! You displayed a genuine interest in our love story and helped us craft a beautiful wedding ceremony that was cherished by all. The rehearsal was great because it gave us a sense of what was going to happen the day of, and everything really came together with your amazing help!

Your warmth and energy also helped make our special day such a positive one that we will cherish forever. We cannot thank you enough!

Erika was spectacular to work with as our wedding officiant. She is kind and friendly and helped us create the wedding ceremony of our dreams! Intimate and sentimental, with a hint of humour to take the edge off. Thank you so much for being so incredible to work with!

Couldn't have asked for a smoother process. I got the Elopement & Photography Plus package and everyone from the officiant to our photographer was absolutely wonderful! Highly recommend their services.

In Sept 2022, when we decided we wanted to elope in Nov 2022, we had emailed a few places and YH&M was one of the places that immediately reached out within 24 hours and was able to set up a time to have a call with me. Needless to say, I thought we weren't going to be able to get married on the day we wanted but had hoped for the best with the short timeframe given. We all know in the wedding industry, you are booking dates way in advance.

On the day of my call time with Danya, I had actually forgot to reach out and Danya was kind enough to reach out again if we were still on (I really appreciated this as a busy working mom!). YH&M came through and was able to make our dreams come true to get married on the date we wanted in November. From the moment I had my phone call with Danya to coordinating with Erika who was marrying us, along with Amber who was going to be our photographer – also set up by YH&M! It was by far the easiest to deal with all in one place.

If you are looking to elope, please look no further because the YH&M team covers it all from the booking, your officiant, and helicopter elopement (what we chose!). Thank you again to the YH&M team, we are so happy that you were part of our special day!!

We just wanted to say thank you so much, Erika! We really appreciated you being there and we couldn't have asked for a better officiant! Thanks for all of your work and also your flexibility with COVID19 and the sudden change in venue.

Erika, thanks so much for everything! You guys made the whole experience exactly as relaxed and beautiful as we hoped it would be.

I hired Erika to be the officiant for our wedding day and she is AMAZING! We had to postpone our wedding 4 times due to Covid and every time she was available and very understanding. Her communication is great and response time is fast. I had my rehearsal the same day she had to officiate at another wedding and she was still able to make it on time for my rehearsal. I am so happy with this service and will recommend this company to anyone getting married.

My husband and I found Young Hip & Married via Google and were immediately drawn to the company as they offer a fantastic service that allows couples to facilitate a personalized ceremony where they can be "married" by a friend/family member, while still having the marriage/ceremony be legalized through the attendance of one of YH&M's officiants who is witnessing the ceremony and comes up for the legal signing of the licence (which could also be done ahead of time or afterwards at the couple's choosing).

It was important to us to have the legalization of our marriage done during the ceremony, and YH&M was incredibly accommodating and set us up with Erika Enns, who was an absolute pleasure to work with. We spoke with Erika over the phone and she immediately was kind and supportive of our plan, understanding what we wanted right off the bat.

On our wedding day, she arrived early and prepared and having previously gave her our license, she brought it up for the signing during the ceremony. Erika was quick and efficient, very helpfully ensuring the ceremony continued on easily while clearly explaining who needed to sign what and where. She was so nice to work with and was a perfect addition to our day! Thank you so very much YH&M and Erika for making our vision come true!

We used Young Hip & Married for our wedding and couldn't be happier with the service they provided. Erika worked with us to tailor our ceremony to be personal, funny, and engaging. We won't need to hire them again, but anyone looking for a company that puts you in the spotlight at your wedding, and does so with care and attention, then look no further!

Erika, we're still on cloud nine from it all! It couldn't have gone any better and we're still feeling all the love from our family and friends 🙂

Thank you so much for an awesome ceremony! The words, delivery, planning, everything was spot on and really made us feel like we were part of something special.

Thank you, thank you, thank you!! We truly can't thank Erika and YH&M enough for all they have done for our special day! From the moment we got in touch with YH&M, they have been nothing but helpful and professional, and got us in touch with the amazing Erika! Erika truly listened to our story and seemed excited to be able to retell it, and you could see it in her work. She told our love story as if it were that of a movie and engrossed the whole room making them feel as though they were living our story with us rather than listening from a far. Leaving our guests all complimenting her and our romantic, "perfectly you" ceremony! Erika was eager to help and make any additions we had; she was friendly, helpful and professional! And in regards to our ever changing wedding due to COVID, YH&M as well as Erika never wavered in their help and support! We are so happy with our wedding and thank YH&M so much!!

Matt and I are so lucky to have worked with such kind-hearted souls like you, Madalena and Marcelo! You set a beautiful tone to our day and could not have asked for a more magical ceremony.

You truly made our day special and we really enjoyed working with you. Thanks so much. You will forever be part of our memories of this special day.

It's been a few weeks since the wedding, but everything happened so fast, so it's taken much longer to process everything! Matt and I are still in complete awe. Our wedding day was more than what I imagined it to be and it turned out to be the most loving and beautiful day in our lives.

Thank you so, so much for being part of it and making sure it was perfect. Even when my mom decided to answer the phone (lol I'll always look back at that moment and laugh!) and when my family rolled in late, you kept your composure, continued on and made the ceremony seamless. It was dreamy, personal yet not cheesy – exactly how we wanted. You really made this process super easy for us – thank you for being so accommodating and easy to work with!

We look back and everything we invested in was so worth it! We have nothing but fond memories with the best group of people. Thank you for everything you've done for us! We are so grateful that you were part of the best day of our lives.

Erika was the PERFECT person to lead our wedding ceremony. From the moment I met her, her warm and engaging nature made me feel comfortable and at ease. After just one coffee visit and a short intake form, Erika created a draft ceremony script that was as if she had known Gary and I our whole lives. During the ceremony, she struck the perfect balance between having us and our guests in sentimental tears and light-hearted laughs, which is exactly what we wanted. Our wedding involved the fusion of Western and Sikh cultures, and Erika created a ceremony that honoured our parents and our backgrounds in a unique and perfect way, and gave us words of wisdom to remember as we move on in our marriage together. I cry every time I think of our ceremony and how perfect it was. Thank you for being such an important part of the start of our new lives together.

In the past few years, I've been to a lot of weddings. They've all been beautiful, but none of the ceremonies felt like something I would want to have for my wedding. Young Hip & Married gave us the most amazing officiant, Erika, who blew us away with the way she was able to really understand us and blow us away with our customized ceremony! I would absolutely recommend them to every couple who wants their unique love story to be incorporated into their marriage ceremony.

We had a small wedding ceremony in Stanley Park set up by Pop Up Weddings and we loved our officiant, Erika. Shawn set us up for success with tips and pointers and an outline prior to the big day so we could write up our vows. I've also seen them in action at a friend's wedding and highly recommend.

Erika, thank you so so much!! You are absolutely amazing! It really was the perfect day and all of our friends and family love what you had said and all the special moment you included (the hell yeah!, Rock Paper Scissors and the high five!). I have to say I will be recommending you to all of my friends because you made our day even more special!

We had an excellent experience with Young Hip & Married, who facilitated our intimate ceremony even whilst everything was disrupted by COVID. The communication was great throughout, and our officiant Erika really took the time to get to know us and make our ceremony special. Would definitely recommend!

10/10 experience from start to finish with Erika! She is so professional, organized and genuine. She truly felt like a guest at our wedding! No one else we would have had marry us and be a part of our special day. Young Hip & Married is an absolute must!

Erika was amazing. She knocked our ceremony out of the park, it was so special.

Such a lovely experience with Young Hip & Married. Responses were so quick whenever I had questions. Our officiant was the wonderful Erika. She listened to all our wants and needs and exceeded them! She even helped me get into my dress! So kind 🙂 highly recommend.

Young Hip & Married was so prompt on all their responses and helped us with EXACTLY what we needed.We were looking for a signing ceremony as we already had an overseas wedding. I was able to make some customizations to our ceremony and Erika was so sweet and funny. She made everything light and really understood our sense of humour and was so supportive of our tiny wedding. WE LOVED IT <3 Thanks for being part of our signing ceremony.

Erika was lovely and very easy to work with. Our Elopement ceremony was held on our boat in Vancouver harbour. Young Hip and Married helped us coordinate our amazing day and remained flexible as we finalized details. We enjoyed meeting Erica and loved her warm, friendly personality, her humour and positive, cheery demeanour. Overall, our day was exactly what we wanted. We would recommend Young, Hip and Married to anyone wanting to get married.

Thank you SO much for your attention to detail and sense of humour, you got us so well. It was really fun having you part of it and literally wouldn't change a thing! You adapted your script to suit us and I loved it, you made us laugh too, love that even more!

We loved working with Young Hip & Married! Everyone we met along the way was kind and helpful, and I truly felt that they wanted us to find the very best fit of officiant for us.

And they did! Erika was amazing. She is warm and friendly and worked hard to make sure she captured the vibe we wanted for our wedding. We were looking for short and sweet, but still meaningful and heartfelt. Her words were inspiring and funny, and her delivery was wonderful. I definitely felt a calmness having her there.

The whole team delivered exactly what we wanted, and made sure we understood the process and what was needed of us every step of the way. Super easy to work with and would definitely recommend!

Our elopement in Vancouver with Erika was perfect! Rebecca helped us to organise it and the whole process was stress free. We couldn't have asked for a more perfect day. Thank you to all involved!

I'm so glad I reached out to Young Hip & Married. They made the whole process very simple and hassle free. Our wedding officiant was Erika and she was so nice to work with. Highly recommended!

You were so nice and precise, and everything went well; you guys made our day. I am so so happy you enjoyed our local cuisine, it was our pleasure. Thanks again once more and have a blessed day.

This post is long over due, but here it is! I want to give a huge shout out to Erika, our officiant who went above and beyond to make my wedding happen. We were originally meant to get married on March 21, 2020 but that was the week everything was shutting down due to Covid-19. We had to cancel our big events that very week and we were unsure as to whether we could even continue with our smaller events. It was definitely stressful. So we called Erika to ask her if she was available earlier and she said she was. On March 16 (5 days earlier), Erika came to our house and made our ceremony happen. There were only 5 of us (me, my husband, Erika, her mom and friend as two witnesses) in our living room. Now it's 5 months later and I am so happy that we made the decision that we did. I want to thank Erika for being so professional and so amazing. I would recommend Young Hip & Married and especially Erika!! Thank you again for making one of the most important days so special.

BEST officiant ever!! We had the pleasure of having Erika be our officiant on our big day! We have been with her for 2 years and 2 reschedules, and her communication and understanding is amazing! She rewrote our script when we asked without hesitation, and always made sure we were happy! She is sooo sweet, friendly and lovely to be around.

Erika was super helpful during our rehearsal and gave us such ease of mind before leaving to make sure everything was running smoothly. She gave amazing suggestions and advice. Our script was personalized and beauitful. We had sooo many compliments about Erika throughout the night and after the wedding about how great she was and that was the best wedding and ceremony they ever been to!

She had everyone is smiles, tears and laughter. She knew the moments to step aside to be out of photos. Couldn't have asked for a better officiant!

Hire Young, Hip & Married, you won't regret it!! Yes they are a bit more expensive, but you only get married once and they will make sure you have the best ceremony possible! They are worth every penny and more!

Thank you sooo much Young, Hip & Married and a special thank you to Erika!

I used YOUNG HIP AND MARRIED, to help assign an officiant for my elopement wedding. It was short notice and they were able to assign a wonderful officiant named Erika to come to our wedding. I really liked how efficient the company is; their main contact who organised everything with me always was available for any questions or problems that arose via text. Also being not super religious, I found the marriage vows the officiant wrote for us were perfect and did not focus on any religious aspects. Everything went smoothly, the price we paid for this company was very suitable. I would highly recommend it to young couples who want to take the hassle out of arranging an officiant and a photographer because the YH&M team will arrange it for you as part of their package (Depending on which package you select).

We worked with Erika Enns at YHM for our wedding in July 2022, and honestly wouldn't have asked for a more perfect ceremony. With just a phone call and questionnaire, Erika worked her magic to create the most personal, engaging and totally authentic ceremony. She totally understood what we were looking for, and managed to create something hugely emotional without any cliches, cringe or cheesy moments. Every one of our guests commented on how personal the ceremony felt, and how different it was to so many weddings they'd attended in the past. Erika and Jackie-Deane were a dream to work with, and made the whole process totally seamless. We couldn't have asked for anything more – thank you so much!

Erika was our officiant and I cannot say enough good things about her; she was incredible. She made everything so comfortable and easy for everyone it felt like I had known her forever. She was extremely prompt with communication and any edits I had to the writing were changed immediately without any problems. She was there for the rehearsal which was wonderful and was able to tell everyone where to go and run though it all which was a huge relief. The writing was wonderful – short and sweet but was also packed with a ton of emotion and meaning. She really took our story and made it personal (which was exactly what we asked for). Everyone was laughing and crying and everyone had something good to say about Erika. Highly recommend to anyone.

I'm so glad that we chose Young Hip and Married to officiate our wedding! Erika was awesome in every way; a great combination of fun, sincerity and professionalism. She took the time to really get to know us and helped make the ceremony exactly as we hoped it would be. We can't thank you enough, Erika! The day was magical and we truly appreciate all that you did to make it that way!

The Young Hip and Married team is fantastic. They are easy to communicate with and quick to respond. We were paired with Erika and she did an amazing job. She took the time to get to know us and she was open to all our suggestions. We had an small ceremony with family and close friends. Erika fit in perfectly and made our ceremony feel very personal and very us. Can't recommend Erika and the Young Hip Married team enough.

WOW! Professional, personalized, individualized, and exactly what you want during your ceremony.

Our wesding officiant, Erika, started with meeting with us. Then she emailed us with a questionnaire to make a personalized script for the ceremony. Not only was it amazing, but she even reached out to the wedding party to gather some words for the ceremony too.

On the day of, Erika was spot on with presentation and keeping to schedule. She was even flexible with my request for a certain song to be played as the ceremony was coming to a close. Flexible, check!

And if you are asking for price? Absolutely it was affordable. It is based on what you are looking for and how much time you will take. I would recommend Young Hip & Married over the government officiants anyday.

Thank you, Erika. You made it a ceremony that guests were raving about and a ceremony that they listened to every word of.

This was, by far, the best avenue we could've taken for our wedding! Erika was an exceptional officiant who kept in contact with us from day one, made sure everything we wanted was included in the ceremony, and even made it as minimalist as possible for my husband when it came to his speaking parts! Our wedding was a surprise, so no one knew it was happening, and Erika blended in with the crowd with ease and played her part perfectly, even with a few wondering stares! We are so, so, happy with Young Hip and Married, and would recommend them in a heartbeat to personalize your wedding and make it a truly special day!

Young Hip and Married is an exceptional group of people who we felt genuinely cared that we have the best wedding experience possible, from the very beginning to the big day, and even after! We so appreciated the entire process, and the flexibility for us to be involved in the writing of the ceremony. Both us and our guests were blown away on the execution by Erika on the day of the wedding. Certainly a milestone moment in our lives we will look back on with smiles on our faces.

We used Young Hip and Married to plan our small wedding ceremony. They were easy to talk to and very helpful. We had to postpone our wedding once due to covid and they were very accommodating, our photographer has to cancel the day before due to person reasons and they were able to find us a new one right away. Thanks so much, will definitely be recommending this company.

We had our wedding on May 22, 2022 and Erika was our officiant. My word, what a wonderful officiant. The whole process of preparing for the wedding, scripting of ceremony, rehearsing and the day itself was made so wonderful by her! Would highly recommend Young Hip and Married and also Erika!

We could not have been happier with Erika and the entire team at YH&M. Everything went perfectly, it was easy to talk to everyone handling all the details and when the day finally came, Erika went above and beyond to make everything just as we had hoped it would turn out. She was compassionate and we're so grateful that she helped us through something we had hoped would never be stressful. Couldn't thank this team anymore, and would absolutely highly recommend them to anyone!

Erika was awesome 😊 easy going and made everything very comfortable 👌🏼

We were engaged in early April and between the pandemic and having all of our family on the other side of the country, we were unsure how we would plan our wedding. After scrolling through different wedding officiant services, something about YHMs page caught our eye. We had no idea where or when, but we sent off an email. From the very first response we could tell we chose correctly. They were so helpful and quick to respond, they spent time helping us decide where, and when we gave them our date, they immediately said they could accommodate us. Erika our officiant was so helpful with handling most of the wedding license process and guided us with the rest.

On our special day, our officiant Erika greeted us like old friends and we instantly felt comfortable. She was the perfect addition to our day and we will remember her fondly always! Our photographer, Erica, was also out of this world. She was there for the entire process from the first email. Showing us photos of locations and helping us decide on the perfect time. We got married standing next to the ocean at sunset and it was PERFECT. Erica even watched the weather and the tides leading up to our day to ensure the perfect day. Her genuine sincerity and the level of care that she puts into her clients and her work, is unmatched. We cannot imagine our day with anyone else. We are both pretty shy and Erica was able to direct us, without really telling us to pose, by just getting us to be ourselves and laugh; she was incredible. The photos are absolutely stunning; she captured every moment and every emotion in that moment. Our photos will forever make us laugh, cry and smile at all the detail and emotion she captured.

Everything with YHM was so seamless and stress-free, everything was planned so well and the communication was flawless. We wouldn't change a thing about our day and we would recommend YHM to anyone who's looking for something different, unique or personally tailored to what you had in mind – this group of people can make it happen. Thank you again, YHM!

We had a last minute wedding, but YH&M were able to fit us in and we are so happy they did! Erika was so wonderful to work with and she did such an amazing job officiating our wedding. We honestly couldn't have been happier. Thank you for helping to make our day so perfect for us!

Erika – thank you so much!! You were wonderful, and so many people told us that ours was one of the best ceremonies they'd been to.

Erika met with us to find out our story. She helped us personalize our ceremony to our comfort levels. It was sweet, personalized and she really made the experience exceptional! I would recommend YH&M to anyone.

Erika is so amazing! She took the time to get to know us to understand what we want. She respected our decisions and was always willing to help, which made the process total hassle free. Thank you Erika!

We would highly recommend Young Hip & Married to anyone who is looking to elope in BC! Booking was a breeze, the team promptly responded to any questions we had and they were a delight to deal with. We are over the moon with the photos we have received so far, and we received our filed marriage certificate in a few weeks. Due to the weather, we had to change the location we were hoping to get married at multiple times on the day. Both Erica (photographer) and Erika (officiant) dealt with our last minute panic with a smile and showed nothing but professionalism. If you are looking to elope in BC, there isn't any better option then YH&M… it is as simple as that 🙂

We feel so lucky to have had you as our officiant, truly. You made everything so simple for us, and everyone was super touched by your speech. You've given us exactly what we wanted!

We had easy communication and a great wedding. Our officiant was excellent and our photographer took some beautiful photos. Excellent all around.

We originally wanted to elope but YHM had an option of elopement with 20 guests and photographer. We are very happy we went with this as our families wanted to be witnesses. Both the photographer (Sarah) and the officiant (Erika) were great! There were some last minute changes and they were very flexible. Definitely recommend this company.

If you're looking for a company with an amazing officiant service for your wedding ceremony, I highly recommend Young Hip and Married. They have a team of officiants that will take your vision of our ceremony and bring it to life.

We had the pleasure of working with Erika Enns.  After our first meet and greet with Erika, we knew we found the perfect officiant for our wedding.

We all sat down in a coffee shop and talked about the vision we had and what was important to us for our ceremony.  Erika was everything we needed – kind, full of energy, creative and most important it was clear that she really loves love. Erika took the time to ask all the questions to capture us as a couple.  She made sure that she knew what our love story was and what it meant to us.  She was flexible with our schedule as we had just evacuated from the 2021 floods. We spoke about vows and my husband and I were honest that we were not great with words. Erika had made us feel comfortable and sent us all the tools we needed to help guide us through our vow process.

Following our meet and greet, Erika asked for some contact information of close friends and family.  She reached out with a questionnaire to get the scoop on our relationship for the ones who are special to us and who had supported our relationship from the very beginning.

After receiving her questionnaires back, she got to work.  After a short time, she sent us the first draft.  As my soon-to-be husband and I read through the ceremony she created personally for us, we got emotional.  We had moments of getting teary eyed and moments of laughter. She captured us perfectly. She put us into words that we could not.

Erika was very open to adjustments to the ceremony she had written.  We requested some small adjustments and she was happy to make them.  She was very clear that she was here for us and wanted to make sure our ceremony was everything we invisioned. Erika sent us the second draft and assured us that if we thought of anything else we wanted to add or change to reach out to her at any time.

When it came time for our rehearsal, she was thrilled to meet us at our venue.  With our wedding party in tow, Erika guided us through the ceremony from start to finish.   She made the whole process so easy for us and continued to question us on our views.  We really felt like she had our backs from start to finish.

When it came to the big day we were relaxed knowing that everything was planned and that there would be no surprises.  Our ceremony was everything we could have asked for and more.

If you're looking for an amazing officiant to bring your ceremony to life we could not be stronger in our feelings that Erika is an amazing option. She is a person we will recommend to everyone we meet on their own search for the perfect officiant.  Our experience with her was amazing. The journey we went through to plan our ceremony is a memory we will hold close forever.  Thank you so much to Erika for everything you had done to support us and create our perfect for us ceremony.

Thank you so much for the beautiful experience.

We used them through our Adventure Elopement package with Will Pursell Photography. She did a great job. And even though we had to change a location about a week or so before our wedding, due to extra covid restrictions about travel within health regions, she was understanding and polite and it all went very smooth! Would recommend them for sure!

I found YHM on a Google search, anxious to text a random name on the BC government commissioner web page. I found them through their inclusivity in the photos on their site, and stayed for how responsive they were. From the first email, YHM were kind, excited, and professional — happy to give information, to find out more about me and my partner, and make sure everything went as perfect as they could! Erika Enns was our wedding commissioner, and she was so sweet and adorable! Thank you so much for your work, your words, and even your smile!

Our experience with Erika was perfect. She was very warm and personable at our first meeting and her calm, attentive demeanor put us at ease. She addressed all of our wishes, had us consider many important points, and made sure that our personal story would be integrated into the ceremony. She also suggested that we include our son, which we loved and did. It truly made it that much more meaningful for us all.

On the day of the ceremony she saw us through it like a pro, even though she is terrified of birds! The only reason that we mention it is that we had an outdoor ceremony and right in the middle of it a big bird swooped down right at us! Again, Erica handled it like a pro and didn't miss a beat. She had our guests entertained and crying with joy and laughter all at the same time. Again, she was perfect.

Overall, our experience was fantastic and our big day was something we will cherish for the rest of our lives. We wouldn't hesitate to recommend Erika to any prospective couple. She is professional, calm and executed the ceremony flawlessly.

Thank you so much for being a part of our wedding!!  You have such a nurturing, warm, and kind energy.  The ceremony was wonderful! We are so happy to be married!!  Thank you for your lovely presence on our day!

Thank you so much for giving us a perfect oath ceremony. Your draft of the marriage proposal is beautiful and warm. We are very moved and agree with you that marriage is to face all kinds of difficulties and happiness together in the future. Thank you again for this wonderful memory.

What we love about YH&M is that they were very responsive. They responded quickly to our questions and emails, and were very professional throughout. They got back to us within the day and we've set our date with them easily. That wasn't easy, considering we had booked them a week prior to our wedding! My husband and I got the elopement package, simply because we wanted it very small and intimate. But just because it was small and intimate, they didn't make it any less special. Erika Enns was our officiant and she prepared a short and nice message during the ceremony. What made it beautiful was that we were able to say our own vows for each other, and she made sure that the small ceremony was really just about the two of us. They handled all our details very well, and I could not commend them more for how quick and responsive they are considering how short of a time frame we gave them. Our marriage certificate was done in a couple of weeks too! Thank you YH&M team!

We had a great experience with Young Hip and Married. Planning a wedding is so stressful and for us, and I'm sure a lot of other couples, the ceremony takes a bit of a backseat compared to the reception. With Young Hip and Married I didn't have to worry about the ceremony at all. Our officiant, Erika, began preparing far in advance so there wasn't any last minute stress. Even though we never met in person, great care was taken to really get to know us and what we wanted. The ceremony was personal and beautiful and flowed exactly how we wanted without us having to put in sweat and blood get it there. What more can you ask for! If only preparing the reception had been that easy…

We are so happy we had Erika Enns from Young Hip and Married officiate our wedding. We knew right away when we met Erika that it was a good fit and she made the whole process easy and enjoyable. We loved how she told our story and helped us choose what type of vows we wanted to go with, etc. Several guests commented on how much they liked her and how she helped create the perfect ceremony. Thank you so much Erika!!

Super flexible and responsive! We had Erika as our officiant and we had an enjoyable experience from start to finish. She was very responsive the entire process and super flexible with any changes we had, would definitely recommend!

Young Hip & Married (specifically Erika and Emily) helped me pull off a surprise wedding! There were a lot of moving parts to coordinate and they were both wonderfully supportive and patient. It turned out PERFECTLY. Erika provided us with a unique and heartfelt ceremony, and Emily captured our family perfectly through her lens. HUGE thank you to both of you! I wasn't sure a surprise wedding was possible, but Young Hip & Married were on board (and excited!) from that first email I sent. So happy with them.

One of the best decisions we made for our wedding was choosing Erika from YH&M to be our officiant. From the moment we had our first meeting, we knew we had made the right choice. She was extremely helpful, kind, flexible, generous and insightful. She created the most incredible custom ceremony for us, something we will cherish forever. There was not a dry eye in the room! She made us feel comfortable and at ease during our wedding ceremony and we wouldn't change one thing about our experience. Thank you Erika, you made our wedding dreams come true!!

Young Hip & Married are an incredible team that provide the very best service. We wanted a quiet, personal and intimate experience and thanks to this wonderful team, we got just what we wanted. I highly recommend you try Young Hip & Married if you ever thought of having that special day with that special someone. They will be with you every step of the way, helping you through what can be an overwhelming experience and making it an easy journey to fulfill. Thank you to everyone at Young Hip & Married and thank you to Erika Enns, our officiant, for leading our elopement and for being a delightful human!

My wife and I used Erika as our officiant, and she couldn't have been better. I rate 5/5 easily, and would recommend her services to anyone. She was professional, friendly, and really made our ceremony special. Thank you!

Callan and I cannot thank you enough!!! It was truly a perfect day, and having you be a part of our ceremony was the icing on the cake.  The words you spoke, and the way in which you shared them, made us both feel like you had been a part of our journey together, making it that much more special.  So thank you!  We have received non stop compliments on the uniqueness of the ceremony and everyone is asking where did we find you!

Such a great experience using YHM for my wedding. Super professional and lovely people – thank you!!

We had Erika Enns and she was AMAZING!!! She made our ceremony perfect, her words were so beautiful, loved everything about it. Not only does she write the ceremony script but also makes sure all the small details are taken care of when going through the rehearsal. YHM may be more expensive than other officiants or marriage commissioners but it's worth every penny in my opinion.

Video by Karl Kimmel of Forever After Studios

I wanted to reach out to you to say a big thank you for officiating our marriage last week. You did a wonderful job and we couldn't imagine having anyone else there to do it. It was so lovely to finally meet you, we will definitely be recommending you to our friends and family! All the best, and thank you again!

We are so happy that we went with YH&M for our wedding. The ceremony is such a special part and the ability to have an officiant that helps tailor the ceremony to who you are as a couple with the ability to say what you want to say is important. Erika Enns was our officiant and we knew from our first meeting that she was perfect for us. She was so easy to talk to, super friendly and we loved her energy. Being able to work on a wedding script with her was easy and all the tips and links she provided were really helpful when it came to making our ceremony personal to us. Thank you for being a part of our special day!

Friends of ours used YH&M a few years back and we absolutely loved the ceremony they put together for them. So when my hubby proposed of course one of the first vendors I reached out to was YH&M. We were paired up with Erika to officiate our ceremony and immediately clicked with her our first FaceTime chat. From day one she was very involved with the planning, kind, and very responsive. She made the process easy and fun and we enjoyed working with her along the way! Come our big day that just passed (September 2021), she created the perfect ceremony for us. She added humour, emotion and life into our ceremony as she shared our story with our friends and family. I would absolutely recommend Erika/ YH&M for your ceremony!

Our ceremony was perfect and Erika was just an absolute delight to have marry us. Our guests were so touched and entertained by your words Erika, and Colton and I felt the day flowed so perfectly thanks to you. I will forever recommend YH&M whenever anyone asks me for officiant recommendations (actually even if they don't ask LOL!)

Erika did a wonderful job as our officiant. She got to know us and put together a wonderful speech on our special day. Very professional, reliable, and a pleasure to work with. We strongly recommend this company.

Thank you so much for being part of our wedding day! We had the most amazing time and are so grateful for Young Hip and Married because we had such a great experience. There were a lot of things to be nervous about after so much anticipation, but I couldn't have asked for a better day!

We had the best day ever and enjoyed every moment of our wedding – even the rain! Thank you so much for your assistance throughout the ups and downs of planning our wedding during a pandemic. We loved having you be a part of our day!