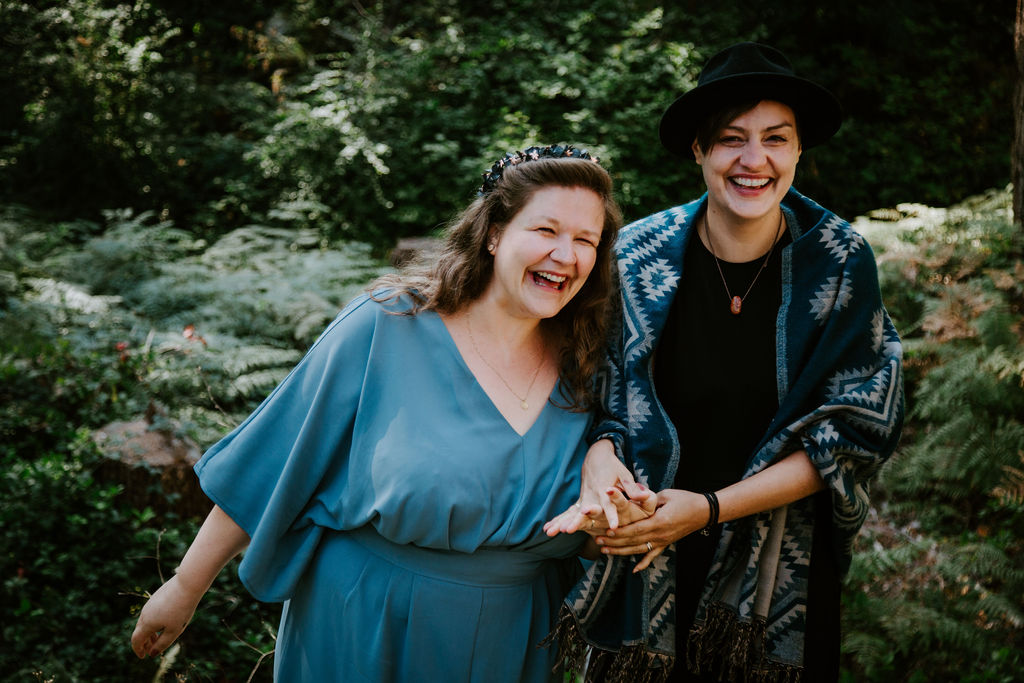 Life is looking pretty different these days! From postponed weddings and cancelled brunches to working from home and homeschooling, life as we know it is totally upside down. If you and your loved ones are healthy, you can count yourselves lucky. But that doesn't mean you're not struggling in this new normal.
For most of us, this new normal means a lot more time at home with our partners. If you and/or your partner usually work outside of the home, this might be a big adjustment. Suddenly, you don't have a job to go to, a gym to head to after work or a dinner date with friends.
It's just you and your boo, 24/7. And while we all love and want to spend time with our partners (at least, we hope you do!), it can be a lot to spend this much time with them. Especially when you're dealing with financial difficulties, high anxiety, health concerns and everything else that comes with living through a pandemic.
Below we've put together our top tips to help couples survive and thrive through this time of isolation. Happy coping!
---
Give each other more grace
Most of us have not lived through a global pandemic before. As every business you've ever shopped at likes to remind you, these are uncertain times. So it makes sense that tensions, anxieties and stress levels might be at an all-time high. Keep this in mind when interacting with your partner and give each other some extra grace. Practice forgiveness first and cut your boo some slack.
Check-in daily
Make time each and every day to check in with one another. Go for a socially distant walk, sit down for a cup of coffee or have a quick chat before bed. Put your phones away and take a moment to see how you're each feeling. Knowing someone has your back and is looking after you through all of this is key.
Try a new chore
During this time of isolation and being at home, why not take on a chore your partner usually does? If she usually does the laundry while you do the dishes, why not mix it up and put a load in? Changing up your chore routine is a great way to break up the monotony of your daily tasks and try something new. It's also a great way to show your partner how thankful you are for what they contribute to the household. And hey, you now have the time to learn how to iron and fold!
Have specific together time AND apart time
It is very hard to spend 24 hours a day, 7 days a week with another human – even one you really love. It's important that during this time when you're both home that you create specific time to be together and specific time to be apart. Together time might look like having a weekly dinner date on the balcony or sitting down to binge your favourite show once the kids are asleep. Apart time could be taking an hour for you to read while he paints or heading out on a walk to listen to a podcast while she does a workout video.
Hug, kiss, touch, etc.
Just because you're spending all day long with your partner, doesn't mean you want them to become your platonic roommate or coworker. You still want to value your relationship and one way to do that is with physical touch. Especially in a time of high anxiety, physical touch can be very important and reassuring. And it doesn't just have to be in the bedroom – snuggling on the couch or starting the morning with a kiss can do wonders! Remember, one of you may need this more than the other. 
Reach out to friends and family
Just because you and your partner are alone doesn't mean you have to really be alone. That's what technology is for! There is nothing stopping you from picking up the phone and calling your mom, video chatting with your best friend or arranging a virtual brunch over Zoom. Not only will this give you a chance to socialize but it will also help you see another perspective outside of yours and your partner's.
Set a schedule
This can be very helpful if you and your partner are suddenly sharing a small space – especially if there are children or pets in that space with you. Set a loose (or firm, if that's your thing!) schedule to map out your days. That way, if you're both working from home, you'll be able to set up a schedule that doesn't find you doing a dance aerobics class while your partner is on a conference call. Schedules help you avoid having your partner go for a nap while you watch the kids, respond to emails and cook dinner.
Do things together you never normally would
You may suddenly find yourself at home with all of this time to do things you never normally would have. So why not do some of those things together? If you both work outside of the house, now is the perfect time to enjoy a weekday lunch together. Go out jogging, try a new board game, choose a new show on Netflix or try out a new recipe in the kitchen.
Plan something for the future
One of the best ways to get through a hard time is having something to look forward to. Take advantage of the extra time you may have on your hands now to start planning. What's the next vacation you want to go on? What restaurant will you be making reservations at? What fun day trip will you go on as soon as it's safe to do so?
Feel your feelings
Give yourself permission to feel whatever it is that you're feeling right now – frustration, sadness, anxiety, disappointment, grief. Even if you think your hardships are small compared to what other people are going through, you still have every right to feel your feelings. You're allowed to be bummed about trivia night at the pub being cancelled, your trip being postponed or homeschool stressing you out. 
Have fun! 
Life is pretty stressful and scary right now. Each day might be a challenge for you. So when you have the energy, make time for a little bit of fun. Treat yourselves to delivery from that new restaurant you always talked about but never ordered from. Play a board game on Zoom with your friends. Bake a sweet treat, bust out the colouring books, give each other massages, sing along to YouTube karaoke channels, play video games – do whatever you can to put smiles on your faces!
Ask for help
If you are feeling overwhelmed, tired, anxious, etc. let your partner know how you're feeling and what you need from them. Your partner can't read your mind, so clear communication is more important now than ever. In uncertain times, it's completely normal to be feeling things you don't usually feel. So reach out for help if you need it. No one should go through this alone. If you need more help than your partner can provide, check out our counselling and coaching services. 
---
written by Riana Ang-Canning & Jane Halton
feature image by Erica Miller Photography