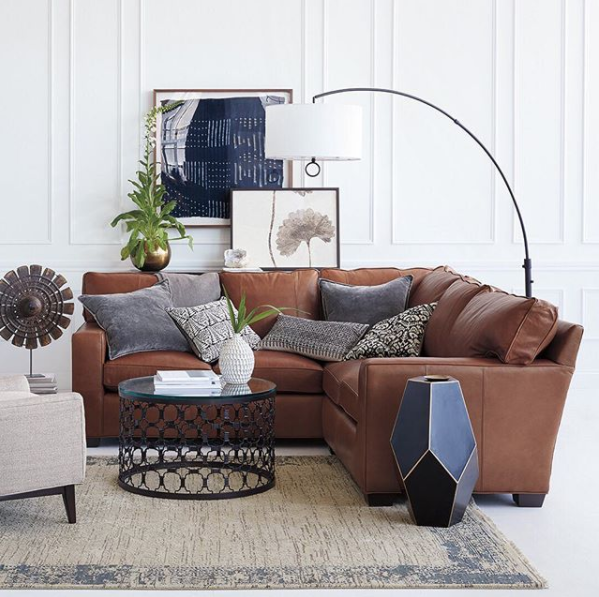 Enjoy this guest post by our friends at Arhaus, all about figuring out your decor and style when you move in with your partner for the first time:
When Monica and Chandler moved in together on Friends, it was depicted as a funny TV gag when Monica would not let Chandler change any of the furniture or decor pieces in their apartment. However, in 2018, Monica would probably not be able to get away with such an iron foot in terms of her decor specifications.
Nowadays, most couples who move in together are faced with a different dilemma: how to blend their (often very different) interior design preferences. This may seem like several fights about budgets, color schemes and materials waiting to happen, but that does not have to be the case. Here are some easy, stress-free ways to merge your respective tastes to create a living space that reflects both your individuality and your energy as a couple.
Design (at least) One Room As a Couple
It is very likely that you and your partner do not have the same taste in furniture, decor and color schemes. Because of this, your existing furniture from your respective apartments will probably not look good together. To create an Instagram-worthy home and make the space feel like home to both of you, head to a furniture store (or at least its website) together and pick out a few pieces you both like.
When in doubt, go for timeless materials and colours, such as brown, black or grey leather or suede. If you stick to a neutral palette and high-quality furniture, this trick can help you pick out a piece for any room. To easily furnish a living room or entertaining area this way, check out these sectional sofas.
Keep Items You Love
While you probably have doubles of some items, such as beds and coffee pots, there are other more unique items that only one of you will have, like a vintage ottoman or a set of kitchen chairs that came from your grandma's house.
For the sake of your budget and for sentimental value, you should keep pieces like this. If you want to refresh these items to better fit your new space, you can use contact paper on flat or smooth surfaces like tables and dressers without damaging the original finish.
Have Spaces that Belong to Each of you as Individuals
The idea of a man cave can be construed as sexist, but the concept of having an area where each of you can go to be alone to relax or explore your interests is healthy for a relationship. Each of you should have an area, such as a home office, reading nook, converted garage or basement, where you don't feel like your significant other is in your personal bubble. If you only have a corner of a room, it is still possible to carve out these spaces!
When In Doubt, Add Colour and Pattern
Many rooms in a new apartment or house take time to feel like they're really "yours," and a way to make a house feel like a home quicker is to add pops of your own personality. The easiest way to do this is to add your favorite colours in the form of throw pillows, rugs and wall art. Many rental properties do not allow you to paint, but you can always add colour to your space with curtains or tapestries. If bright colours are not your thing, you can purchase high-quality patterned wall art from Society6.
---
Thanks to Arhaus for this awesome guest post on merging decor styles when you move in with your SO. For more on Arhaus, check out: 
https://www.arhaus.com
editor@arhaus.com
https://www.instagram.com/arhaus/
https://www.facebook.com/Arhaus/
https://twitter.com/Arhaus