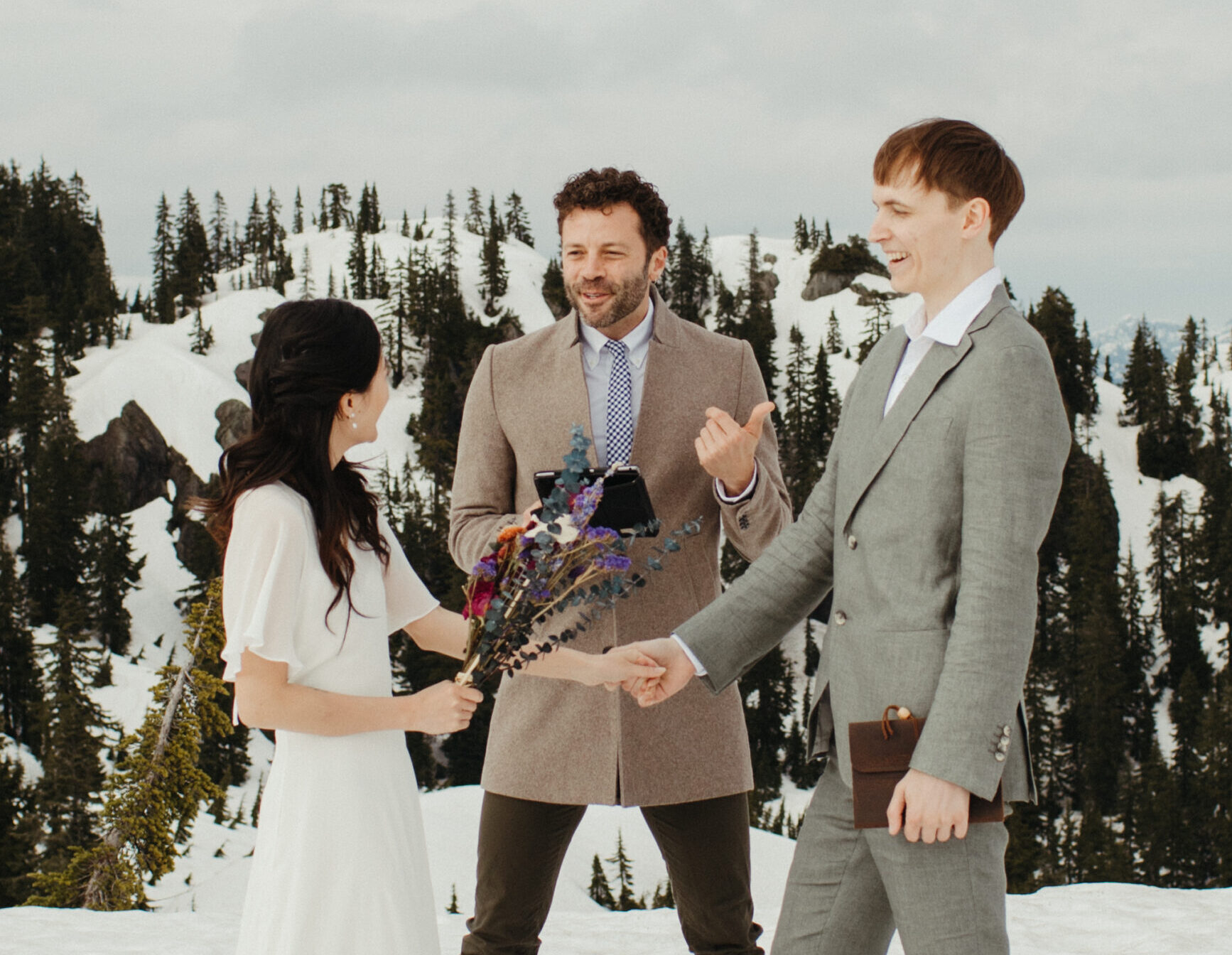 I'm a front-row seat kind of human and as an officiant, I get the best seat in the house. Getting to celebrate the beginning of the next chapter of your love story sounds like a pretty rad gig to me! 
We really only have one task on this planet: Learning how to love others, and doing that well. My favourite part of the ceremony is that split-second moment when a couple, bold and brave and daring as individuals, stand together in front of their people and say, "We're going to love each other as best we know how." It is an audacious and fierce step toward living out love in the most tangible and authentic way possible. 
When I'm not officiating weddings, I work as a Grade 3 teacher at an elementary school in Vancouver. And when I'm not working, you can find me climbing up a mountain or snowboarding down it. I didn't move from Saskatchewan to Vancouver to sit inside all day! I also love kayaking, singing and dancing – but not all at the same time! 
If every couple is unique (and they are), then every ceremony should reflect this. Your wedding is a milestone on your journey together – a milestone that should be celebrated with a bespoke ceremony that speaks to the significance and importance of your relationship.  I would be humbled and excited to help guide you two as you create this milestone moment together.
Young Hip & Married was hands down an all around incredible company to work with.
Stephen was absolutely amazing! He helped us create the most beautiful ceremony and his calm energy and sincere joy for us truly made getting through our big day that much more special and so much less nerve racking. If you are looking for an officiant who is going to go above and beyond to make sure you have the big day you were dreaming of, then I strongly recommend Stephen. You will not be disappointed!

Stephen was incredibly easy to work with in setting up our plan, gave us great suggestions, and helped us craft a ceremony that was unique for us and our event. He really nailed our request for an efficient but thoughtful ceremony and his proposed draft had barely any revisions from us.

Stephen was incredibly professional and brought a great, charming and fun presence to the day. We even had someone ask us where we booked him from for consideration for their wedding, which we've passed along the details.

My husband and I got married on May 28th with Stephen as our officiant. From the onset, communication with Stephen was easy and efficient! We had an initial zoom meeting where we were given the chance to meet and tell our story. He was able to capture our relationship in his script so well. 10/10 would recommend YHM and Stephen!

We are happy for the good service of Stephen. I will recommend him to everyone! Thank you 😊 for your service 👍🏻🥳🎉🥂

We had the pleasure of having Stephen as our officiant. He enthusiastically agreed to our adventure mountaintop elopement idea and was easy-going through all the last minute location and weather uncertainties. He prepared the perfect ceremony for us; joyous, genuine, and heartfelt.

Our two witnesses felt he was incredibly personable and authentic too. We loved his warm and vibrant energy. He made all of us feel so comfortable on the hike up. Stephen even included my guests' names and some snippets of our personal stories that he heard on the way up into the ceremony. It was more magical than I ever imagined. I could not have hoped for a better human than Stephen to officiate our wedding and share our love story with.

Stephen Anderson was a wonderful officiant! My sister got married this weekend, and Stephen was the perfect fit for the small gathering we had at Lighthouse Park. He met us in the parking lot and we all walked down the trail together to the spot the couple had picked. At no point did we ever feel rushed. Stephen was was very personable, very well put together, and really made their ceremony effortless. He stood off to the side, which was much appreciated, so we could get some awesome photos of just the couple during their special moment. 10/10 would recommend!