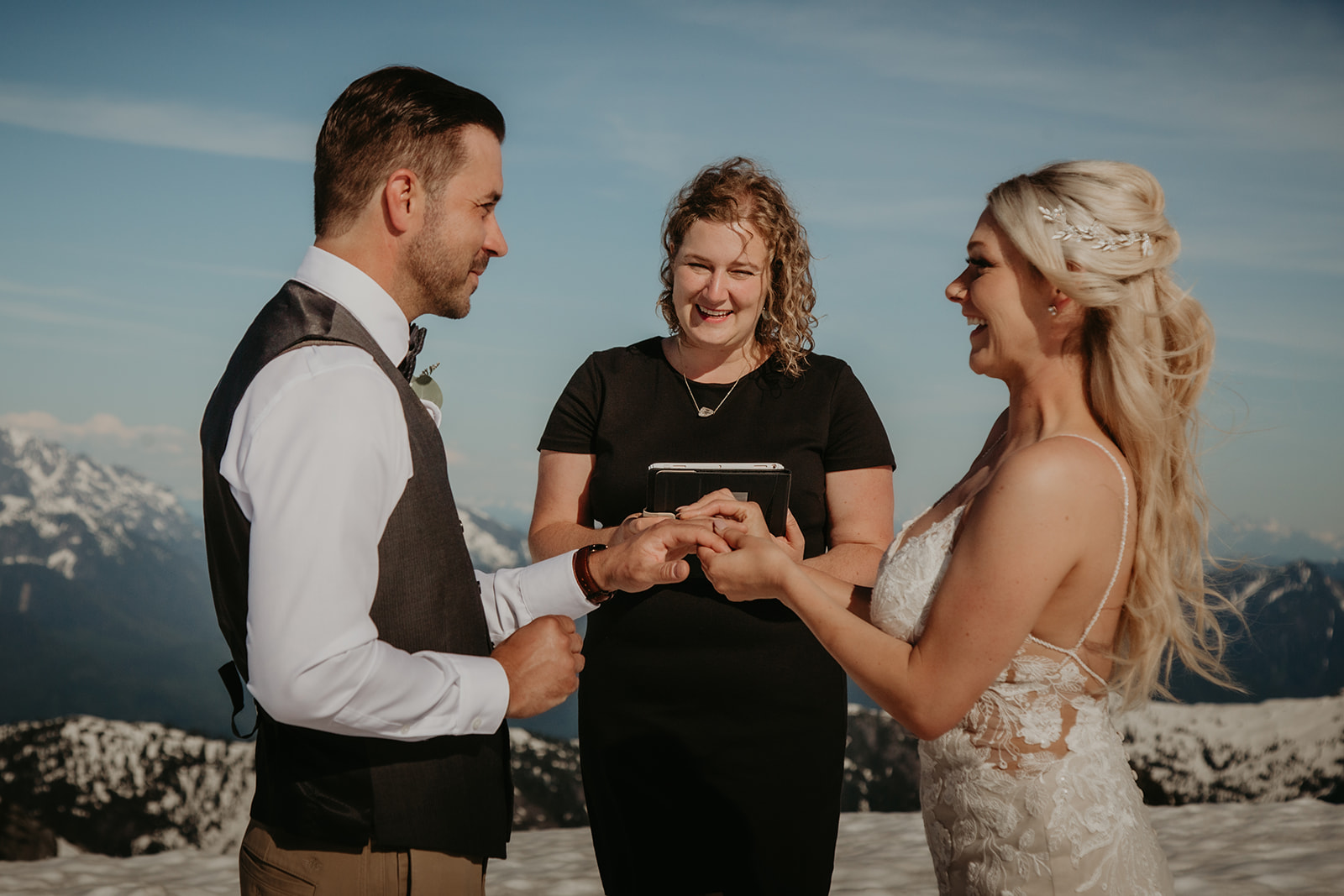 A wedding is all about celebrating your partnership and who you are as a couple. It's a wonderful opportunity to share snippets of your story and include meaningful traditions to create a day you'll look back on with fondness. 
As a social worker, I get to learn about people and hear their stories. I've also found a passion for facilitating special events and holding space for the sacred, the beautiful, and the profound. Wedding officiating allows me to draw on my social work skills to get to know your story and craft a ceremony that reflects who you are and what you care about.
In addition to an officiant and a social worker, I'm also a harpist and am training in harp therapy. In my downtime, I love to explore local parks and beaches with my two young boys and hike through BC's forests with friends. Or if the weather is bad, you'll find me inside with a cup of tea and my watercolour paints. 
I've learned that for marriage to be healthy and happy, it truly needs to be a partnership where each person supports, values, cherishes, and seeks to understand the other. My wish for you as you enter your marriage is a lifelong partnership filled with love, mutual support, understanding, plenty of laughter, thoughtfulness, and a few silly surprises to keep things interesting.
I love connecting with people and discovering the beauty and uniqueness of their stories. I can't wait to work with you to create a ceremony that reflects your story, values, and essence as you enter your marriage together.
I am also bilingual and would be happy to officiate your wedding in English or Spanish.
I thought Shalom was lovely and easy to work with. She was very responsive and did a great job telling the couple's story. She was very warm and friendly and chatting with the guests beforehand. The ceremony was charming and personal. She did a great job!

Margot Bower, Petite Pearl Events

Great service, professional and personable – would recommend!

We wanted to thank you for doing an amazing job with the ceremony! We couldn't have been happier with how it turned out.

Photos by Tomasz Wagner Photography

Thank you so much for being our wonderful officiant! We had such a wonderful wedding and celebration.

We had such a great wedding on the beach in BC! Fantastic and very well done! Highly recommended!!

Shalom was so so perfect and so professional! We really appreciated how everything was so easy and smooth! We have already recommended your services to others since they were so impressed with the experience we were retelling!

Thank you again for being part of our special day. You're the Gandalf to our Bagginses, setting us off on our great journey!

Do not pick anyone else to officiate your wedding! We picked the custom ceremony option Young Hip and Married offers and are so glad we did. The ceremony was the best part of the whole day as it went perfectly, was beautiful, and entirely ours. Our officiant Shalom was a delight and so easy to work with. The vow writing class worked so well we actually got direct compliments on our vows saying they were the best many people had ever heard. Go with them, go with the custom option, take the time to do the damn class, it's beyond worth it.

Shalom made the whole process easy and simple and gave us advice on what we needed to do leading up to our ceremony. Day of, she was amazing and sweet to work with and helped us figure out what were were doing! I love that we got paired with our photographer, Nassim, as well who gave us some amazing photos of our special day. I 100% believe and will vouch that using Young Hip and Married is worth the price and would recommend their packages to anyone who is looking for wedding vendors.

You are an awesomely awesome person to work with! You made our day special and we will be happy to share this with another people!

Shalom was our officiant and she was wonderful to work with. Very fast responses and very helpful in our ceremony planning. Her sweet and simple script was beautiful and all our family were so impressed with her on our day of! Thank you Young Hip and Married and a big thank you Shalom for making our big day amazing!

Shalom was our officiant for our intimate wedding ceremony. We loved her! From start to finish, communication was clear and prompt. She also guided us on how to personalize our vows. Our officiant was warm, kind, and professional! Thank you Young Hip and Married.

We loved our experience with Young Hip and Married! We chose Shalom to officiate our wedding and she was amazing! So kind and helpful throughout the entire process and really listened to what we were looking for for our ceremony. In the lead-up, Shalom was so communicative and easy to work with – and afterwards we didn't have to worry about a thing until we received our certificate in the mail as Shalom and YHM took care of everything.

We had so many people tell us how much they loved the ceremony and the way Shalom told our story and we couldn't have agreed more! She not only made us feel calm and excited about the ceremony (in the lead-up, at the rehearsal, and during the big day itself) but made the entire experience feel so smooth, letting us just focus on taking in the moment. Our ceremony was happy, quick (we wanted short and sweet), and with the perfect combination of laughter and beautiful "aww" moments. We can't thank Shalom enough for the work she put into our day and for the absolutely wonderful delivery of our ceremony. It was everything we wanted and more!

Booking with Young Hip and Married was super easy. Rebecca was very communicative and responded to my million questions prior to booking. On the day of, Shalom was a joy to work with! We were running a bit behind schedule but Shalom made me feel relaxed and calm when the ceremony kicked off. Her script was perfect for our micro ceremony and it was exactly what we wanted for a wedding.

We were so fortunate to have Shalom marry us. Working with her and Young Hip & Married made eloping in another province a breeze. Shalom was flexible and patient with us which made our wedding day stress free and relaxing. We are so appreciative of that! She is so kind, and has the biggest heart. Her words during the ceremony were meaningful and heartfelt. We would highly recommend YH&M and Shalom for your upcoming wedding!

My husband and I worked with Shalom and feel like we could not have had a better experience! Right from the beginning, the Young Hip and Married team brought incredible communication and set us up with an officiant who would be a great match, sensitive to our needs. Shalom created a custom ceremony that highlighted our story and shared our love perfectly. Thanks for being part of our perfect day!

My husband and I just used this company for our recent wedding ceremony. From the start they were very engaged with us and geared our package to what our specific needs and vision were. We were set up with a lovely lady named Shalom, who took the time to ask us (via email) a bunch of specific Qs about our vision and family, etc – and then sent us script drafts for us to review and make any changes as we saw fit. We were able to make small modifications and decided to write our own vows, but we could have just went with the script she had sent as is, if we chose, it was already wonderful, and gave several vow options. Shalom was kind, sincere and very professional. She made our intimate wedding feel special without being too formal or boring. We couldn't have asked for more. Thank you Shalom! Highly recommend.

Thank you for your warm, calm energy and eloquent words, Shalom! You were perfect!