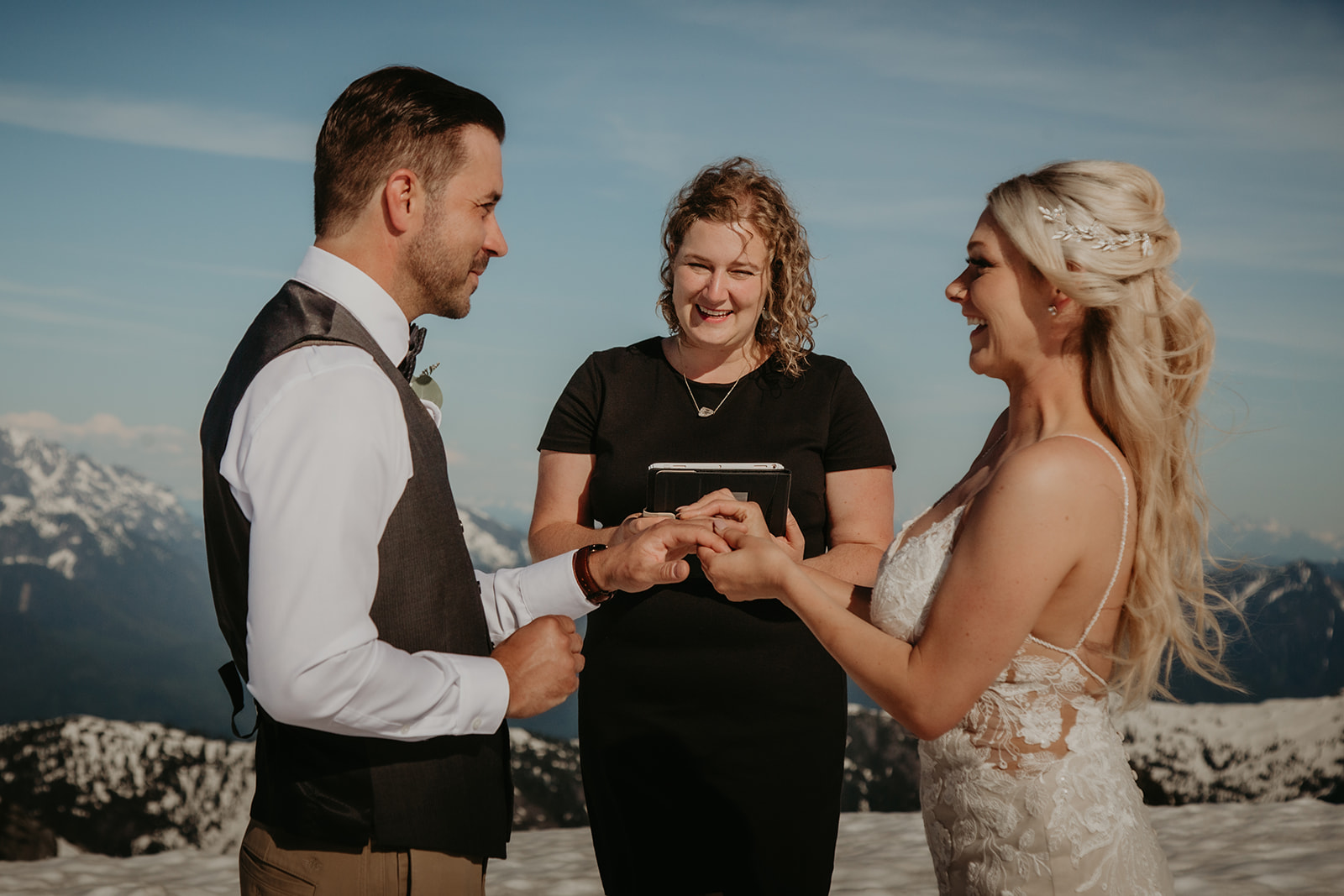 A wedding is all about celebrating your partnership and who you are as a couple. It's a wonderful opportunity to share snippets of your story and include meaningful traditions to create a day you'll look back on with fondness. 
As a social worker, I get to learn about people and hear their stories. I've also found a passion for facilitating special events and holding space for the sacred, the beautiful, and the profound. Wedding officiating allows me to draw on my social work skills to get to know your story and craft a ceremony that reflects who you are and what you care about.
In addition to an officiant and a social worker, I'm also a harpist and am training in harp therapy. In my downtime, I love to explore local parks and beaches with my two young boys and hike through BC's forests with friends. Or if the weather is bad, you'll find me inside with a cup of tea and my watercolour paints. 
I've learned that for marriage to be healthy and happy, it truly needs to be a partnership where each person supports, values, cherishes, and seeks to understand the other. My wish for you as you enter your marriage is a lifelong partnership filled with love, mutual support, understanding, plenty of laughter, thoughtfulness, and a few silly surprises to keep things interesting.
I love connecting with people and discovering the beauty and uniqueness of their stories. I can't wait to work with you to create a ceremony that reflects your story, values, and essence as you enter your marriage together.
I am also bilingual and would be happy to officiate your wedding in English or Spanish.
Thank you again for being part of our special day. You're the Gandalf to our Bagginses, setting us off on our great journey!

Thank you so much for being our wonderful officiant! We had such a wonderful wedding and celebration.

Booking with Young Hip and Married was super easy. Rebecca was very communicative and responded to my million questions prior to booking. On the day of, Shalom was a joy to work with! We were running a bit behind schedule but Shalom made me feel relaxed and calm when the ceremony kicked off. Her script was perfect for our micro ceremony and it was exactly what we wanted for a wedding.

We wanted to thank you for doing an amazing job with the ceremony! We couldn't have been happier with how it turned out.

Photos by Tomasz Wagner Photography

Thank you for your warm, calm energy and eloquent words, Shalom! You were perfect!

We were so fortunate to have Shalom marry us. Working with her and Young Hip & Married made eloping in another province a breeze. Shalom was flexible and patient with us which made our wedding day stress free and relaxing. We are so appreciative of that! She is so kind, and has the biggest heart. Her words during the ceremony were meaningful and heartfelt. We would highly recommend YH&M and Shalom for your upcoming wedding!

My husband and I worked with Shalom and feel like we could not have had a better experience! Right from the beginning, the Young Hip and Married team brought incredible communication and set us up with an officiant who would be a great match, sensitive to our needs. Shalom created a custom ceremony that highlighted our story and shared our love perfectly. Thanks for being part of our perfect day!

I thought Shalom was lovely and easy to work with. She was very responsive and did a great job telling the couple's story. She was very warm and friendly and chatting with the guests beforehand. The ceremony was charming and personal. She did a great job!

Margot Bower, Petite Pearl Events

You are an awesomely awesome person to work with! You made our day special and we will be happy to share this with another people!