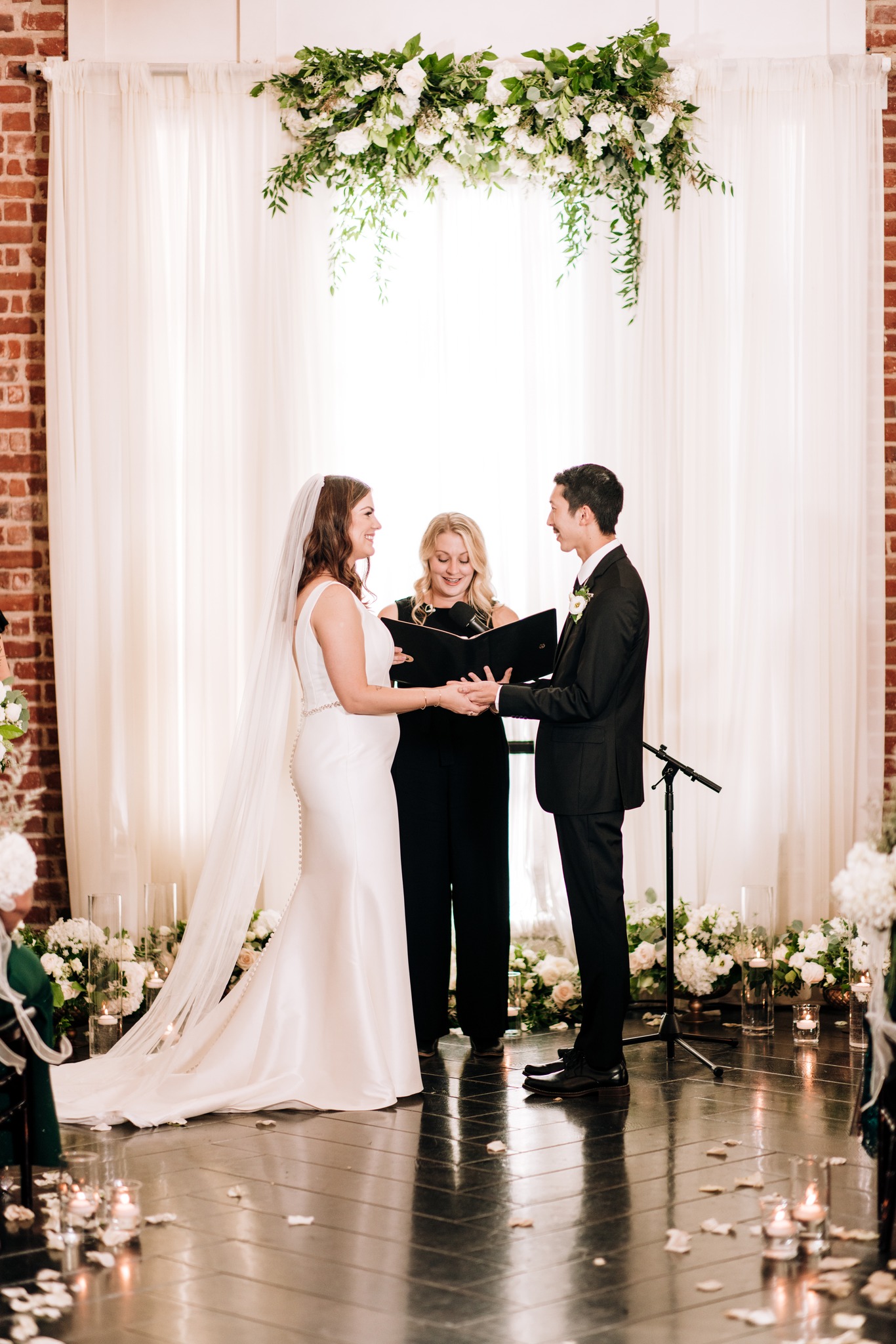 I believe that a wedding ceremony should capture the magic of each individual couple. Meeting couples and crafting ceremonies that reflect who they are is a joy and an honour.
I'm a writer at heart, and when one of my best friends asked me to perform her wedding ceremony a few summers back, all I could think was—this is my "words" Olympics! Crafting just the right words to capture the love story I had witnessed unfold from the very beginning was a sacred task I delighted in every minute of.
My favourite part of the wedding ceremony is when the couple first locks eyes as one walks down the aisle. The look they exchange is always unique to the couple — like they are communicating whole paragraphs without saying a word.
When I'm not officiating weddings, I work for a non-profit that helps stabilize vulnerable families. Outside of that, you can find me scoping out the newest local coffee shop, planning a friend's birthday party (I love going big on party planning) or spending time with my family in Oregon's wine country.
I enjoy helping couples stay present in the process of wedding planning. Staying true to yourself and your relationship is the most important thing.
I look forward to meeting you and working with you to create a ceremony that captures the magic of who you two are—where you started, who you are now, and the life you envision together. I'd love to grab a cup of coffee & hear your story!
They are amazing! Very responsive and organized even when we changed the event location a couple weeks before the date they still made it work. Sarah our officiant was amazing! She was excited and so genuinely happy for us. She was up for going down on the rocks for the ceremony with the waves splashing up and was so excited for us. She was amazing!! I definitely recommend her and the company for your services. We couldn't be happier!

Sarah was fabulous! She was fun and excited to be there. She was up for going in the rocks to help us get married! She did a fantastic job and was very reasonable when we had to make a last minute change! Definitely recommend!

We were beyond pleased to work with Young, Hip & Married. We had less than two weeks to find an officiant for our small elopement ceremony. Sarah came out on our wedding day and did a wonderful job. She was so warm and friendly. I highly recommend!

My partner and I planned our wedding to be very non-traditional with lots of personal touches, and we wanted our ceremony to reflect that as well. Sarah understood our vision from the start and worked closely with us to create something we loved. From totally delivering on our request of "we want this section to have feel-good, funny vibes" to working in a math joke during the ring exchange or incorporating our favorite movie quote, she delivered a ceremony that was personal, memorable, and totally unique to us. Our guests couldn't stop gushing about how it was "the most fun wedding ceremony ever!"

She also ran our ceremony rehearsal and blew us away there too! We had almost 30 people involved in our ceremony, and she was able to organize and direct everyone so seamlessly that we managed to make it through the run-through twice in one hour (with time to spare).

On top of being amazing professionally, Sarah is incredibly kind. She brought such genuine warmth and joy to our day—the perfect embodiment of the love we felt for each other!

I can't recommend Young Hip & Married highly enough! They'll deliver a stress-free, highly personal day that is filled with love down to the tiniest detail.

"Sarah is personable and easy to work with. She is articulate, intelligent, and quick-witted. She sat down with us a few months before our wedding to learn more about us so that she could capture "us" in the ceremony, which she did perfectly. She wrote and performed a beautiful ceremony that fit us and our wishes (and all in 30 minutes!) We have gotten so many compliments from family and friends about how beautiful and moving our ceremony was, and this was all thanks to Sarah's careful planning and execution. Sarah made the ceremony about us, but maintained a commanding and professional presence and we highly recommend her."

Sarah at YH&M was great! She made the stressful part of the wedding so easy!

We contracted with YH&M for our 11/12 wedding in Portland, and were assigned Sarah as our officiant. Sarah was warm, friendly, and so on top of everything from our first meeting with her, and we absolutely loved working with her! She responded to any questions we had super quickly, kept us on track by scheduling meetings at mid-way points to go over the ceremony, and was so patient with our indecision on some elements. Sarah also came to our rehearsal the day before the wedding in the rain and was still smiling and so positive about the whole thing, and helped make sure everything went smoothly.

The day of, the personalized vows she wrote were perfect- she paid so much attention to what we'd told her about ourselves and our values, and our friends and family can't stop talking about the ceremony and most of them cried, haha. We'll never forget it, and we're so grateful to Sarah! We'd give our highest recommendations to Sarah and to Young Hip and Married.