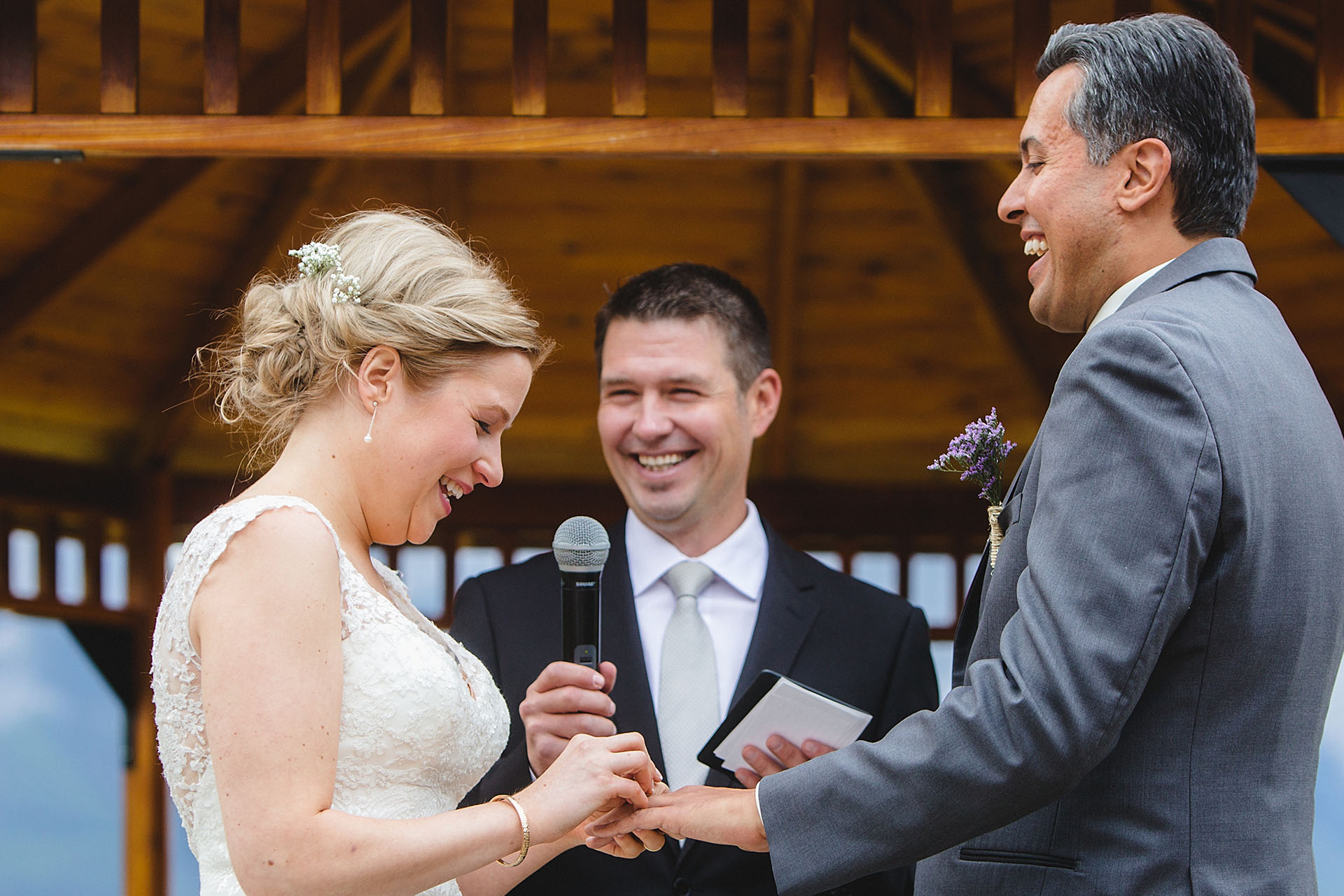 I've been officiating weddings for over ten years and I love it.
I've been married to my junior high sweetheart for 21 years. We've lived and raised our two kids (now teenagers) in Calgary, Vancouver, Los Angeles, and now we're back in Calgary. We're enjoying our story and all the stories that make it up.
Each of our stories are different and have great beauty. For me, it's a huge privilege to come alongside the story of a couple preparing to get married. This chapter of your story is a great one. It would be a joy for me to help draw out your best in creating and enjoying your wedding ceremony.
Testimonials
Rich – what an absolutely awesome officiant to work with – he was funny, bright and wasn't put off when we sent him to the wrong spot on Scottsman's hill! Rich is through Young Hip & Married, they were great to work with, have tons of options for officiants! They were in constant contact with us, making sure that the ceremony Rich did was exactly what we wanted.

We used Young Hip & Married for our wedding in September. We were so happy with the way they could customize our ceremony to be EXACTLY what we wanted and nothing we didn't! They wanted to know about us as a couple, how did we meet, big adventures we had been on together and what words we would use to sum up our relationship. Then from there they put together exactly what we wanted for our special day! It was amazing! I highly reccomend Young Hip & Married.

We had an idea of location and time but it just wasn't working with the vendors they had available (or to have them travel to us was very expensive). Instead of giving up after a lot of email back and forth, they offered an alternative that worked perfectly! We were matched to an officiant and a photographer who made sure our wedding was exactly what we wanted! We were originally supposed to get married in April 2020, but had to postpone due to COVID. Throughout a very difficult time for a lot of vendors and couples, they remained professional and made sure we had options and eventually had our perfect wedding, exactly how we wanted it. The patience, quick response time, options available, and overall attitude towards weddings and marriage made the experience for us super easy and fun. I've recommended them to everyone I know who is getting married!

We wanted to say thank you so much for your help and patience.

We had a great experience with Young Hip & Married and especially with you, Rich!

Rich, you were an awesome officiant for us and did such a great ceremony! We really enjoyed every second of it. You found great words even though we didn't really know each other. But it was just perfect! We just couldn't have had a better day.

Personable, friendly and exactly what we were looking for! We absolutely loved working with the YH&M team. Rich was also incredible, making sure that the ceremony truly reflected our individual style and exactly what we wanted. He was personable and lovely to work with. I would highly recommend working with Rich and the team!

We had Rich as our officiant and I absolutely love how smooth our ceremony went. He is very flexible. The YH&M team are very accommodating with all of my inquiries from beginning to end. Rich also gave us a what I would say a quick lesson on the do's in a ceremony and also gave us freedom to play around with how we want things to go down. From wedding vows to my desire to walk into an aisle even if it's just an elopement. I would love to have them again in my renewal of vows!

Rich was fantastic! My husband and I wanted our wedding to be as low key as possible and Young Hip & Married did exactly that! Thank you so much for making a normally pretty hectic day so stress free!!! I 100% would recommend Young Hip & Married!!!!

We were married by Rich for our Canmore wedding and we really enjoyed getting to know him. He helped us write a ceremony that was exactly what we wanted, was personable, professional and timely. We're so glad we went with Young Hip & Married.

Young Hip & Married made this process so incredibly easy. They found the perfect person for us! Rich officiated our wedding on October 1st and he was an absolute pleasure to work with! He really listened to what we wanted/needed. Thank you again 🙂

Great service! Officiant Rich was very attentive, understanding and professional. Highly recommended!

We had a small wedding ceremony in Calgary, and it was a great experience. Rich was our officiant and he was really helpful throughout the whole process. We had a phone conversation early on and he made sure I had all the information needed. The ceremony was quick and easy, and tailored to us. Young, Hip & Married was simple, affordable, and our officiant was easy-going, but still professional.

Rich is an amazing speaker who brought to life the nature of our relationship through the wedding ceremony. He took the time to get to know us and what we wanted for our ceremony, from there he guided us through the details of this process. His response time to any of our questions was valued as this was an event we planned in 5 weeks. He arrived to our wedding day dressed extremely well. The energy he brought through the planning process all the way through to the end of the ceremony balanced for both of us- and our nerves. His approach to wedding ceremony fit wonderfully for us. We are grateful to have met him for our special moment.

The Young Hip and Married team are a group of professionals who were clear and transparent about what their services are and what their contracts look like. No fine print. Super great to work with as well. Without this team we would have never met Rich- we can't say enough great things about him.

100% Recommend! They have all sorts of packages to suit everyone. They suggested the most amazing photographer- Bree Lion who we adore!!!! The celebrant who they picked for us was the nicest guy and who made us feel so comfortable. We are so happy with how everything went! Wouldn't have changed a thing!

We got connected with Rich through YH&M and we could not have asked for a more fun and awesome person to officiate our wedding. He had some amazing ideas for our ceremony, as we wanted to keep it really casual, but also wanted something a bit different, and he delivered exactly that, coming up with some amazing and out of the box ideas for our short ceremony. Even our wedding coordinator made a point of calling me the day after the wedding and commenting on how amazing of a job she felt Rich did, as it was her first time working with him. He also was extremely flexible and rolled with the punches when my husband and I FORGOT OUR MARRIAGE LICENCE AT THE HOTEL. Luckily, he stuck around after the ceremony while someone ran to grab it for us. Rich helped make our wedding day so amazingly special, and we would not hesitate to ask him to officiate again if we could do it all over.

Young Hip & Married is so awesome. Rich was adorable, kind, accepting, flexible, accommodating, charming. We were trying to plan a wedding from another province and communicated with him mostly through email and Skype. We gave him a jumbled up, poorly articulated description of what we thought we wanted, and he somehow transformed that into a ceremony that was so us. Our families come from very different faiths and cultural backgrounds, and Rich somehow found a way to make a seamless ceremony that left everyone satisfied and impressed.