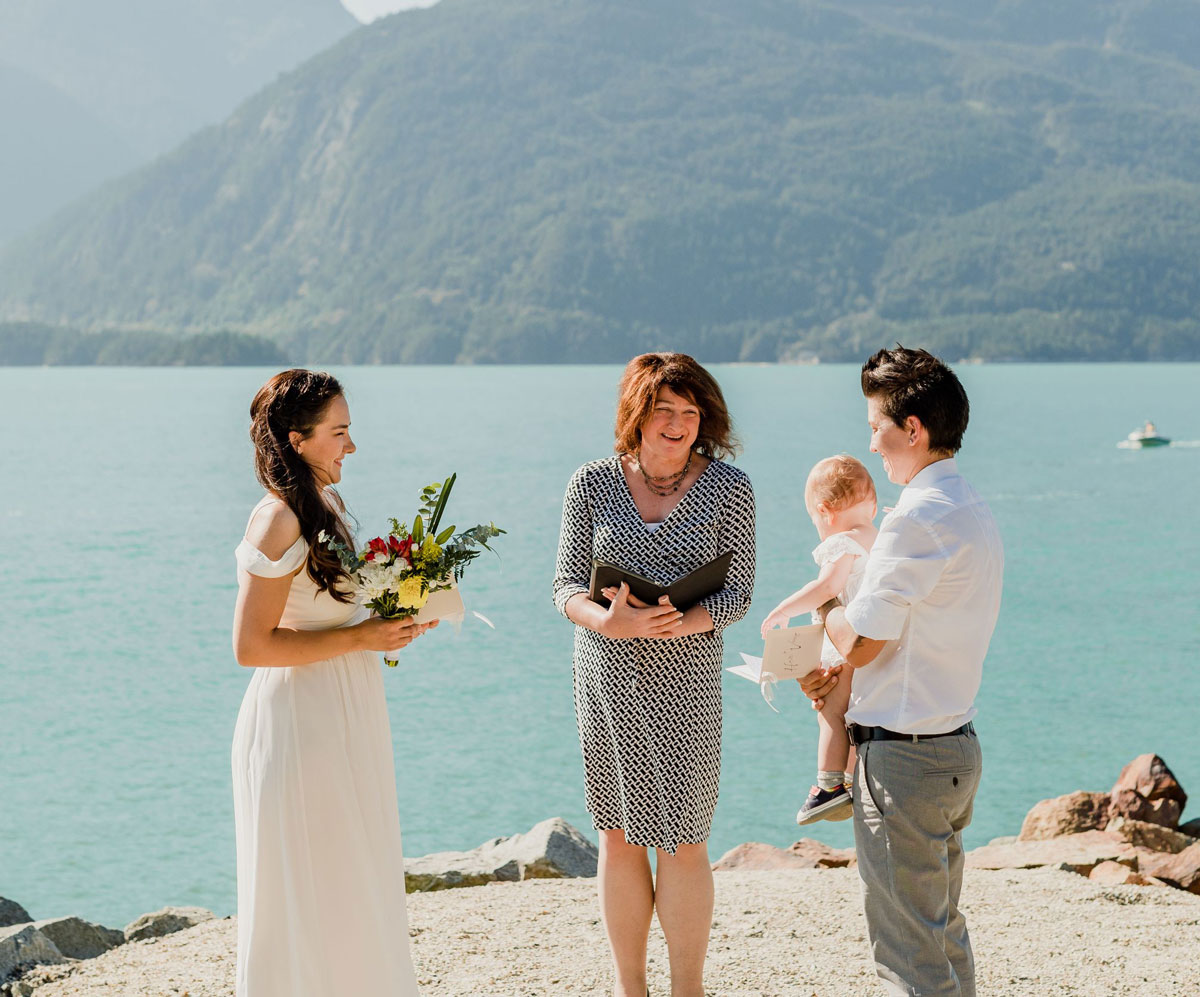 To be able to take part in a ceremony that truly reflects your story and that is from the heart from start to finish is something incredibly unique. I want to help deliver that extra special experience for you because you're worth it!
I first got into wedding officiating through church leadership positions. Caring for people, encouraging and holding space with them in vulnerable moments is a calling I take with great honour and responsibility. Weddings are my favourite! Meeting with couples and celebrating love is always inspiring.
When I'm not officiating, you can find me working as a Medical Secretary at Vancouver General Hospital. I'm also beginning studies to get my Master's of Divinity. Outside of work, I enjoy volunteering, going to the theatre and horseback riding. I also love spending time with my partner of over ten years. We have been through a lot in our ten years together (including my own gender transition) and it is our shared beliefs and values that have got us to where we are today – more in love than we ever have been.
For couples getting married, I wish that your vision for your special day comes to life and that you find the moments to breathe and soak it all in. In marriage, my wish for you is that you always invest in your relationship. Communicate, date and always remember why you fell in love with your spouse.
Officiating encompasses so many things I genuinely love doing – meeting people, writing, making an impact in someone's life at just the right moment, and leaving people feeling heard, seen and valued. It's how I conduct weddings. It's how I conduct my life. And I can't wait to grow on that journey with you.
Testimonials
Thank you Lauren for officiating our wedding. You exceeded our expectations. The ceremony and your words are full of love and sincerity. We are so blessed to have met you.

Lauren was an absolutely fantastic officiant for our special day! We honestly couldn't have been more pleased. Her words felt so authentic and from the heart and her demeanour was so calming and yet excited at the same time….the perfect balance!

My husband and I used Young Hip & Married to find Lauren for our elopement in August this year. We had the easiest lead up to the wedding day! She helped us find vows to choose from and was so easy going after a few location changes on the day prior. She put together the most beautiful ceremony that was so fitting for our easy going day! We couldn't be happier and would recommend Lauren and YH&M to anyone!

My wife and I got married in February, having a small, intimate COVID safe ceremony at our recording studio. As a queer couple, we wanted to find an officiant for the wedding who understood our experience in the world and who could grasp our views and feelings surrounding marriage, and how we wanted our day to look. We found YH&M online, and heard back within a day – right away they recommended one of their officiants, Lauren, to us – who we then had an opportunity to meet with over Zoom. We chatted for a solid hour and had a wonderful time getting to know Lauren, and felt right away that she understood who we are and what's important to us. We connected right away! We had a "chosen officiant" to host the wedding, so Lauren was simply attending as the legal commissioner/witness to sign off on our paperwork – but her incredible presence added so much to our big day. She is so kind, thoughtful and wonderful to be around. I would recommend Lauren, and Young Hip & Married's services to any other couples out there looking for officiant/commissioners right now. They are wonderful to work with, and lovely compassionate folks. Thanks for making our day so wonderful!

Lauren was so wonderful officiating our wedding. Her words during our ceremony were fantastic, we were so lucky to have had her part of our wedding!

Simply put, we had an amazing experience with Young Hip & Married. Communication between the team was fantastic and our officiant Lauren was there to answer any and all questions we had. Even when we wanted to make changes, she was super willing, with no hassle, as we went and we couldn't have been any happier with the love and service we received. During these strange times of COVID some people tend to put a little less effort into making connections but not YH&M. Would absolutely recommend if you're looking for people who have your best interest at heart. If we could get married again, I'd choose them no questions.

We really could not have been happier with our experience with Young Hip and Married. They matched us up with the most wonderful, warm, loving officiant in Lauren. We can't say enough about her except that she was meant to do that job! Our elopement couldn't have been any better.

They are so kind and we (from Japan) were relieved. The officiant also readily changed the shipping address of the certificate. We had a superb wedding with Young Hip & Married.

Thank you very much, Lauren. You made us feel welcome and your warm, friendly professionalism made things easy. So nice to see you again, and to have you be part of this important day in our lives. Thanks again for everything!

Lauren was amazing was all that we wanted and more. Lauren wrote our ceremony and gave us the best day; all our guests loved her and expressed how friendly she was. We would do it all again!

A HUGE thank you from Eli and I for making our day better than we could ever have imagined. You nailed the ceremony and our love for each other, and were such a joy to work with.

Couldn't have asked for anyone better to have made our marriage official. Thank you so much.

We are deeply grateful for the beautiful ceremony that you gave us and for the lovely way that you connected with my family. It was such a special evening.

The decision to do the official ceremony with you before our party next year was so spontaneous that neither of us really knew what to expect. We both felt very honoured by how seriously you took us and surprised by how emotional we became upon hearing your beautiful speech. Even though we barely know one another, you managed to capture the way that we feel about one another perfectly. Neither of us will forget you or that evening.

Truly, anybody who has the chance to be married by you is a lucky person!

We sent in a request for more information and within 24 hours, received a personalized video. They introduced themselves, congratulated us, and answered our questions. By the next day, they had arranged for an officiant on our special day. We were sent the details of what our ceremony would look like. Lauren showed up early even though traffic was a nightmare. She brought formal shoes and sneakers to help her on the trails in Lighthouse Park. She made us feel comfortable and shared a few laughs with us. We found her to be just delightful. We were glad that we choose YHM and would definitely recommend them to all of our friends as they approach their own weddings.

After 21 years we decided to tie the knot. We didn't want all the fuss of a big wedding and simply needed a commissioner to facilitate the ceremony. Young, Hip, & Married introduced us to Lauren Kirby who couldn't have been more perfect. She met with us prior to the big day get to know us and learn our story. My partner and I had opted not to exchange vows — it's not our style and after 21 years together we didn't feel any words were needed. That said, as our commissioner, Lauren spoke so eloquently during our ceremony. She skillfully wove our love story into the ceremony and was personal and authentic. We felt that she understood us and reflected that perfectly in our ceremony. Thank you, Lauren!

Best day ever! Young Hip and Married made everything so easy, and were very professional. Our wedding day was so much fun. Lauren and Erica were the best. I would highly recommend YH&M and the helicopter elopement to anybody wanting to elope!

I cannot say enough good things about our officiant, Lauren! We had to make many changes to our wedding amidst the Covid-19 pandemic and Lauren (and the rest of the YH&M team) were incredibly supportive and flexible. We had a zoom meeting with Lauren to introduce ourselves and ended up sharing many laughs, feeling even MORE excited about our upcoming nuptials, and like we had known her for years. She has a genuine approach, great energy, and we felt she totally had our back every step of the way. We had so many complements from our guests in regards to Lauren – she was the cherry on top for our perfect day. Thank you YH&M for linking us with Lauren; she's an 11/10! xoxoxo Lisa & Darryl

My husband & I would like to thank Young Hip & Married for their outstanding service for our special day. Right from the start, we felt they went the extra mile to make us feel welcomed, cared for, and they answered all our questions and concerns.. Once we found our photographer and officiant, our communication with both was wonderful.. their sweet, caring personalities set some of our concerns at ease.. closer to wedding date our original venue was no longer an option, and being that neither of us lived in the Vancouver area. We were able to speak with both officiant and photographer and get some input on a secondary location that worked out wonderfully. Our wedding day ended up being chilly and colder than expected, but the love and care both Lauren & Brit brought with them helped make our special day much more special.. We are happy with the service we received and would definitely recommend Young Hip & Married to everyone.

Thank you YH&M, and a huge thank you especially to Lauren & Brit for their excellent service. Our wedding day is a day we will remember for a life time and we are so glad we got to have you apart of our day!

Thank you once again, Tyler & Ardee