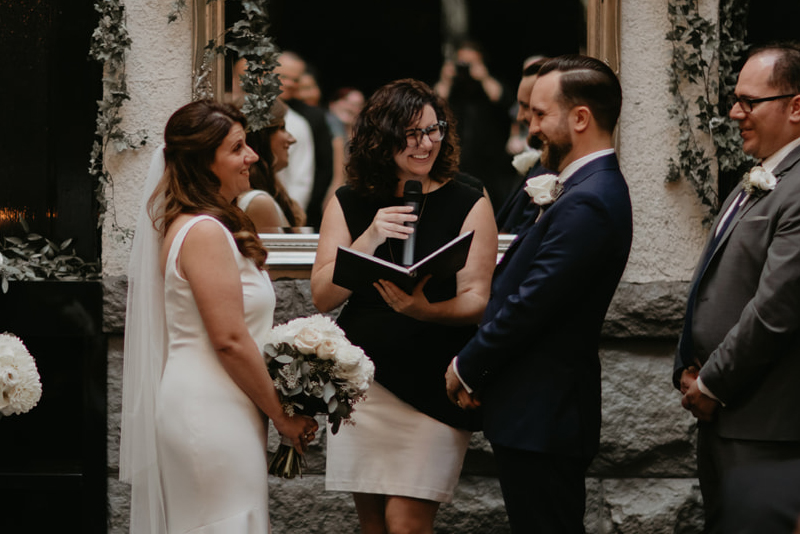 I believe we are our best selves when love is at the centre. This is why officiating weddings is so special to me.
Whether your wedding happens in a forest, on a beach, in a church, a hotel or in your own backyard—it's one of the most important moments of your life, and love truly is at the centre of it. I can't wait to hear your story: how you met, what challenges you've faced, your proudest moments and of course how you got engaged. Together, we'll create a ceremony that is just right and truly reflects your flavour, your story and your commitment to each other.
I'm a prairie girl that moved to Vancouver over 6 years ago. I am passionate about adventure, engaging the community around me, recycling, riding my bicycle and taking pictures. Oh and eating good food—I just can't get enough of it. 🙂
I can't wait to meet you and help you create a wedding ceremony that truly reflects who you are.
Sarah & Billy // Vancouver Convention Centre, Videography by Hera Studios
Ashley & Jonathan // Painted Rock Vineyard 16mm Wedding Film, Videography by Jody Hill
Testimonials
After 21 years of being together, Lani Brun and Erica Miller helped us make it happen, with their friendliness, professionalism, and Love for Love. Our elopement was relaxing, fun and everything we wanted in a ceremony and a great photographer. Thank you Young Hip & Married for making it so easy and FUN!

My husband was the groomsman at a friend's wedding where Lani from Young Hip & Married was the officiant. He enjoyed the ceremony so much that he insisted we go with them for our wedding ceremony. When we met with Lani, I can see why he enjoyed it so much – Lani got to know us well, and tried to incorporate our personalities, hobbies/interests into our ceremony. During our actual ceremony, she had the audience engaged, and laced together words and quotes that described us into the ceremony proceedings – to audience members, it seemed like she knew us well like good friends. It was relaxed, non-traditional, but yet still touching – I was crying before we even got to the vows! Many of our friends and family said it was the best ceremony they've ever been to – so if you're looking for a personalized, not boring, and non-traditional ceremony, you've found the right people! They also offer premarital coaching to hone communication skills to set you up in the right steps.

YH&M were a pleasure to deal with and ensured our special day was seamless from beginning to end. They assisted with all the planning right up to THE day, communicating well, managing all the details, and Jackie-Deane ensured my fairytale came true!! The whole experience was extremely professional, kind and the execution was seamless! Definitely recommend YH&M!

We had a wonderful experience with Young Hip & Married. The officiant who we chose, Lani, did an amazing job ensuring that our ceremony was perfect for us. She was caring and personable and her enthusiasm was infectious. She really went above and beyond everything we expected!

We had Lani perform our ceremony at Estate 248 (with Pop Up Weddings) back on Sept 24th and she was AMAZING!! ! It was honestly one of the best parts of the day. We had so many people comment on how it was the best ceremonies they had ever been part of and it was as if she had known us for years! It was so thoughtful and mindful and fit us so perfectly! Everyone felt connected which was so important to us. Her funny, friendly and upbeat personality made everyone so relaxed and comfortable. My dad kept going on about how great she was haha. It was a perfect mix of fun and formal. She created such a relaxed environment that she made doing our vows (which we were both nervous about) easy! We couldn't possibly thank her enough!

We wanted our ceremony to be a memorable part of the wedding for both us and our guests. Lani from YH&M was spectacular! She understood our personalities and through the ceremony was able to set the tone for the rest of our wedding. Our day was joyous and fun, and Lani played a huge role in creating this mood. We cannot thank her enough. 10/10 would recommend her.

Every single person who attended our wedding took the time to personally tell us what a wonderful job our officiant did. Our guests (and us) were blown away with how eloquently and effortlessly Lani captured our personalities, our story and our love. From the first day we met Lani she was exceptionally professional, friendly and completely accommodating to any requests we had along the way. We are so grateful to Lani for helping give us a wedding ceremony that we will forever cherish!

We worked with Lani – she was beyond amazing. Hilarious, extremely warm and kind; we couldn't have wished for a better officiant. She was excellent at listening to our story and writing a beautiful version for the ceremony. She also was fantastic at wrangling the wedding party in a fun and easy going way. Grateful for her and highly recommend using her for your special day!

Lani made our wedding extra special. In fact we would not have been able to get married without her. All we knew was that we were in love and wanted to get married in a park. She helped us have a wedding more amazing than we could have ever imagined.

Lani officiated our wedding and is absolutely amazing! Many of our guests thought she was a friend of ours because she is so warm and personable. Would definitely recommend!!

Over and above all my expectations. They were able to answer all of my questions and helped us to make a truly unique and personal wedding experience. We loved the entire experience with YH&M and I have recommended them to many of my friends.

Lani, we just wanted to send you a note to say thank you from the bottom of our hearts for being a part of our absolutely perfect day. Our ceremony would not have been what it was without your direction and influence, and we are so so SO happy with how it all came together. We knew when we met you that your attitude and all-around joyful personality would make you the perfect person to marry us, and we were so right.

Our wedding party has been gushing about you since the rehearsal, and SO many people have told us it was the most beautiful and funny ceremony they've ever witnessed. THANK YOU SO MUCH! You helped make our wedding everything we could have dreamed and more.

Endless thank-yous, especially for doing this on your birthday.

We could not have asked for more for our elopement. Even with very short notice, Lani was able to accommodate us and adjust for a date change 1 week out! Even though it was an elopement, Lani was able to provide a personal touch that made us feel extra special. At the end of the day having Lani as our Officiant felt like it was meant to be.

We were very happy with the job Lani did at our ceremony and we highly recommend her. We wanted a mix of traditional and non-traditional, but we didn't really know what else we wanted and Lani had lots of suggestions and helped us make it happen. Because we live out of town, we didn't meet Lani in person until our rehearsal but right away it was obvious she knew what she was doing. She was the right mix of fun and professional. And after talking with our family and friends, all our guest seemed to agree.

We had the best experience with Young Hip and Married. Our officiant, Lani, was a perfect fit for us! She met with us early on to get to know us and to understand our vision for the ceremony. She was incredibly enthusiastic and accommodating to our adjustments and plan. She went through everything at the rehearsal (expect our surprise vows to each other, of course!) and trouble-shooted all potential problems so that on the day of our ceremony everything was absolutely perfect. She made us both feel at ease and was just a pleasure to work with! I highly recommend her!!!

Amazing experience from start to finish. Lani was our officiant and did an outstanding job! I cannot stress how amazing she is – incredibly professional and the ceremony was beyond what we could've hoped or imagined! Each and every one of our guests commented on what an amazing ceremony it was; how it was both serious and very personal and fun. A lot of them said it was the best ceremony they have ever attended.

Getting married abroad seemed a daunting task but Lani pretty much guided us through the entire process ahead of the wedding, held our hands (metaphorically) in making the big decisions, and left us feeling entirely confident for the big day – and all this from the other side of the Atlantic. The day was everything we hoped it would be; a relaxed affair with 20 of our closest friends and family in Downtown. Lani captured the atmosphere perfectly and all of our guests commented on how "us" (not sure whether that was meant as a compliment for us or not!) the ceremony was, which at the end of the day is exactly what every couple wants; something that reflects who we are as a couple. We would definitely recommend YH&M and Lani in particular to anyone, and would certainly use their services again….o no….wait….

From the bottom of our hearts, we want to send you the biggest thank you in the world for making our ceremony so special, so loving and so thoughtful. Afterwards, people were asking if you were our friend, how long we've known you, where did we find you and on and on the compliments went. Thank you so much. You made it a blissful and perfect experience.

We had Lani as our officiant and couldn't have been happier. She walked us through the process over coffee, taking lots of our input along the way and asking lots of questions about our story. Having her at our rehearsal was a huge help; I don't think we would have gotten half as organized without her. On the day itself, she was professional, funny, and engaging – our guests loved her as much as we did. Thank you Lani and YHM!

We would highly recommend Young Hip & Married. Our friends booked with them and we did too. Lani was our wedding officiant and she did an amazing job. When we met her, we really liked her warm personality and she had a lot of ideas for the ceremony which helped make it more special. She was very organized during the wedding rehearsal which made everything go smoothly & we all had a lot of fun. Also, on the wedding day everyone was commenting how great she was. Thank you again Lani!!! : )

Young Hip and Married kicked off our wedding day and really made it a special ceremony. Throughout the entire process the team communicated with us frequently to ensure that they really captured our love story. During the ceremony our guests were so engaged, they shared tears, along with big belly laughs. After the ceremony we have had so many of our guests comment on how great our officiant was and they haven't experienced a ceremony like this before. We are so happy with the service we received from YH&M and would highly recommend their company.

Throughout the process of arranging our elopement style wedding Lani was incredibly helpful, responsive and accommodating. We didn't meet her in person until the wedding day, but it was like we had known her for a long time. She was incredibly approachable, friendly and easygoing—exactly what we needed. We had our wedding in a public place where we had to navigate some crowds, aim for good weather, and walk some trails to get to the ceremony location. I was really worried about having an officiant that would be difficult to work with in this type of setting. Lani was the exact opposite. She was excited with how we were doing our ceremony and was helping organize the crowds and setting. In the ceremony itself, she nailed it! I have, and will continue to, recommend Lani to any of my friends.

Lani did a phenomenal job officiating our wedding ceremony! Would recommend her for anyone that would like to really personalize your ceremony and make it your own.

We are from out of town and Lani made everything so easy for us and graciously answered all of our questions. When we met Lani, we instantly felt comfortable and knew we were in good hands. Everything went smoothly (and with some fun laughs!) and we were impressed with the connection she made with us, even though we did a smaller elopement ceremony. A big thank you to Lani and Young Hip & Married for making our day so beautiful.

We had an issue with our original officiant not receiving our deposit and subsequently being booked. Young Hip & Married were able to book us in with relatively little notice and Lani our officiant was awesome. She met with both of us to get both our stories and viewpoints and customized our ceremony to fit exactly what we were looking for. Even though they were more expensive – Couldn't recommend them more!

Young Hip and Married made everything so easy for us and they are so flexible and understanding with the needs that we had for our wedding. They made sure every detail was perfect; they provided us with a list of people for the things that we needed to help us see who we felt more comfortable with, who was sending us the vibe that we wanted for our elopement and of course all them very professional. They made sure that the vision we had for our wedding came true, always keeping up to date with everything. During the pandemic, they made it so much easier by being extremely comprehensive with the situation and managed to give us that beautiful experience with all the precautions, keeping us and everyone involved safe. The team that worked with us was so amazing, had the energy we were looking for, very enthusiastic on the adventure that we planned and very happy to share it with us. We had the experience working with them and so extremely thankful for making our day so special and amazing.

Initially in the deer in headlights phase of planning my wedding, I didn't give a great deal of thought to who our officiant would be. Nor honestly did I think much about the words that person would say before our friends and family, though words are very important to me. Our wonderful wedding planner encouraged us to look into Young Hip & Married though, and I'm so grateful that she did. The sample ceremonies on their website had me absolutely touched and we soon connected with Lani.

From the very first (zoom) meeting she was warm and delightful and engaged. In our wedding prep meeting she listened actively to our whole love story. She guided us through the process of preparing our ceremony and gave us tons of options to customize it to fit us. From the broad strokes of the structure of the ceremony and mood to the micro details of her script. At the rehearsal she wrangled our highly distractable wedding party with skill. At the wedding she inspired laughter and tears in all the best ways.

Lani and Young Hip and Married helped absolutely make our day. If you're considering working with them, absolutely pounce on that opportunity.

Had an amazing experience with young, hip and married. Could not recommend them enough! Lani was our officiant and she made our ceremony so personalized to us as a couple. We absolutely loved her.

We booked Lani for our wedding this June and she did an amazing job of putting together a ceremony for us that made everyone attending feel involved, while still making it personal for us. She was extremely accommodating with us, changing her schedule around so that she could attend our wedding rehearsal, and we both found her super fun to work with!

Our amazing officiant was Lani from YH&M. She was so personable and we couldn't imagine such an important day, and milestone in our lives without having her there that day. She catered to all of our requests for our ceremony, offering her opinion when asked and it was nothing short of perfect! Thank you so much Lani and the crew at Young Hip & Married for the most perfect day ever.

Young Hip & Married offers you a choice of officiants and you are able to watch videos recorded by each of the officiants to get a feel for them. I loved this because I was really looking for something unique and different and we were SO pleased with our officiant Lani Brunn. I had so many people tell me how wonderful and personal they thought the ceremony was and what an amazing officiant we had. Lani is amazing and such a lovely and genuine person, she is a goddess!!!

We had an excellent experience with Young Hip & Married for our September 2020 wedding! Communication was seamless throughout the planning process, and the team took the time to ensure all of our questions were answered and needs were met. Our officiant, Lani, spent time getting to know us as a couple and wrote us the most beautiful ceremony we could have imagined. It was so perfectly us. She did a fabulous job officiating, and we received so many compliments about the ceremony and her specifically. I would highly recommend Young Hip & Married for anyone who wants a personalized and meaningful ceremony that will truly reflect who you are as a couple!

Lani made our ceremony absolutely spectacular! When we first met Lani, we were instantly drawn to her charm, wit and humor. She is one of the friendliest and funniest people we have ever met. She took the time to meet with us and create our quirky dream ceremony, and when the day came, she sure did deliver! We had so much fun with our ceremony, and it really felt true to us. Many of our guests have said that it was the best ceremony they have ever attended. Choosing Lani as our officiant was the best decision ever. Thank you SO much, Lani, for making our day perfect. We are so grateful to have crossed paths with you.

We had Young Hip & Married help us with our wedding and they did an awesome job. They were very flexible with organizing a safe way to conduct the ceremony, considering the ongoing complications of COVID-19, and were great to deal with throughout the entire process. Can't say enough good things about our officiant, Lani, as well. She delivered on all our requests for the ceremony, from managing the duration of it to noting all the highlights of the relationship we had asked her to. We'll be recommending Lani and the Young Hip & Married group to all our friends getting married in the future. Thanks again!

Our officiant was Lani Brunn and she was amazing. She made us feel comfortable and at ease. She was very organized and meshed well with our parents and bridal party. She kept everyone in check as well. We really appreciated the uniqueness of YHM's style of officiating. They were also very professional and made sure we were happy with whomever we were hiring. I would definitely recommend Lani Brunn at YHM.

Working with Young Hip and Married was such an easy and wonderful experience! We were paired with Lani and I couldn't imagine anyone else as our officiant. She was kind, helpful, and most importantly, was an advocate for us on the day of our wedding, making sure we had everything we needed and that the ceremony was done in a way we were most comfortable with. I'd recommend them to anyone looking for a personal and beautiful wedding ceremony.

Lani was our officiant and she was lovely to work with. She totally understood who we are as a couple, offered some really lovely suggestions for us to include our family in our ceremony, and was an all around delight to be around!

Young Hip and Married was great to work with! Lani was our marriage officiate and even though we did not meet in person prior to the wedding day, she made our ceremony very personal and special. Lani was very authentic when she spoke about commitment and our union. I would totally recommend Young Hip and Married to anyone who wants a unique and awesome experience on their special day! Thank you!

After 14 years and 2 kids, my partner Jason and I decided to get married. We were delighted with Lani Brunn and how sweet and confident she was. We were able to get married with a very small group of friends on Third Beach in Stanley Park on Valentine's Day. Having no family attending, save the one I created with Jason, Lani felt like a big sister, and helped to keep me calm as we ran late waiting for the only woman I would wait for—my mother-in-law, Della. I would highly recommend Young Hip & Married if you've been looking to get married, not just throw a wedding.

We used Young Hip and Married, at the recommendation of our coordinators, and couldn't have been happier with the service we received. We selected the custom ceremony package and Lani as our officiant and she was incredible – warm, friendly, easy to talk to, and made us feel so at ease about the process. We weren't sure if we wanted to do our vows in the ceremony but after a wonderful first meeting with Lani, we decided to move forward with personalized ceremony vows and I'm so glad we did. It made the ceremony so special and Lani made us feel so comfortable as she guided us through. We had many guests comment on how great the ceremony and officiant was. Highly recommend!

We can't say thank you enough to Lani for such a wonderful ceremony and her guidance throughout the process. We had many guests comment on how awesome the ceremony was and that's a testament to Lani! She made us feel so comfortable and I'm so glad she recommended we did our vows in the ceremony. It made it so special.

We had a wonderful wedding experience with Young Hip & Married! Our wedding was exactly what we wanted; our officiant, Lani, was incredible, and made the day so easy and stress-free. The ceremony was beautiful, and so very much us! It was just like Disney…we loved it!

We are so happy we had Young Hip & Married for our wedding! Lani was our officiant and she was beyond amazing! We had a lovely first meeting and she really took the time to get to know us. She helped us with writing our vows and gave us lots of great suggestions for the wedding. The ceremony was unique and really personal, and we wouldn't have changed a thing! We would definitely recommend YH&M to anyone looking for an officiant for their wedding!

Lani did an absolutely fabulous job of our ceremony. Everyone was raving about what a great job she did officiating all night long. We're SO happy we chose her to be our officiant!

Young Hip & Married are amazing! Throughout the entire process they were extremely friendly and professional. We had Lani as our officiant and we cannot say enough positive things about her. Lani has an amazing energy and makes you feel completely comfortable. Lani also has tons of experience and it shows. During the rehearsal, Lani made sure every little detail was discussed… and yes ,you don't have to have that awkward conversation about asking her to move out of the way for your photographer to capture your first kiss as Husband and Wife because she is on it haha! We loved her personalized story and we're over the moon with how the ceremony turned out. It was so refreshing to deal with such an upbeat and friendly professional throughout the wedding planning process. Thank you, Young Hip & Married and Lani!

Our officiant was Lani and she was absolutely amazing!! My husband and I were both nervous about the ceremony but she kept it light and not too serious. She added some humorous moments that seemed to break up the seriousness. I also appreciated when she came up with some ideas (like having people introduce themselves to other they didn't know prior to the ceremony) that were different. She spent a lot of time getting to know us and writing a totally personalized ceremony. I would definitely recommend!

We absolutely adored the entire process of getting married, helped along by Young Hip & Married; specifically by Lani Brunn. Our ceremony was perfect, completely and 100% us, and yet we were surprised by the insight Lani used. She really knew our story. She listened to us and our dreams for our marriage, not only for the ceremony, and what she facilitated was perfect. Thank you for a wonderful experience.

Young Hip & Married was a DREAM to work with! We are beyond happy that we booked them for our Vancouver elopement wedding. As a company, they were personal, authentic, and helpful. They prepped us well before the ceremony and answered any questions we had. We felt heard, seen, and valued through the whole process (which was hardly a process at all – it was easy!).

On top of that, our officiant – Lani Brunn – was absolute magic. She made everything so "us" — very meaningful and personal. Nothing was canned, boring, or cookie-cutter. We appreciated her kindness and humour, and the warmth she showed not just us, but everyone there. Out of the 10 people who were in attendance, all of them have said it was the most authentic wedding they'd ever been to. Yay!!

If we get the chance to marry each other again (or renew our vows) you can bet your butt we'll be booking with the YHM team again. Unexpected bonus: Lani has coincidentally married 4 other couples we know, and everyone LOVES her. We now jokingly call her the official "family officiant." Thank you so so so much Lani & everyone at YHM – you made our special day even more special.