In 2019, we wrote a blog post about how to have an inclusive wedding ceremony. And while the wedding industry has changed a lot in three years – and some aspects are more welcoming and inclusive – we still have a lot of work to do.
So to celebrate Pride Month 2022, we reached out to a few friends in the wedding industry to get their thoughts on inclusion, access and safety for all couples in the wedding industry, particularly LGBTQ+ couples. Below we're sharing their thoughts to learn more about where the industry is at, inspire action and continue the conversation well beyond Pride Month.
Using inclusive language at your wedding and in your wedding planning
Back in 2018, we wrote a blog post with ideas for inclusive language at your wedding ceremony. So much of traditional ceremony language is gendered and doesn't fit modern couples. Check out that post to update your language so your ceremony is inclusive of everyone attending (and getting married!).
It's not just the language on your wedding day that matters, but all of the language you experience during your wedding planning. A few years ago, we changed our contact forms from "Bride's name" and "Groom's name" to "Partner 1's name" and "Partner 2's name." We also ask our couples what their pronouns are, so we can address them appropriately, and encourage our officiants to include their pronouns in their bios and email signatures.
Our friends at Rad Occasions shared how they are updating their language. They said, "We are working to be more inclusive in our language (ie: wedding party instead of bridal party) and going the extra distance by educating ourselves and fellow vendors when necessary."
And check out this great resource by Jess McSweeney sharing simple tweaks you can make to your language as a wedding vendor, and why those tweaks are so important:
Prioritizing trust and creating a safe space for all
Some couples arrive at their wedding day without the support of friends and family or with a history of being unwelcome by the institution of marriage. As vendors, we have to recognize the importance of the moment and prioritize the safety of our couples. As much as allyship is about celebration, it's also about history and remembering what people have gone through to get to where they are.
Vancouver photographer John Bello (who we are so lucky to have on our Young Hip & Married elopement photography team!) shares this advice with other photographers, "When you have the opportunity to photograph LGBTQ+ couples, and those who may have varied gender identities and gender expressions, please remember that they have chosen YOU.
You are the person they are comfortable enough to let all their walls down in front of and have invited you to experience and capture their most intimate and vulnerable moments. This is SO special."
John continues, "But remember, in this day and age (horribly still), it's those intimate and vulnerable moments that can attract hate, and lead to prejudice and discrimination.
Get a feel for your couple's comfort levels before you begin your shoot. Set the tone by creating a safe and comfortable space and vibe. Always make sure you ask your couples if they are comfortable with holding hands or showing PDA in public or in public spaces before suddenly taking them to busy locations to take photographs.
Double check before posting any photos of them online and onto social media. Even if in your contract, they've agreed to you using their photos in your portfolio, just ask again if you don't remember talking about it with them specifically. It takes two seconds.
Again, it comes down to TRUST + SAFETY."
Such an important reminder! Check out John's post with more wisdom here.
Rad Occasions echoes John's sentiment saying, "[When needed] we have also gone as far as to letting everyone know that we are a safe space at a wedding so someone feels uncomfortable they can come to us and hopefully we can help them."
As John says, it comes down to trust and safety. More important than appearing inclusive or getting the most likes on social media is the trust and safety of your couples.
Celebrating & supporting LGBTQ+ couples, vendors and communities
As a team comprised of allies and members of the LGBTQ+ community, we want to create a welcoming, inclusive and safe space for our LGBTQ+ couples at Young Hip & Married. But more than that, we want to celebrate them! In choosing to get married, these couples are choosing to honour their love. We couldn't be more proud or privileged to join them in that celebration!
Photographer John Bello continues that after safety and trust are established, it's our duty to celebrate a couple. He says, "Most importantly, set an intention to celebrate their love, vulnerability and courage. Honour it well through your art and vision. Be sure to acknowledge and carry the awareness of the special TRUST they have in YOU, the trust to share in such a vulnerable, personal space.
This space you have been invited into is a gift. Appreciate it. Honour it. Celebrate it."
Our friends at Cascata Films agree. They say, "For us as videographers, we live for the love story. We would love to see people focus more on the beautiful love stories and less on gender. Love is love, and it's really all that matters! We feel absolutely privileged when any couple gives us the chance to tell the story of their wedding!"
And while not everyone has the privilege to not focus on gender, we want to do whatever we can to celebrate and support our couples' love stories.
Young Hip & Married Officiant Chris-Ann shares how in celebrating LGBTQ+ love, she's also honouring her own identity as a queer person. And what's more, her couples love that bond and representation too.
Chris-Ann says, "As a member of the queer community, it means a lot to me to be able to offer my services to other 2SLGBTQIA+ folx. Folks who may not feel comfortable with the history or formality of the marriage process or other marriage commissioners who may or may not be affirming of their love.
This couple (pictured) were the sweetest couple I've had the chance to marry. And their thank you card, that expressed their gratitude for being married by another queer person, completely reminded me how much I love what I get to do!"
Officiant Chris-Ann also reminds us that Pride Month (and every month!) offers us opportunities to not just support LGBTQ+ couples but also to support, patronize and promote LGBTQ+ vendors, creators and communities.
She says, "Pride Month! A month to remember the history and struggle of 2SLGBTQIA+ folx. And (dare I say) not to support businesses or corporations who capitalize on these celebrations.
With that in mind, my challenge to all of you would be (as a customer) to support queer owned businesses and (as a vendor) to promote queer businesses before your own, even if you are an ally – especially if you are an ally!"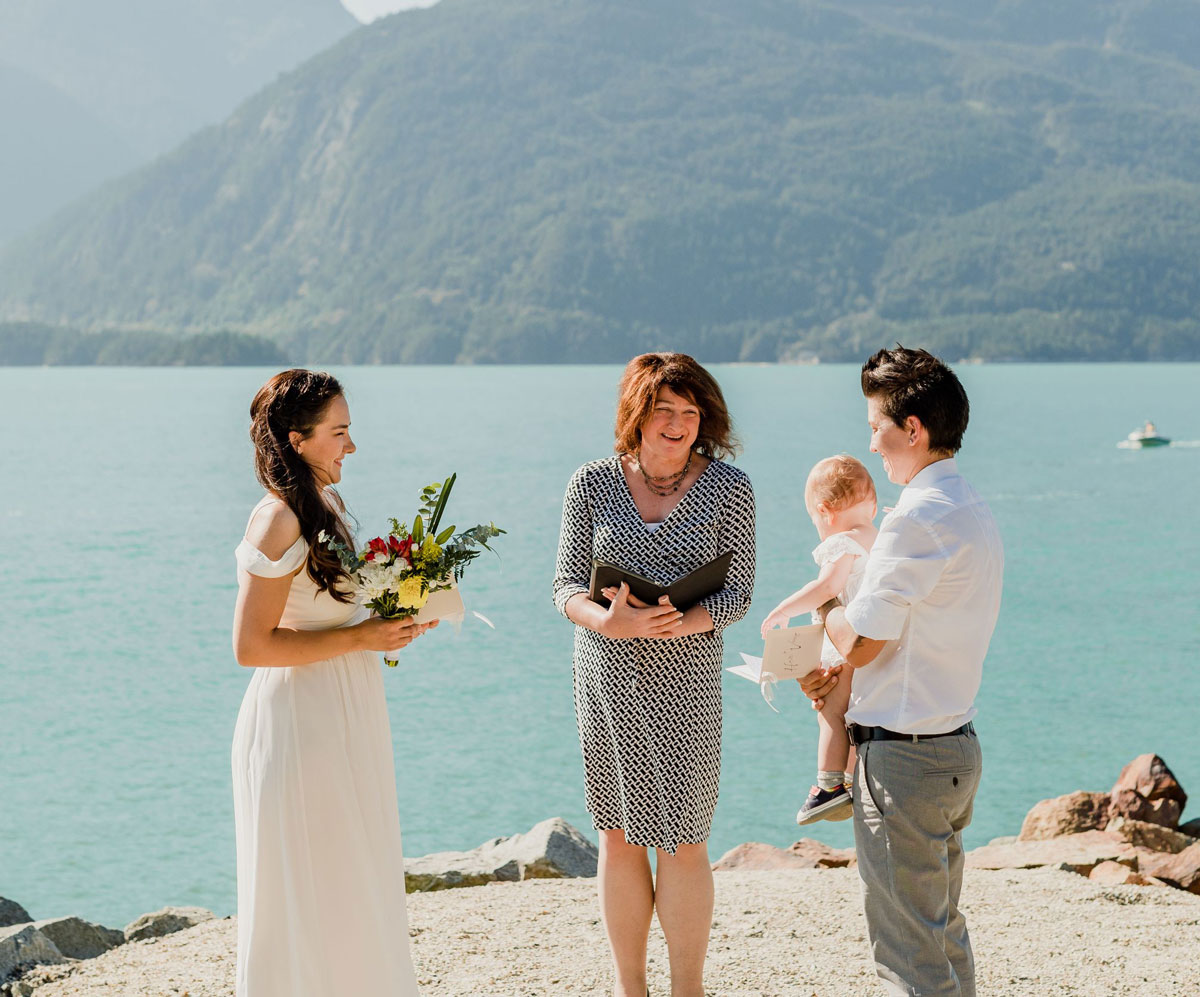 ---
Thank you to our friends at Rad Occasions, Cascata Films, John Bello Photography, Jess McSweeney and Officiant Chris-Ann for all of your wisdom and thoughts on inclusive weddings and how we can better the wedding industry for everyone.
We'd love to hear how you are making the wedding industry more inclusive, in what ways the industry can do better and where the industry has improved. We would love to open up this conversation and invite you to comment below, send us a DM on Instagram or send us an email with your thoughts.
We're also very open to any feedback you have for us here at Young Hip & Married. We'd love to learn how we can do better and make weddings more welcoming, inclusive and safe for all.