If you're planning a wedding, you might be thinking about wedding rings. While rings for weddings aren't mandatory, many couples do choose to exchange rings during their ceremony and wear them regularly throughout their marriage.
But is there more to wedding rings than that? Let's dive into everything you need to know about rings for weddings!
What are rings for weddings? 
Rings for weddings are the rings exchanged between the couple getting married during their wedding ceremony. These rings are exchanged as a token of a couple's love and commitment to one another. During the ring exchange portion of the ceremony, the wedding officiant will lead the couple through ring statements as they put a ring on each other's fourth finger on their left hand. These rings are also referred to as wedding bands.
After the wedding, wedding rings are usually worn by the couple to represent their bond and signify that they are married. Keep in mind that rings for weddings and the traditions around a ring exchange vary by religion, culture and country. While the wedding ring being worn on the fourth finger of the left hand of both partners is common in North America, it may not be everywhere in the world.
Is a wedding ring the same as an engagement ring?
Usually a wedding ring and an engagement ring are not the same; they refer to two different rings. The engagement ring is usually given when a couple gets engaged. Traditionally it is a diamond ring given from a male partner to his female partner when he proposes, but of course engagement rings can come in any style and be given and received by all partners.
If you or your partner already have an engagement ring, you can choose to have a separate wedding ring or simply use your engagement ring as your wedding ring. Conversely, you may choose to skip the engagement ring and only have a wedding ring. For partners who choose to have both rings, they will usually wear their engagement ring on their right hand during the ceremony, so their left hand is free to wear their wedding ring.
Do rings for weddings need to match?
Not necessarily! You and your partner do not have to get identical or matching wedding rings. And your wedding ring does not need to match your engagement ring. However, many couples do prefer that their rings at least "go together" if not completely match. This might mean getting rings in the same style or same material.
Types of rings for weddings: 
There are many different types of rings for weddings varying greatly in style, material and cost. No matter your preference, you can find (or create!) a ring that works for you. Three common types of wedding bands are simple wedding rings, traditional wedding rings and modern wedding rings.
Simple wedding ring examples
A simple wedding ring is just that, simple! Imagine a thin band of metal with no decorative jewels or fancy carving. These simple wedding bands are usually gold, silver or platinum. Because they're more simple, they're usually less expensive (though this will depend on the type of material used and where they are purchased). These simple rings work best for couples who don't like flashy jewelry or prefer for their wedding rings to be understated.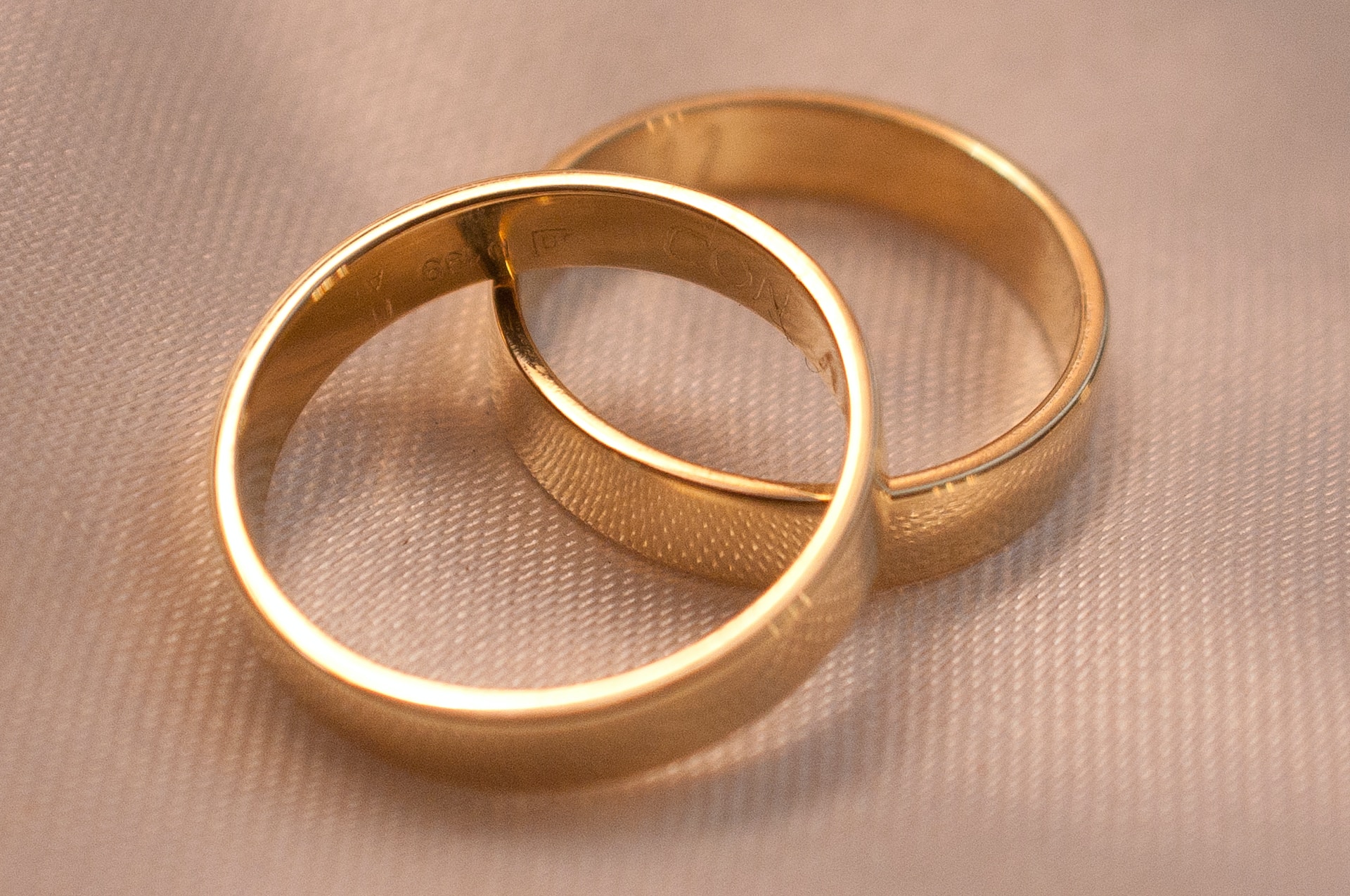 Traditional wedding ring examples
The traditional wedding ring is a classic yellow gold band. However white gold, silver, platinum and even diamond encrusted bands are also seen as quite traditional. Historically, gimmel rings (rings that interlock) were exchanged in the 16th and 17th Centuries in Europe, while poesy rings (rings with poems inscribed on them) were popular during the Renaissance period.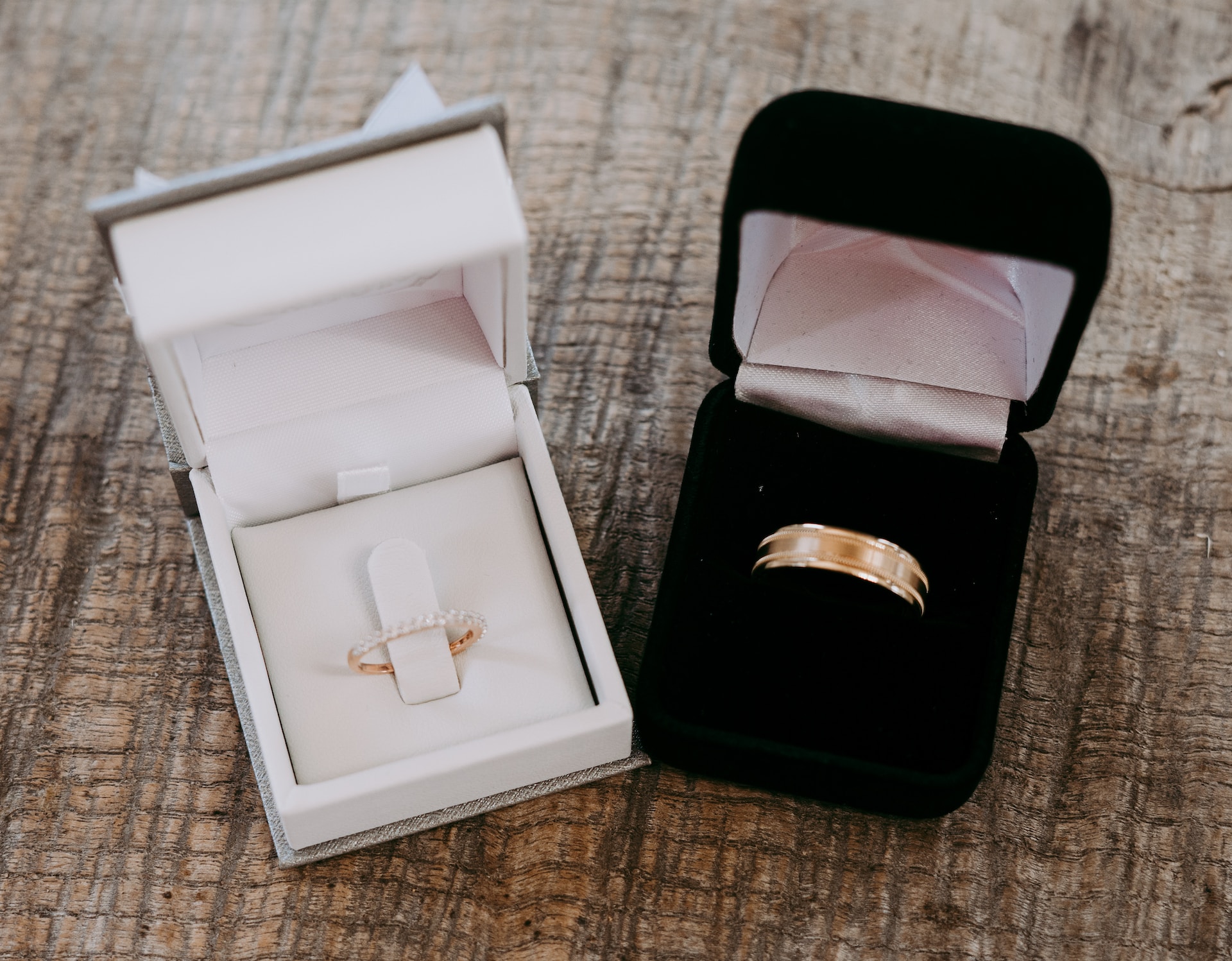 Modern wedding ring examples
Modern wedding rings can take any style, shape or material – what best denotes them as modern is a unique factor different from the simple and traditional wedding bands of our parents' day. A modern wedding ring may have coloured stones, decorative patterns, two tones or come in a new material, like rose gold, tungsten or wood.
Some people who plan to still wear their engagement ring after their wedding choose a curved wedding ring that fits around the stone in their engagement ring. Some couples even choose to design and create their own rings for weddings or have their wedding rings engraved.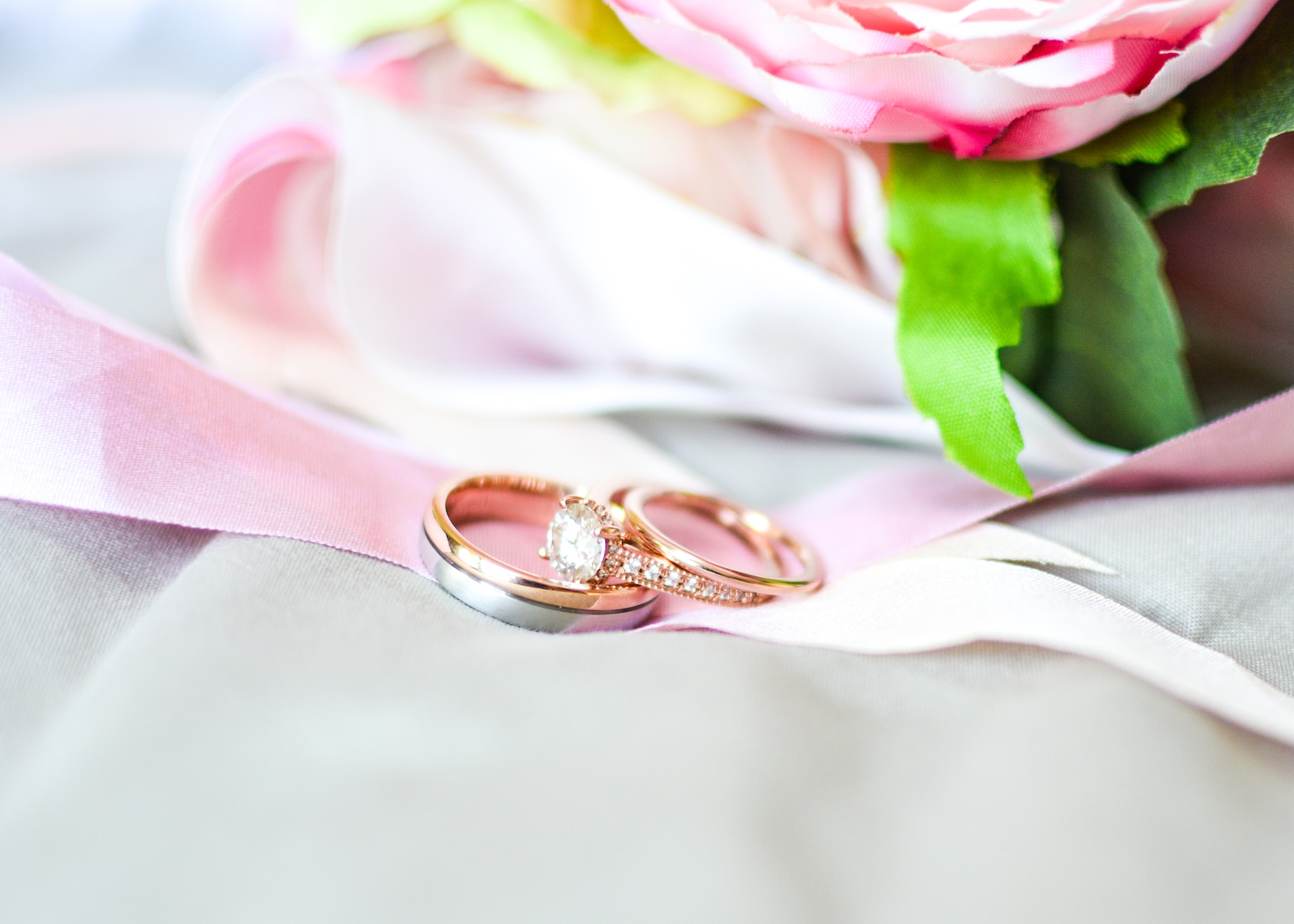 When should you buy the wedding rings? 
Weddings rings should be purchased three to four months before your wedding ceremony. This way, you have time to resize the ring, if it doesn't fit, and ensure it has arrived and is what you wanted well before your ceremony takes place.
You'll probably want to start shopping for wedding bands four to five months before the ceremony, so you have lots of time to browse and try rings on. You can head to your local jeweller, a chain of jewelry stores or search online. Since both partners will be wearing these rings, it makes sense to shop together and find wedding rings you both like. Remember, they don't have to match!
Who carries the wedding rings during the ceremony?
Traditionally, the Best Man carries the wedding rings during the ceremony, handing them over to the wedding officiant or couple before the ring exchange. However, it's not mandatory that the Best Man take on this role. You may prefer to have another member of the wedding party carry them or give the role to a special loved one, like your parents or grandparents.
If you're having a child ring bearer carry the rings down the aisle, it's best to have the bands passed off to an adult in the wedding party. That way, your ring bearer doesn't have a chance to lose the rings or play with them during the ceremony.
What happens during the ring ceremony (aka ring exchange)? 
During the ring ceremony, also known as the ring exchange, your wedding officiant will explain to your guests the importance of wedding rings and what they symbolize. They will then ask for the rings and have you hold each other's. You will then exchange rings – Partner 1 putting a ring on Partner 2's finger then vice versa – while repeating a ring statement after your officiant.
For example:
Wedding officiant: "Monica and Chandler will now exchange rings as a symbol of their love and devotion for one another. May we please have the rings?"
Rachel hands Monica Chandler's ring. Ross hands Chandler Monica's ring.
Wedding officiant: "Monica, please place the ring on Chandler's finger and repeat after me: 'Chandler, with this ring, I gladly marry you,'"
Monica: "Chandler, with this ring, I gladly marry you,"
Wedding officiant: "and join my life to yours forevermore."
Monica: "and join my life to yours forevermore."
Wedding officiant: "Now Chandler, please place the ring on Monica's finger and repeat after me…"
For more about ring exchanges, including ring warming ceremonies and ring statement options, check out this post!
Rings for weddings: 5 top tips
Try on rings for weddings in person. While you may prefer to order your wedding rings online, it's worth trying on rings in person, especially if you've never worn rings before. Get a feel for the weight of different materials and figure out what style you like best. Your opinion may change drastically based on what the ring looks like on your finger vs the photo online.
Consider alternatives if you're not ring wearers. Rings for weddings are not mandatory! You don't have to exchange and wear wedding rings if you're not ring people. For example, if you work in a job where you're not allowed to wear metal rings, you may want to choose a silicone ring or a wedding necklace instead. Some couples even opt for tattoos instead of wedding rings.
Insure your rings if you're worried. If you're worried about loss or theft and your wedding rings are quite valuable, get them insured. You may be able to get insurance through your jeweller or bundle it with your home or car insurance.
Leave your wedding rings with your marriage licence before your wedding. Nervous you're going to forget to bring your rings on the big day? Leave them on top of your marriage licence! Odds are you'll remember either the rings or the licence, and you'll want to bring both to your ceremony!
Don't give the rings to your ring bearer until the last minute. Whether you're trusting your wedding bands to a child ring bearer or an adult member of your wedding party, don't give them the rings until right before going down the aisle. Any earlier and you're just asking for them to get lost or forgotten!
---
Now that you know all you need to know about rings for weddings, let's start planning the rest of your wedding ceremony! Check out our ceremony packages and book yours today! 
written by Riana Ang-Canning
feature image by Deanna Rachel Photography