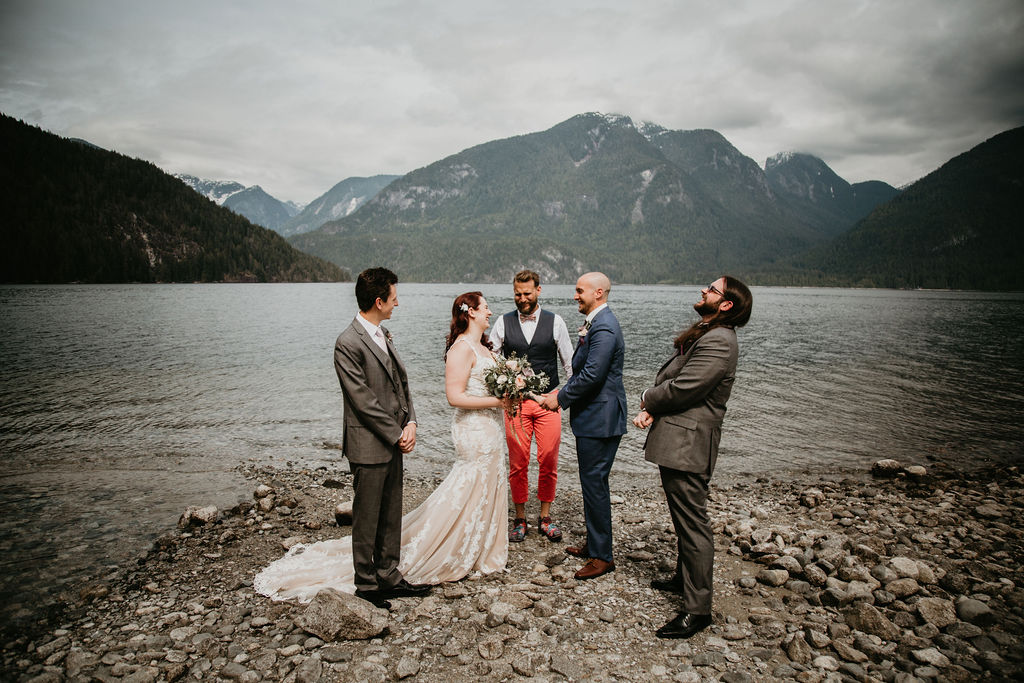 One of our favourite places for elopements in Vancouver is Pitt Lake. This awesome outdoor elopement venue has everything you need for an intimate ceremony and stunning wedding photos: mountain backdrops, waterfalls, marshy grasslands, forests of trees, beaches and so much more. Best of all: It's not hard to find a private spot for your Pitt Lake Elopement – no crowds!
Pitt Lake is one of the largest lakes in the Lower Mainland and one of only a few tidal lakes in the world. At one end, it's banked by Pitt-Addington Marsh Wildlife Management Area and Grant Narrows Regional Park. For those wondering about accessibility, many of the best trails around Pitt Lake are flat and easy to walk on.
Since it's located near the SKY Hangar in Pitt Meadows, and since the scenery is drop-dead gorgeous, Pitt Lake is our go-to location when helicopter elopements are grounded.
Unfortunately, helicopter elopements are weather-dependent. When a helicopter can't safely take off, our couples can choose to reschedule their helicopter elopement or proceed with an on-the-ground elopement (receiving a refund for the helicopter portion of their package, of course!). For couples who decide to tie the knot on solid ground, there's nothing better than a Pitt Lake elopement!
Check out why we love Pitt Lake elopements (rain or shine!) and get in touch to book if Pitt Lake is the perfect spot for your Vancouver wedding! 
Book Your Elopement Today!