Please enjoy this guest post on invitation wedding cards from our friends at The American Wedding!
When it comes to planning a wedding, every single detail can be an expression of the love, life, style and personal taste of you and your partner. Everything, including the décor, music and even the itinerary, is a product of the taste, choices, and love that each couple celebrates. Any couple would agree that the best way to make the wedding day a special day is to fill it with things they love, things that speak to who they are and where they're going.
Although the wedding event lasts a single day, many details and elements of a wedding begin months ahead of time. Set the stage for your guests and get them excited for your special day with perfect wedding stationery, from your Save the Date cards to your wedding invitation.
The small details of a wedding can matter most to those getting married. Having a beautiful invitation that expresses your theme and expectations will make your guests feel like part of the celebration from the moment they receive your card in the mail.
Save the Date Cards
If you're planning a wedding, choosing a date is one of the first things to consider – you'll want to make sure your loved ones set aside the time to celebrate your special day.
Save the Date cards can be a casual and simple announcement of your upcoming nuptials. You aren't obligated to send out Save the Date cards designed with your wedding theme in mind. But, if you already envisioned the details, you can add more detail. An elaborate, elegant evening wedding, for example, could have Save the Date announcements that complement this theme.
Selecting a Wedding Theme
Wedding themes can be as individual as the couples who select them. Choosing a theme is an opportunity for you and your partner to really express who you are as a couple. Many weddings now take place in non-traditional venues, everywhere from bookstores to zoos.
Think about who each of you are as individuals, what you like to do together, and what you've both always envisioned for a wedding. In some cases, your choices will be obvious, but there may be other areas where you need to do some creative thinking. But if you stay focused on fun and reflecting what you both love, you'll find the perfect theme.
Some couples feel pressure from friends or family to have a certain "type" of wedding or to make traditional choices for their special day. Remember your wedding should reflect the life you're building together.
Choosing the Right Invitation for the Big Day
Wedding invitations are usually much more formal than Save the Date cards. They include full details of your wedding and venue, information on what guests should wear, and hotels that are nearby. By the time your wedding invitations go out, you should have a much clearer idea of what your wedding will look like.
Your wedding invitations should set the stage for the day. There are countless design options, from the standard card and envelope pairing to more lavish designs like wraps, pockets and layered cards. Some wedding stationery suppliers even offer the option of DIY invitations that allow you to be more creative and unique.
The style of the invitation hints at the formality of your wedding. Once you've determined a theme, your invitation will give an idea of the type of event you are throwing. So, whether it is modern, beach chic, classic, or semi-formal, your invitation style should be an extension of your theme.  
Incorporating colors, decorative elements of the day, and details about you two can all be inspirations for design. Whichever direction you go, make sure you choose something that reflects who you are. Try not to be taken in by fads or pressure from other people. We all know who we are as individuals, and you know who you are as a couple – choose something that reflects that!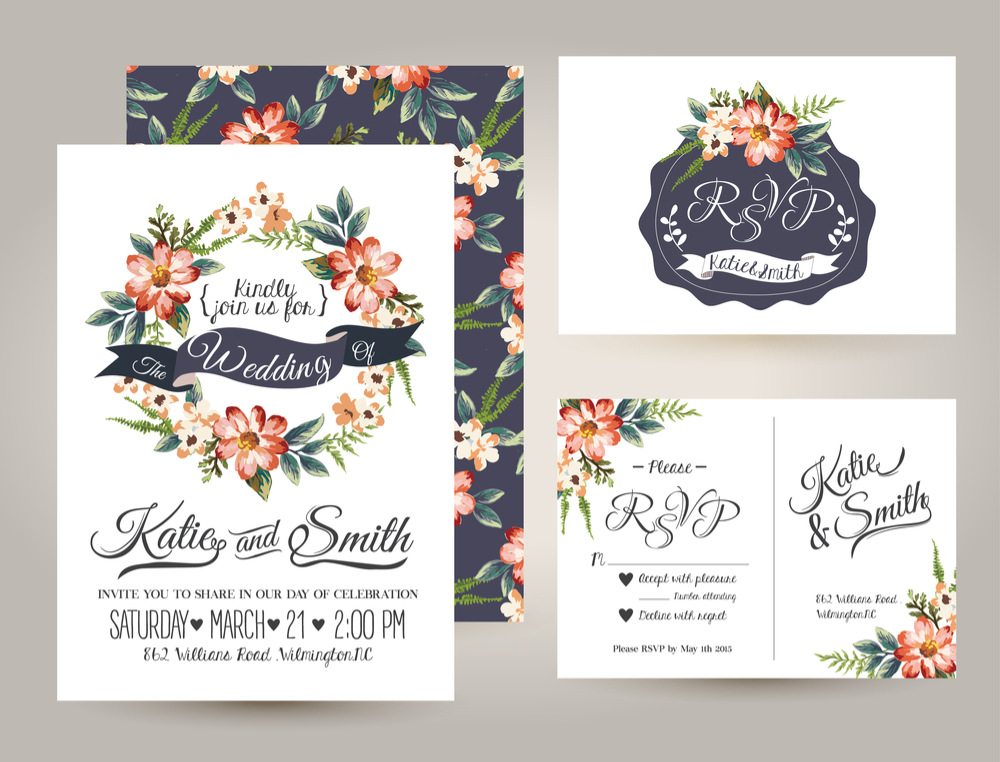 Consider the Shape and Size
Although the traditional wedding invitation is a 4.5-inch by 6.25-inch rectangular card, consider other options with a playful or modern vibe. Invitations can be scalloped, circular, square or even in the form of a scroll to express your individuality.
Typeface Options
The font is a subtle yet highly effective way to not only highlight your theme but link it to all the elements of your wedding. Printed text is everywhere at most weddings. Besides Save the Date cards, invitations and thank you cards, there are the table numbers, place cards, menus and guests' gifts. Even the napkins may be emblazoned with your initials and the ceremony date for the die-hard wedding souvenir collector.
Choosing a font that expresses who you are can have just as much impact as the choice of the colors, theme and design. From classic, italicized text to bold stencil for a military-themed wedding, the possibilities are endless.
Most of all, ensure your text is legible. Avoid light ink on light backgrounds and dark ink on dark backgrounds. Pastel text can be difficult to read as are overly scripted fonts. Your stationery supplier can provide guidance on typeface and colors once you determine the color of your card stock.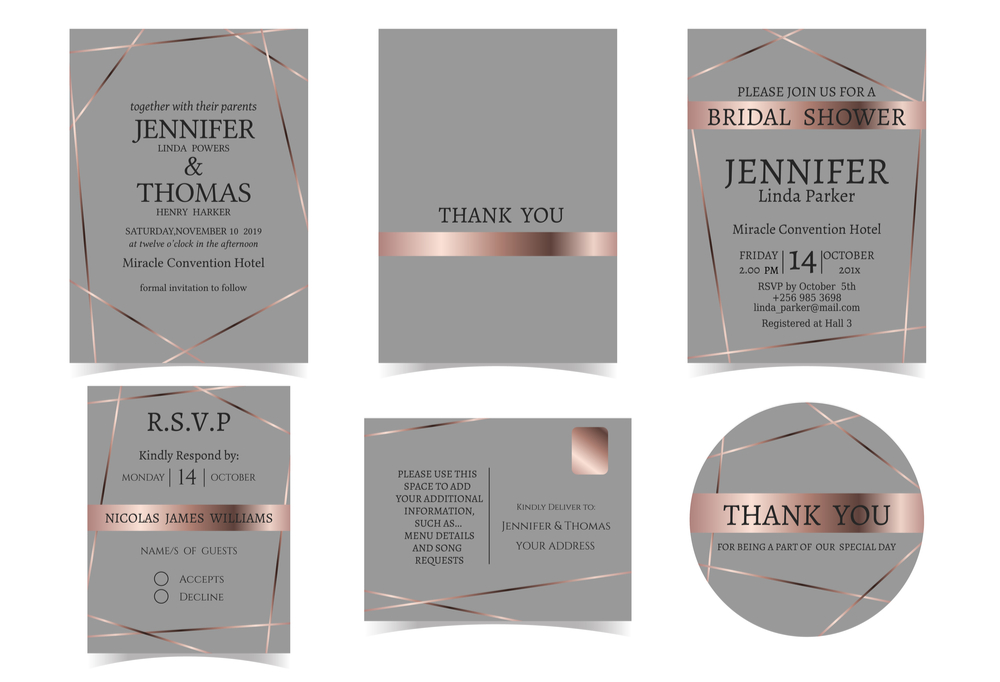 Wedding Colors
Incorporating your wedding hues into your invitation is a lovely way to achieve a cohesive look. Consider enhancing your invites with metallic fonts, envelopes and liners to add a touch of sophistication.
Tying It All Together
Don't forget the rest of your stationery suite! Order your programs, menus, table cards and thank-you notes along with your invitation. Using a wedding stationery supplier that stocks everything from Save the Date cards to favour boxes can save you time and effort when you are planning the big day!
---
Author Bio:
Ronnie is the Marketing Director for The American Wedding. She loves all things marketing and has a passion for weddings and event planning. When she's not scouring Pinterest and Instagram for the most adorable weddings, you can find her on her paddleboard with her pugs, Max and Charlie.
Images by Shutterstock & Unsplash