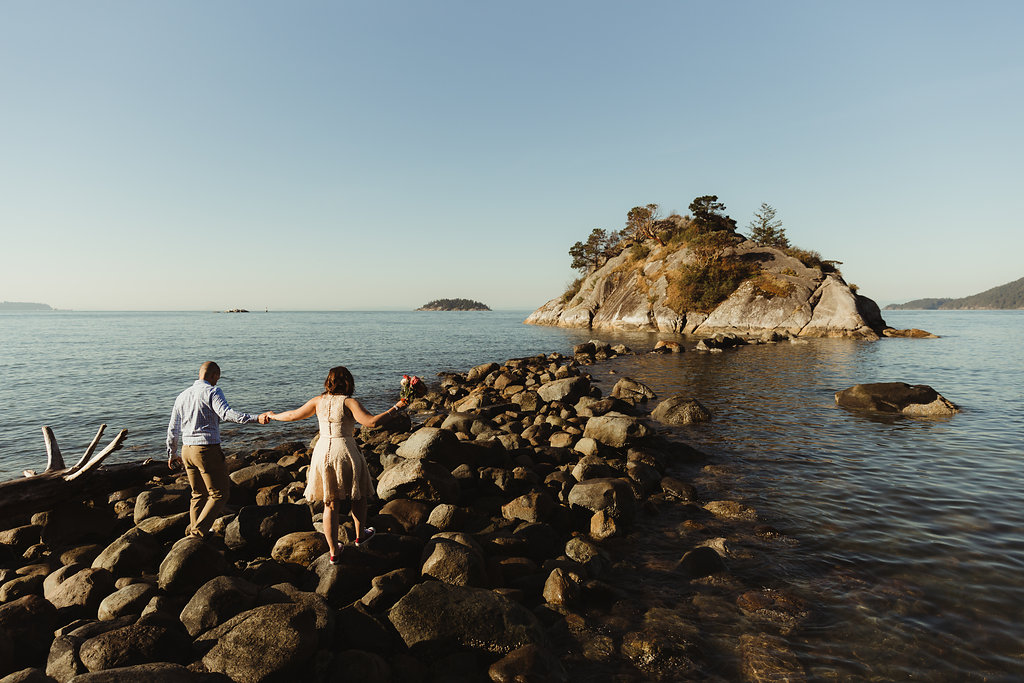 We get asked this question all of the time: Where is a good place to elope in Vancouver? Well, that's kind of like asking where is a good place to eat in Vancouver.  Vancouver offers some of the most diverse cuisine in the world and the same is true when it come to unique places to tie the knot.
Vancouver is known for its mountains, ocean and, of course, beautiful parks! So if you want to take your Vancouver elopement outdoors, why not pick one of our stunning parks or beaches? You'll get a stunning natural backdrop for your I do's!
But there are two things you'll have to watch out for: the weather and the crowds. An outdoor elopement can turn sour if you're unprepared. So heed our advice: head to the parks in an off-peak time (think a weekday morning or very early on the weekend) and bring a stylish umbrella just in case! 
---
NOTE: For the most up to date information, including information about permits and pricing, please visit the official parks' websites directly. 
The Stanley Park Hollow Tree
The Stanley Park Hollow Tree is a 700 to 800 year old Western Red Cedar tree stump situated in Vancouver's Stanley Park. It's set in the woods and would make a dreamy elopement backdrop.
Privacy: While the tree stump is in the middle of the woods, it's also a well known photo opp for tourists in the area. Prepare for some crowds if you're eloping on a sunny weekend.
Distance from Downtown: 15 minute drive
https://www.instagram.com/p/BRoCu6ngrUz/?taken-at=5149524
Baden Powell Trail
Head to North Vancouver and pick a spot along the Baden Powell Trail. This 48 km trail stretches from Horseshoe Bay all the way to Deep Cove so you'll have lots of spots to choose from. But be careful, you may have to do a bit of hiking to find the perfect spot.
Privacy: If you're committed to finding a quiet spot along the trail, you'll probably be able to get some privacy.
Distance from Downtown: 32 minute drive
Engagement Sculpture at Sunset Beach
Does it get more on the nose than this? Engagement, a sculpture by Dennis Oppenheim, is two giant engagement rings that were installed in Vancouver in 2005. Since then, similar sculptures have popped up all over the world. Now that would be a cool anniversary trip to take a picture at the other engagement sculptures!
Privacy: If you purchase a permit, the space will be yours. If you don't, Sunset Beach can definitely be a popular place and the Engagement sculpture is a famous photo opp.
Distance from Downtown: 8 minute drive
Ferguson Point in Stanley Park
This is one of the most picturesque spots in Stanley Park to tie the knot. And once you've said your I do's, you can head over to the Teahouse for a lovely reception meal!
Privacy: If you get a permit, the space will be all yours but if not, you might be competing with other couples and tourists for the beautiful spot.
Distance from Downtown: 20 minute drive
Portal Park
If you're looking for a gorgeous landscaped park, a spectacular garden and a giant pavilion that could serve as your ceremony backdrop, you'll find all of that at Portal Park.
Privacy: Unfortunately, it's a public park near downtown so can get pretty crowded.
Distance from Downtown: 5 minute drive
Spanish Banks
Spanish Banks is one of the most sought after beaches in Vancouver's West End. You'll get sand, water and a gorgeous view of the Vancouver skyline. What's not to love?
Privacy: Don't expect much! Spanish Banks and the area by English Bay are super popular areas for locals and tourists alike.
Distance from Downtown: 20 minute drive
Trout Lake Park
At Trout Lake Park you can get both the greenery and the water all in one place. You get a lake, a park and a little beach area!
Privacy: It's a public park that is popular with nearby families. Expect lots of children and dogs to be in the area.
Distance from Downtown: 15 minute drive
QE Park
Queen Elizabeth Park is the highest point in Vancouver so offers gorgeous views of the park, city and North Shore mountains. It's a beautiful green space and you'll be able to find picturesque cherry blossoms in the spring!
Privacy: As you can imagine, the park is very popular with locals and tourists. Plus, if someone does have an event permit, your spot might be taken. That being said, it's a large park so you should be able to carve out some space for you to elope.
Distance from Downtown: 15 minute drive
Whytecliff Park
If you're looking for a moody vibe and water background for your elopement, you'll get all of that and more at Whytecliff Park. This spot in West Vancouver is great for a less busy elopement spot on the water.
Privacy: While the park is public and often used for swimming and BBQs, you should be able to find a secluded spot for your ceremony.
Distance from Downtown: 35 minute drive
written by Riana Ang-Canning
---
Where would you want to elope in Vancouver's great parks and beaches?