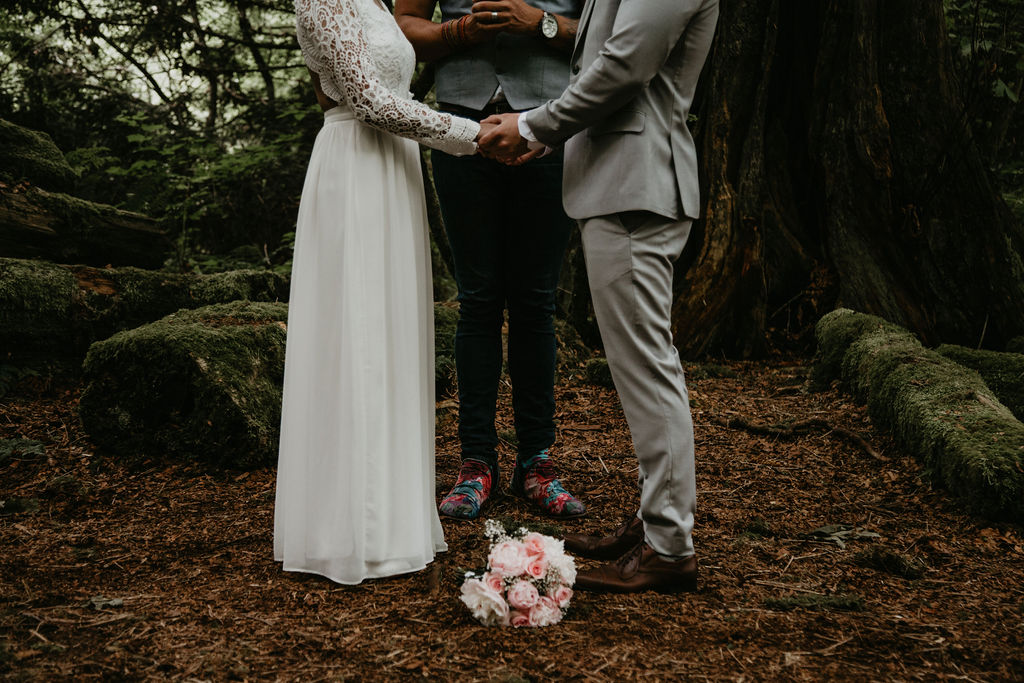 After almost a decade of officiating here at Young Hip & Married, we have been so flattered to receive some of the nicest words from our couples. Reading these reviews put the biggest smiles on all of our faces and reminds us that we have the best job ever!
From Vancouver to Toronto and Alberta to California, from hundreds of guests at a Custom & Creative Ceremony to just two sweethearts at an elopement, from local couples to international lovebirds, and from high school sweethearts to those who have found love later in life, we are so lucky to get to do what we do: celebrate your love story, your way.
If you're looking for an officiant or wondering what newlyweds think about their ceremonies, check out what our couples are saying about their Young Hip & Married officiant.
---
"My husband was the groomsman at a friend's wedding where Lani from Young Hip & Married was the officiant. He enjoyed the ceremony so much that he insisted we go with them for our wedding ceremony. When we met with Lani, I can see why he enjoyed it so much – Lani got to know us well, and tried to incorporate our personalities, hobbies/interests into our ceremony. During our actual ceremony, she had the audience engaged, and laced together words and quotes that described us into the ceremony proceedings – to our guests, it seemed like she knew us well, like we were good friends. It was relaxed, non-traditional, but yet still touching – I was crying before we even got to the vows! Many of our friends and family said it was the best ceremony they've ever been to – so if you're looking for a personalized, not boring, and non-traditional ceremony, you've found the right people! They also offer premarital coaching to hone communication skills to set you up in the right steps." – Luo Lora & Clinton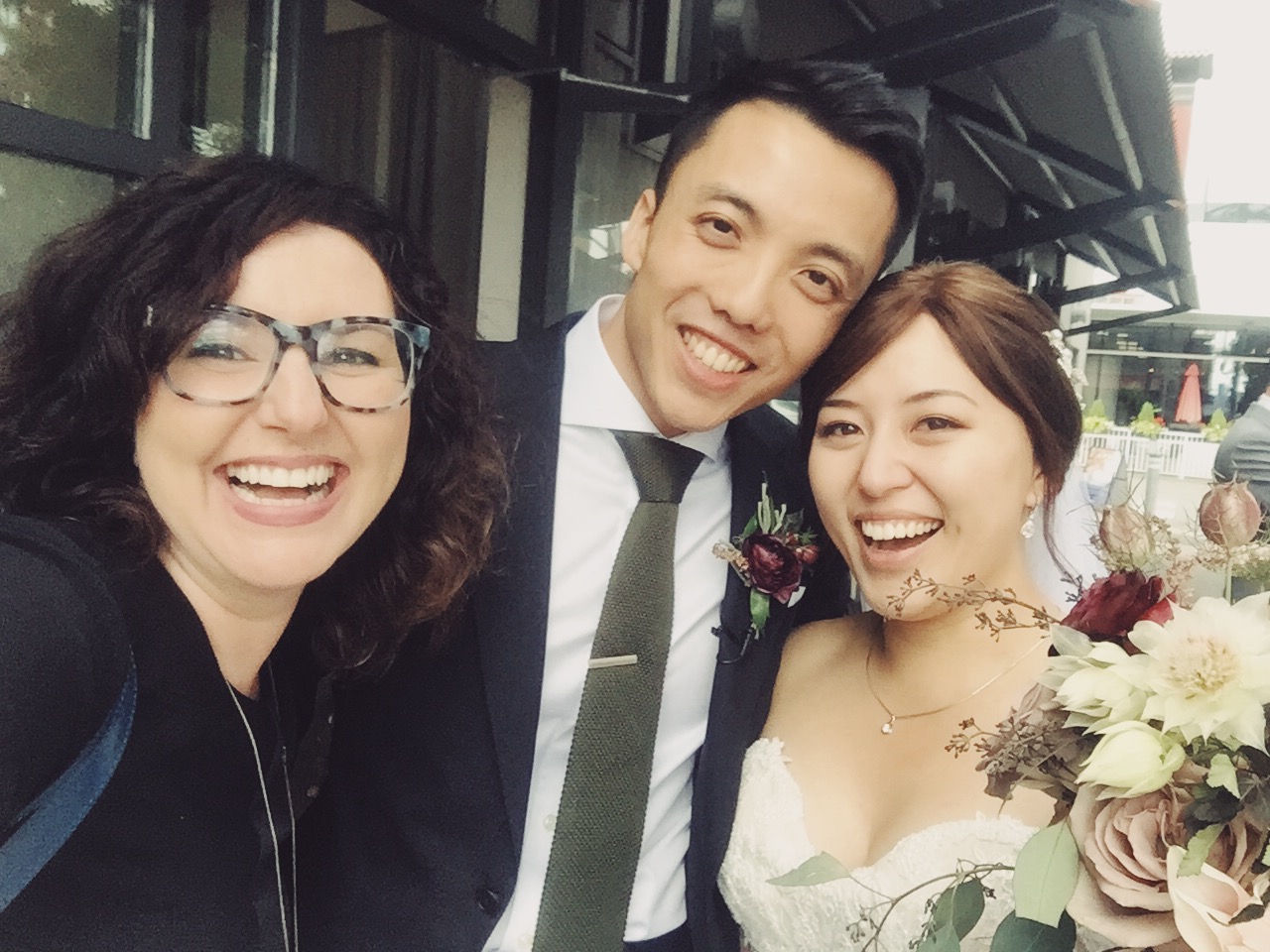 "Peter, a huge thank you for marrying us!!!!!! I was hopeful for a personal, casual and totally us experience and you delivered that and more so thank you very much. We appreciated your patience and kindness with the slight delay, no pressure, and it was so great that you celebrated with us and had a glass of champagne after. You never felt rushed. We laughed through out the vows; I loved that we were able to help with them in advance yet you added thoughtful messages during the ceremony. It was perfect, all of it, thank you!" – Joey & Jason
"Kadee was soooooo amazing!!!! Not only did she do an amazing job telling our story she was great from the beginning getting information from us. We loved that she was able to incorporate some Spanish to make all of our guests feel included in our day. We received so many compliments from our guests. We couldn't have asked for a better ceremony." – Claudia & Derek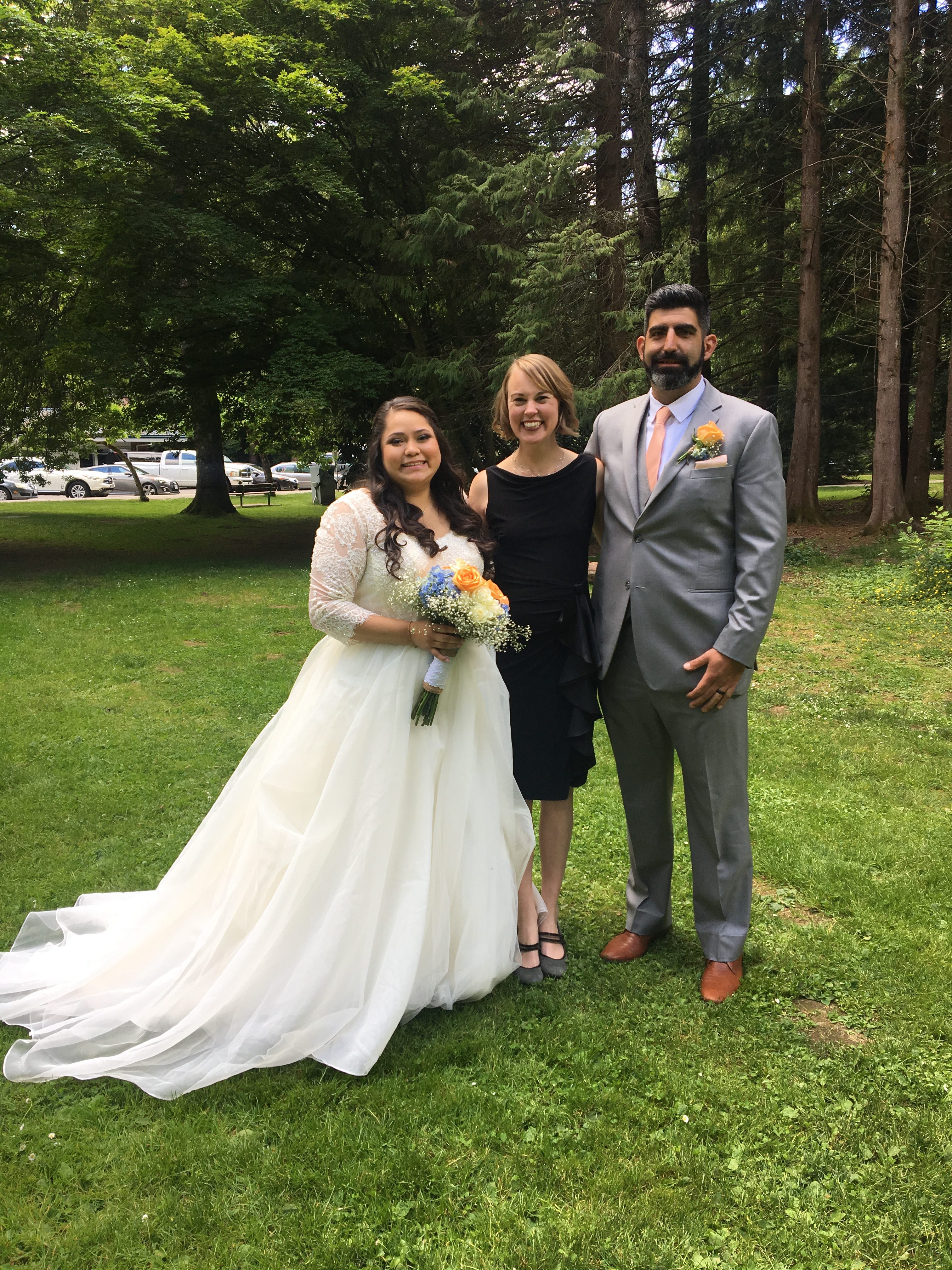 "We were so happy with Jon from Young Hip & Married, as soon as we sat down with him we knew he was going to be our officiant. He made the ceremony so personable; he asked our closest friends and family to give words that best describe us – it was so nice hearing these words from the most important people to us. He was a huge highlight of our day and made our ceremony so magical; we'll always remember him and these special moments! Thank YOU Jon, we adore you!!" – Dee & Bear
"My husband and I are from Miami, FL so when we decided to elope in Whistler, Canada we knew we needed some guidance. Choosing Beth from Young Hip and Married as our officiant was one of the best decisions we made. She was patient with us and great at communicating throughout the entire process. She made our ceremony script loving and personal and she made our ceremony feel relaxed and special. The whole process was seamless from start to finish!" – Vanessa & Martin
"Discovering Young Hip and Married was the best thing that could have happened for my husband and I. Upon reading what they were all about we knew we had found our officiant- we hired Shawn Miller, and he made our ceremony so much more than we could have dreamed. Shawn's energetic and enthusiastic vibes really set the tone for our wedding, and he embraced our style and desire for a simple and fun ceremony. He tailored it to us and delighted us with the work he did. His communication leading up to the big day was fantastic, and we never felt like anything was ever left on the table. He made sure we felt confident with him. Shawn Miller made our day better than I had imagined it- and I'm a girl who has been dreaming about her wedding day for YEARS. Thank you so much Shawn for creating such a special ceremony for us, we are truly grateful!" – Rebecca & Cody
"We reached out to Young Hip & Married because they had a wonderful irreverent and casual attitude. They were fantastic throughout – communicative, clear and accommodating. We booked the elopement package, with Jane as our officiant and Emily as our photographer, and both were professional and lovely." – Cecily & Huan
"Beth was so awesome to work with! We weren't sure of exactly what we wanted, but Beth offered us several helpful starting points that made our preparations very easy. She really listened to us and prepared a beautiful ceremony that really captured who we are and she made us feel at ease throughout the whole process. We could not have hoped for a better officiant. Thank you, Beth, for making this such a great experience! Beth, thank you for making our day extremely easy and special! We have been reflecting on the experience, and we keep commenting that you were the perfect person for the job, making us feel at ease and letting us be ourselves throughout the ceremony." – Soo & Matt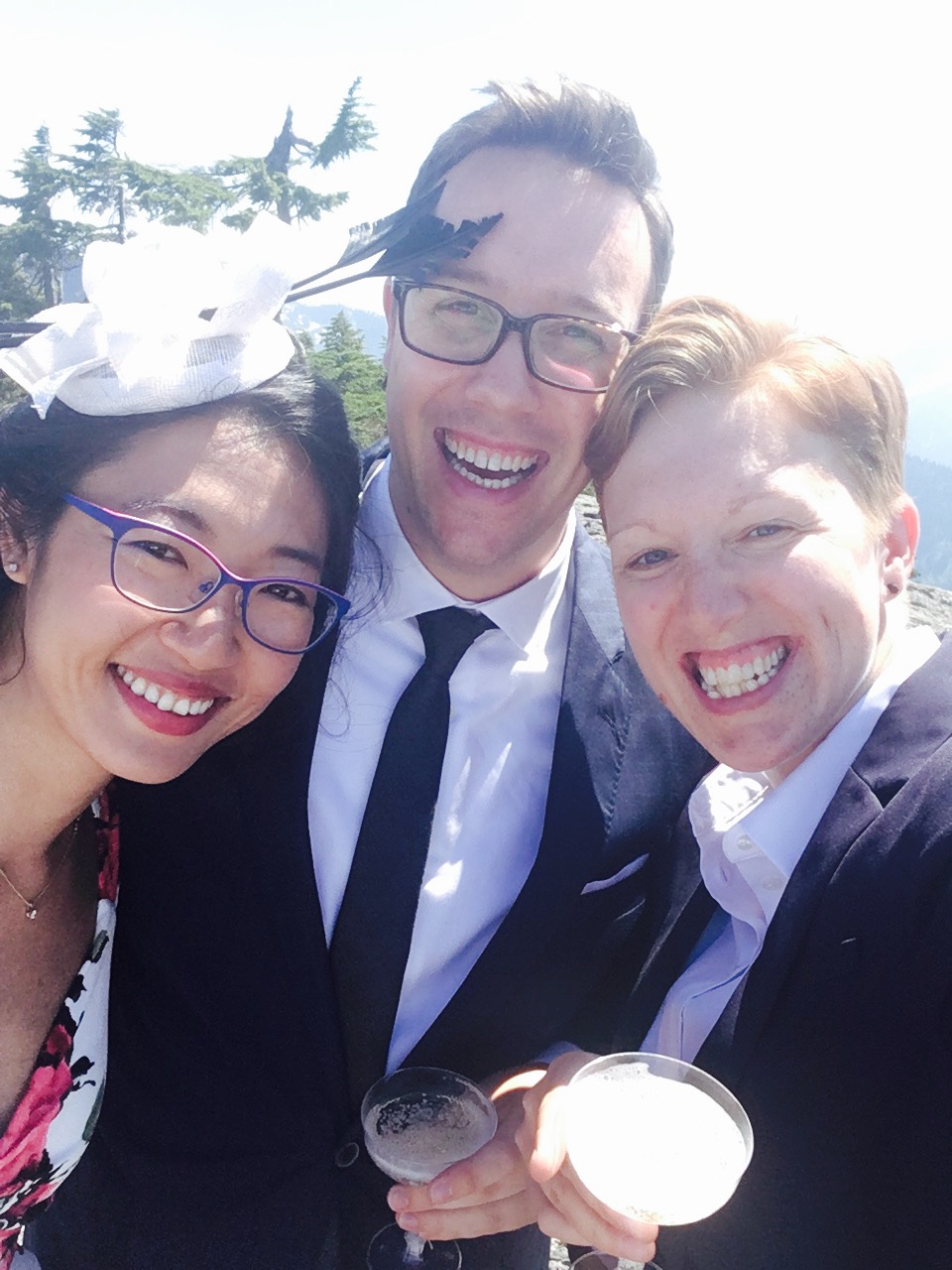 "Getting married abroad seemed a daunting task but Lani pretty much guided us through the entire process ahead of the wedding, held our hands (metaphorically) in making the big decisions, and left us feeling entirely confident for the big day – and all this from the other side of the Atlantic! The day was everything we hoped it would be; a relaxed affair with 20 of our closest friends and family in downtown. Lani captured the atmosphere perfectly and all of our guests commented on how "us" the ceremony was, which at the end of the day is exactly what every couple wants; something that reflects who we are as a couple. We would definitely recommend YH&M and Lani in particular to anyone, and would certainly use their services again….oh no, wait…." – James & Rosie
"My partner, James, and I are a blended family. Untraditional, 3 kids, met online, you know… Marilyn, our officiant, was easy to talk to and met with us right away. She asked all about our lives, how we met, our kids, pets, where we lived, our goals and what we wanted. All with a smile and a lot of laughter! One of the things I really appreciated was that she talked me into writing vows. I said I was too shy and she said I would regret it and she would help me. She sent me tips and coached me on writing my vows. I did it, cracking voice and all. I am forever grateful. She was great during the ceremony, went with our craziness and danced, laughed, fist pumped and gave some thoughtful words. I had so many compliments and people wondering where she came from as they have never seen such a ceremony and I quote my uncle, "That was the most real, unpretentious wedding ceremony I've ever been to. It was so you." Thank you, thank you." – Alexis & James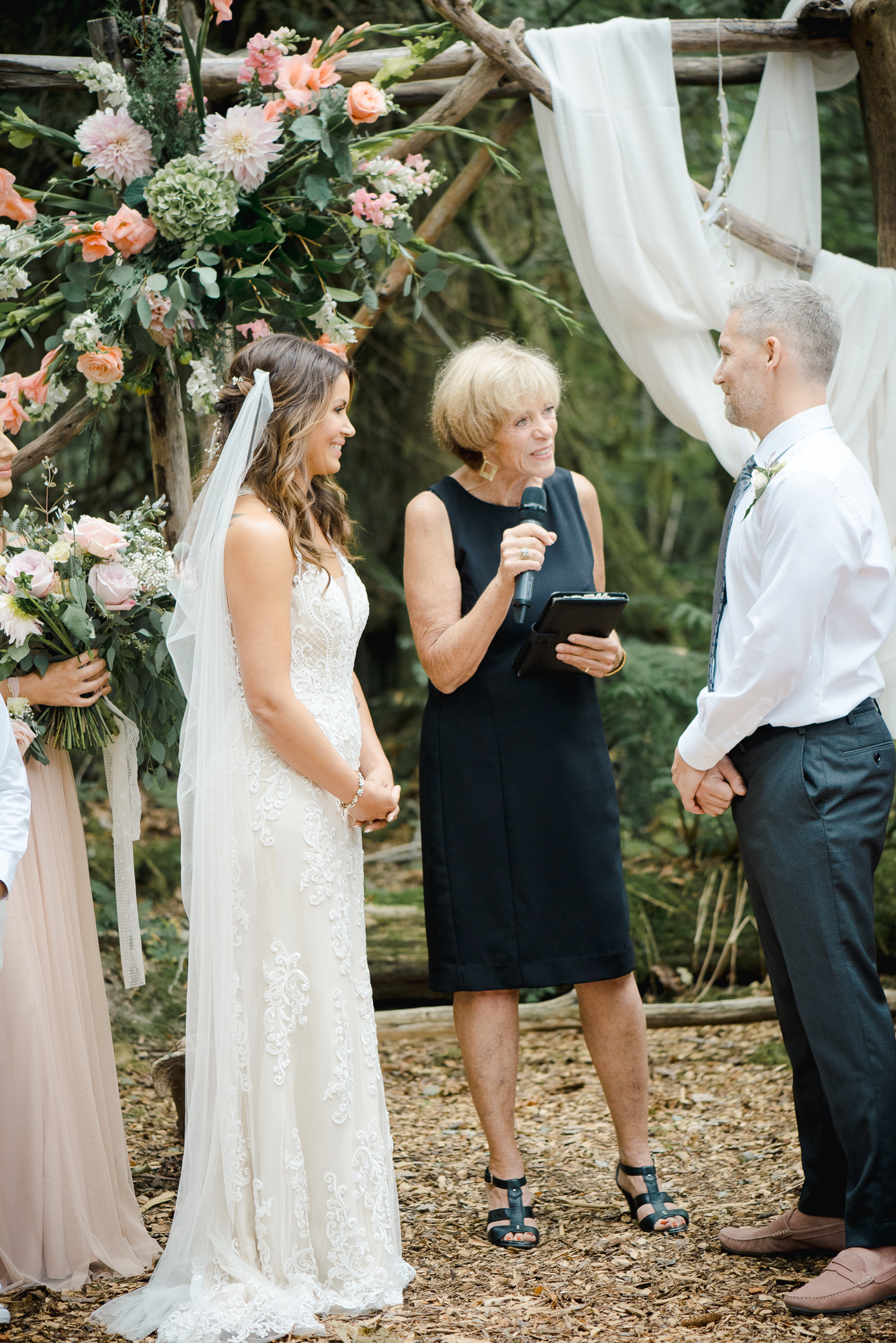 "Randy Hamm was the officiant for our wedding and he was OUTSTANDING!! All of our guests raved about how good he was. He got everyone involved, and kept them entertained. If you are looking for an officiant that is unlike any other, Randy is your guy! The team at Young Hip & Married were very easy to correspond with (which isn't always the case with wedding vendors, unfortunately). Randy gave us the ceremony that we were dreaming of. He kept it light hearted and very personalized. We didn't want anything scripted. He was able to tell a story about US. Thank you Randy! *round of applause*" – Anh & Giang
"Our officiant Erika and the entire team at Young Hip & Married really went the extra mile to take care of us! Erika was unbelievably amazing! Personable, professional, and prompt. She took the time to really get to know us and made sure that our ceremony was the best representation of us as a couple. The best part was the love our friends and family expressed afterwards for the presentation and delivery of our story – some friends even left with the intention of hiring YH&M as one of their vendors! Our only wish would be to have had Erika stay for the reception for a celebratory drink for making our day perfect! Thank you Erika and YH&M – you're the best!" – Sean & Kelsey
"We were planning an elopement wedding in Vancouver from another province; the office team at Young Hip and Married was so responsive and helped pick the best possible officiant for us! From the moment we met Kadee it felt like we were meeting an old friend. She was so personable and ensured the ceremony was everything we could have imagined and more! She was also so responsive and answered every question we asked. Thank you everyone at Young Hip & Married that made our big day the best day ever!" – Heather & Dylan
"Planning our elopement in Vancouver with the help of Jane and the rest of the YH&M Team was flawless, stress-free and so simple. If you are considering booking your elopement with them, stop considering and book NOW. Our wedding day would not have been the same without them. Jane was prompt in responding to emails, gave incredible advice for locations and was professional and lovely during our ceremony. It felt as though we had known her personally for a long time. The YH&M Team has streamlined elopement ceremonies and we would recommend this a million times over! This is a decision you just can't regret. Thank you for making our day the most amazing day of our lives!" – Cindi & Nate
"We would just like to say THANK YOU, so much, for everything! Our wedding day was a perfect whirlwind of excitement. Brian is absolutely amazing and somehow managed to make a ceremony that blended Cody's Jewish traditions with my modern bohemian spirituality. The only word I have that could accurately describe the feeling of that day is pure joy. I honestly don't know what we would have done without Young Hip & Married; I am so thankful we found you guys." – Chrystal & Cody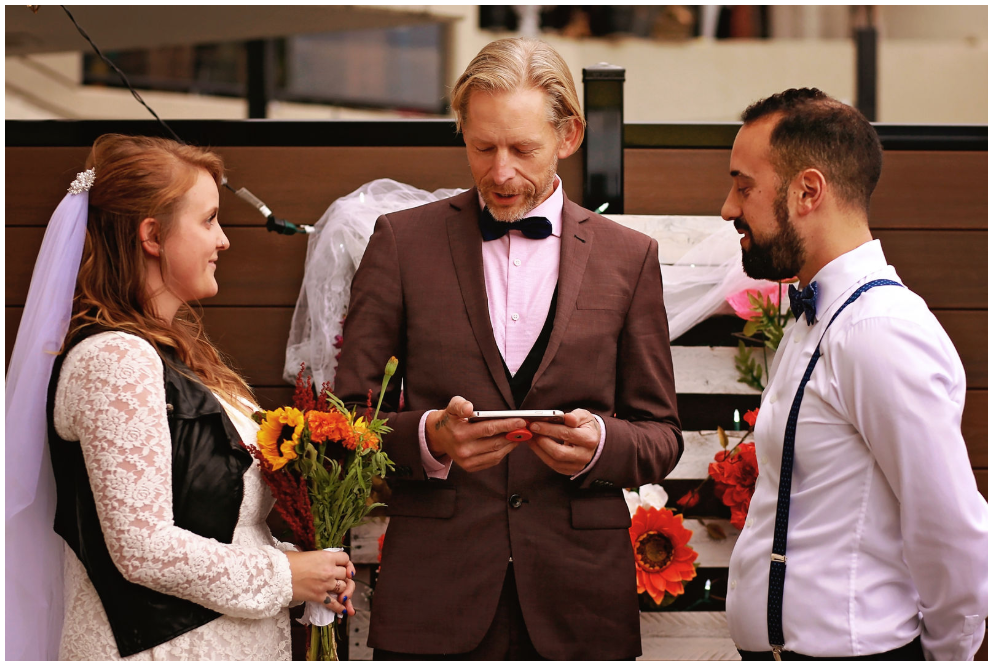 "We could not imagine a better person to marry us than Beth. She is welcoming, warm and professional; but more importantly than that, we felt utterly comfortable with her. It is a funny thing to have a stranger play a central part in what is a very personal, often private, happy and vulnerable moment of your life. Beth felt like a friend from the start. She is a person that we would consider a true privilege to know. Thank you Beth, for your thoughtful, kind and engaging self." – Sarah & Tammy
"We last-minute booked Randy as our officiant as we were not happy with our lack of connection with our previous officiant. It was one of the best decisions we made with our wedding. It was personal, intimate, and so connected throughout. Our guests LOVED how unique our ceremony was and I will forever recommend them. Some may scoff at the price tag, but it is *SO* worth it. If you think about it, the ceremony is the most important part of a wedding. Why cut corners with that aspect of your big day? I have been re-watching my ceremony video and am SO happy with it. Young Hip and Married is AMAZING!" – Hannah & Lindsay
"Young Hip & Married was everything that we could have asked and hoped for, for our wedding! Jason was friendly, approachable, understanding, patient, insightful, and always prompt in returning emails, texts, or phone calls. Jason ensured that everyone involved with our ceremony was cognizant and prepared in their role. The man knows how to direct traffic! He was open minded to our ideas and wishes, and offered some fantastic advice from his perspective. Jason's honest and receptive nature made us very comfortable, and calmed our excited nerves on our big day! It was obvious from the moment we met Jason, that we knew he and Young Hip & Married were a professional, well-run, and fun organization, and they did not disappoint. We highly recommend Jason and Young Hip & Married! Thank you so much! " – Garrett & Steph
"Our Helicopter Elopement could not have been more perfect!! The sun was shining, it was warm and the snow was deep! Young Hip & Married took all the stress out of our "big day." They were on their A Game from the beginning and I couldn't have asked for anything more from them. Erika was absolutely delightful and her calm demeanor calmed me down" – Chelsea & Jayson
"Shawn, you set the tone for our wedding. You honestly made our guests feel the love and romance in the air. I had no idea how important your role was until I witnessed it; you took over and let everyone feel our story and you somehow managed to include everyone into the story. We simply ADORE you and what you managed to do for us on our magical day. I'm still receiving calls about you and how you made what is typically boring the best damn part of our wedding. THANK YOU!!! We will cherish the words you spoke forever." – Marcus & Ally
"So happy with our decision to choose Young Hip & Married! Jodi was so nice and did such a great job and received many compliments from our family and guests about how much they thought so too! This was just what we needed – personable, good with us and managing our wedding party, and making our vows and ceremony suited just to us. Thank you!" – Jen & Chris
"We worked with Erika from YH&M  and it was great right from the first meeting. Her energy was great, we really clicked, and she was open to doing the ceremony different ways if we wanted, which was really comforting and refreshing for us. Before our second meeting she sent us what she had been working on, it was amazing, truly brought tears to our eyes as it touched us so. For the actual event, Erika was awesome. At the beginning of the ceremony, her presence commanded attention but not in an overbearing way at all. As soon as we were there she made us the focal point without us feeling nervous at all. The words she spoke were just as good as when we read them for the first time before that second meeting. She was engaging, she had warmth, and she spoke with meaningfulness. I would recommend YH&M and Erika to anyone; you'll get a ceremony you'll remember for all the right reasons!" – Ashley & Rebecca
---
Thank you to all of the Young Hip & Married couples who have shared their experiences with us. And most importantly, thank you for inviting us to be a part of your love story! We are so honoured and grateful. If you're interested in booking a Young Hip & Married officiant for your wedding ceremony, get in touch! 
feature image by Erica Miller Photography