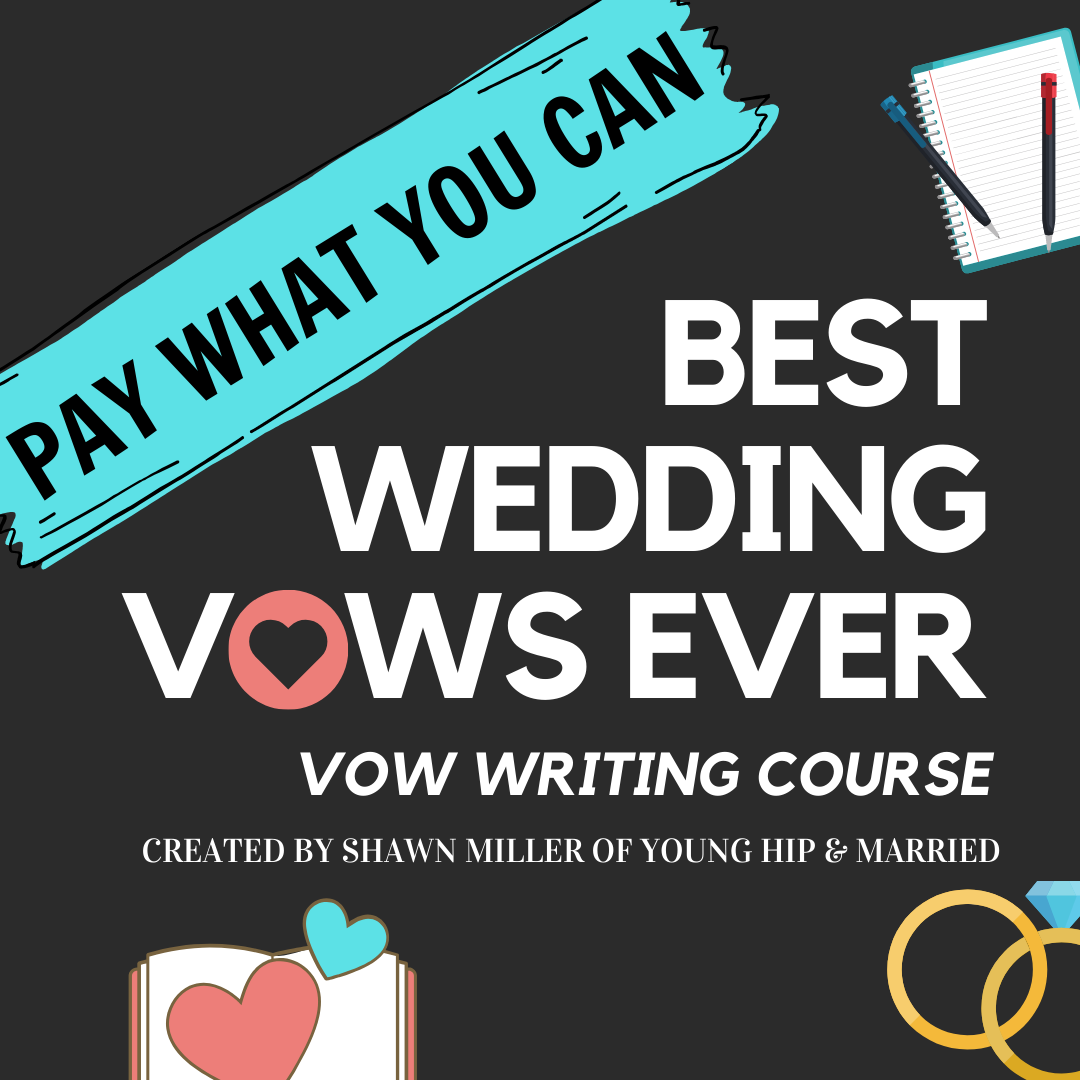 It's COVID-19. Pay what you can for the Best Wedding Vows Ever vow writing course!
Learn all about the course that Shawn Miller created, and his decision to launch it now during COVID-19, below.
This post was written & published in April 2020. Pricing information is subject to change. 
---
For the last year, I've been working hard behind the scenes creating the ultimate course for couples on how to write the best wedding vows ever. Click HERE to check it out. I've created content, recorded videos, learned new software, stayed up late and gotten plenty of feedback. The plan was to launch the course to the world just in time for the 2020 wedding season. 
Then COVID-19 happened. All of a sudden, our revenues disappeared and our couples began to cancel and postpone their weddings. My work days, which typically revolve around conversations filled with excitement and joy, shifted to conversations of sadness and uncertainty. 
It became clearly evident to me that now was not the time to launch a $97 course on how to write wedding vows. The project I was working so hard on would have to wait. Or would it…?
A number of years ago, I was struggling financially and an email popped into my inbox that said, "Pay What You Can." It was from the incredible Danielle Laporte. It was her birthday and she was offering all of her digital products on a Pay What You Can basis. I can't remember what I paid, but I took her up on the offer and her course made a huge difference in my life. 
I understand this is a difficult time for a lot of people, not just those of us in the wedding industry. But I also believe that celebrating love is one of the most important things we can do now. Being in love and being loved in return is one of the best parts of our humanity, and I strongly believe we need to share that love. Whether you are getting married, already married, or have no intention of getting married – writing a love vow to your partner is always a great idea. And I want to help. 
That is why I'm launching my vow writing course on a Pay What You Can basis, instead of charging $97.  
CLICK HERE to Pay What You Can for my vow writing course!
---
Fine Print + Good Manners
I'm not sure how long this offer will be up, so take advantage of it while you can!

The promo code you'll receive will be generic. Please be respectful and don't share it online.

One promo code per

Pay What You Can

, please and thank you. If the name registered does not match the name on the course, access will be removed. Sorry, not sorry. 

Unfortunately, this offer is not retroactive — even if you bought the course yesterday.

No offer is too low. If you can only afford a dollar, no problem! I want you to have access. 

Want to pay more but can't afford it right now? I am happy to take multiple payments over time. This works on the honour system. If you want to pay, say, $30 in three instalments via credit card or cheque, go for it! Just leave me a comment in the notes of the payment page to let me know. Easy breezy. 

If you want to pay $10 now and then make a payment after you've completed the course, have at it. 

If you want to gift this course to someone, there's an option for that as well.  

For those of you who do not jive with online payments or credit cards, I am able to accept cheque(s) (that's Canadian for "check"), or e-transfers.