Planning a Toronto elopement? Let us help you find the perfect venue. From city skylines, green parks and waterfront spots to luxury hotel rooms and swanky restaurants, this list has it all!
Back in the day, an elopement was two people running off to City Hall for a spontaneous mini wedding. These days, couples are still looking for that intimacy, but they aren't resigning themselves to a City Hall wedding in a drab office. Couples know they have lots of gorgeous options for their Toronto elopement.
Without further ado, our favourite Toronto elopement locations!
Note that not all of these Toronto elopement locations are free. Some will require you to rent the space and book ahead. Check with the venue first, and confirm your guest size, before making any plans! 
---
The Royal Ontario Museum
The Royal Ontario Museum or ROM is the place to go for history, dinosaurs and the infamous bat cave. But it's also one of the most architecturally interesting buildings in Toronto. While it will cost money to hold your wedding inside the ROM, who is to say you can't elope in front of the building?
Riverdale Park
The ultimate Toronto elopement spot is always going to be one with a beautiful view of the CN Tower. We're big fans of Riverdale Park in Cabbagetown.
Toronto Islands
Take your Toronto elopement out on the water with a visit to the Toronto Islands. There are tons of gorgeous outdoor spaces, with views of the city. If you're looking for something indoors or more formal for your day, check out this list of venues.
Sunnyside Pavilion
While Sunnyside Pavilion often hosts big weddings, it could also be the perfect spot for an elopement. Contact Sunnyside if you'd like to use the indoor space or work with your officiant to find an outdoor spot with Sunnyside Pavilion in the background.
Trinity Bellwoods Park
Trinity Bellwoods Park is a popular spot just outside of Little Italy – meaning you'll be able to grab some delicious food after your elopement! While this park can get busy on a nice sunny day, we're sure you'll be able to find a beautiful spot (with a view!) for your Toronto elopement.
Palais Royale
Palais Royale isn't just for big weddings. Get in touch with them to book your elopement!
High Park
High Park is one of the most gorgeous places to elope outdoors in Toronto. This park is huge, so you should have no problem finding your perfect spot. And if you're looking for something special, like cherry blossoms in the spring or foliage in the fall, you'll find it here!
The Henley Room
The Henley Room at the Toronto Argonauts Rowing Club is a stunning space for weddings both big and small. If you're looking for something more formal, check this one out.
The Beaches
Torontonians love walking along the boardwalk at the beach. Why not choose that for your Toronto elopement location?
Rosetta McClain Gardens
If you love the Beaches but don't actually want to get married on the beach, check out the Rosetta McClain Gardens. They're right by the beach, but give you a more floral and green atmosphere.
U of T
U of T, or the University of Toronto, is home to not only some great book learning – but also to some beautiful spaces to tie the knot! Be warned, these spaces do require you to pay a fee and book ahead of time. Other universities, like Ryerson, also have some beautiful elopement locations. If you're an alumni, check to see if there's a discount available!
Allan Gardens Conservatory
The Allan Gardens Conservatory is a great spot to get married in nature while actually holding your wedding indoors. So if your elopement day is rainy or in the middle of winter, this is a great choice. Be sure to contact the Parks Department to make your booking.
St Lawrence Market Kitchen
St. Lawrence Market is a staple in Toronto. But did you know that you can actually rent out the St. Lawrence Market Kitchen, which overlooks the market, for your nuptials?
CN Tower
Okay, you don't actually have to say your I do's on the edge of the CN Tower, but apparently that is an option! You can also opt to elope on the ground in front of the CN Tower or maybe up in the restaurant with a view of the entire city.
Ripley's Aquarium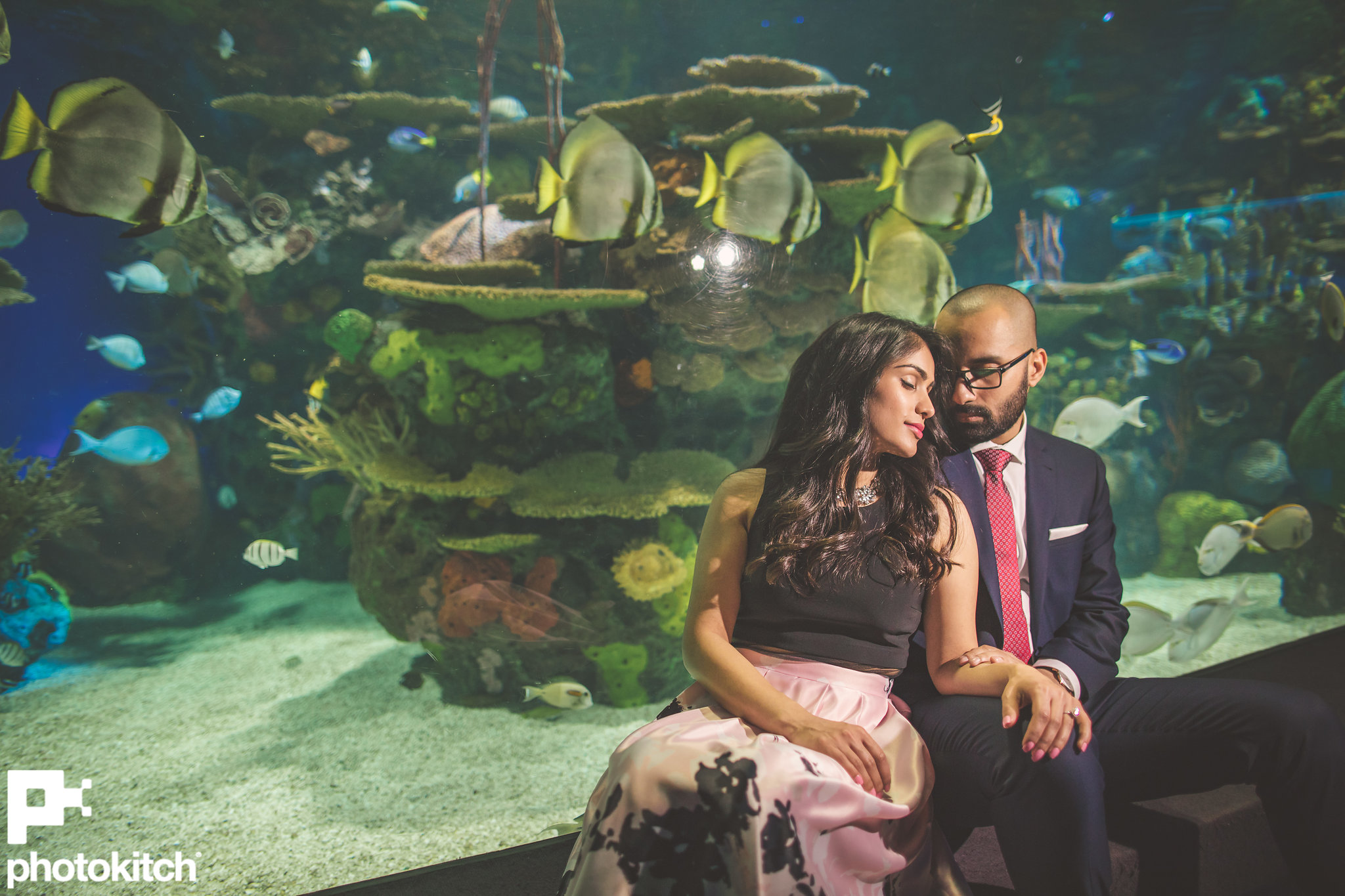 by Photo Kitch
Want to go under the sea for your elopement? Well, here's a way to do it while keeping your clothes dry. Make sure you get in touch with the aquarium in order to book the space.
Humber Bay Park West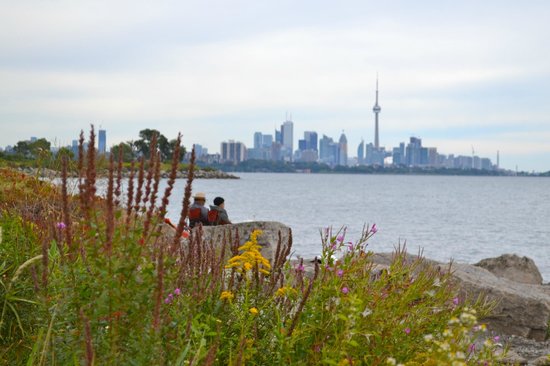 Via TripAdvisor
Humber Bay Park West is an awesome spot for a Toronto elopement, just west of downtown in Mimico, south Etobicoke. As our Officiant Billy says, "There are some nice little parks further west just off the Lakeshore at Mimico; Humber Bay Park West would be a good spot. There are views looking out on the lake. The Waterfront Trail there has lots of quiet rocky promontories sticking out into the lake with two yacht clubs as a backdrop, and a sweet little gazebo if it rains." Sounds perfect!
Tranzac Club
If parks and skylines aren't really your style, check out the Tranzac Club for a very different vibe. While this venue could hold more people, we see no reason why it wouldn't work for a more intimate elopement.
Polson Pier
Polson Pier is one of the most popular spots for photos in Toronto thanks to the beautiful view in the background. Who wouldn't want to tie the knot here?
Osgoode Hall
Osgoode Hall, a beautiful law school in downtown Toronto, is a stunning option for your Toronto elopement. If you want exclusive access or the ability to take photos inside, you'll need to get in touch with the venue. But the outside is just as beautiful!
Bickford Park
Toronto is lousy with pretty parks perfect for an outdoor elopement. Check out Bickford Park, just south of Christie Pitts, for another great option.
Distillery District
One of the most stunning, and most popular, places in Toronto to get married has got to be the Distillery District. And while you will need to obtain a permit, it may be worth the cost for this beautiful spot!
Casa Loma
Have you always dreamt of getting married in a castle? Well, you can do just that at Casa Loma! Of course, you'll need to pay a fee and book ahead of time. While Casa Loma can hold large weddings, it's also a charming spot for a more intimate elopement.
Art Gallery of Ontario
If you want to get married amongst some of the most beautiful pieces of art, look into renting the Art Gallery of Ontario for your Toronto elopement. In addition to art, there are some awesome spaces with large windows and cool architecture.
A Toronto hotel
We usually think that hotels are only used for large weddings and events. But they can be the perfect place for small elopements too! You can tie the knot in your hotel room, in front of the hotel or even in the lobby. You may even be able to sweet talk the concierge into letting you use the event space for a quick five minute elopement!
A Toronto restaurant
Getting married at a restaurant is another awesome option for elopement couples. You can go all out and rent an entire space. Or you can keep things really intimate and just elope at your table or in a private room. Nothing follows an elopement better than a delicious meal!
Outside of Toronto elopement
Of course, if you want to travel a little farther outside of the city, there are lots of gorgeous places to elope near Toronto. Some of our favourites include Niagara on the Lake, Prince Edward County and Stratford.
---
Have we inspired your Toronto elopement?
We'd love to know where you're holding it and everything you have planned for your amazing Toronto elopement. And if you need a wedding officiant for your elopement, get in touch!