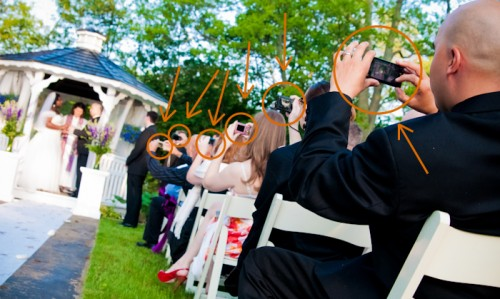 Imagine yourself at your own wedding, looking at the passionate eyes of your loved one as you exchange your vows. At a split second, you turn to look at your audience, and you see that all of them, family and friends looking at you
through their phones
. Their arms raised to head-level, faces are covered up by their latest iPhone cover. Ugh! You hired a fabulous photographer – you don't want this! In fact, it gets worse!
After you receive your wedding ceremony photos from your photographer
,
all the shots of your guests reveal them staring at their beloved devices. Your friends may be smiling, but not at you, they are smiling at their phone screens.
Well, this is the trend these days! Weddings are being over documented by amateurs with phones! Even if you have already hired a photographer to capture the moments of the event, you can be assured that everybody has a camera with them and not only are they watching the wedding through their device, they are updating their social media world about the entire event. You've invited guests to witness your beautiful ceremony, not take average photos on their iPhone. You want your guests full attention!
The
best wedding ceremony
is one that is characterized by solemnity and this can only be achieved if the guests try their best to be present in the event. Sadly, our devices often do the opposite of our intention.
We think they will help us capture the moment, but instead we lose the moment all together!
Of course there are things that legitimately distract us, like children or the need to find some kleenex, but you want guests that are not just physically there but are also emotionally ready to indulge themselves on the sanctity of the event.  
What can you do to contribute to the solemnity of an important
wedding ceremony?
Keep in mind that a wedding ceremony is a fleeting event. Despite the length of time and effort many take to plan their wedding, it doesn't last forever.
Therefore, it would be best to encourage your guests to be emotionally and physically present, rather than focusing on what their tiny screen can do.  By encouraging your guests to put their devices away during your ceremony, you are also inviting your guests to more fully enjoy the moment with you.
In some instances, a hyper- documented ceremony might be preferred by some couples. For example, if the wedding is under a tight budget, couples may simply skip on the use of professional photography, and depend on the photographs from the guests. But generally, couples want their guests focused on them and leave the photos to the professionals.
If you are searching for a more intimate moment with your guests, then a solemn and device-free wedding may be perfect for you. You can either announce this request before hand or have the message passed on to your audience on your wedding day; the purpose stays the same, that is, to create a more memorable moment on your special day.  Feel free to ask your officiant to make this announcement for you! We can do the dirty work of asking people to keep their iPhones in the pockets and purses. After all, there will be plenty of time for selfies at the reception!