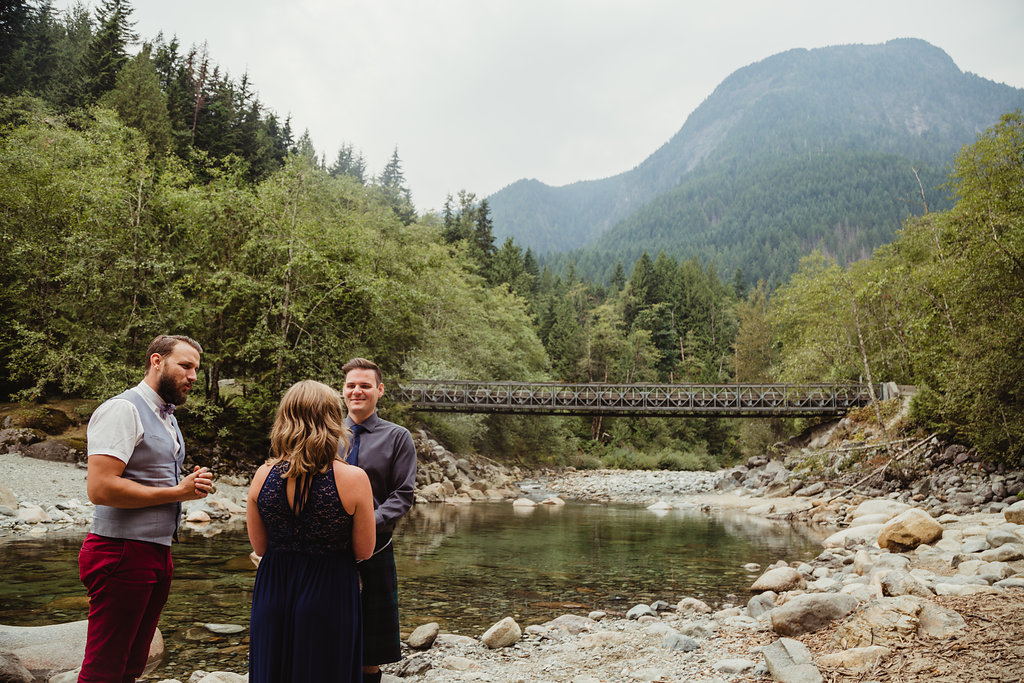 What is a friendor? It's a friend that you hire as a vendor for your wedding. Many couples decide to bring on friendors because they see it as a great way to save money, involve their friends in their wedding day and get a personalized service. But friendors might not be as great as they sound.
Thinking of hiring a friend to do your flowers, play DJ or even officiate your ceremony? You may need to rethink that. Check out our 10 points below before you decide if friendors are the best choice for you.
---
They can't legally do the job
In some cases, friendors won't even be an option because they can't legally do the job. For example, a friend who isn't licensed to officiate cannot legally marry you. Unlike in the movies or certain states where people can get ordained online, the same isn't true in Canada. So even if you did want a friend to marry you, it's not possible if you want to be legally married.
They might know you, but they don't know weddings
The best part about bringing on friendors is that these people already know you. You don't have to spend time telling them what you like or how you met because they already know all of that. But do they know weddings?
Many friendors don't have experience with weddings. If they take on the officiant role, for example, they may have no clue how to talk in front of a crowd of people. They won't know to cue the DJ or look out for the wedding coordinator's signal. They might get in the way of the photographer. And they might forget simple things like asking people to sit down or getting out of the way for the first kiss.
They're not professionals
Many friendors are willing to take on a job at your wedding for free (or a deeply discounted price) because it's not their full-time job. Perhaps they're just learning how to take photos or they made a nice cake for your grandmother's birthday that one time. As much as we want to support our friends in their new careers, side hustles and hobbies, ask yourself if your wedding is the best place for your friend to trial run their new photography or baking skills.
They could make it all about them
While this isn't true of all friendors, many can see the role as an opportunity to make it all about them. For example, you may have a photographer-friendor who is too busy taking beautiful sunset photos of your venue for her portfolio to make time for the family portraits you wanted. Or maybe it's a caterer-friendor who is trying to sell her services to another couple at your wedding instead of making sure dinner is served on time. Or perhaps it's an officiant-friendor who decides the ceremony is the perfect time to make a bunch of jokes about her relationship with you instead of focusing on your relationship with your partner.
They can (and probably will) make mistakes
When you hire people who aren't professionals and who don't have experience, it's likely they will make some mistakes. One of our officiants shared a story about a DJ-friendor experience gone wrong. The "DJ" couldn't figure out how to get two microphones to work at the same time so our officiant had to turn hers off so the musician could use his. Of course, the musician forgot to turn his off after he was done and our officiant was left without a mic!
And you don't even want to know how many times we've stood at the end of the aisle in complete silence because a DJ-friendor couldn't figure out how to get the music started. Talk about uncomfortable!
What happens if you're not happy?
So if you were working with a regular vendor and found that you were unhappy with their services, it would be fairly easy to write them an email or give them a call and let them know. You wouldn't have to worry about offending them or hurting their feelings. But it's a totally different case with friendors. It can be really awkward to tell your best friend that the cake he designed is nothing like what you wanted or to tell your cousin you don't like the centerpieces she made.
Bringing up problems and requesting changes from friendors can be very uncomfortable. Many couples don't bother and just go along with a service or product they're not happy with. But do you want that for your wedding?
You can't fire your friendors
It's true: you can't fire your friendors…without risking your friendships. Let's say you decide to take a chance on your friend who is learning how to take photos. You do an engagement photo shoot with him and it's awful. He's unorganized, the shoot is uncomfortable and the photos are not your style at all. You're not about to let this guy photograph your wedding. But what do you do? Do you fire him and risk losing him as a friend because he's so hurt and insulted? Or do you suck it up and let him photograph your wedding knowing you'll have bad photos?
Money and friendship don't mix
They say that money and friendship don't mix – and it's true! Even splitting the check at brunch can be awkward if one person guzzled mimosa after mimosa and someone else just got a side of toast. But it can be even more awkward when you're dealing with friendors. Many couples don't even discuss the details of money with their friendors because it's so uncomfortable. So you might be thinking you're getting flowers for free while your friend may be planning to charge you 75% of her regular rate. What happens if you miss an invoice? Do you really want your best friend to have to send you a late payment reminder?
Your friends don't get to have fun
When couples hire their friends as friendors, they often forget one big thing: you're now asking your friend to work at your wedding. Instead of allowing them to enjoy themselves as a guest, your friend now has to do a job. They're busy scrubbing dishes in the sink, packing up a van with vases or standing behind a computer when they should be eating great food, listening to speeches and partying on the dance floor.
There are lots of other ways to honour your friends
Weddings are full of roles and duties that can honour your closest friendships. So instead of hiring your buddy to be your officiant, why not ask him to be your MC? That way, he can tell more jokes and he doesn't have to be licensed. You can also ask your friends to do readings, give toasts, host pre-wedding parties, usher, get ready with you the morning of, or join your wedding party.
And you can still get their help without hiring them as friendors! You can host a craft night and have your friends come over to help you with your DIY wedding decor (while downing a few bottles of wine). You can ask friends to help you do research, attend venue visits with you and help you create the seating chart.
But what happens if you do have a friend who has DJ-ed a few parties and has not so subtly implied that they could DJ your wedding, but you're against hiring friendors? Let them know what you're thinking early on so they're not left wondering if they have the gig. Tell them that you want them to enjoy your wedding day and to celebrate with you, not spend all night behind a computer with headphones on. Ask them for recommendations, since they likely know some awesome DJs. You don't have to get into the fact that you don't think they're experienced enough or that you hate their taste in music. You just have to let them know that you value them as a friend more than you do as a friendor.
How do you feel about friendors? Let us know! 
written by Riana Ang-Canning
featured image by Erica Miller Photography