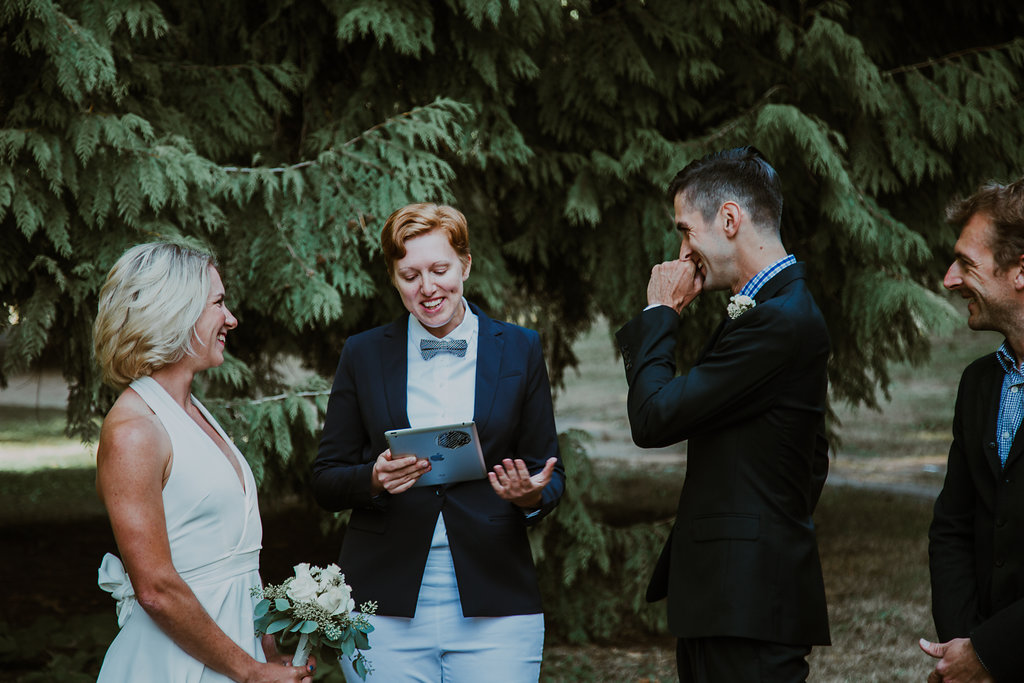 With all of the wedding decisions to make, from choosing a photographer to tasting cakes, there's often one part of the day that gets overlooked. The ceremony and your officiant. At Young Hip & Married, we believe the ceremony is the most important part of the wedding. It's the moment when you get to make your lifelong vows to your partner and focus on your love in front of everyone who cares about you. It's the start of your marriage.
So it makes sense that you would want someone with you during this very important part of your wedding who really gets it. When we ask couples what they want out of their ceremony, they always say they want a ceremony that feels like them. In this moment that's all about you two and your love story, it's important to find someone who can tell it right.
But how do your find your perfect officiant?
---
Do your research
You don't have to get married by the same person who married your parents or your best friend. You don't have to go with the closest priest or first person who comes up online. If having a meaningful ceremony with someone who is going to take the time to tell your story right is important to you, take some time to find that person. Read reviews, meet them for coffee and believe your officiant is out there for you.
Don't assume anything is set in stone
To legally get married, there's very little you have to say and do. Yet so many couples assume they have to have the same readings, rings, and vows that they've heard a hundred times before. Not true! You can totally design your ceremony to fit your style. Swap out religious readings for movie quotes or skip rings and do a sand ceremony instead. The right officiant will be able to perform a ceremony that is right for you.
Do make sure your officiant gets to know you
One thing we hear a lot from wedding guests is, "Wow! You must be really great friends with the couple. You know them so well!" That's the best compliment. We strive to get to know our couples and officiate a wedding that fits their style and tells their story. If you're a funky couple who loves to laugh, your officiant should know that and be able to reflect it in your ceremony.
Don't be surprised
Going into your wedding, you'll likely be nervous. Did the flowers arrive on time? Do I look okay? Is the band set up? One thing you shouldn't have to worry about is your officiant. You should know what your officiant is going to say and be comfortable with their style, tone and language. You don't want any surprises when you're up there. And you should totally trust your officiant to be professional and deliver the ceremony you've requested.
Do be really excited about who is marrying you
Our goal at Young Hip & Married is for our couples to be so excited about their ceremony and the person who is going to marry them. We want you to love the process of putting together your ceremony and presenting your story to your loved ones. We want you to connect with your officiant and consider them a friend by the time the wedding comes. And we want you to have the ceremony of your dreams. Don't settle for an officiant who can just do the job. Find an officiant who makes you ecstatic about getting married!
---
Feature image by Erica Miller Photography
Written by Riana Ang-Canning