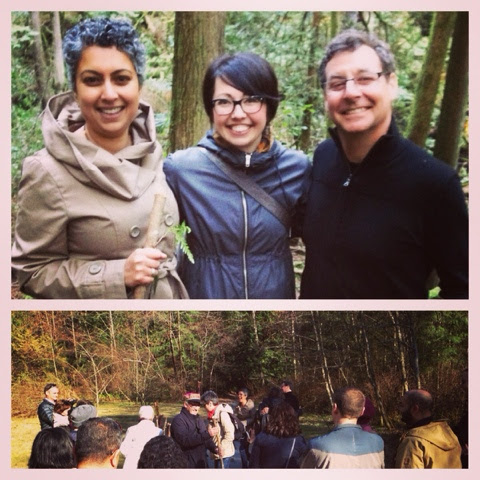 We love when our Vancouver elopement couples plan a celebration that is uniquely theirs! The best part of an elopement is that it is all about you two. For Sadira and Simon's elopement with Wedding Officiant Bobbi, they headed to Cypress Falls to say their vows amongst the trees.
Not only did Simon and Sadira want to say I do in the middle of the forest, but they wanted to do it with some of their closest loved ones. They set out with their small group, each choosing a unique walking stick for the journey. This unique tradition brought meaning to Sadira and Simon's day and truly made their ceremony all about them.
Whether it's walking sticks, handfasting or beer blending, we love incorporating
creative elements into your wedding ceremony
. With an elopement, you have the freedom to get married in any number of beautiful places and really make your wedding day your own. An elopement gives you the chance to examine what you really want for your wedding day and what will be meaningful for the two of you.
Here are some words from Wedding Officiant Bobbi for the newlyweds:
"Congratulations, Sadira and Simon! What an awe-inspiring way to mark the beginning of your married life. Thanks for letting me be a part of it!"
We truly have the best job in the world getting to be with couples as they celebrate and commit to one another. It is such a joy to be with couples during this milestone and to see how couples uniquely mark their commitment to one another. We are so excited to join you in marriage in the middle of a forest, on the beach, up high in the mountains or in a beautiful hotel ballroom.