Congratulations, you're married! And now it's time to put pen to paper and work on your wedding thank you cards. While some couples groan at the thought of tackling their thank you cards, we want you to look forward to this big act of gratitude. Finish your final wedding task with smiles on your faces, and read on to learn how to write wedding thank you cards (that don't suck).
Check out some of our best tips and tricks, as well as a template for your cards below!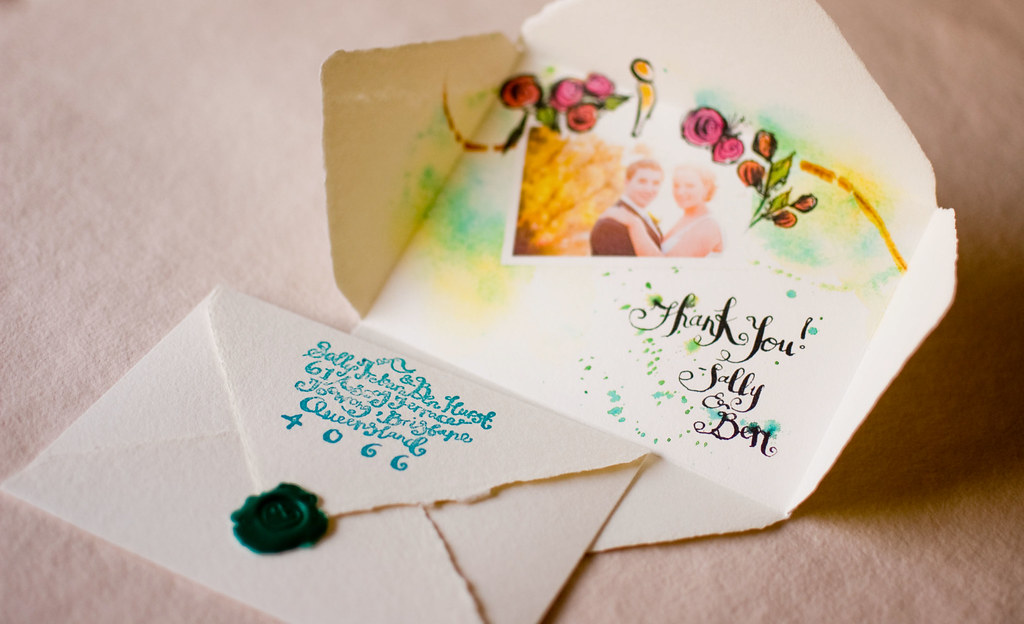 ---
Do you need to write wedding thank you cards?
YES.
Yes, you do. Even if the person didn't give you a gift, even if you thanked them in person at the wedding, and even if they live overseas, you need to send them a thank you card. At YHM, we're big fans of getting rid of traditions that don't feel like you. But the wedding thank you card is one tradition we stand behind.
Think of your wedding thank you cards as really the nicest way to end your wedding and begin your marriage. You're reaching out to your closest loved ones and expressing your gratitude.
Divide the work
Both of you got married. Both of you are using that blender. So both of you should be writing the thank you card.
And we're not just talking about one spouse figuring out how many cards you need, assigning which ones the other spouse should write, and telling the other spouse what to write. We're talking about both of you doing the mental work and writing the cards together.
Split up the work and decide together what you want to say, what kind of cards you want to use, and when you will write them. It may feel like one spouse should take this on, but it's actually a really nice activity to do together as a married couple.
And no, bad handwriting does not make you exempt from this task.
Start early
Tradition says that wedding thank you cards need to be sent within three months of your wedding day. Of course, that's not a hard and fast deadline. But you should aim to get these cards out in a timely manner.
The nice thing is, you can start before the wedding even finishes! If you have a wedding registry, odds are you'll receive gifts before the wedding. So why not get started on those thank you cards?
Even if you can't write the cards before the wedding, you can get a head start by ensuring you have the cards ordered and envelopes addressed. Once you are able to start writing, come up with a plan for how you'll tackle this task. You can set a number of cards you want to write each week or designate a certain time of week for card writing. Change "Netflix and chill" to "Netflix and quill" – break out the pen and start writing cards while you binge your favourite series in the background.
Keep a list
In order to make card writing as easy as possible, you need to stay organized. As soon as you start opening gifts or cards, start a list. On it, write down who gave you what. It's also helpful to jot down a quick note about that person from the wedding, such as how much fun you had dancing to Destiny's Child with them on the dance floor. You'll want to include that personal detail in their wedding thank you card, and it can be easy to forget if you're writing the card weeks later.
Check with your vendors 
Bonus tip: Check in with your vendors to help make the card writing process even easier. For example, when you're ordering your wedding stationary, like invites and save the dates, see if you can also include thank you cards. That way, you don't have to worry about ordering cards after the wedding. If you're getting addresses printed on envelopes for your invites, go ahead and double up that order so now you have addressed envelopes for your wedding thank you cards too!
It's also a good idea to check in with your wedding photographer if you want to use wedding or engagement photos on your thank you cards. Ensure you'll get your photos back in time. And does your photographer offer card printing? Perfect! That's one less thing for you to worry about.
Don't worry!
Remember, this isn't a university admission essay you're writing. It's a thank you card to a friend or family member who loves you.
These cards do not have to be long; short and sweet is the way to go! Bad handwriting is allowed. And they don't have to be formal. Have fun with it! Include a personal joke or fun nickname that you have for that person.
And make the card writing process fun for yourself. Have a blast picking out a gorgeous wedding photo for the card. Reward yourself with a glass of wine when you finish writing a batch. Relive awesome wedding memories as you write. And enjoy signing off the card as a married couple, perhaps with a new last name!
Template for wedding thank you cards
Okay, let's get to it. Here is your template for writing wedding thank you cards (that don't suck). There's five simple steps:
1 – "Dear (person's name)"
That wasn't so hard, right? If a gift is given from a couple or a family at the same address, it's okay to send one card to all of them. If it's a group gift however, like friends going in on a larger registry item, it's nice to send individual cards to each person/couple.
2 – Thank them for attending
Start your card with thanking the person for coming. You want to celebrate their presence before their presents! Here are some ways to do that:
Thank you for celebrating our wedding with us! 
We are so glad you could attend our wedding!
Thank you for joining us on our special day! 
3 – Add a personal detail
This is what takes your wedding thank you card from generic to heartfelt. It's not just about the gift; it's about the memory made. So add a quick line such as…
We had the best time rocking out on the dance floor with you.
Thanks to your recommendation, we had the best wedding cake ever! 
The reading you did at the ceremony really touched our hearts.
Thank you for attending all of my outfit fittings with me! 
4 – Thank them for the gift
It's time for the thank you. But instead of just thanking your guest for the gift, go one step farther and add how you're using the gift, what it means to you, how you feel about it, etc. For example:
Thank you for the toaster. You've made our mornings so much brighter! 
We so appreciate the towel set. They're so cozy and we love using them.
Thank you for the gift certificate to our favourite restaurant! We've already made reservations to celebrate our one-month anniversary there. 
We can't thank you enough for the blender! You'll have to come over to try one of our smoothie creations. 
5 – Finish with well wishes
We're in the home stretch! End your wedding thank you card with well wishes for your guest and a final thank you. Some great ending lines include:
Thank you so much for all of your love and support!
We are so happy you were there and can't wait to see you again soon.
Thank you once again for joining in our celebration.
We are so lucky to have you in our lives! 
Thank you for being an important part of our special day. 
Sign your names and mail that card off!
Extra tip on writing cards for cash gifts:
If you're writing a thank you card for a cash gift, there's no need to mention the exact amount. But it is nice to recognize the gift and explain how you'll be using it. Hint: try to come up with something more fun than buying groceries or paying off debt!
For example, you can say: "Thank you for your generous contribution towards our goal of buying our first house" or "Thanks to you, we were able to enjoy a Michelin-star dinner on our honeymoon. It was delicious!"
Extra tip on writing cards if they didn't give a gift:
Writing a card for someone who didn't buy you a gift? Don't mention it! Remember, that person still loves you and took the time to show up for you on your special day. Simply cut out step four from the template above, and be sure to include a nice personal detail and warm wishes.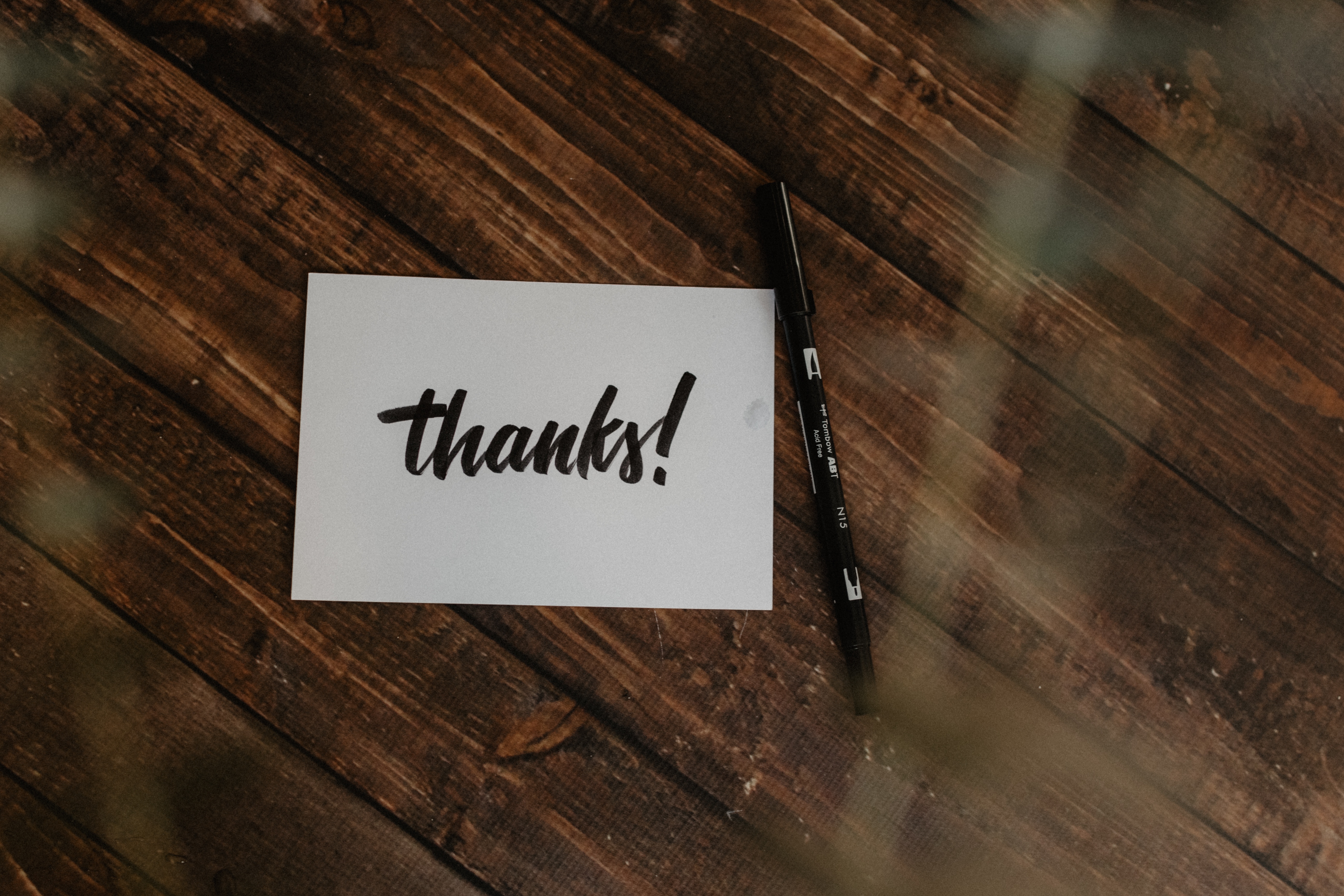 ---
written by Riana Ang-Canning