Whether you have a Pinterest board full of wedding signs or you've never heard of the term before, if you're planning a wedding ceremony, this post is for you! Let the experts at Young Hip & Married walk you through the beautiful world of wedding signs.
What is a wedding sign? What's the point of wedding signs? 
A wedding sign is a sign that gets displayed at a wedding (duh!). This can be a poster, marquee letters, cardboard sign, wooden sign, chalkboard, etc. The point of a wedding sign is first and foremost to pass along information to guests, such as where to find the bathrooms or what is being served at the bar. Their secondary purpose is decorative; wedding signs can help to portray the vibe of a wedding as beautiful pieces of wedding decor.
Signs at weddings are not to be confused with signing at a wedding. Signing at a wedding ceremony usually refers to signing the marriage licence.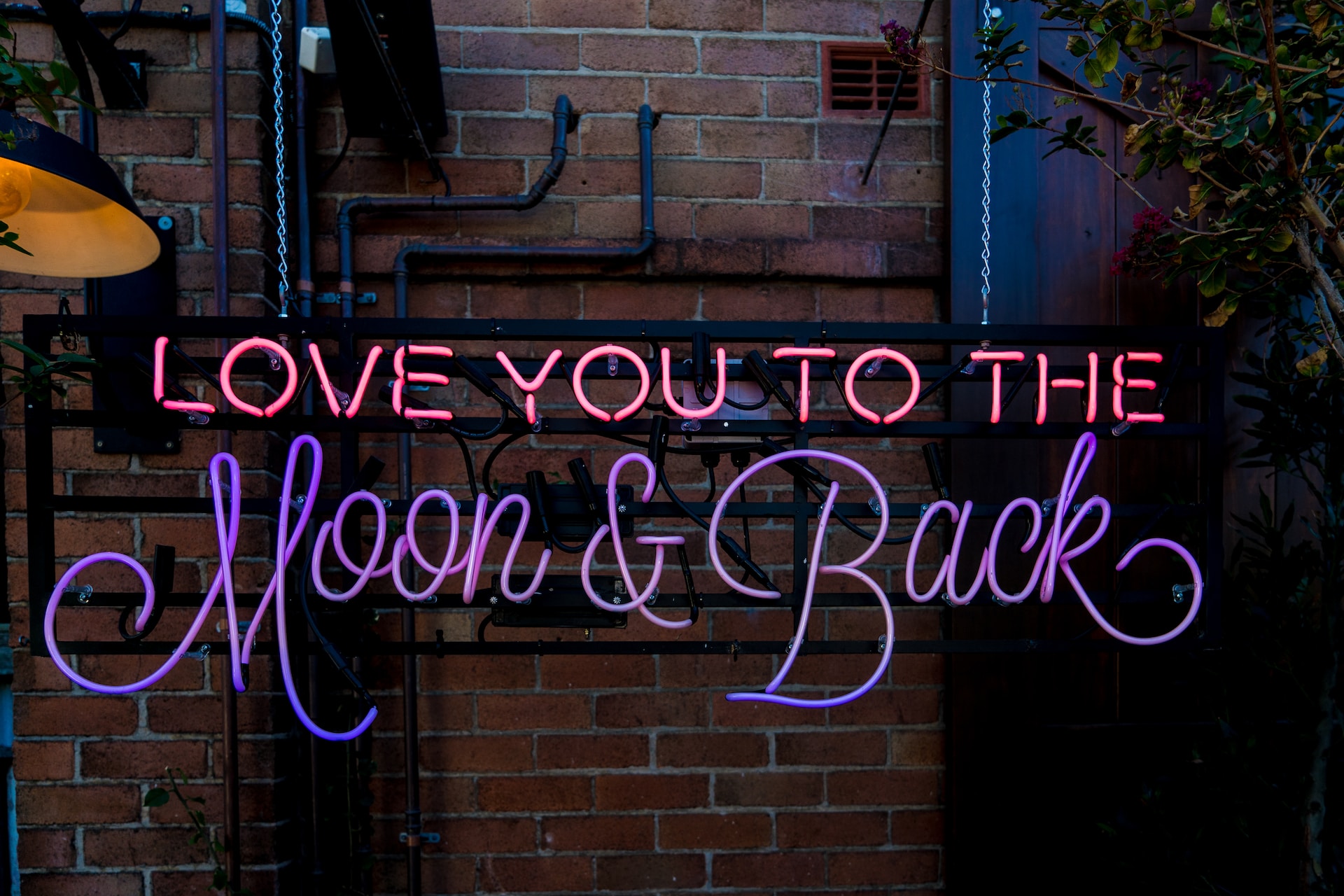 Do we really need 18 wedding signs at our ceremony? 
Probably not. The point of us listing 18 signs to display at your wedding ceremony is to give you a comprehensive list of signs you may want to use – not 18 signs you have to use. Go through the list and see what signs make sense for your guest size, venue and ceremony style.
In fact, it would probably be overkill to have all 18 types of wedding signs at your ceremony. Too many wedding signs can start to feel tacky and dated (think of a home with "Live Laugh Love" plastered all over it). Worse, guests will start to ignore signs if there are too many. They came to have fun at a wedding, not read a novel's worth of signs!
Bottom line: Remember that your guests are competent human beings who can likely find their way to the bar or know the bride is entering without a sign telling them so. Include signs where you think they will be useful – where a guest might be confused about what to do or where to go. If you're using signs purely for aesthetics, show some restraint. If you have to ask, "Do we have too many wedding signs?" then the answer is probably yes!
What about wedding reception signs? 
As experienced wedding officiants, we're just going to cover the signs you might want at a wedding ceremony in this blog post. But there are lots of signs you might consider putting up at your reception too. These include: a seating chart, bar sign, menu, table numbers, photo booth sign, hashtag sign, sweets table sign, food labels, favours sign and grand exit instructions.
18 wedding signs to have at your wedding ceremony
Welcome sign
Welcome to our wedding! Many couples like to display a welcome sign at the entrance of their ceremony. Not only does this set the tone for your wedding (your welcome sign will likely match the rest of your decor), but it can also be very helpful if you're getting married in a venue that hosts multiple weddings at once, such as a conference centre. A welcome sign with your names on it lets guests know they're in the right place!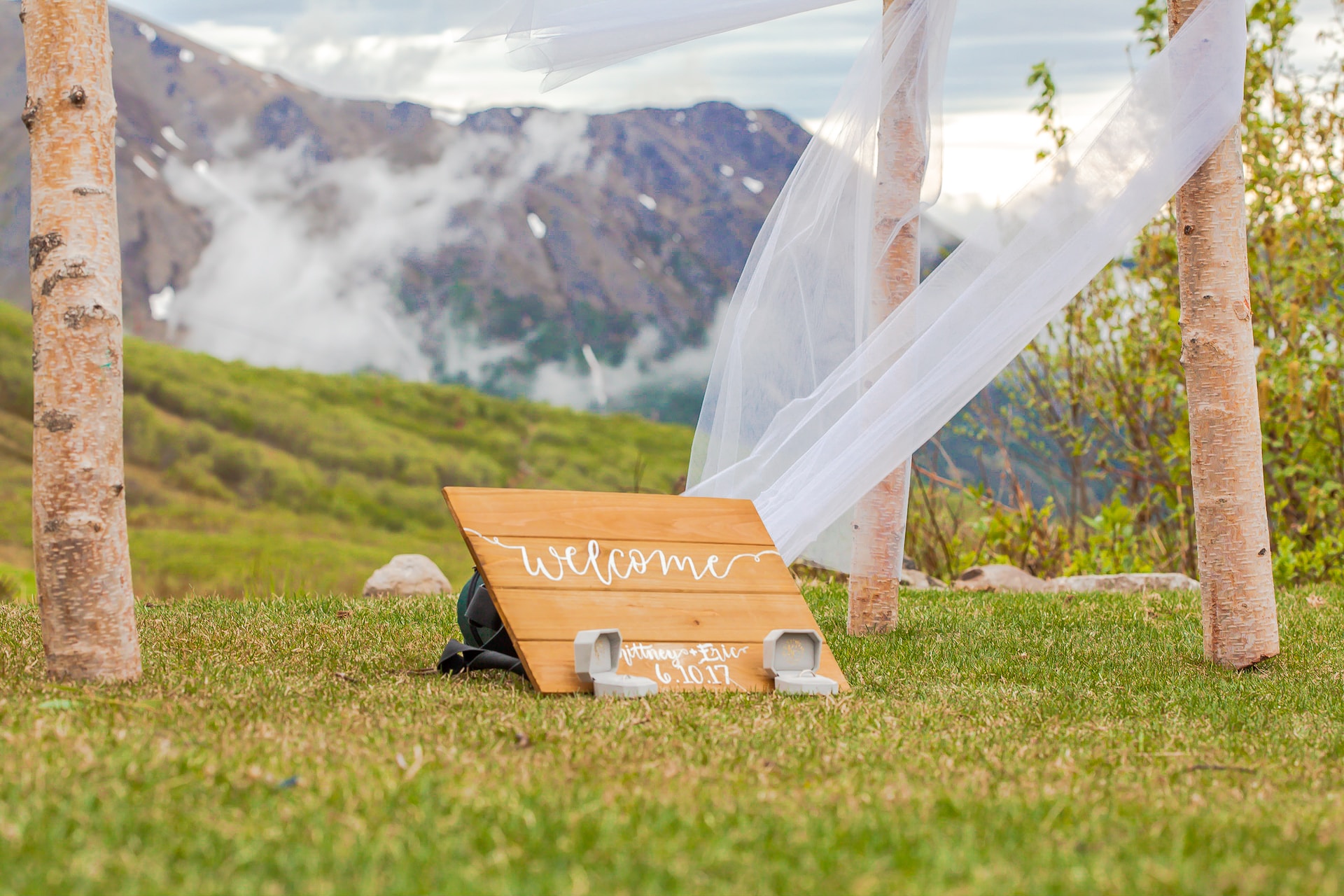 Wedding program sign
If you're having wedding ceremony programs, a sign telling guests to take one might be helpful if you don't have an usher handing them out. Alternatively, you may want to put the contents of a wedding program on the sign itself, instead of having individual programs for everyone. On the sign you could list the members of the wedding party and the order of events of the ceremony.
Directional sign
A directional sign points guests in the right direction. This could be as simple as a sandwich board that reads, "This way to the ceremony" or a large sign post with arrows indicating where guests should go for the ceremony, the reception, photos and if they need to use the restroom. If your venue space is very large or complicated, these signs may be necessary so guests don't get lost.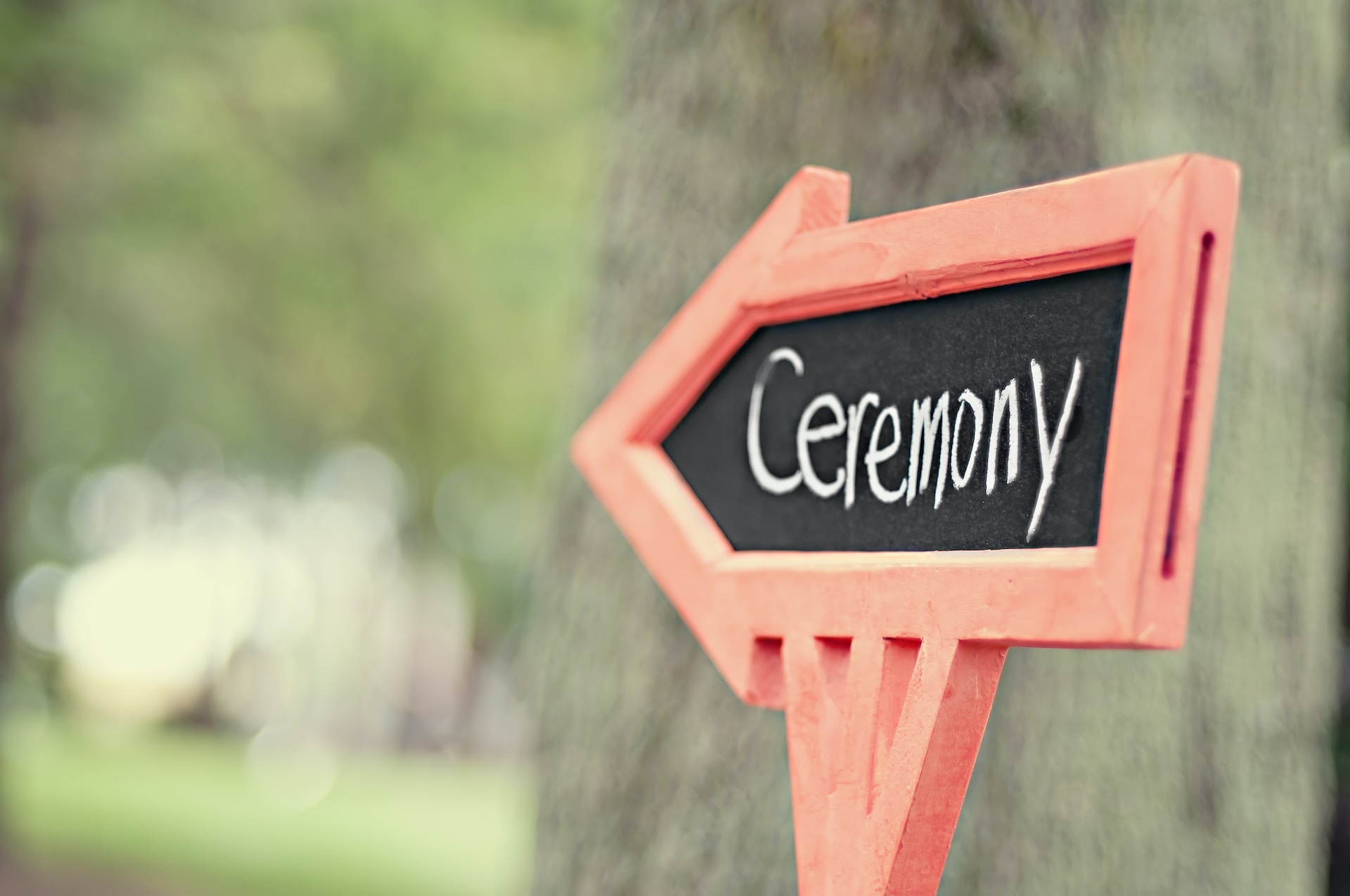 Unplugged wedding ceremony sign
Many couples opt for unplugged wedding ceremonies these days and we have to admit, we're big fans! If you want your guests to put their phones and cameras away during your ceremony, a sign reminding them of this policy is a good idea. You should also couple this with a note on your wedding website and an announcement by your officiant. You can never remind guests too often about this one!
Seating sign
How ever will guests know to "pick a seat, not a side, we're all family once the knot is tied" unless you have an artsy sign telling them so? We kid, of course! But many couples do like to post a sign telling guests they're free to choose their own seat. This comes out of the Christian tradition of the bride's family sitting on the left while the groom's family sits on the right. Most couples don't bother with that tradition these days and so place a sign letting guests know they're free to sit wherever they'd like.
Signs for blankets, fans, umbrellas, bubbles, bug spray, etc.
If you need your guests to pick up anything before your ceremony begins, throw a sign up to let them know. While a basket full of blankets might be obvious, it doesn't hurt to have a small sign letting guests know the blankets are for them and they should bring one to their seat so no one gets frostbite mid-ceremony.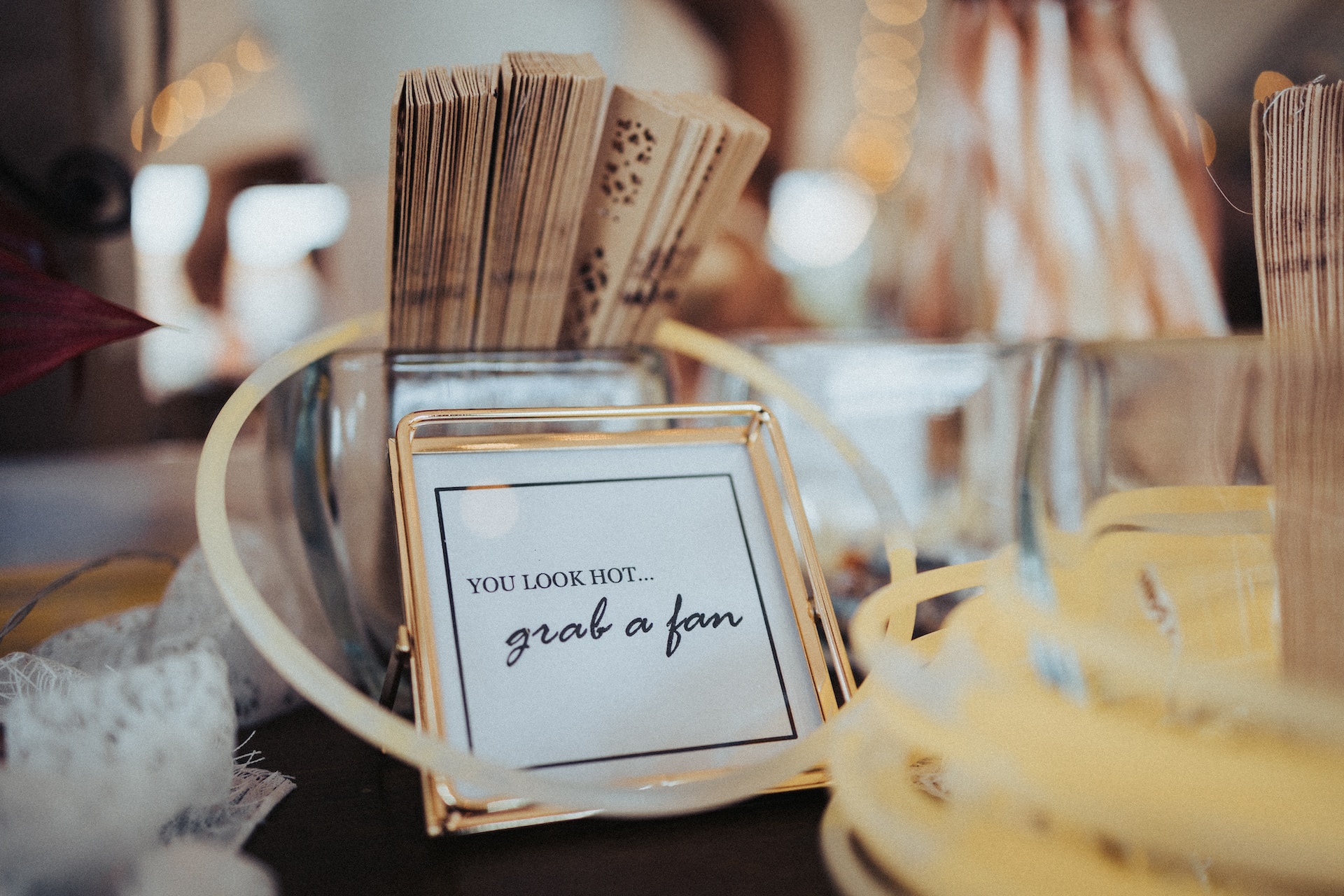 Sign carried by your wedding kids
If you're having flower kids or ring bearers in your wedding party, many couples like to supply them with a cute sign as they're coming down the aisle. Signs will say things like "Ring Security" or "Here comes Uncle Mitch!" Obviously this isn't a mandatory wedding sign, but it sure can be adorable!
Sign carried by your wedding pets
If you've opted to send Fido down the aisle with the rings, you may want a cute sign to accompany him. Just like the signs that wedding kids might carry, these signs on pets aren't mandatory. But if you're going to trouble of putting your pup in a little tux or flower crown, why not add a sign?
Signs on chairs
One of the most important wedding signs at a ceremony is any sign you leave on a chair. Often these are reserved signs that let guests know certain seats are reserved for specific individuals, such as reserving seats for your parents in the front row.
Remembrance sign
Many couples choose to have a remembrance table at their wedding ceremony in honour of passed loved ones. You could set this up with photos or mementos of the deceased and a sign explaining who they are to guests who might not know.
Guest book sign
If you're planning to put out a guest book at your ceremony, a small sign encouraging guests to sign it is a good idea. Some couples prefer to only have their guest book out at the reception or skip the guest book altogether. But if you do have a guest book and want as many signatures as possible, we recommend displaying it with an obvious sign throughout your wedding day.
Cards & gifts sign
Again, some couples will only have a box or space for cards and gifts at their reception, and so won't need a sign at the ceremony. But if you have the space, it can be handy to have this available at your ceremony as well. Some guests will bring their cards and gifts to the ceremony, and want to offload them right away, or some may only be attending the ceremony and not have a chance to give you their gift at the reception.
Ring warming sign
If you're having a ring warming – a unity ritual where guests warm the couples' rings with their love before the ring exchange – during your ceremony, you may want to have a sign at the entrance of the ceremony space explaining what guests will need to do. Some couples forgo the idea of passing around the rings during the ceremony, which can be difficult to organize, and instead display the rings before the ceremony for guests to warm.
Wedding timeline sign
Another popular wedding sign is a wedding timeline. On this sign, you'll list out the order of events for the wedding day or wedding weekend so guests know when they need to be where. This can be very handy if you have a few events planned or strict times you need guests to show up.
Menu or drinks list
If you're serving any food or drinks before, during or after your ceremony, having a menu sign or drinks list is a great idea. This way, guests know what is being served. These signs should list out important details, such as any allergens or if drinks are alcoholic. Even if you have a self-serve option, such as a juice dispenser or cooler of beer, a sign inviting guests to grab a drink is a nice touch.
Wedding announcement sign
This is a great wedding sign if you're having an intimate elopement with just the two of you. After tying the knot, you can pose with a sign that has the date of your wedding. That photo can be the perfect thing to send out to friends and family to announce your marriage.
Decor signs
Decor signs are optional wedding signs and, as discussed above, not to be overdone. However, a few decor signs here and there can be a nice touch and add to the overall vibe of your wedding. You may want to put up romantic quotes, a sign featuring your new last name, marquee letters of your initials, adorable photos or your pets, or a fun phrase in neon!
Just married sign!
Last but not least, we can't skip over one of the original wedding signs: The just married sign! This is a super fun sign to pose with as soon as you recess up the aisle or to hang on your car as you drive off into the sunset.
---
What wedding signs will you be displaying at your wedding ceremony? We'd love to know!
But do you know what we'd love even more? To be there in person on the big day! Meet out team of wedding officiants and book your ceremony package now!