We're so excited to introduce you to one of the newest members of our Intimate Elopement + Photography team, Victoria elopement photographer Jade Mutter of Jades Photography. Jade is bringing her 12+ years of wedding photography experience to couples getting married on Vancouver Island.
Learn more about Jade, her advice for couples tying the knot and her favourite places to elope in Victoria below!
Of course, all photos in this post are by Jade!
Please introduce yourself! How long have you been a wedding photographer and what first got you into photography?
My name is Jade Mutter and I'm the owner and operator of Jades Photography. I've been in the business of photographing weddings for 12 years – wow that makes me feel old! I've always been interested in photography – I can remember going through family members' old photo albums in awe of seeing my loved ones when they were young. It always amazed me how photos were the only real memory that we have that is tangible, when things change and people we love are no longer with us. They are such an important piece of history.
It wasn't until I was in Victoria in my 20's and decided I needed to pick up a hobby that I considered delving into photography, aside from playing around with my grandparents' old film cameras. I registered for some courses at Camosun College and started a website where I posted my creative work. Eventually I started offering very discounted family sessions to practice with real live humans.
From there a friend asked me to photograph her wedding and even though I was terrified, I did it. I absolutely fell in love with wedding photography from that very first day. The rush of the pressure to capture every moment, bearing witness to some of people's happiest moments and even the sheer exhaustion that set in after. Since then I've never looked back!
Summarize your photography style in 15 words or less!
Candid, fun, emotive, natural, relaxed and timeless.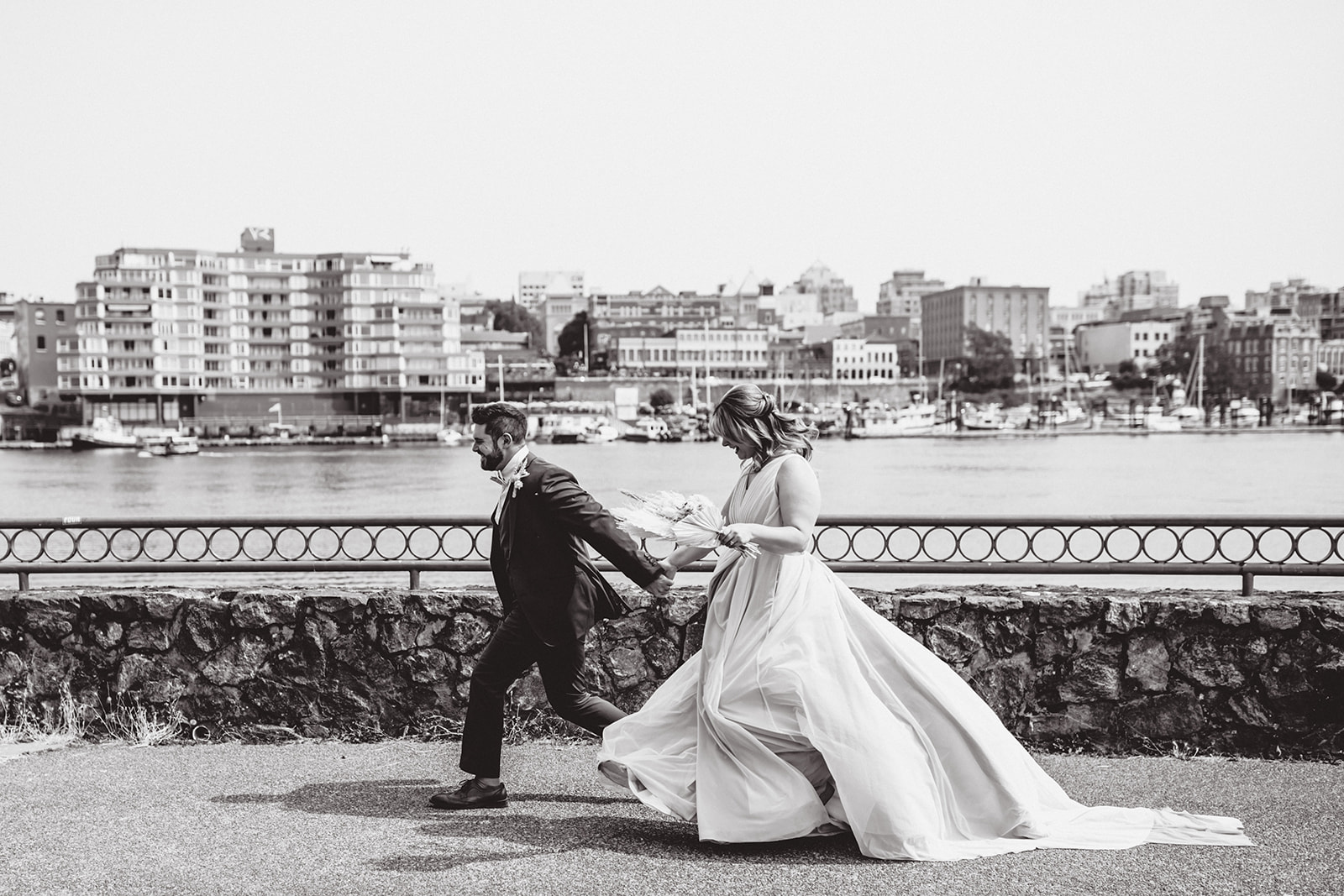 What about your working style? What can couples expect with you as their elopement photographer?
My approach to photography is very easygoing. I am a relaxed person by nature and have been told that I make people comfortable around me almost instantly. I come into every session as prepared as possible but I also allow things to flow naturally. I like chatting with my couples a bit beforehand so I can get to know them and read their personality and also how they interact with each other.
Some couples are more shy and others are more outgoing; I believe the key to a successful session is not only the clients loving the outcome of the photos when they are delivered, but of actually having fun and feeling like yourselves while I am taking your photo. I allow space for everyone to show up as they truly are and I will never ask you to do anything you are not comfortable with.
All in all, I want every couple to feel like their time with me was so much more enjoyable than they ever thought it could be taking photos!
Why do you love elopements? Why should couples consider eloping in Victoria, BC?
Elopements truly have my heart. I believe that having an intimate wedding allows couples to enjoy their day their way and without the stress of all the logistics that can sometimes distract from why you are there in the first place! I'm all about genuine connection and I really believe that comes through in elopements. There's no fluff, no drama, just you and your partner and I am absolutely here for every moment.
Victoria is the perfect elopement location because we live in one of the most beautiful cities in the world! There are jaw dropping and easily accessible locations that lend themselves perfectly to elopements AND set the scene to make epic photos.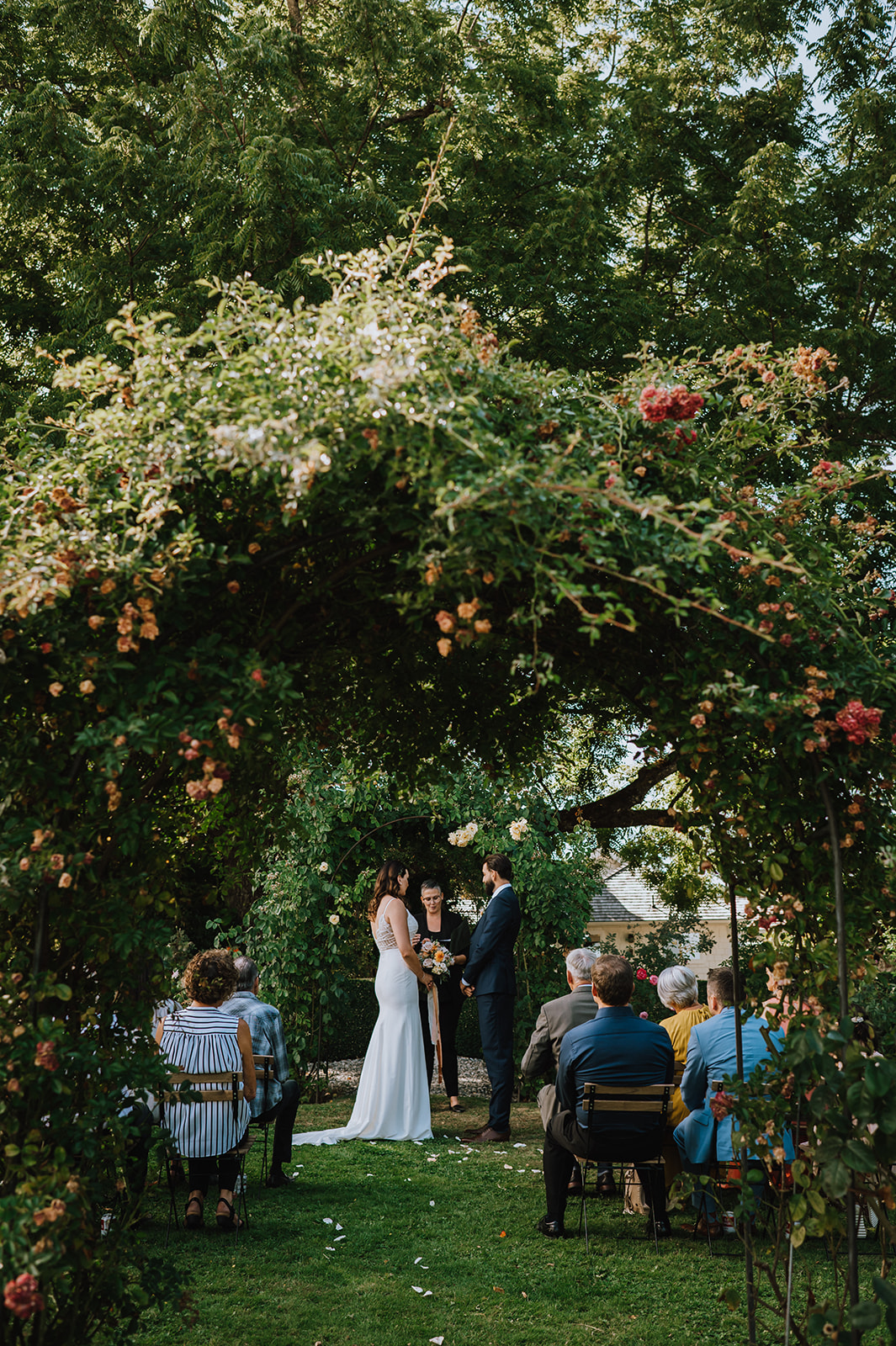 What are your favourite elopement locations in Victoria?
Glenco Cove: This is a little known secluded beach that is my go-to if you want a private waterfront location for your Victoria elopement photos. It has some really epic black rocks on one end, a private beach, a really cool staircase and a beautiful water view from the top. I often see whales here as well!
Kitty Islet: This is another pretty private location that you often have to yourself for elopement photos. The rocks are really beautiful because they are quite dark but have some yellow moss in them and the ocean view is spectacular.
Mount Doug: Mount Doug is easily accessible yet it feels like you are in a far away magical forest. On one side there is a beach and the other there is a dense forest with huge trees. If you decide to head to the top for photos, the view of the city is unparalleled and I think it's the best sunset in the city!
What are your best tips for couples eloping in Victoria? How can they prepare for their elopement photography session?
I would suggest to find a location that suits your needs and vision as well as a team of people that are highly qualified to make your dream elopement happen! Communication beforehand is key so that everyone can ensure the day runs smoothly and you get the outcome you desire both in the elopement experience and the finished product of photography.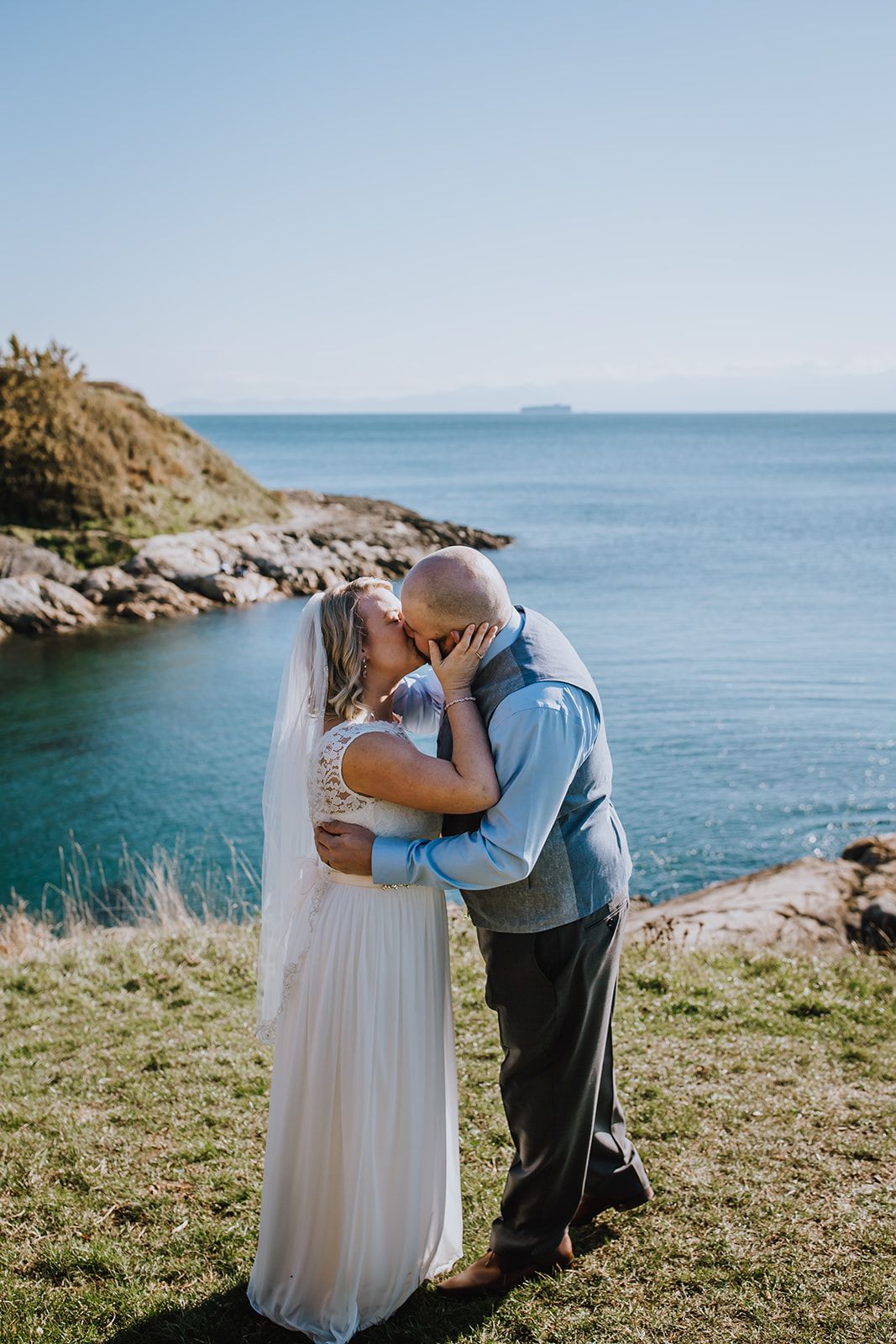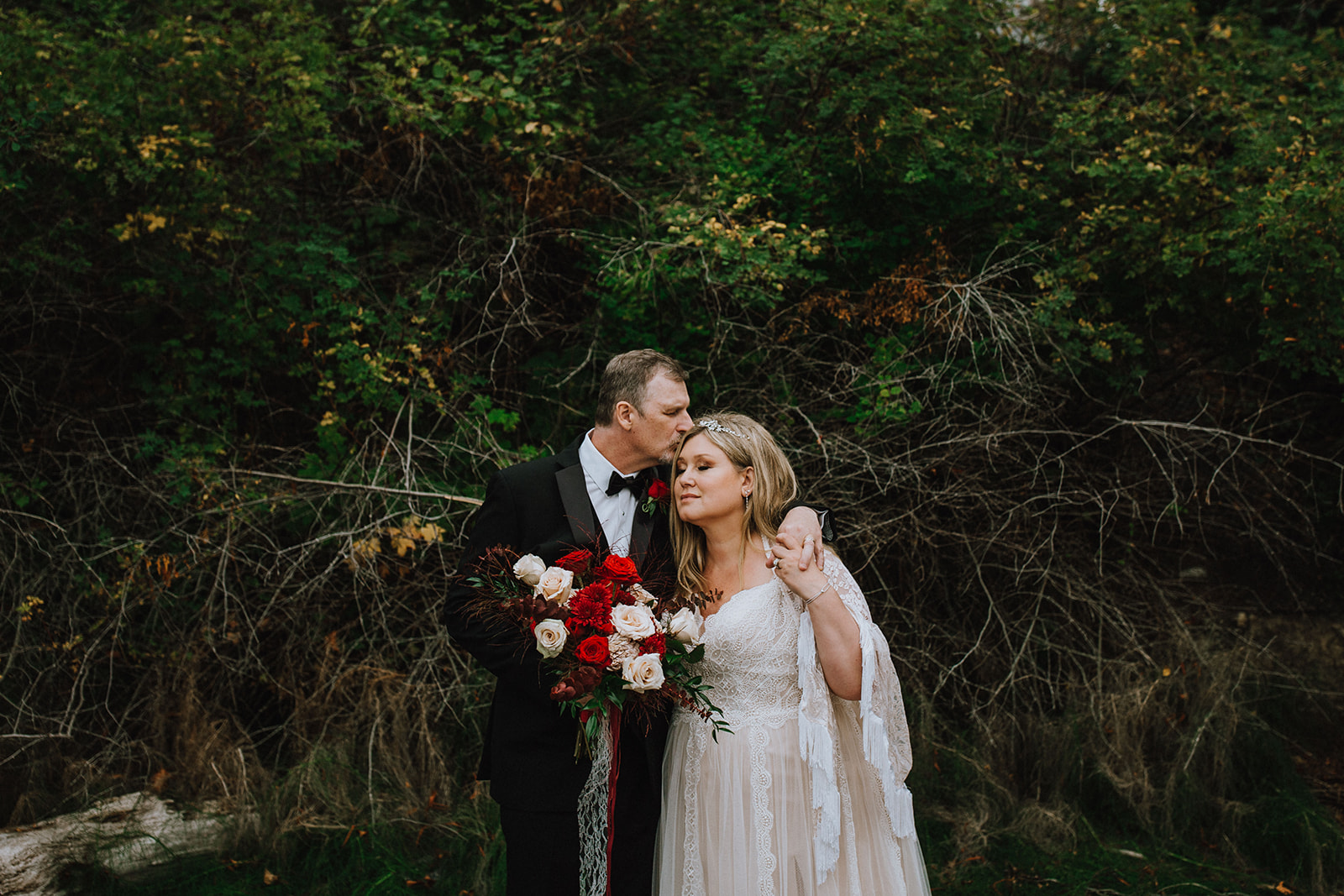 What do couples get misunderstand about wedding or elopement photography?
I have found a lot of times that people feel they need to incorporate traditional elements into their wedding day even though they have no idea why. From the traditional wedding wear, to the flowers or vows, do things YOUR way! Get creative and think outside the box.
Share a favourite elopement memory with us!
I love the elopements where people are unapologetically themselves. I photographed two brides once who had their closest friends dance down the aisle with them. Everyone was wearing sunglasses as well! It was the most fun entrance I've ever seen and totally showcased their fun, easygoing personalities.
When you're not photographing elopements and weddings, how do you like to spend your time?
I am usually hanging out with my husband and our daughter; we love to paddleboard and just be beach bums in general. I love a good book, a nice glass of wine and some sunshine. I'm also a huge music fan and love to go to live concerts.
Lastly, where can we find you online?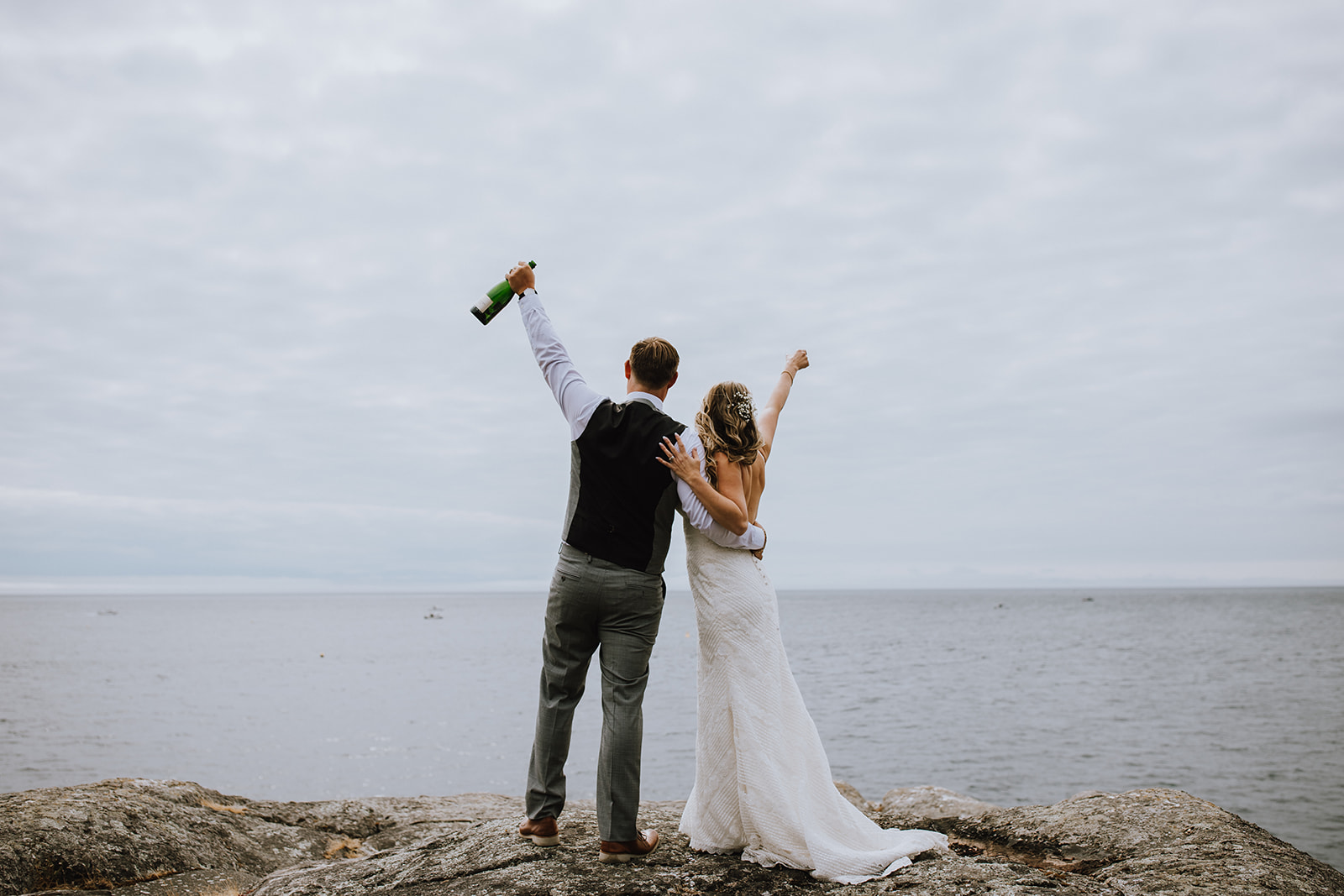 ---
Thank you so much, Jade, for sharing your elopement wisdom and favourite Victoria elopement locations with us! To book your Victoria elopement, meet our Vancouver Island officiants and check out our Intimate Elopement + Photography package!