Today we're talking all about outdoor wedding venues with Meghan and Julia of Credit Valley Conservation, who are the experts on wedding venues in nature. How do you choose your wedding venue? What questions do you need to ask? What considerations do you need to make for an outdoor venue?
---
About Meghan & Julia
Please introduce yourself! Who are you and what do you do?
We're Meghan and Julia and we work for Credit Valley Conservation (CVC). Julia books wedding ceremonies and receptions at Belfountain and Terra Cotta Conservation Areas, and Meghan handles bookings at Island Lake Conservation Area. We also book wedding photography sessions at these parks.
How long have you been in the wedding industry?
CVC started offering formal wedding venue packages in 2017; however couples have used the park spaces for ceremonies or small receptions since 2006.
What first attracted you to the wedding industry?
The demand for outdoor green weddings is a growing trend and with so many people inquiring we figured we better jump on board! We both work outdoors in the park and handle group picnic bookings so it was a relatively easy transition into wedding bookings. It's really great to be able to provide the perfect space for nature-loving couples. We hope that our couples have such a great experience that they come back to visit our parks and relive their happy memories again and again.
When you're not busy with weddings, how do you love to spend your time?
Meghan loves to spend her time outside even when not working! Camping and exploring new places is her greatest past time. Julia can always be found running the trails at Terra Cotta Conservation Area, playing shinny on Wolf Lake in the winter time or improving her cross-country skiing skills.

About your business
What does Credit Valley Conservation (CVC) do?
CVC creates connections between people and nature, knowledge and action. We lead the protection, restoration and enhancement of the natural environment of the Credit River Watershed, and we strive to inspire a deep appreciation for the role of nature in keeping people connected, healthy and happy. Our conservation areas are great spaces to highlight the many ecosystems we protect, and they offer recreational use to the public.
What makes your venue stand out from others?
Our three parks offer very different outdoor green venue options. Island Lake has a floating amphitheatre that can hold up to 200 people. Belfountain's ceremony location is a terrace next to a waterfall and offers unique photo opportunities. Terra Cotta is on the Niagara Escarpment and offers a beautiful natural background for ceremonies and receptions of various sizes.
What is the process of booking a wedding at CVC? How can couples work with you?
Couples can reach out to either of us to inquire about dates and the specific location they are interested in (emails below!). Then couples can come out to meet us and see the location. We'll talk about services we offer to make sure it's a perfect fit for them. We're a venue-only location so we often recommend couples get a wedding planner to help with organizing and set-up on their big day.
Share a wedding story! What's the most memorable wedding you've ever worked on?
Two summers ago, a couple at Terra Cotta was convinced that it would NOT rain on their wedding day and had not come up with a rain-day plan. As luck would have it, that day was the worst thunderstorm of the summer and threatened to ruin the whole ceremony. Luckily, we were able to work quickly and get our indoor venue prepared for the couple. The bridal party decorated the space and we had everything ready for the couple to get married.
Even though it was a last-minute switch, everyone stayed dry and safe, and even enjoyed air conditioning on that hot and humid day. Lesson learned that a rain back-up is needed for outdoor weddings!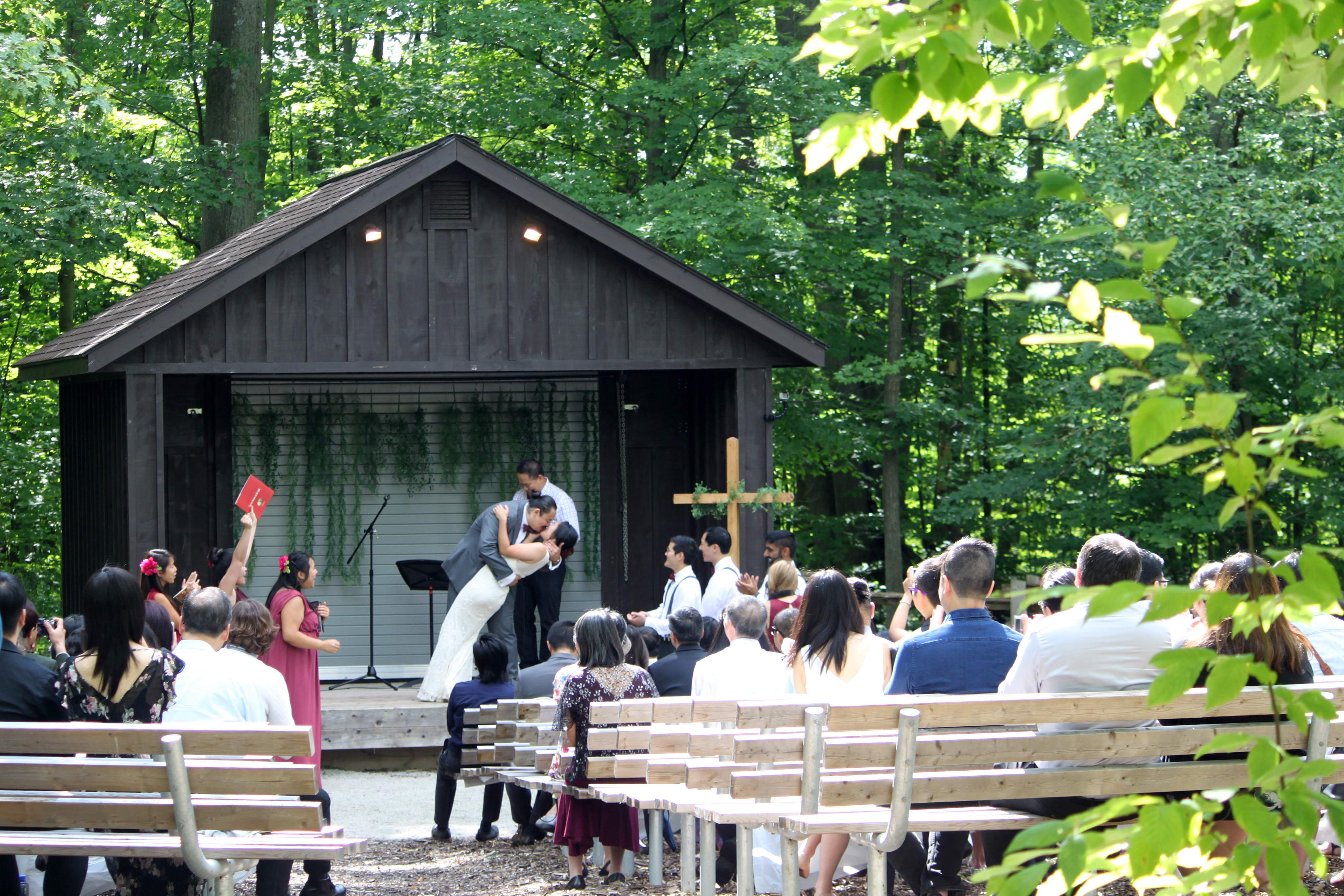 What couples need to know
If you had one piece of advice for couples looking for wedding venues, what would it be?
Make sure you visit the venue a couple of times, ask a lot of questions and be sure that it's what you really want! We meet a lot of couples who look at the space because they like the idea of getting married outside. Keep in mind that not all of your family and friends may feel the same way! Always remind your guests to be prepared, dress according to the weather and have a good sense of humour when it comes to being outside in a natural environment.
What are the current trends you're seeing in weddings? What's on its way out?
Rustic outdoor weddings are continuing to be the most popular trend so far. We've also noticed some weddings are becoming quite large with over 175 people. Having a space that can accommodate that at Island Lake has been very popular. CVC offers a variety of venues that can accommodate different group sizes up to 200 people.
What are the biggest mistakes couples make when choosing wedding venues?
We haven't had any experience here but not having a place big enough for your guests would definitely be a mistake. No guest wants to stand in the back and feel like an extra.
Where can couples save? Where should they splurge?
Couples can save on making their own decorations, especially for that rustic feel. We think couples should splurge on the perfect venue and a wedding planner if they plan to have an elaborate wedding.
What's something people need to understand about wedding venues?
There will probably always be one thing they have to compromise on, as long as it's not a main factor, don't stress over it.
Any other tips for couples planning a wedding?
Be flexible and always consider the unpredictability of nature when thinking about outdoor wedding venues. Think about rain, wind, hot days or cool nights when planning your ceremony and reception. Even a wedding in the rain can be a fun and beautiful experience, as long as you are prepared!
---
To learn more about CVC:
Website:
www.cvc.ca
Email:
meghan.mcintosh@cvc.ca or julia.kole@cvc.ca
Facebook:
https://www.facebook.com/creditvalleyconservation/
Instagram:
https://www.instagram.com/cvc_ca/
Flickr:
https://www.flickr.com/photos/cvca/albums/72157669968511636
Upcoming event:
Visit us at The Ultimate Bridal Show March 24th, 2018 from 9am-4pm in Mississauga!