If you're planning a wedding in BC right now, you may have some questions about the latest public health orders and new BC Vaccine Card. Just as we have throughout every stage of the pandemic, we want to do everything we can to make things simple and safe for couples and their loved ones. So we're tackling the most pressing questions about the BC Vaccine Card below! 
Note: This information is current as of Sep 10, 2021 and correct to the best of our knowledge. Please consult this link for the latest on restrictions, this link for the latest on proof of vaccination, and this link for the Gathering & Events Order (Sep 10, 2021). 
Do you need to check guests' BC Vaccine Cards at your wedding?
Short answer: Yes, you do need to check proof of vaccination if your wedding has 50 or more people and is being held indoors. 
Long answer: "By order of the Provincial Health Officer (PHO), proof of vaccination is required to access indoor organized events, such as weddings, with 50 or more people. Starting September 13, you must have at least one dose of a COVID-19 vaccine. By October 24, you must be fully vaccinated. The requirement applies to all people born in 2009 or earlier (12+)." 
TIP: If you are planning to have your wedding outdoors, consider that you may have to move indoors at the last minute due to bad weather. Because if there's one thing we know about weather in BC…it's best to be prepared! 
Who is responsible for checking BC Vaccine Cards? What needs to be checked?
Event organizers are responsible for checking BC Vaccine Cards/proof of vaccination. However, as these protocols are new for everyone, we recommend that you check in with your venue to ensure someone is handling this task. 
If you're hosting your event at a venue without staff, you'll need to assume responsibility for checking proof of vaccination. Violation tickets of $2,300 can be issued to owners, operators and event organizers of non-compliant events (and up to $575 for individuals attending non-compliant events), so make sure you have a plan in place! 
All guests must present:
Their BC Vaccine Card 

You can show other forms of proof of vaccination up until Sep 26, such as your wallet-sized immunization record card

A piece of valid government photo ID

Youth age 12-18 are not required to show valid government photo ID
NOTE: As per the Gathering and Events order (Sep 10, 2021), private residences are not considered venues and are not subject to these rules. However, the private residence must be a primary residence to qualify. Vacation accommodations (such as Airbnb), even if they are private homes, are still considered venues and are subject to proof of vaccination rules.
How to get your BC Vaccine Card
If you or your guests need to access your BC Vaccine Card, head to: https://www.healthgateway.gov.bc.ca/vaccinecard. We suggest opening the link on your phone, so you can have your BC Vaccine Card with you at all times. 
It's a super simple process, but we'll walk you through it anyway! 
Follow the instructions on screen by inputting your:
Personal Health Number (found on the back of your CareCard or BC Driver's Licence)

Date of birth

Date of one of your vaccination doses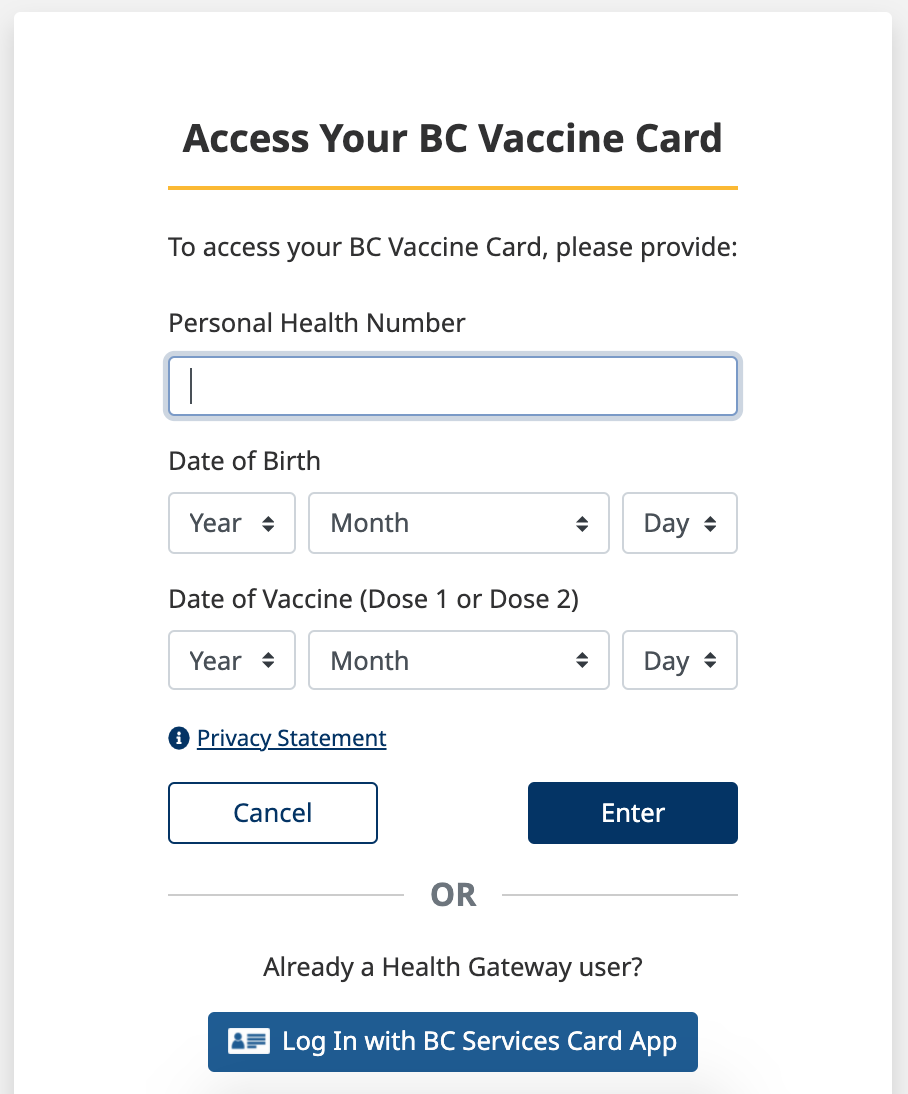 Once inputted, you'll be redirected to a screen with your unique QR code and vaccine status. 

Save a copy to your device by taking a screenshot of the page. You may also choose to print the page and keep a physical copy.
What about guests who don't have access to a smartphone, computer or printer? 
Grandma has never touched a laptop? No worries! All of your guests can still access their BC Vaccine Card, regardless of technological abilities. 
Options include:
Having a friend or family member access Grandma's BC Vaccine Card on their device, and sending or printing a copy for Grandma

They can also keep a copy of Grandma's record on their own device to use when accompanying Grandma to your wedding 

Grandma calling 1-833-838-2323 to order a paper copy by phone

Grandma printing her card at a BC Service Office 
For more information on these methods, please visit the BC Vaccine Card website. 
What about out of town guests?
For guests who are not BC residents, they won't have access to a BC Vaccine Card but will still need to show proof of vaccination. 
Guests from other Canadian provinces/territories must show:
Their provincially/territorially officially recognized vaccine record

A piece of valid government photo ID
International guests must show: 
The proof of vaccination they used to enter Canada (like ArriveCAN)

Their passport
What about unvaccinated guests? 
As per the public health order, guests who are unvaccinated are unable to attend weddings where vaccine cards are required for entry. 
If guests would like to get vaccinated, they can visit this website: https://www2.gov.bc.ca/gov/content/covid-19/vaccine/register
For guests who are unable to join you, you may want to live stream your ceremony, so they can attend virtually, or plan a follow up celebration that they can attend (such as an outdoor barbecue). 
How to tell guests they need proof of vaccination
So you know who needs a vaccine card and how to get one, but how do you actually let your guests know about this important update? 
We recommend informing your guests well ahead of time, so they have an opportunity to download their BC Vaccine Card, get vaccinated, and ask any questions they might have. Before sending any communication to your guests, check in with your venue to see what protocols they have in place that guests may also need to know about ahead of time. 
While updating your wedding website with this information is a good idea, you may also want to reach out to guests directly, as this information could affect their attendance. Send an email and follow up directly with any guests who aren't so computer-savvy.
In your email, you can say: 
"As per the public health order, proof of vaccination is required to attend our wedding. Please bring your BC Vaccine Card and a piece of government issued photo ID – venue staff will be checking both as you enter the ceremony. If you have any questions or need more information, please visit this website: https://www2.gov.bc.ca/vaccinecard.html" 
You can also direct your guests to this blog post! 
At Young Hip & Married, we have your back! 
Planning a wedding during this time has been so difficult and our hearts truly go out to all couples who have had to postpone, cancel or change their plans. We have been blown away by the resilience our couples have shown and the proof, time and time again, that love is all that matters. 
We want you to know that your Young Hip & Married officiant and photographer have your back and want to do everything they can to help you have the smoothest, safest and most incredible wedding day. All Young Hip & Married staff, officiants and photographers are fully compliant with the public health orders in place and will have their BC Vaccine Card ready to present at your wedding. 
written by Riana Ang-Canning