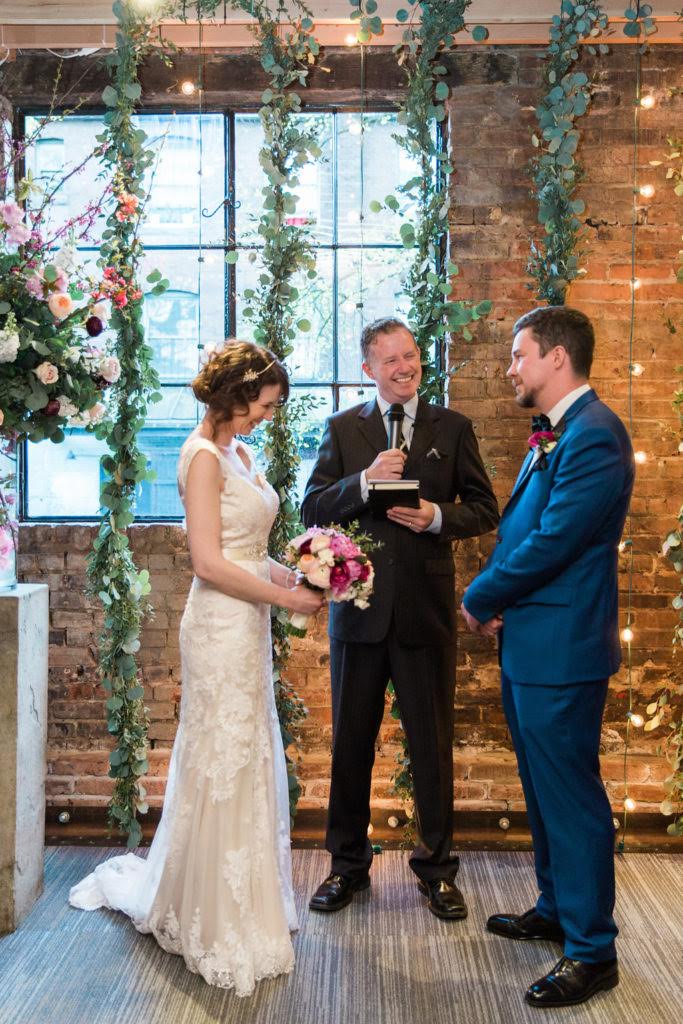 Guest blog from Stephanie Reitsma of Sweetheart Events
The Wedding Ceremony: The reason why your family, friends and loved ones gathered together to witness the next chapter of your love story. After all, the heart of your wedding lies in the ceremony so let's highlight it.
Choosing your marriage commissioner is no easy task and if you've searched Google, you're nodding your head agreeing with me.
You can luck out and secure a great marriage commissioner (we have some faves for sure) but you are not paying them for a service of customization and an experience.  Sure you can add in your own personal vows or a reading that means the world to you BUT that's it. It will be a wonderful moment but will you ever remember the message of the ceremony and what was said?
"If every couple is different, then why have we all been to the same boring ceremony so many times?" YH & M
I am all about representing a couple's love story in the details of their wedding so why not start with the ceremony? I want my couples to have an experience and I want their ceremony to be memorable.
Earlier this year, I had the pleasure of working with Randy Hamm for Robyn and David's L'Abattoir intimate wedding. Leading up to the big day, Randy took the time to genuinely get to know the couple, their ups and downs, their goals and why they truly love each other. On the day of the rehearsal, he mingled with family and friends to add additional personalized elements to the ceremony. Always a nice surprise for the couple!
He began the ceremony with highlights of the couple, who they are and how they came to find each other. He also included a fun tidbit about why the couple chose him. Backstory- Robyn's family works in the meat industry and the family thought that using this theme would be fun. They booked the venue not only for the great service, food and gorgeous exposed brick but because L'Abattoir means slaughterhouse. The bride chose décor pieces of signs with stenciled pigs and farm animal toys spray painted gold. Randy made a fun note that he was hired because his last name is Hamm. Everyone was laughing and the atmosphere became more casual and intimate. It felt as if a friend was marrying them.
Going custom guarantees a ceremony that YOU want. There are really only two phrases that legally have to be said, the rest is up to you! I've had couples do balloon releases, unity shots after signing the registry or even knotting a game controller cord instead of a rope to signify their personalities better. Don't be afraid to be unique and think outside of the box.
If you're looking for a marriage commissioner to kick the boring ceremony to the curb or a planner that loves to personalize those little details that make you unique, you're in good hands. I can't wait to hear from you!
(photo credit: White Dahlia Studios)